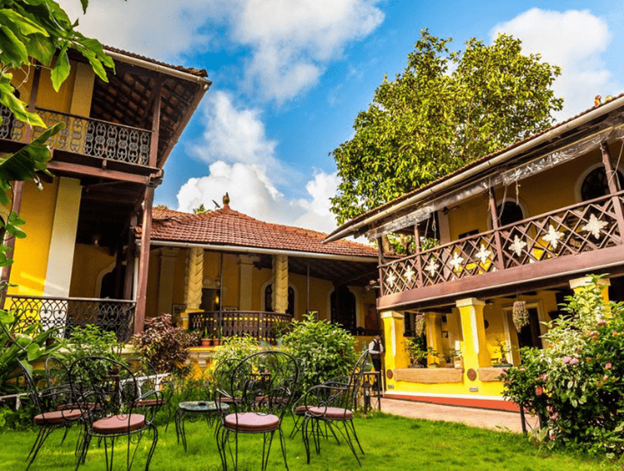 Homestays are no more a new concept in hospitality. They are now managed by professionals who offer the best of facilities and play excellent hosts to their guests. At the same time, they ensure the best of local experiences and hospitality.

HOMESTAYS IN SOUTH INDIA
Homestays in south India are particularly awesome. They are picturesque homes – sometimes renovated – that ooze vibes of typical South Indian household. Stoned pathways, ample greenery in the premises, fragrance of fresh flowers, patterned mud floors, cozy courtyard, smell of coconut and spices, and brass kitchenware tell you that you are in company of locals, exploring the everyday life of a south Indian state, which could be Tamil Nadu, Kerala, Goa  or Karnataka.

1.Cardamom house in Dindigul, Tamil Nadu.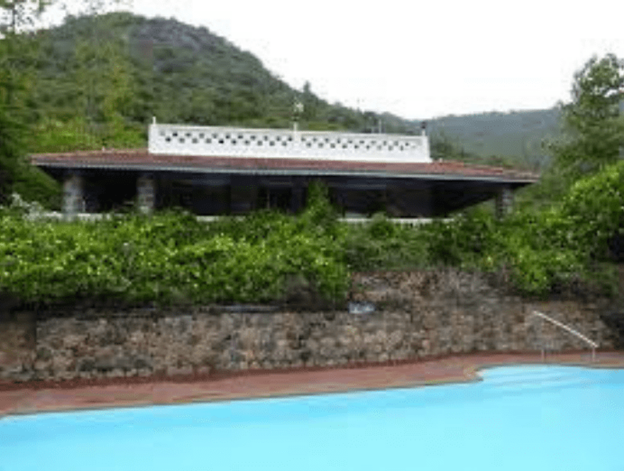 ---------------------------------------------------------
Best Deals for the Month
Image source: traveltriangle.com

Cardamom house in Dindigul, Tamil Nadu far away from the bustle of city life, lies Cardamom House, another hidden beauty located in the foothills of Western Ghats, facilities amid the woods, blooming flowers, and colorful birds. Cardamom House is also known for its dedicated staff team and their exceptional service.

What's special: Swimming pool, birding session, and tour of Athoor village

Tariff: INR 3200 per night onward

Location: Athoor, Dindigul, Tamil Nadu 624701

2. Dalethorpe in Kodaikanal.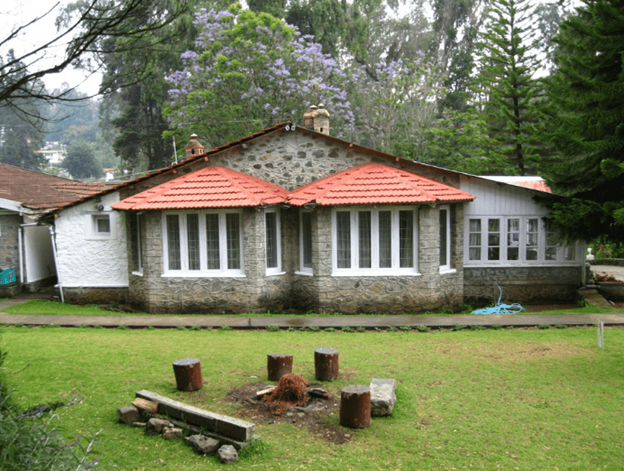 Image source:triadvice.com

With the chances of spotting Nilgiri Laughing Thrush, White Eye, and Serpent Eagle, Dalethorpe in Kodaikanal district, Dalethorpe is a famous homestay in South India. Come here for a lovely holiday where you can spend lots of fun filled moments with your loved ones or just with yourself.

Spread over 1.5-acre land, this awesome homestay has a sprawling garden and lots of trees around. Plan a stay at Dalethorpe when you are traveling to Kodaikanal to experience nature from the close quarters.

What's special: Barbecue night with bonfire, hammocking

Tariff: INR 2000 per night onwards

Location: kodaikanal, Tamil Nadu.

3.Thippanahalli Homestay in Chikmagalur, Karnataka.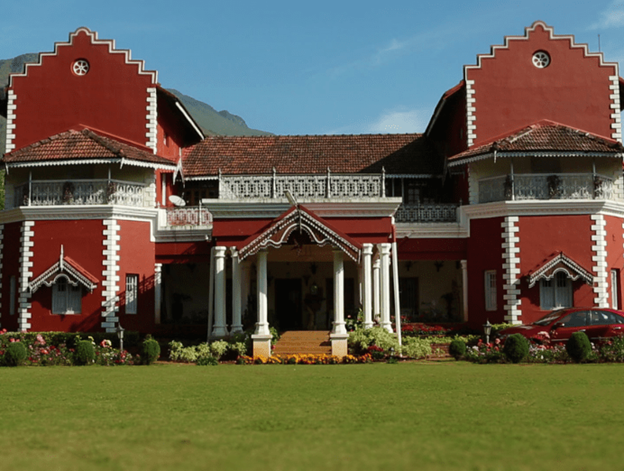 Image source:laylaslist.com

A heritage bungalow that dates back to almost 230 years, Thippanahalli Homestay is run and maintained by the Thippanahalli family. From an enduring trek amidst mountains to a joy ride amid mountains, this majestic homestay offers a lot to see, absorb, and do, all while you breathe in the clean air of Chikmagalur.

What's special: Bird watching, golfing, sightseeing, and trekking

Tariff: INR 2750 per night onwards

Location: 160, Thippanahalli Estate, Chikkamagaluru, Karnataka 577130

4.The Silver Oaks homestay in Coorg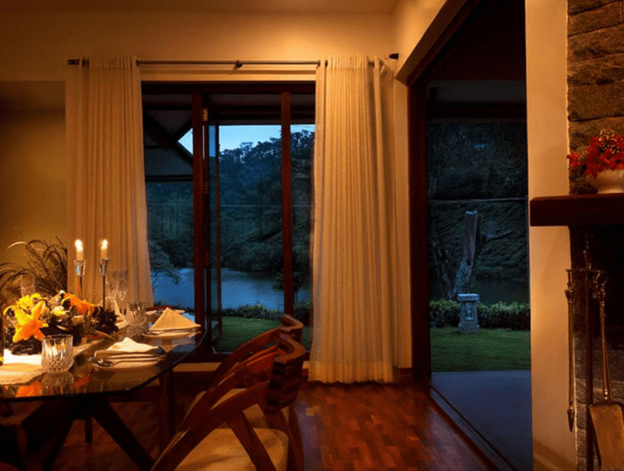 Image source: booking.com

Perched at an altitude of 2500 feet in the lap of Kunda Hills, is Silver Oaks – a perfect homestay in Karnataka's Coorg district! Madikeri (48 km) is a 1-hour drive from the beautiful homestay, which is surrounded by lush greenery with chirpy birds flying around.

What's special: Indoor and outdoor games, campfire, barbecue, jungle treks, waterfall bathing, birding, and wildlife watching

Tariff: INR 2500 per night onwards approximately.

Location: Sudesh (Bob) Kunda P.O Ponnapet Via Gonikoppal, South Kodagu (South Coorg South Kodagu (South, Karnataka 571201

5.The Hidden Valley in Chikmagalur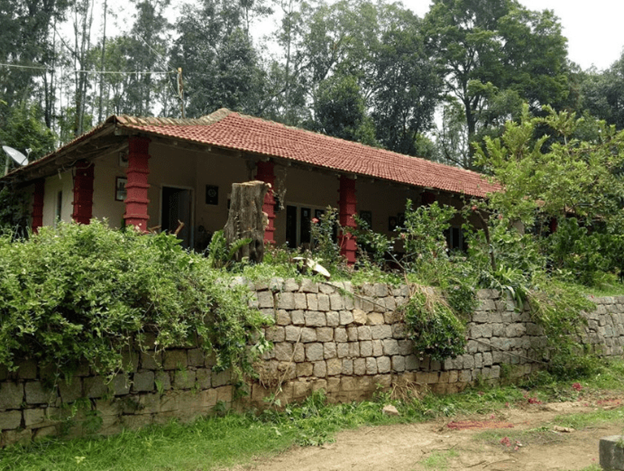 Image source: traveltriangle.com

outed as one of the top homestays in India, The Hidden Valley managed by Aranha Homes is a secluded haven that lies in the close proximity of Bangalore. It is ideal for everyone planning a weekend getaway from Bangalore in search of peace and tranquility.

What's special: Boat ride, rabbit petting pen, tree tower, trekking at Devi Gudda, and tour of Shankar Falls

Activities at additional cost: River rafting & water sports, and tour of Muthodi Wildlife Sanctuary

Tariff: INR 2025 per night onwards

Location:
Handi, Machagondanahally 20KM Chikmagalur-Mudigere Road, Karnataka 577111

6. Anna Homestay in Munnar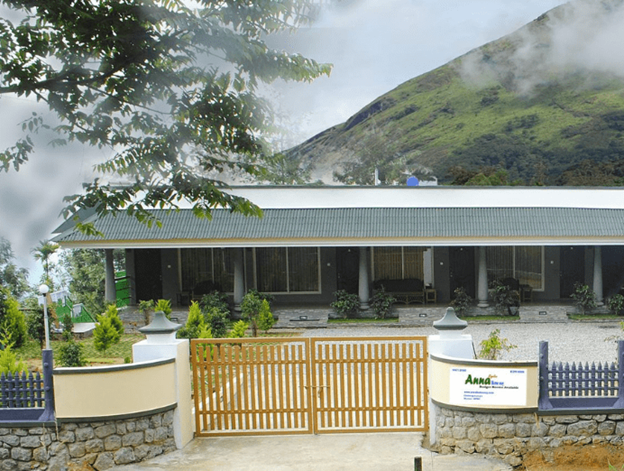 Image source: tripadvisor.com

The beautiful property enclosed by green plantation and imposing hills along with a layer of mist floating around makes it one of the famous homestays in South India. The serenity and calmness of nature are calling out to you.

What's special: Car parking, open terrace, wifi, and full-time security

Tariff: INR 3200 per night onwards

Location: Chithirapuram P.O, Thattathimukku, Anachal Munnar, Kerala 685565

7.Glenora Homestay in Wayanad, Kerala.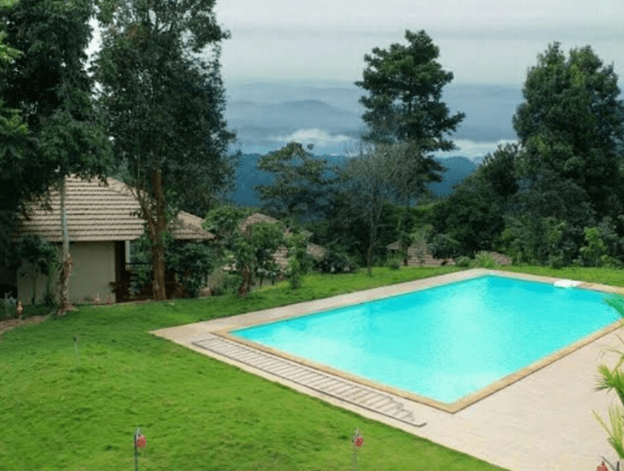 Image source:traveltriangle.com

Wake up to misty mornings and bask in the glory of sun rays brushing past the leaves at Glenora homestay, where Rajagopal Glenora ensures impeccable comfort and service. It has been tried and tested as one of the top homestays in South India by satisfied guests.

With plenty of attractions and activities planned for the guests, a stay in Glenora Homestay located in the Vaduvanchal village in the Wayanad district is a sure treat to the soul.

What's special: Houseboat facility (on request), camping in tents amidst coffee

plantation, library, and indoor games

Tariff: INR 4000 per night onwards

Location:
Padivayal, Vaduvanchal P.O, Sunrise Valley Rd, Kerala 673581

8. Nature's Treat Homestay in Munnar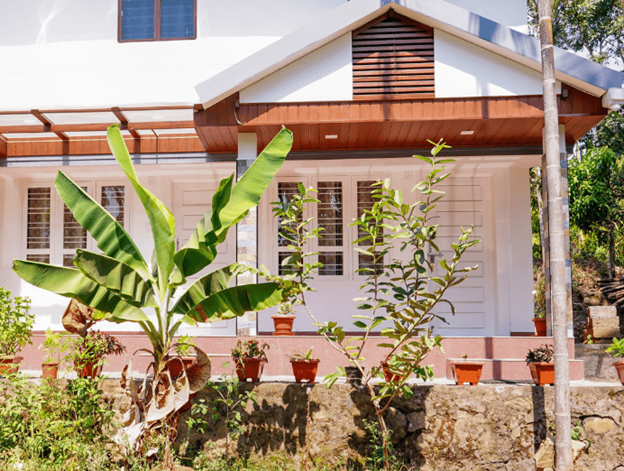 Image source:tripadvisor.com

Driving down 18 km towards Cochin from Munnar you come across Nature's Treat Homestay, an awesome homestay enveloped in mist and greenery. With an ideal host in Biju Joseph and exceptional service at your disposal, Nature's Treat Homestay makes one of the best homestays in South India for a family.

A stay at Nature's Treat is highly recommended when you plan a trip to kerala. Place like this is all you need in a while!

What's special: Well maintained plantation with 40 plus varieties of fruits and spices

Tariff: INR 3700 per night onwards

Location:
Thokkupara P O, Ambazhachal, Munnar, Kerala 685565

9. Estate Residency in Munnar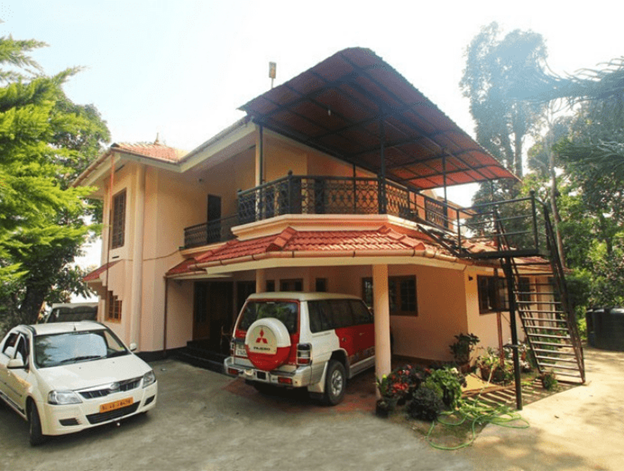 Image source:tripadvisor.com

Adorned with the lush greenery and hills of Munnar, Estate residency owned by Firosh Philip, and his wife Sheeba is one of the most picture-perfect homestays in Munnar. The house boasts of exciting panoramic view of Sahyadri mountains ranges duly complimented by tea and coffee plantations.

Walk around the homestay, and soak the misty environment around it. Estate Residency is the perfect homestay for you in the tranquilizing environs of Munnar!

What's special: Campfire, play area, in-house trek, tour of cardamom, pepper, coffee, vanilla, and cocoa plantation

Tariff: INR 1500 per night onwards

Location:
2nd Mile, Pallivasal P.O, Munnar, Idukki, Kerala 685568

10. Pepper Country in Thekkady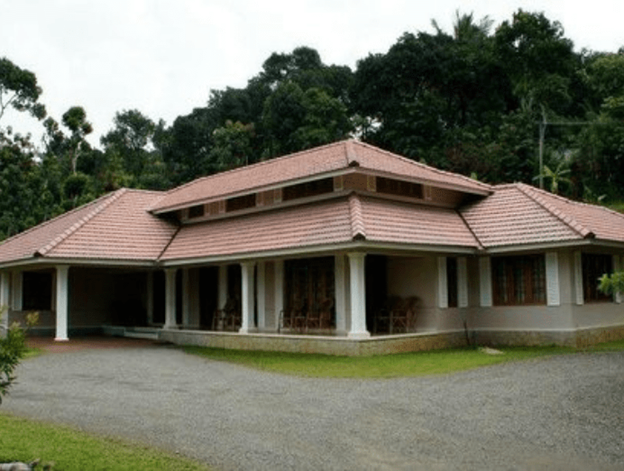 Image source: tripadvisor.in

Tucked in the lush green plantation of spice, coffee, pepper, and cardamom, Pepper Country is one of the best homestays in Thekkady equipped with all the modern amenities. The homestay located in the Idukki district is also a winner of Tripadvisor's Certificate of Excellence award.

Mr Cyriac, the host is a delightful person, who attentively takes care of his guests and often engages in interesting conversations with them. Overlooking a lush forest, the homestay is also popular for its delicious meals.

What's special: Rooms with private balcony, wifi, and rooftop terrace

Tariff: INR 3500 per night onwards

Location:1 Mile, Kumily P.O Beside, Munnar-Kumily, Kumily, Kerala 685509

11.Solitude Munnar Homestay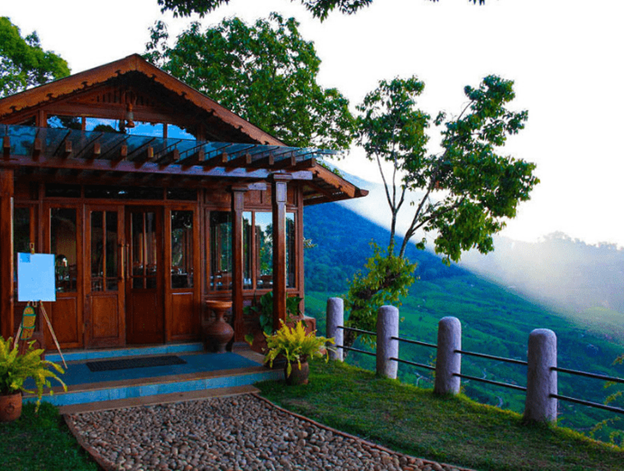 Image source:traveltriangle.com

One of the highly ranked homestays in Munnar. The Western Ghats, scenery Solitude Munnar is the best place for trekkers and nature lovers. The amazing outdoors and attractive indoors will give you the best living experience. The home cooked food is another asset of this homestay. The homestay provides various amazing amenities at affordable prices giving the best in class experience to the visitors.

What's special: Breakfast, kitchen for self-cooking, home cooked food.

Tariff:INR 3800 per night onwards

Location:Viripara, Maankulam Kallar Road, Munnar, Kerala 685565

12.Castillo De Woods Homestay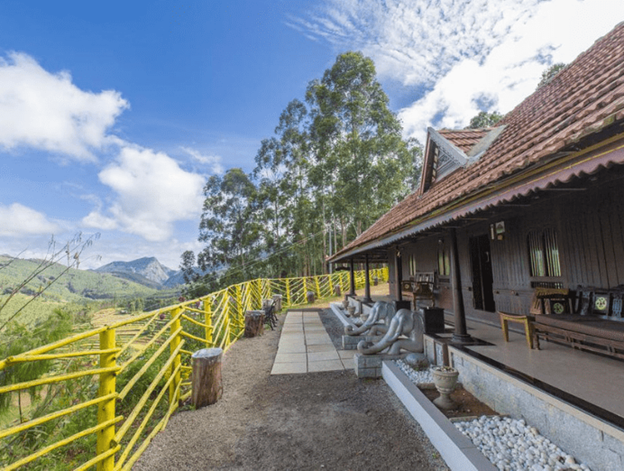 Image source:castillodewoods.com


Castillo De Woods is one of the amazing traditional villas you will find in Munnar. This three-bedroom homestay in Munnar will definitely make your trip amazing and give you a home with experience.
The villa is crafted from wood and follows traditional Kerala architecture which is another asset.
What's special: Heating facility, baby monitor and crib, mudhouse, trekking, elephant ride, horse riding, wildlife watching, BBQ.
Location: Near BSNL Tower, Koviloor Vattavada, Kottakamboor 685619
Tariff: Starting from INR 4500 per night onwards

13.Tea Garden Cottage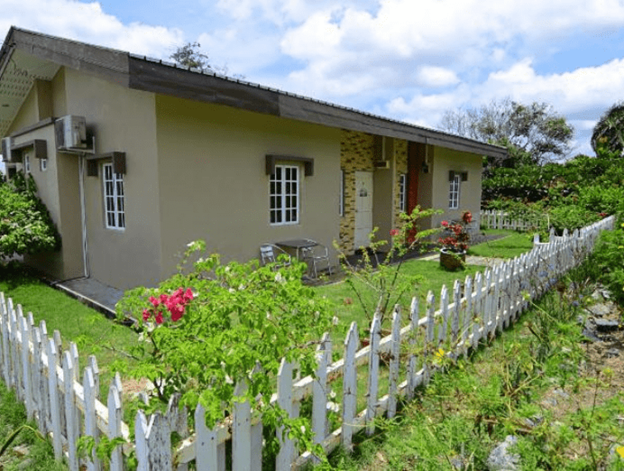 Image source; teagardencottage.com

Located amidst the tea estate, Tea Garden cottage is an amazing pick for your vacation. This is one of the best homestays in Munnar and will leave you with a pleasant experience. The beauty of the tea garden and the amazing people around will surely make your trip outstanding.
What's special: Free Wi-Fi, airport shuttle, children's playground.
Location: Temple Road Opp. Hotel Eastend, Munnar 685612


Tariff: Starting from INR 1200 per night onwards

14.Royal Mist Homestay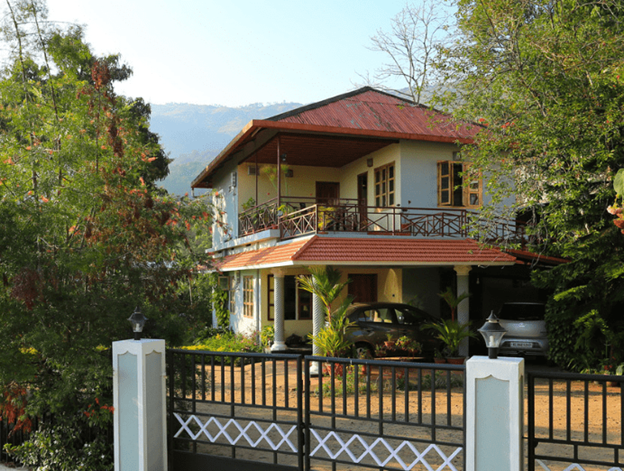 Image source:booking.com
.
Enjoy the greenery and ambient environment in Munnar by staying at Royal mist. The luscious nature and outstanding peacefulness of the environment make it the best. Royal mist is one of the best homestays in Munnar with various facilities and amenities provided for the visitors.
The home-like feel and delicious food will make your trip awesome. The homestay is surrounded by various beautiful landmarks which makes it easy for you to explore them without many efforts and travelling.
What's special: Free Internet, car hiring facility, laundry, dry cleaning.
Location: Thattathimukku Chithirapuram PO Munnar 685565

Tariff: Starting from INR 1400 onwards

15.Lazar Residency Homestay,Kochi.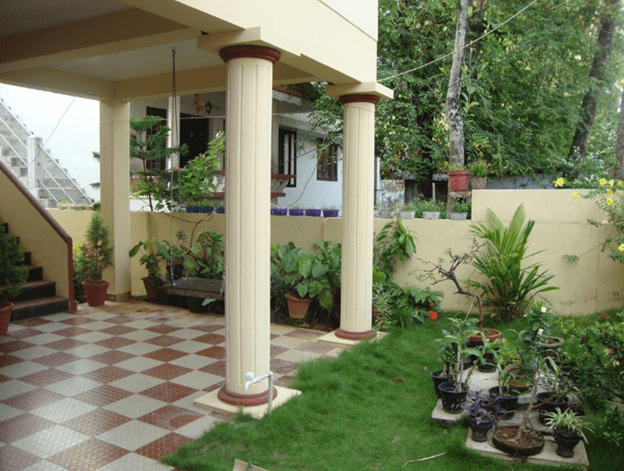 Image source:tripadvisor.com

A trip to Fort Kochi is like a trip into the past, with its bright mix of heritage, colour, and the fragrant aroma of spices. And Lazar Residency Homestay is a great place at which to base yourself when you're exploring this exciting town.The rooms are basic, cosy, comfortable and affordable, with everything at a walking distance.

     What's special: free WiFi, airport transport, free breakfast, library.   

     Tariff: INR 1300 per person

     Location: 1/911, near bishops palace, kochi, kerala.

1

6.Olaulim Backyards, Goa

Image source: olaulimbackyards.com

Away from the busy beaches, Olaulim Backyards is a glimpse into a side of Goa very few visitors see. This rustic getaway is nestled on the banks of a creek, with lush grounds and the scent of frangipani in the air. Savio and Pirkko have created this little paradise to provide refuge from the traditional image of Goa that travellers have. And they've succeeded! The five cottages, each named after a bird local to the area blend into the nature that envelops them. You will feel like you've to the entire world to yourself!

What's special: pool, free parking, bar/lounge, free internet, airport transportation.

Tariff: INR 4500 per day

Location: Olaulim,Pomburba, Bardez,Goa.

17.Marari Leena Beach House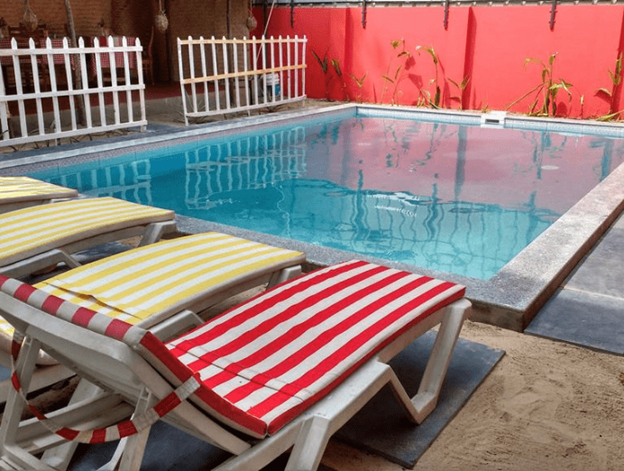 Image source: booking.com

The gorgeous Mararikulam Beach has a reputation that precedes it, and if you're planning to spend some quality time lounging on these sands, Marari Leena Beach House is a great place to stay! This option, situated five minutes from the tranquil Kattoor Beach, is delightfully welcoming, and easy on the wallet to boot. The rooms are basic but comfortable, and you'll definitely have great meals lovingly prepared by the family.

What's special: dry cleaning, multilingual staff, laundry service.

Tariff: INR 1,344 per day( 2 adults)

Location:
Marari Leena Beach house, Mararikulam, Kerala 688522

18.Yab Yum Resorts Goa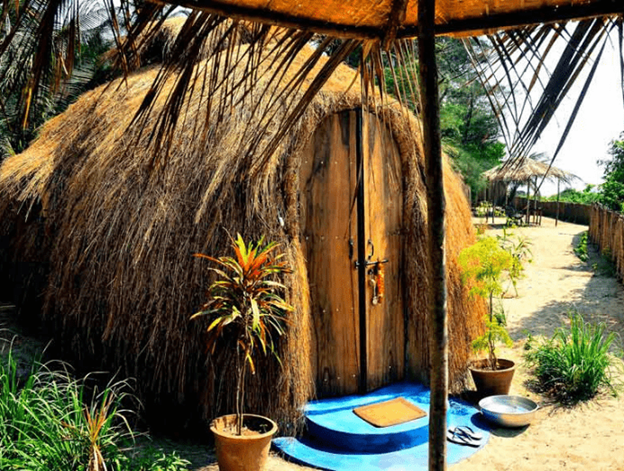 Image source:booking.com

Yab Yum feels like an oasis along Ashwem beach, looking out at the Arabian Sea. The rooms (called domes and pods) are the stars of the show here. Locally-sourced materials, such as palm leaves, mango wood, lava rock and local clays are used to make them. Unlike most places that look towards the past for design inspiration Yab Yum has looked forward. Thus, the domes and pods look like a vision of the future! As the rooms are close to the beach, the breeze blows in from across the sea making you not miss an air-conditioner.

What's special: babysitting, free internet, free parking

Tariff: INR 4,664

Location:Ashwem Beach, Mandrem, Goa 403527

1

9.Dune Eco Village & Spa, Pondicherry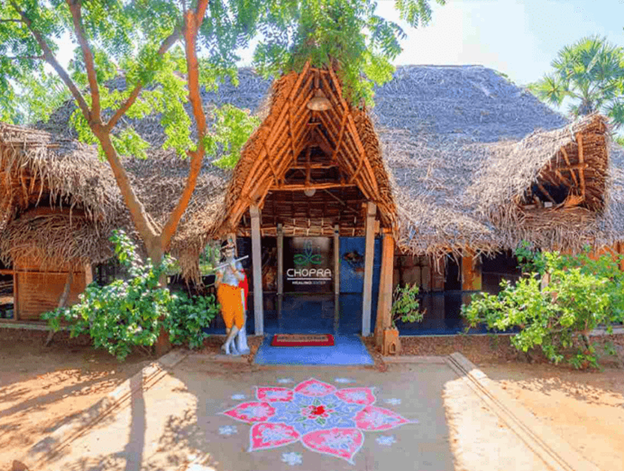 Image source: booking.com

This sprawling resort is nestled along the beach outside Pondicherry and embraces organic living and holistic well-being. The focus is on an alternative approach to life. "Eating healthy and feeding your mind as well". Apart from standard rooms, you will find a range of eco-bungalows, constructed of casuarina trees with coconut palm leaf roofs. There's an impressive 7-acre organic farm onsite, where all the fresh ingredients that make it into the meals are sourced – even the flowers that decorate the rooms are grown here.

What's special: pool, spa, fitness centre with gym/workout room, bar, free breakfast

Tariff: INR 4,135 per person

Location:70, East Coast Road,, Pudhukuppam,Keelputhupet,, Via Pondicherry university, Puduchery, Tamil Nadu 605014

20. Casa Menezes, North Goa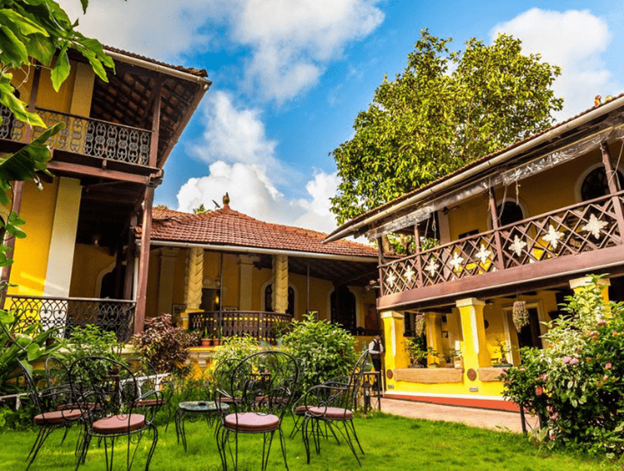 Image source: booking.com

The magnificent 300-year old ancestral home of the Menezes family is surrounded by paddy fields and palm trees in Batim village, about 20 minutes southeast of Panjim. The village feels wonderfully stuck in time. Nearby, a lake is a delight for bird watchers, and bicycles are available to explore the surrounding area. The host is very knowledgeable about its heritage and history.

What's special: unique items of furniture, art gallery, boutique.

Tariff: INR 4,400 per night onwards

Location: 304, Gaunkarvaddo, Batim, PO Goa Velha Tiswadi, Panaji, Goa 403108, India