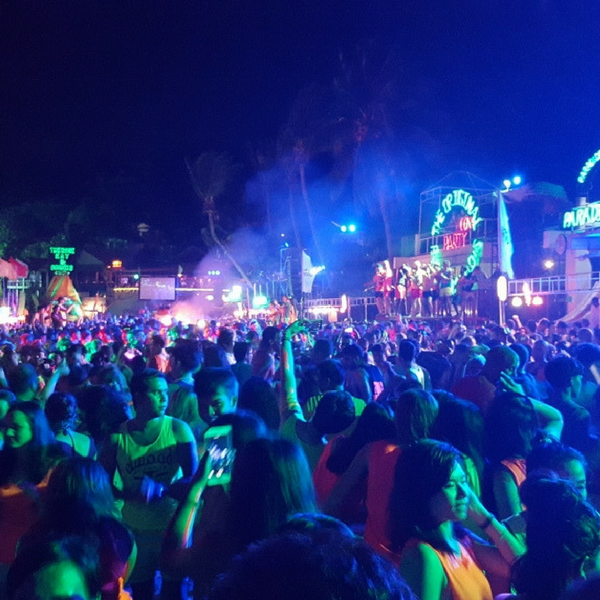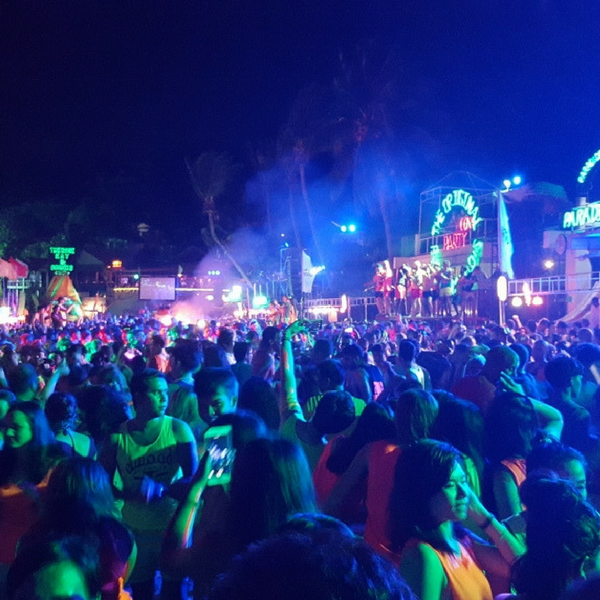 Full Moon Parties in Thailand perfectly merge seamlessly the best rudiments of night- open air parties, lounges, bars, and musical pumps. They unveil a new world to party under the caress and embrace of the moonlight as your feet dig in the crunchy sand and you swing your waists to the crazy music. With palm trees, and aquatic plants sprouting up, lights of variant luminous shades, with exotic cocktails by the mixologists and wines from the deep cellars of France, having collaborations with primary party brands all around the Global club circuit, you'll feel teleported into a new world. The various bars instill energetic vibes suiting international and local party goers.
Set in the southern end of the most famed island Kho Pha Ngan on the Gulf of Thailand, Haad Rin a peninsular beach region has been hosting full moon parties since 1985, drawing as many as 5000-30,000 party lovers each month on and after the Full moon evening in the larger sunrise beach in the north- Haad Rin Nok and the sunset beach Haad Rin Nai. Amidst the verdant tropical forest with visible coral reefs, by the azure of the water and the crimson of the dusk it's the perfect place to party. When the sun slips down and the moon climbs up, there's a different aura in the air with fire skipping ropes, alcohol 'buckets' and drugs. The time when unseen colors come to life and music brings ecstasy, in this pure bliss of techno music to reggae amongst the well lit lamps, there's an ambience of enchantment in the air. EDMs and trance music are also flung to add more life; the DJs are the most experienced people who know exactly how to run the party hard making Koh Phangan's full moon party famous all around the world for the brightest moon and loudest music.
---------------------------------------------------------
Best Deals for the Month
Location: Haad Rin, on the island of Koh Pha Ngan, Thailand
Genre: Psychedelic trance, R&B, drum and bass, house, electronic, dance and reggae.
How to reach:
Delhi – Bangkok: catch a flight from Delhi to Bangkok, there are more than 10 connecting and non-connecting flights to Bangkok per day from IGI Delhi.

Bangkok- Koh Samui or Surat Thani (both will help you reach Koh Phangan)

Flight- flights from Bangkok to Koh Samui or Surat Thani are available each day

Boat/ Ferry Catamaran- it'll take you 3hrs 22mins from Surat Thani and 4hrs 30 mins from Koh Samui to reach Koh Pha Ngan.

Bus- there are direct buses from Bangkok to Koh Phangan, a journey of 11hrs 52min via Route 4 covering a distance of 768.8kms.

Train- since there are no direct trains, you can take a train to Surat Thani from Bangkok, and then a bus or a ferry to Koh Phangan.
Major attractions:

Apart from the night parties, there is a list of things to do in Koh Pha Ngan
Diving- diving in the neighboring island of Koh Tao will be one of the best experience, exploring more in the southwest pinnacle and sail rock both half way in the middle will give you unnamed joy and sheer delight.
Snorkeling- best snorkeling beaches nearby are Haad Salad and Haad Ya
Eating in Night market- the Thong Sala Night Market all filled with food will make you writhe in hunger and lust for food. The seafood collection is the best, sushi rolls, fried potatoes and other traditional Thai dishes will make you crave for more.
Boat trip to Ang Thong National Park- you'll enjoy each moment here, snorkeling and swimming are also the best options; overnight camping amongst the lush of the tropical coastal vegetation will entice you.
Motorbikes- renting a motorbike is another thrilling option, you can go to the Bottle beach and drive around the rest of the hilly Koh Phangan. Haad Son, Haad Yao, Thong Nai Pan, Ko Ma, Ko Tae are also the best places to ride to.
Challenge Phangan- the Challenge Phangan waterpark will make you live your dream of having thrilling fun like in the TV Show Wipeout. It's an adrenaline pumping combination of fun, adventure and fall and flops.
Trekking: trekking to Khao Ra or the Phaeng Waterfall National Park, you'll have a wonderful experience of the beauty of Thailand.
Stay Options:

Listed below are some best feature hotels near Rin beach in Koh Pha Ngan:
S&C hostel – Haad Rin (0.4kms from full moon party, Rin Beach)

Sarikantang Resort and Spa- Haad Rin (0.4kms from full moon party, Rin Beach)

Cocohut Beach Resort and spa- Haad Rin (0.3kms from full moon party, Rin Beach)

Tommy Resort- Haad Rin (0.4kms from full moon party, Rin Beach)

Palita Lodge – Haad Rin (0.4kms from full moon party, Rin Beach)

Koh Phagnan Bayshore Resort- Haad Rin (0.4kms from full moon party, Rin Beach)

Phangan Beach Resort- Ban Tai (1.2kms from full moon party, Rin Beach)

Holiday Beach Resort-Ban Tai (0.2kms from full moon party, Rin Beach)

Summer Luxury Beach Resort and Spa- Ban Tai (0.6kms from full moon party, Rin Beach)

B-52 Beach Resort- Haad Rin (0.4kms from full moon party, Rin Beach)