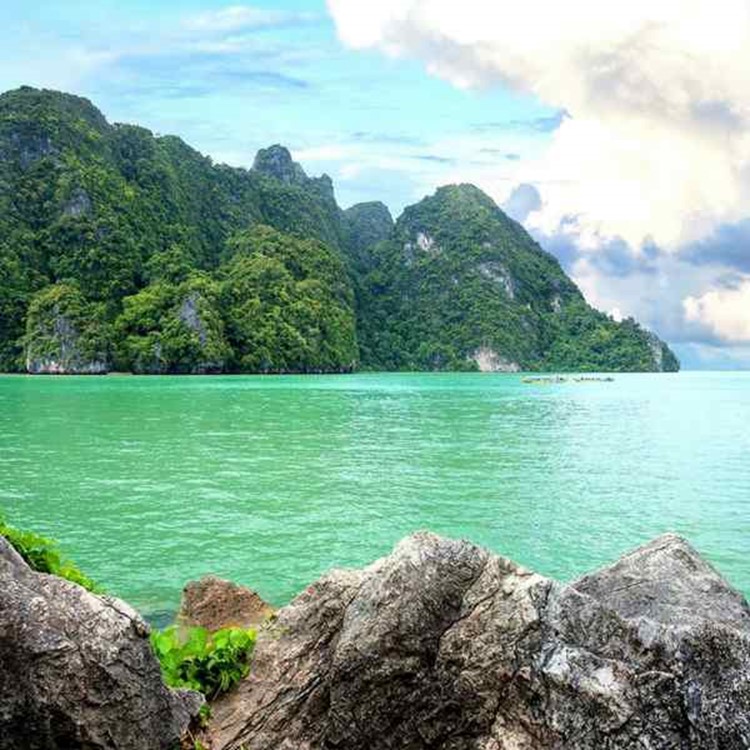 Amidst the clear skies and the modern sleek buildings lining the skyline of Thailand, where people find solace under the soothing touch of sunrays in the beach, there are umpteen assorted things to do and places to visit on your honeymoon to Thailand, you'll cherish them more as you entwine your hands with your loved one while gazing at the nature or just deepening into the thrills of the activities. This budget Thailand trip and all the thrills it brings won't cease to leave you confound beyond your expectations making it one of the best budget Thailand trips kindling your love. Listed below are the some Thailand travel tips to save money during your Thailand trip.
Phuket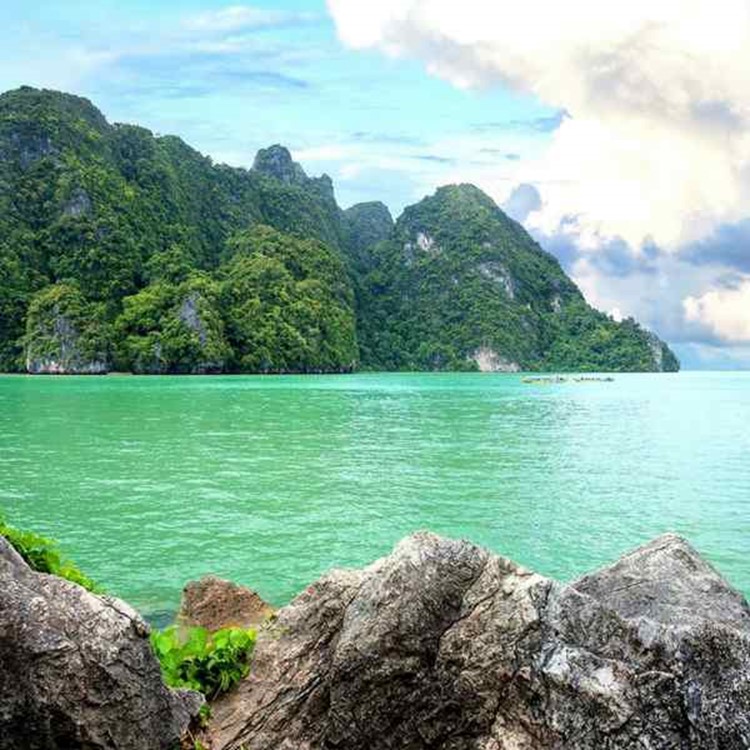 Phuket with its spectacular golden sand beaches and colorful shores with water in different hues, chic beach resorts, and various water sports continues to amaze people from all over the globe. Couples especially for honeymoons arrive here in spite of the crowd of tourists, being a gateway to the other romantic Thai islands nearby, Phuket still tops the list for its cascading azure waters and soft palm-lined beaches with various resorts and superb hospitality.
Major attraction: Patong Beach, Kata Noi Beach, Karon View point and Old Phuket Town are some major attractions.
---------------------------------------------------------
Best Deals for the Month
Places to eat: Baan Noy Restaurant, Ka Jok See, La Gritta Phuket
Activities to do: snorkeling, scuba-diving, and couple sessions at Thai Spas
Places to stay: Le Meridian Phuket Beach Resort, Anantara Phuket Villas, The shore at Katathani, Renaissance Phuket Resort and Spa.
Koh Samui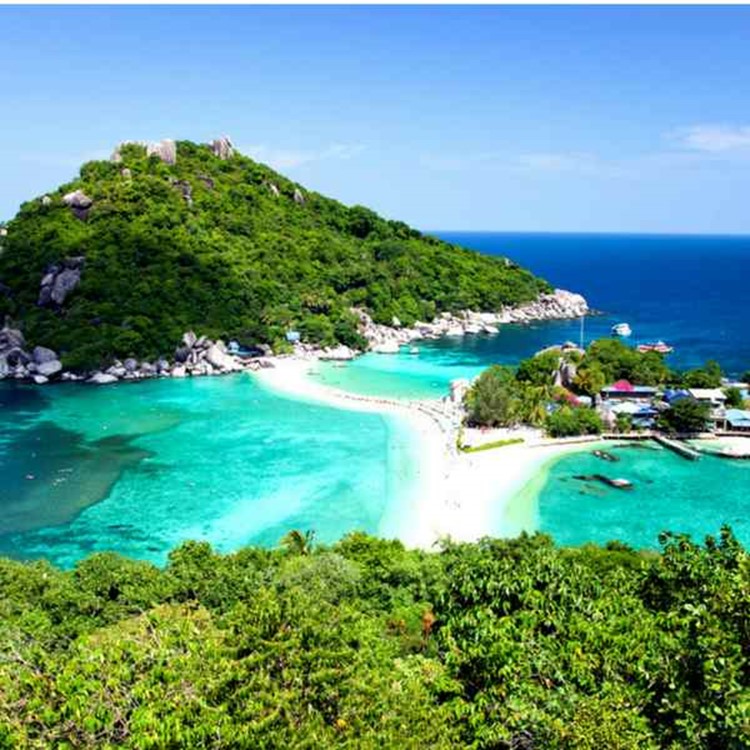 The mesmerizing Islands set amongst the boulders and Celeste beaches with white shorelines don't cease to perplex anyone who wonders at the creating of God, The quiet beaches soothe the contending nerves and serve as a great place for couples gathering. With all new infrastructure, the Four Seasons Koh Samui has amazing family villas for brood travelers; quieter than Chameng the main area, Lamai Beach, one of the best is unruffled and doles out various activities and markets to shop.
Major attraction: Kamalaya Rainforest Spa, Beachfront restaurants, Na Muang waterfalls, and various beaches.
Places to eat: Kob Restaurant, Como Resort Koh Samui, Supattra Thai dining
Activities to do: snorkeling, scuba diving, high-end spas and activities, Rave Parties and rock climbing
Places to stay: Banyan Tree Resort in Lamai, Four seasons resort in Ang Thong, Tongsai Bay Resort on Choeng Mon Beach and W Retreat on Maenam Beach
Mu Koh Ang Thong Marine Park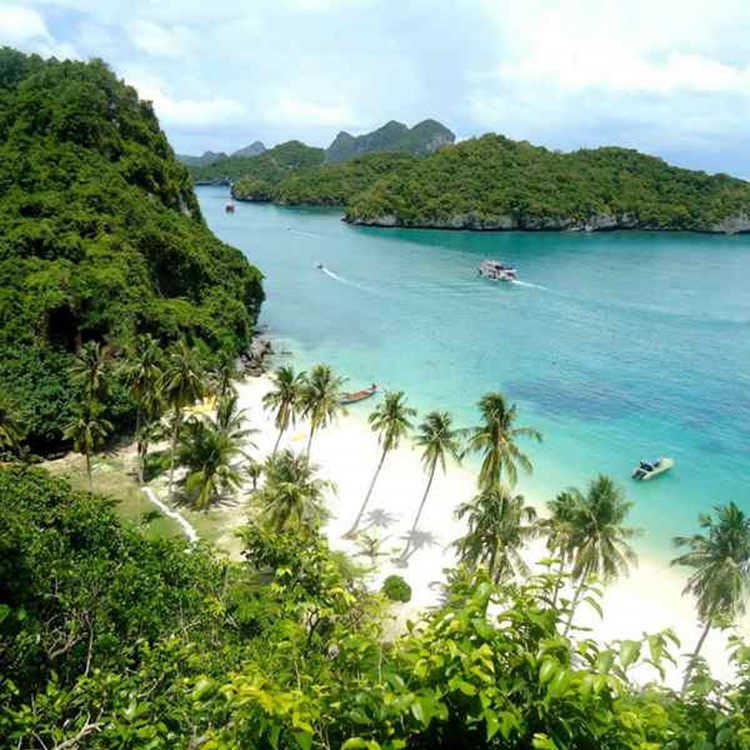 This chain of 42 islands nascent with awesome beaches and tropical forests, with trees and leaves which will stop you to gape at them, the rocks as if designed by the Aleppo glass workers and the shorelines with soft caressing and crunchy sand will leave you in a trance at their beauty. These chains of Islands are the best amongst the whole of Thailand, you're sure to be mesmerized on your honeymoon.
Major attraction: barbecues on the isolated islands, fascinating beaches, and kayaking through hidden lagoons.
Places to eat: beachside restaurants, Tony's bed and Breakfast, Bualuang Angthong hotel
Activities to do: sub-marine life, diving, kayaking and snorkeling
Places to stay: Ayutthaya retreat, Tony's bed and Breakfast, Baifern Homestay and Bualuang Angthong hotel
Koh Tao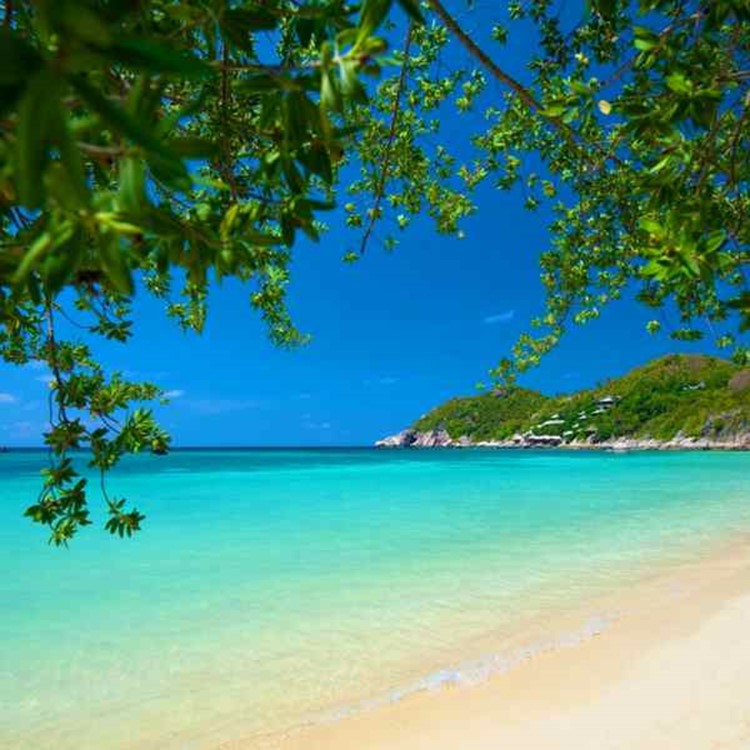 The beaches are the longest elongation of sand on the west side of the dazzling island of Ko Tao also known as the Turtle Island in English. They sport some very fun gratifying bars, night clubs and sport activities, this island can be reached by air of by various ferry services. The huge rocks in various shower of Payne and Silver grey sees some major tide fluctuation which mark the rocks into two colors with aquatic vegetation budding from beneath. It's also famous for cheap water sports.
Major activities: vibrant nightlife, scuba-diving, sandy coves, snorkeling, and lantern-lit restaurants
Places to eat: Barracuda Restaurant and Bar, Thaita Italian Restaurant Koh Tao, Fishy's Burger Island
Activities to do: scuba diving, group scuba diving, snorkeling, and marine life.
Places to stay: Nang Yuan Island Dive resort on Nang Yuan Island just off Koh Tao and Casas del Sol on Koh Tao
Koh Lipe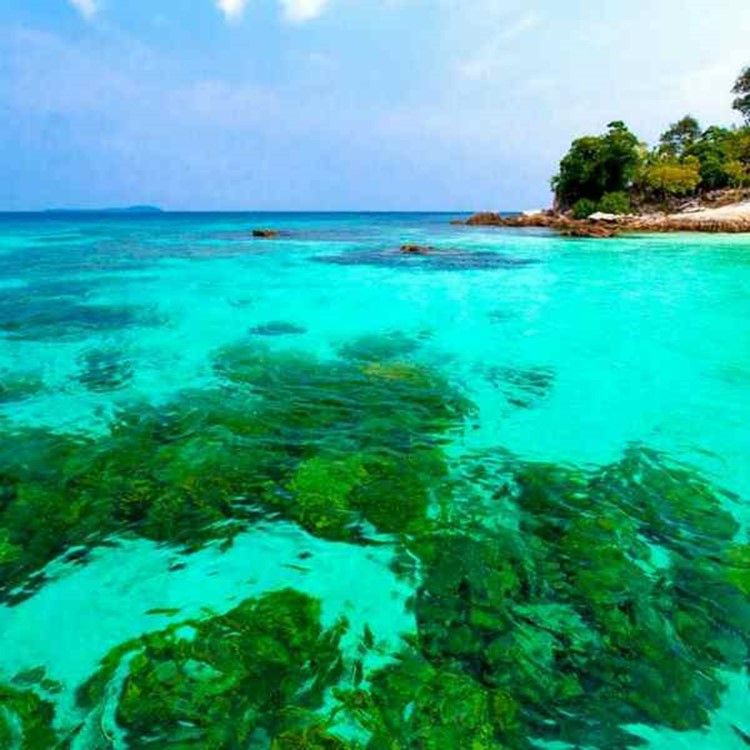 The remote beaches are exclusively unblemished and are prominent for some fantastic seafood and the mesmerizing sunset caressing the horizon with its rays. Different restaurants serve the best seafood meal with finest culinary skills and fewer crowds. Located in the 51-island archipelago of Tarutao Marine Park, it's clear water beaches and rocks by the side don't cease to hypnotize.
Major activities: visiting- Hat Yai, Koh Mook, Koh Ngai, and Koh Phi Phi
Places to eat: Sunrise Beach Restaurant, Serendipity Resort- Koh Lipe, La Luna Italian Restaurant & accomodation
Activities to do: Adang Viewpoint, scuba diving, snorkeling, sunset and sunrise views.
Places to stay: The Cliff Sunset Resort on Sunset Beach, San Pita Resort near Sunrise Beach, Bundhaya Resort on Pattaya Beach and The Reef in Walking Street.
Mu Koh Chang National Park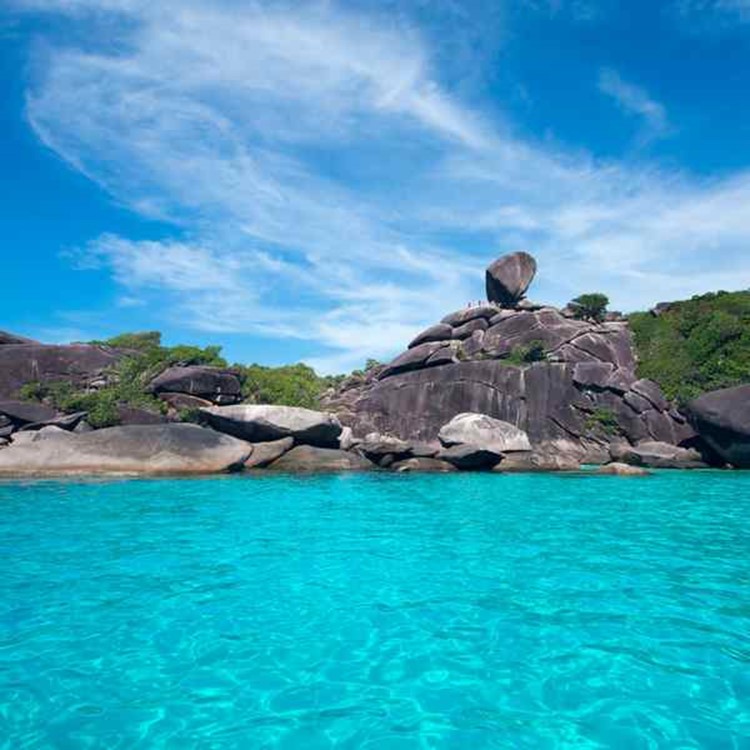 This group of more than 50 islands is the most underrated jewels of Thailand; this archipelago offers more than you can think- the wilderness, beaches, caves, beach parties, snorkeling, kayaking, and other water sports. There are a lot of places to stay by the breathtaking beaches.
Major activities: Klong Prao and Kai Bae are the best beaches, waterfalls, kayaking through hidden caves, island hopping and hiking expeditions.
Places to eat: Little Eden Bunglows & Restaurants, IamKoh Chang.com, Barrio Bontio
Activities to do: kayaking, scuba diving, snorkeling, island hopping, hiking tours and hidden coves tour.
Places to stay: The Dewa Koh Chang, Gajapuri Resort and spa, Santhiya Tree Koh Chang resort and Centara Koh Chang Tropicana Resort
Karbi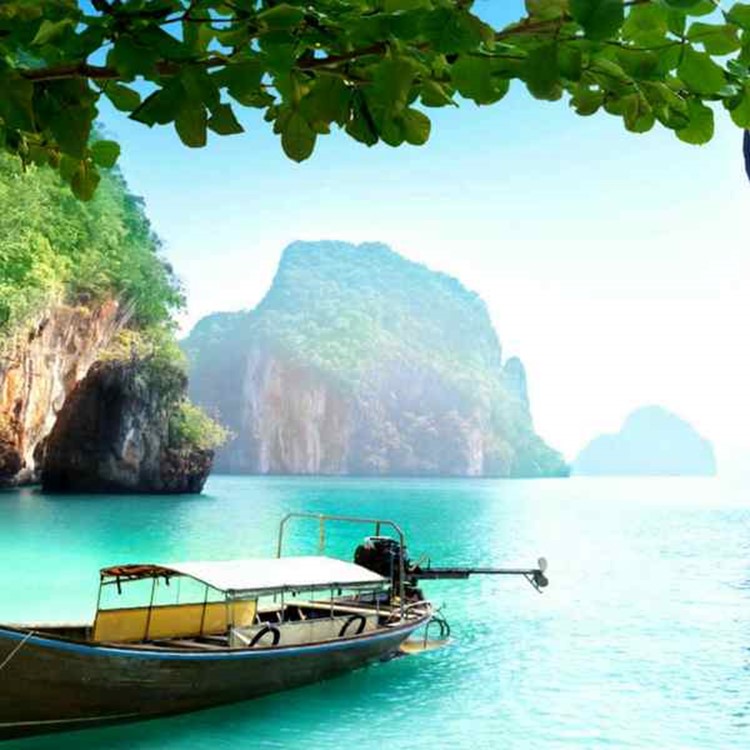 It's a beautiful place for honeymoon with heritage sites, adventurous activities and beautiful beaches. On the southern tip of Railay, the peninsula of Andaman coast lays Phra Nang Beach framed by limestone cliffs with emerald water lapping violently against them as it surges towards the white sand. Phra Nang and Railey beach are considered one of the most beautiful beaches in Thailand near Karbi province.
Major activities: Phra Nang, Railey Beach are one of the most beautiful beaches in Thailand, coral reefs, and scaling the tall lime stones.
Places to eat: Gecko Cabane Restaurant, Taj Palace Authentic Indian Restaurant, Chalita Café & Restaurant
Activities to do: swimming, canoeing, rock climbing exploring the caves, kayaking, and ferry rides to Ko Phi Phi and Phuket.
Places to stay: beachfront cafes and restaurants in Karbi
Mu Koh Phi Phi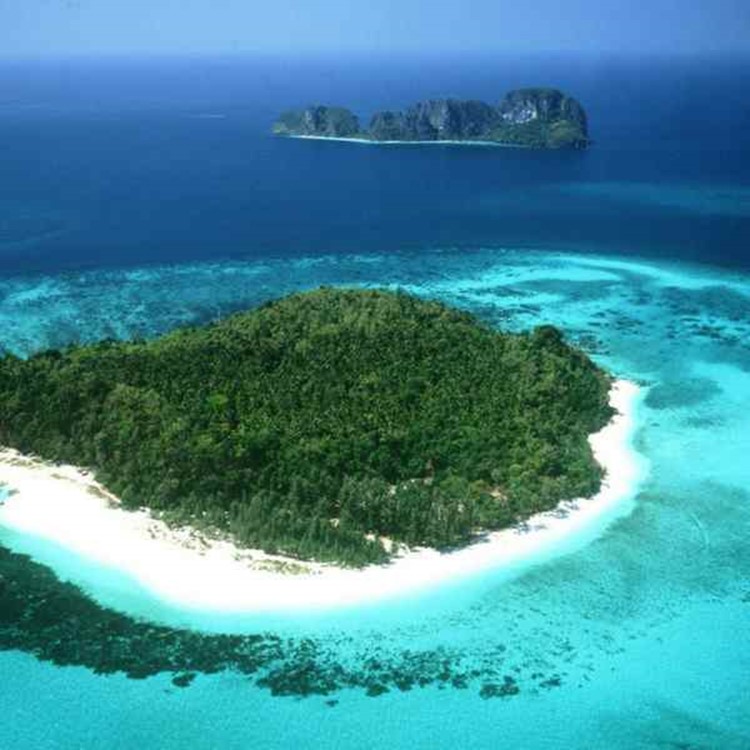 These islands near Karbi are basked in its beauty reflecting it back. Koh Phi Phi Don is the largest and inhabited island in the group, and Koh Phi Phi Lee is the most spectacular, it has been the shooting location for 'The Beach' a Hollywood movie. Koh Yung, Koh Mai Phai, koh Bida Nok, Koh Pai and Koh Bida Noi are some major islands.
Major activities: Phi Phi view point, Maya Beach, Long Beach and boat rides to Vikings cave.
Places to eat: Pum Thai Restaurant & cooking stool
Activities to do: boat tours, diving
Places to stay: Phi Phi Island Village Beach Resort, Sunwaree Phi Phi Resort, Viking Natures Resort, Dee Dee Beach house and Zeavola Resort.
Bangkok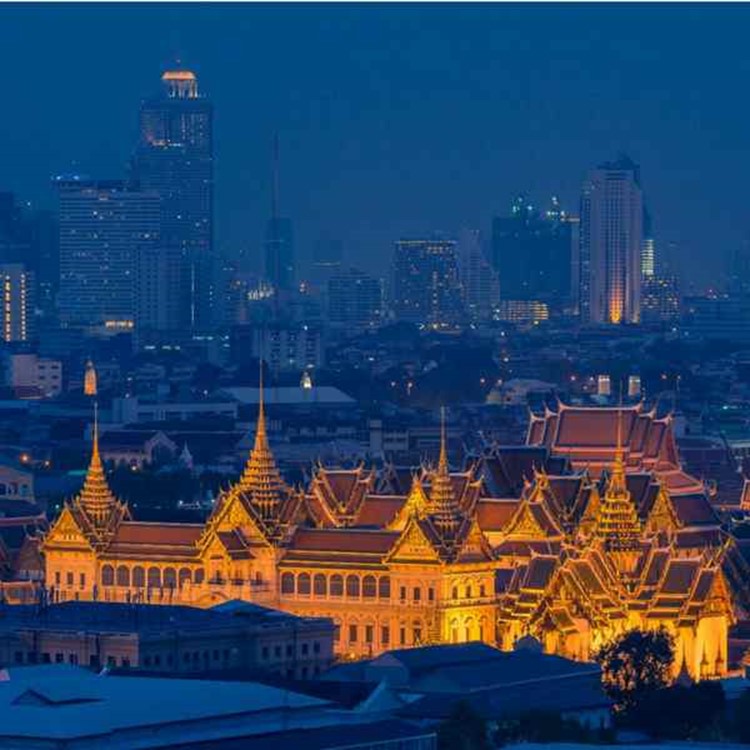 Amidst the clear skies and the modern sleek buildings lining the skyline of Bangkok, where people find solace under the soothing touch of sunrays in the blue of the beach waters, the towering buildings sprouting amidst the lush green flapping leaves, the hues of crimson and azure during the sunset, Bangkok is all painted by the nature to mesmerize you in its threads of variant shades and shadows to enjoy your love.
Major activities: Supanniga Cruise, Embassy Diplomat Screens, The Moon bar, The Oriental Spa at Mandarin Oriental, Issaya Siamese Club, Amorosa Bar, Chi-the Spa at Shangri-La, Theta State Float Center, Yunomori Onsen, Grand Pearl Cruise are some of the major activities:
Places to eat: Le Du Restaurant, Seven Spoons Restaurant, La Table De Tee Restaurant, Long Table Sky Bar, Indigo French Restaurant, Peppina Italian Restaurant and Thanying Royal Cuisine Restaurant.
Activities to do: nightlife in Bangkok, shopping at Siam Paragon, MBK, Central World, Terminal 21, Pratunam Market and Chatuchak Market.
Places to stay: Mandarin Oriental Bangkok, The Siam, Ariyasom Villa, Praya Palazzo, Sheraton Grande Sukhumvit, St. Regis, Hotel Muse, So Sofitel, W Bangkok, Lebua at State Tower, and Shangri-La Bangkok are some of the best places to stay in.
James Bond Island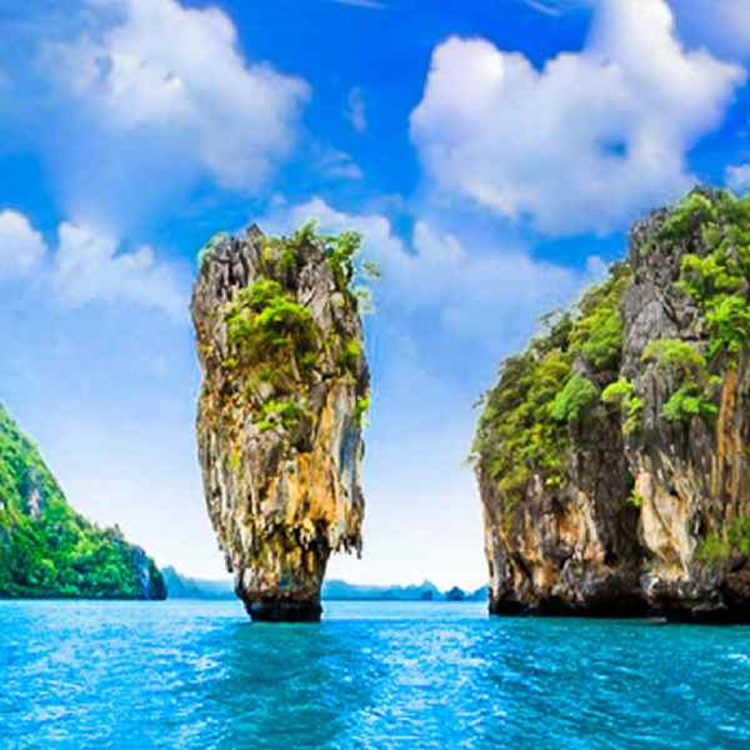 This is not a single Island but a group of limestone tower karsts rising straight out of the emerald green waters in Phang Nga Bay. James Bond movie- The Man with the Golden Gun in 1974 featured Koh Tapu and Koh Khao Phing Kan, since then there islets are known as the James Bond Islands.
Major Activities: beach viewpoints, limestone emerging straight from the waters
Places to eat: Hotel Murano Phang Nga Bay
Activities to do: beach view points, diving
Places to stay: The Tubkaak Krabi boutique resort, The Naka Island, Absolute Chandara Resort and Spa, Phulay Bay, A Rtiz-Carlton Reserve