Goa is a state in western India with coastlines stretching along the Arabian Sea. It is well known for its Portuguese culture, history and architecture. It is also the home to the most exquisite beaches in India and gets travelers from all over the world. The Miami of India – Goa has become the party destination for all Bachelors and Bachelorettes. Filled with adventure, thrill, shacks and beaches Goa has become a raging tourist spot in the recent few years.
How to reach Goa?
1. By Air – The Dabolim Airport is just 29 kilometers from the state's capital, Panjim. It is well connected by daily flights from Chennai, Mumbai, New Delhi, Hyderabad, Cochin and Bangalore.
2. By Train – The two major railheads in Goa are Madgaon and Thivim, which are well connected by trains from all over the country.
---------------------------------------------------------
Best Deals for the Month
3. By Bus – KSRTC, MSRTC and KTC are some of the Government undertaken intra-city and inter-city conveyance that operate from Panaji/Panjim, Madgaon and Vasco Da Gama. Private bus operators also provide such services. Goa enjoys daily bus service from important cities like Mumbai and Pune.

Adventure activities in Goa
[wt_carousel count="50″ tag="Goa trip" img_size="your_image_size"]
1. Parasailing in Goa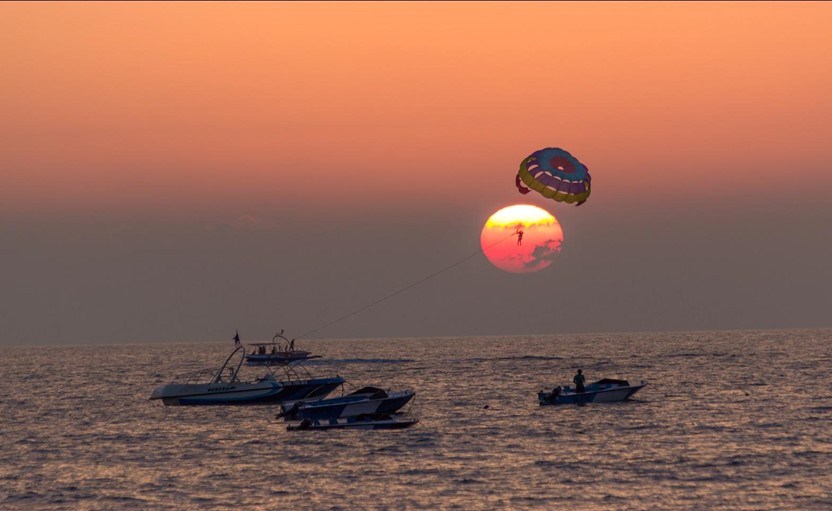 Thrill Seekers, Adrenaline Junkies and Adventure lovers love this sport. It is for the speed lovers who love to fly high. Thus nothing gets grander than parasailing in Goa.
Location – Calangute Beach
Time – 10:00am – 05:00pm
Duration – 5 – 10 minutes
Price – INR 999 per person

2. Water Scooter/ Jet Ski in Goa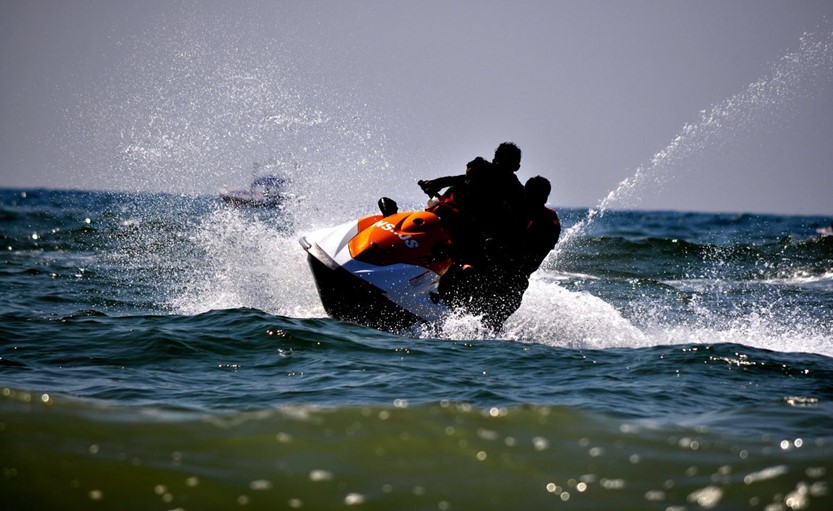 Source-Flickr.com
The blend of a motor bike on water. It is smooth and fast. There is a different level of thrill when riding along the waves and dashing though the waves gives one a perfectly cinematographic feeling. Riders can also sometimes spot dolphins if their luck favours. Essentially two people can enjoy the ride together.
Location – Dona Paula jetty, Cidade de Goa, Majorda, and Candolim beach.
Time – 09:00 am – 03:00pm
Duration – 10 – 20mins
Price – INR 200 – 300 per scooter
3. Scuba Diving in Grande Island in Goa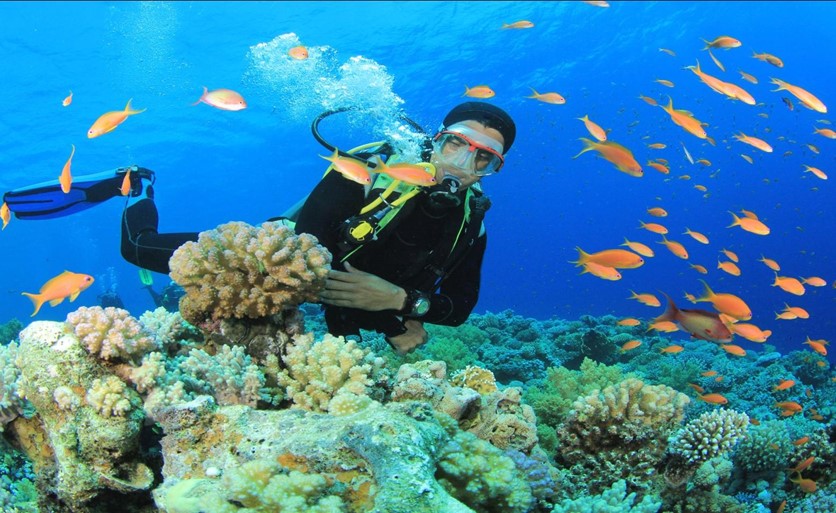 Source-Flickr.com
The adventure sport for the brave heart and the lovers of marine life. Scuba diving is all about going deep in the water to witness the various marine lives down there, starting from lobsters, colorful fishes to marine plants. Interested people dive into a depth of five to ten meters. Scuba diving is just not a sport it is also said to be meditation in water.
Location – Grande Island
Time – 07:00am – 03:00pm
Duration – At least 30mins
Price – INR 1000 – 3499 per person

4. Windsurfing on North Goa Beaches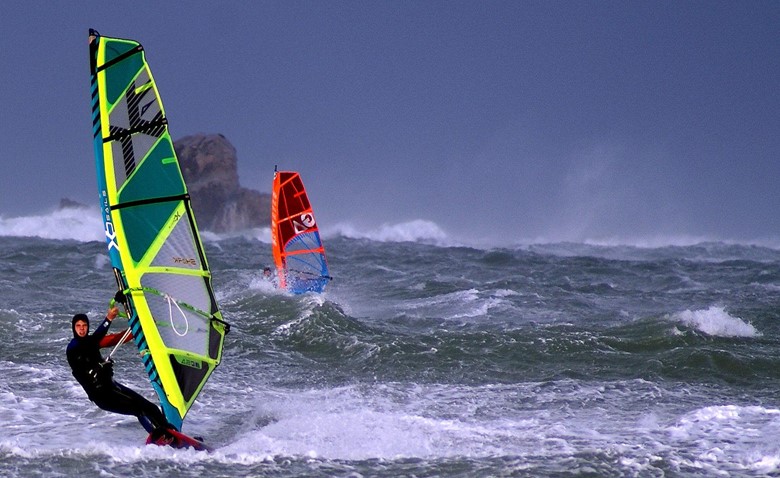 Source – flickr.com
It is nothing but surfing and sailing together. It is a challenging sport as it requires the surfer to be fit and quick to surf along the waves with the changing directions of the wind. It is a difficult but a highly daunting sport for many. There are many coaching schools in Goa that teaches wind surfing.
Location – Dona Paula Beach. Calangute, Colva, Palolem, Miramar, Baga and Bogmalo Beach
Time – 09:00am – 03:00pm
Duration – 1 – 2 hrs
Price – INR 400 – 600

5. Water Skiing in North Goa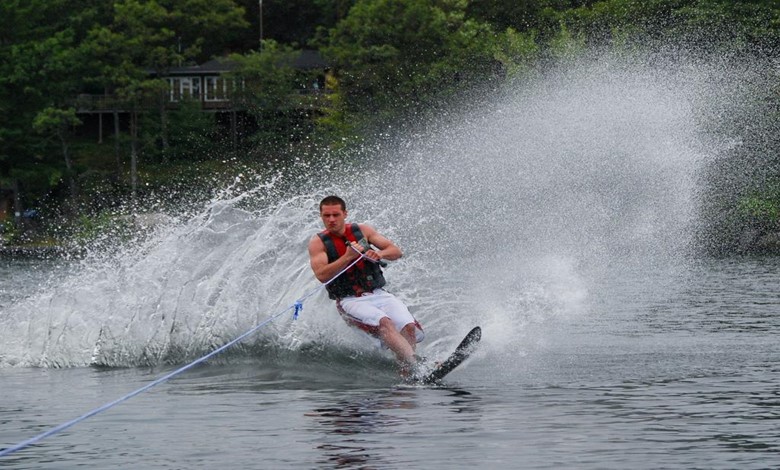 Source – flickr.com
Another adventure sport venture with speed boats after parasailing is water skiing. As the name suggest it's like skiing on water as the speed boats pull you at a speed of 30-40 miles an hour speed.
Location – Calangute Beach, Candolim Beach, Mobor Beach, Rajbagh Beach and Utorda Beach
Time – 09:00am – 03:00pm
Duration – 5-10 minutes
Price -INR 500 – 1200 (depending on season) per person.
6. White Water Rafting (July – Sept)

Source – flickr.com
A sport that is widely popular in the rivers at the mountainous regions is now a popular monsoon adventure sport at Goa. Highly thrilling and highly enjoyable, water rafting is a group activity that not only gives one adrenaline rush but also teaches to work in a group. The white water rafting on the Mahadei/ Mandovi River in Goa provides the gleam of fast-moving clear water which is a beautiful sight to be a part of.
TERMS and CONDITIONS
– Minimum age 16 years.
– Secure footwear for rafting.
– No pregnant guests.
– No long loose clothing.
– Minimum number of 6 guests to run a trip.
– Maximum number of seats per trip is 20.
Location – Valpoi (meeting point)
Time – 09:30am – 02:30 pm
Duration – 2 – 3 hours
Price – INR 1,799 (without transport) – INR 2699 (with transport)

7. Froggyland Water World in South Goa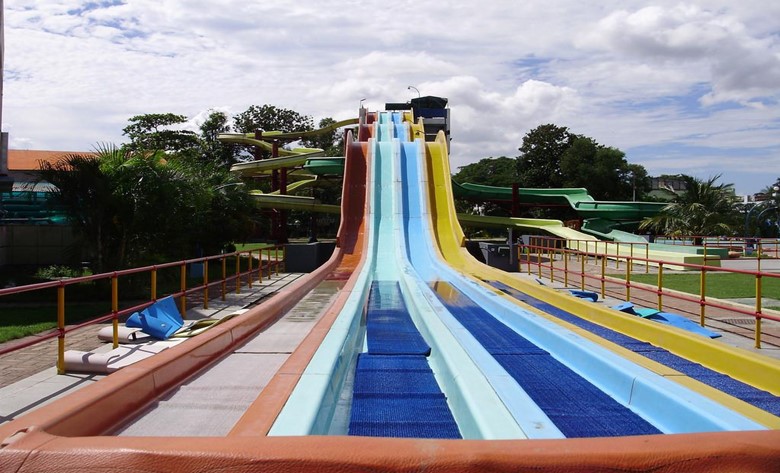 Source – flickr.com
Water theme parks are an excellent getaway spot for both family and friends. Froggyland is one such water theme park in Goa. It provides numerous adventurous yet fun rides for people of all ages to enjoy and have fun. Not restricting itself solely to water related fun; it also boasts a climbing wall, rappelling, bungee, trampoline and other thrilling adventure activities.
Location – Nuvem, South Goa
Time – Tuesday – Sunday (open all day)
Duration – Depends on visitor

Price -INR 450 per person

Walks and Treks in Goa
8. Dudhsagar Waterfalls Trek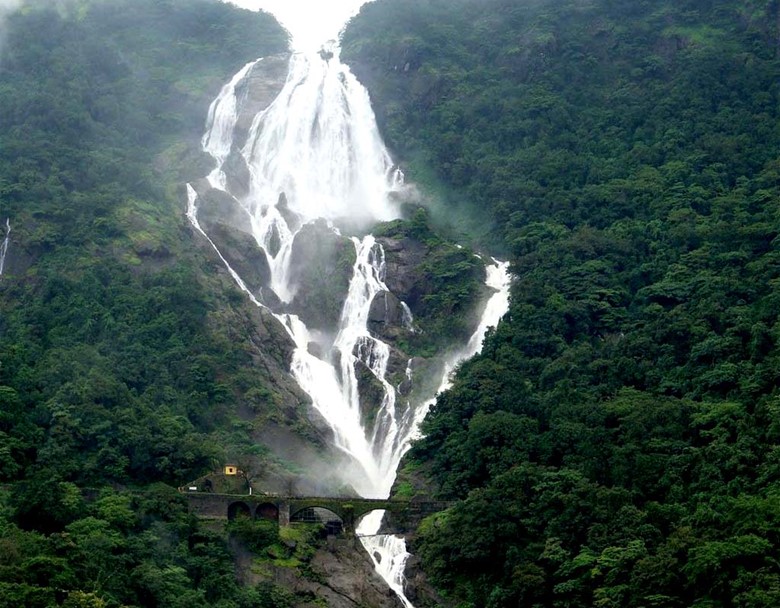 You must have seen the giant Waterfall scene in Chennai Express & always wanted to visit that waterfall. Same with us & that is why this Dudhsagar Waterfalls Trek is a must do adventure activity in Goa.
There are two ways to go for this trek. One is reach Castle Rock Railway Station & from there start walking for 6-7 KMs. After which you will come across a Tunnel and once you cross the tunnel, you will witness the mighty Dudhsagar trek.
Another way to go for this trek is through Dudhsagar Forest & here you will trek around 5-6 KMs & cross multiple Waterstream to reach the base of the waterfall & can enjoy the full view & the sere water & play around it.
9. Walk through streets of Panjim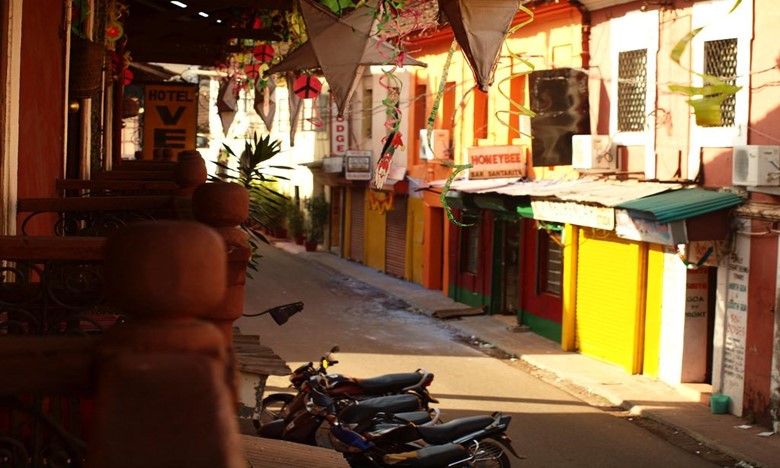 The capital city of Panaji is undoubtedly one of the best areas at Goa for tourists to go on a walk and have an intimate interaction with the people as well as enjoy the Old Portuguese architecture. It has tree-lined avenues and promenades. However it is unwisely to go for a walk in the midday sun and the prime time would be early mornings and early evenings to see the city and its people at their smiling best. Some of the places to enjoy and go around walking would be the Campal Miramar stretch, the riverside walk to the Santa Monica Jetty, the shopping areas of M.G. Road and 18 June Road. A walk through these roads and alleys would be a splendid experience for anyone who has a soul of a traveler.

10. Chorao- A stroll in Goan Culture- Backwaters, Water Sports & Goan Cuisines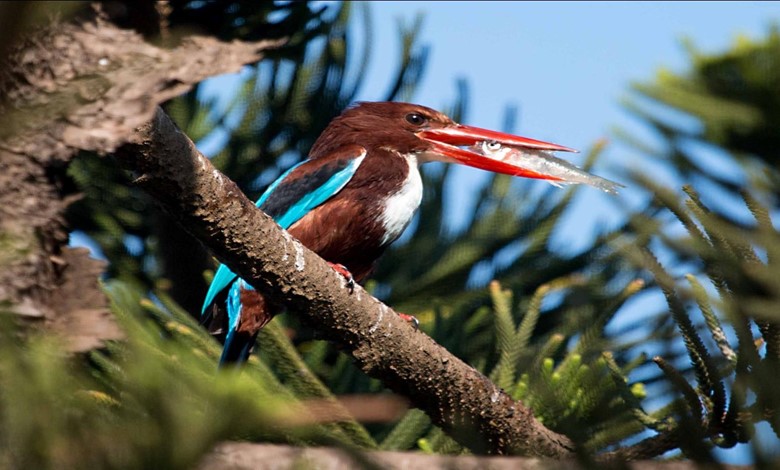 Source – flickr.com
Travelers can enjoy a boat ride through the backwaters for bird-watching and crocodile spotting. However one can also explore the island on foot and trek through the small forest and rest at the rest houses. It is also famous for its fascinating houses and chapels. As one ventures the island on foot one can also meet the locals and have a chat with them about the culture and history of the place, which is both enriching as well as exciting. Yet another best thing about this place is that it is a small island thus doesn't have many restaurants and the few that are located at this island serve authentic Goan food, thus one must have a meal here to enjoy the real taste of Goa.

Waterfalls in Goa- 

11. Arvalem Falls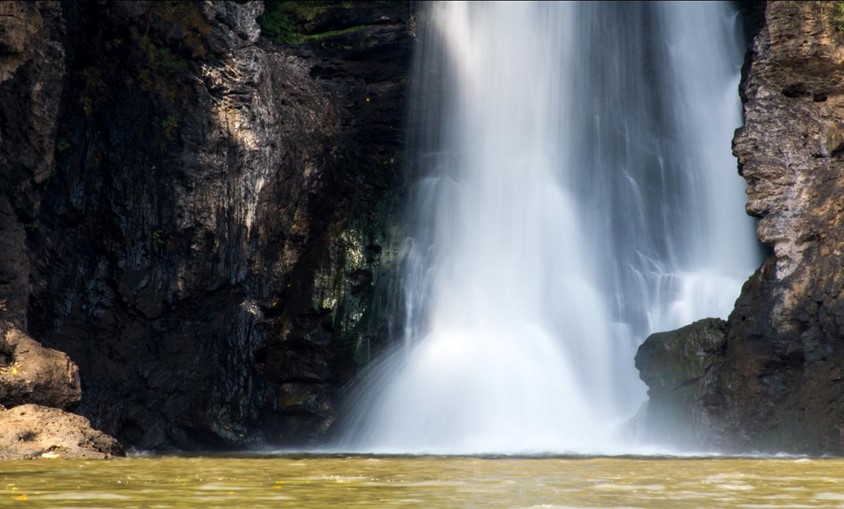 Source – flickr.com
Visitors enjoy a rejuvenating and refreshing bath below the waterfall which makes a shallow pond. It is popular among tourists as they take a dip in the shallow pool that is formed and have fun. When a waterfall is set amongst the rolling green slopes in an area lush with forests and awash with history it becomes an essential tourist site.
The Rudreshwar temple is within easy walking distance. As Arvalem rock cut caves too is within walking distance which is believed to have been either carved by Buddhist monks or is suspected to be the hiding place for Pandavas during their exile.
Location – Near Mapusa in North Goa
Time – Prime during the monsoon season

12. Salaulim Dam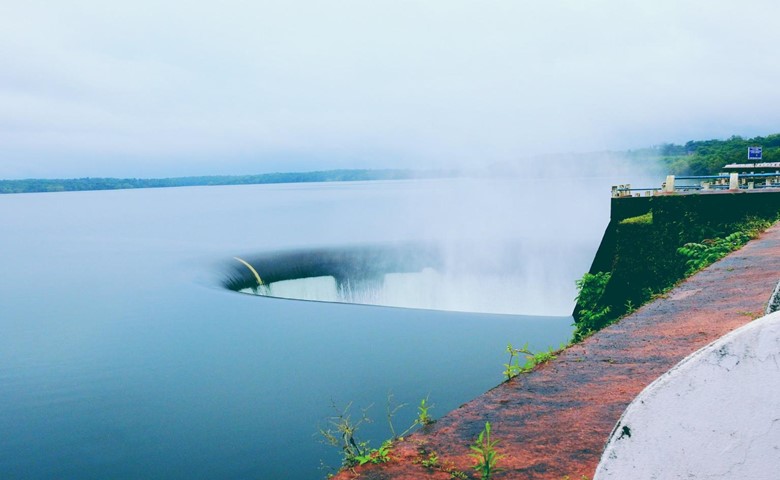 Source – flickr.com
It is located on the Salaulim River, a tributary of the Zuari River, which one of the main rivers of Goa is an integral component of the Salaulim Irrigation Project which envisages benefits of irrigation and drinking water supply. The dam is quite peculiarly built which is an engineering excellence and that is also why it makes for a great tourist spot as well.
Location – 5 km from the Sanguem town, South Goa
Time – Prime during monsoon

13. Aguada Fort- An Adventure Walk to the Seaside Fort in Goa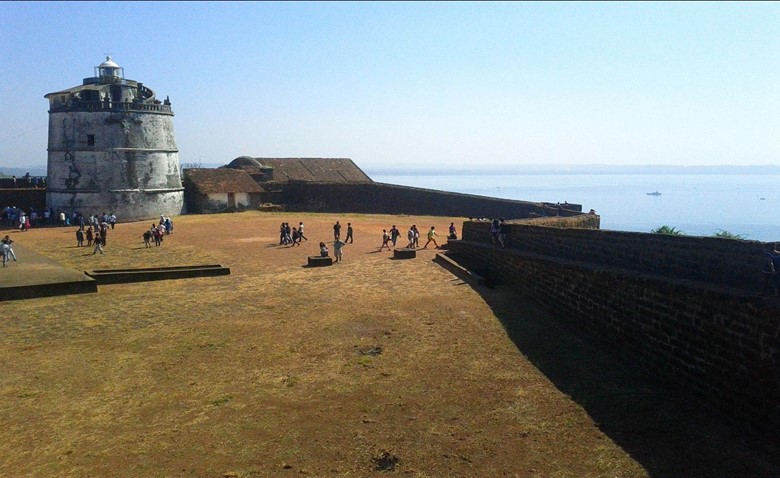 It is one of the oldest and most formidable Portuguese fort that there is in India. It is impregnable as it has in the yester years withstood attacks of the invading neighbors of Goa and have kept Goa safe for the Portuguese people to live and prosper for more than four hundred years. The fort provides a panoramic ocean vista, witnessing the confluence of the Mandovi River and Arabian Sea which is a stunning sight especially during the sunset when the sun disappears in the horizon making it seem like the sun sinking in the sea.
The fort also possesses a magnificent four storied lighthouse which provided way for the harboring ships, built in 1864 it is the oldest of its kind in Asia.
The fort has been converted into the Aguada Jail that holds those accused of narcotics, sale of drugs and trafficking
However only a fraction of the Aguada fort is actually a popular tourist spot, which is the Hilltop Fort. There is a 2 km walking path to the fort that starts near the Marbella guest house. Lastly a visit to the Church of St. Lawrence, patron saint of sailors, is a must to mark the end of the visit to this absolutely stunning Aguada Fort.
Location – Aguada-Siolim Road in Sinquerim (Candolim, Goa)
Time – 9:30am – 6:00pm (all days of the week)
[wt_carousel count="50″ tag="Summer treks new" img_size="your_image_size"]
[wt_carousel count="50″ tag="Monsoon treks new" img_size="your_image_size"]
[wt_carousel count="50″ tag="Autumn treks new" img_size="your_image_size"]
[wt_carousel count="50″ tag="Winter treks new" img_size="your_image_size"]
[wt_carousel count="50″ tag="Cycling treks new" img_size="your_image_size"]