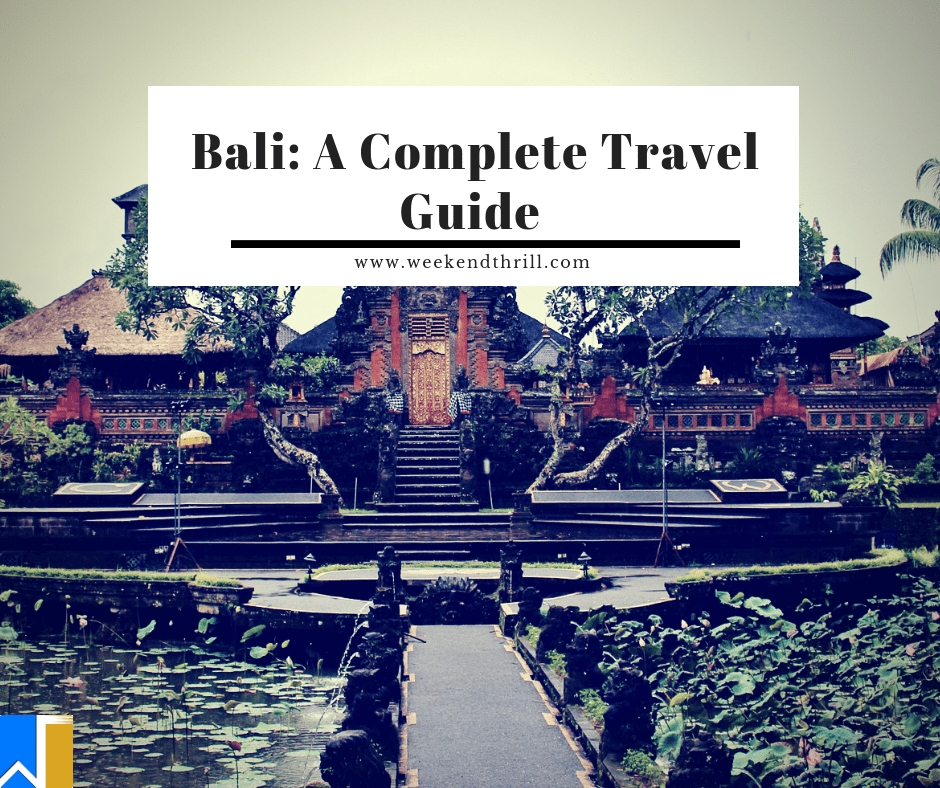 Bali is one of the most popular travel and vacation destinations in the world and rightly so. Bali has a rich cultural heritage and pristine beaches which makes your vacation seem paradisiacal. Bali also caters to the young and the adventurous by providing lots of adventure activities such as, snorkelling, river rafting, ATV quad biking and it also has great hikes. But Bali is not only outdoors. The local people are friendly, the food is exquisite and the best part is that Bali is inexpensive.
In a nutshell, Bali is everything you wish your ideal vacation should be like. This island is surrounded by an ancient charm that absolutely makes it irresistible to people. If you do not like places that are too crowded by the tourists then you should head northwards where not a lot of tourists venture to. Learn about Bali and plan your visit to this beautiful country.
History of Bali :



The island of Bali was originally connected to Java and Sumatra and to the mainland of Asia and shared the fauna of Asia during the Pleistocene age. Later Bali, Java and Sumatra got separated from the mainland of Asia and it formed a part of the Indonesian Archipelago.
---------------------------------------------------------
Best Deals for the Month
The island of Bali hosts the majority of Hindu population of about 84 percent followed by 13.4% Muslim, Christianity at 2.5% and Buddhism 0.5%. Bali is estimated to be inhabited around 2000 BC. Stone tools dating from this time have been found on this island. Culturally and linguistically the Balinese people are closely related to the people of Indonesian archipelago, Philippines and Malaysia.

In ancient Bali, nine Hindu sects existed, namely Pasupata, Bhairawa, Siwa Sidhanta, Waisnawa, Bodha, Brahma, Resi, Sora and Ganapatya. Each sect revered a specific deity as its personal Godhead.


The culture of Bali was strongly influenced by Indian and Chinese cultures. Particularly the influence of Hindu culture in Bali is very strong in Bali, beginning around 1st century AD. The name Bali dwipa ("Bali Island") has been discovered from various inscriptions, including the Blanjong pillar inscription written by Sri Kesari Warmadewa in 914 AD and mentioning Walidwipa. It was during this time that the people developed their complex irrigation system subak to grow rice in wet-field cultivation. Some religious and cultural traditions still practiced today can be traced to this period.

In 1597, the Dutch explorer Cornelis De Houtman, arrived at Bali and established the Dutch East India company in 1602. The Dutch government expanded its control over the Indonesian archipelago during the second half of the 19th century. Dutch political and economic control grew in Bali in the 1840's on the islands north coast. The dutch gained total control of Bali by 1906. Bali gained freedom from its Dutch colonial rulers by 1946. Bali was included in the "Republic of the United states of Indonesia" by 1949.  
Geography and Landscapes of Bali :



The island of Bali lies 3.2 kilometers east of Java, and is approximately 8 degrees south of the equator. Bali and Java are separated by the Bali Strait. East to west, the island is approximately 153 kilometers wide and spans approximately 112 kilometers north to south.
Bali's central mountains include several peaks over 2,000 metres (6,600 feet) in elevation and active volcanoes such as Mount Batur. The highest is Mount Agung (9,944 ft), known as the "mother mountain" which is an active volcano.
Mountains range from centre to the eastern side, with Mount Agung the easternmost peak. Bali's volcanic nature has contributed to its exceptional fertility and its tall mountain ranges provide the high rainfall that supports the highly productive agriculture sector. South of the mountains is a broad, steadily descending area where most of Bali's large rice crop is grown. The northern side of the mountains slopes more steeply to the sea and is the main coffee producing area of the island, along with rice, vegetables and cattle. The longest river, Ayung River, flows approximately 75 kilometers.
he island is surrounded by coral reefs. Beaches in the south tend to have white sand while those in the north and west have black sand. Three small islands lie to the immediate south east and all are administratively part of the Klungkung regency of Bali: Nusa Penida, Nusa Lembongan and Nusa Ceningan. These islands are separated from Bali by the Badung Strait.
Climate and the best time to visit Bali :



Being just 8 degrees south of the equator, Bali has a fairly even climate year round. Average year-round temperature stands at around 30°C with a humidity level of about 85%.
Day time temperatures at low elevations vary between 20–33°C, but the temperatures decrease significantly with increasing elevation.
The west monsoon is in place from approximately October to April, and this can bring significant rain, particularly from December to March. During rainy season there is comparatively fewer tourists seen on Bali. During the Easter and Christmas holidays the weather is very unpredictable.
Outside of the monsoon period, humidity is relatively low and any rain is unlikely in lowland areas.
Bali being a tourist hotspot, visiting this country during the off-season, that is from December to March has its own benefits. As it is an off-season for tourism in Bali, the number of tourists will be less and the prices of hotels and other activities also decreases.
Many water related activities will be restricted because of rainfalls and the possibility of occurrence of cyclone in the monsoon months.
How to reach Bali :



By air :



Bali has an international airport in Denpasar. Most major airlines, but also plenty of budget airlines offer a flight to Bali. The best way to get more value for your money is book a two way flight ticket to and from Bali. There are flights to Bali from all major airports in the country.  Air Asia offers the cheapest flight rates from Mumbai to Bali.
The best way to get flights at a cheaper rate is by booking connecting flights to SIngapore or Malaysia and from there to Bali. Malaysian airlines and Singapore airlines offer economical rates to Bali.
Another better way to book cheaper flights is by booking a flight to Malaysia or Singapore and from there booking another flight to Bali.
By sea :



Since Bali is an island; the journey to this place via sea is an absolutely wonderful experience. Take time from your busy schedule and book a relaxing ferry from SIngapore to Bali. There is no direct route to Bali from Singapore, so the passengers can chose the ferries with various stopovers in between the journey.
Passengers can arrive at the world trade center ferry terminal in Singapore and buy any ferry from Singapore to Batam. Next from Batam the passengers have to book a ferry to Jakarta, an island near Bali. It takes about 26 hours approximately to reach Jakarta from Batam through PLENI a famous ferry service company operated by the Indonesian authorities. Next the passengers can take Dora Londa ferry to Surabaya, Bali port then catch a taxi and make their way upwards Bali's mainland.
Things to see and do in Bali :



Visit Temples :



Bali is the only Hindu country in Indonesia. Bali has a rich cultural heritage passed down by the ancestors of the native Balinese people. The island of Bali is covered in temples and each city has two-three prominent temples which are the most prominent tourist attractions. The most prominent temples are the 9 directional temples and the Mother temple.
Each temple in Bali has its own myths and legends. The native people of Bali are very religious and they uphold their cultural integrity above everything else. The temples in Bali look like they're woven with stone with each temple different in its architectural design. The stoneworks on the temple tell a different story in each temple.
Take a dip in the hot springs :



Bali is a volcanic island. And every volcanic island is laden with one nature's most amazing gift. The hot springs. Bali has been blessed with an abundance of hot springs. Take a dip in these hot springs and revitalise your skin and wash away your fatigue. It is incredibly energizing to sit and soak in these hot springs while being surrounded by lush green plantations on all sides.
Take a trip to Nusa Lembongan :



Nusa Lembongan is also called as a sister island of Bali. Nusa Lembongan is located right of the coast of Bali and it provides a wonderful alternative for people who love solitude in their vacation. Nusa Lembongan is well maintained and cheaper than the mainland of Bali and it offers wonderful surfing spots.
Go dolphin watching :



Bali is located at a spot that is frequented by the majestic dolphins. Book yourself a cruise and go dolphin watching.
Watch the Monkeys :



In Ubud, you can visit the sacred monkey sanctuary that houses many breeds of monkeys and is aimed at monkey preservation and conservation. It is very exciting to see the long-tailed macaques running around and playing with each other.
Try out adventure sports :



Bali is very famous for the adventure sports that it offers. There a tons of activities for you to do here. You can go bungee jumping, paragliding, hiking, mountain cycling, horseback riding, jungle trekking, ATV quad biking and even treetop zip-lining. All these activities makes sure that you cater to the adventurous spirit within you.
Food in Bali :



Although tourism produces the countries largest GDP output, agriculture is still the largest employer of the island. Since Bali is an island, seafood in Bali is available in abundance.
Balinese cuisine uses spices, blended with fresh vegetables, with meat and seafood. Rice, the primary grain is almost always consumed as a staple accompanied with vegetables, meat and seafood. Pork, chicken, fruit, vegetables and seafood are widely utilized.

Bali is also known as a "Vegetarian Paradise". The most popular dish of Bali is Gado Gado and Pachamama which are both vegetarian dishes. Since the island has an abundance of lush green vegetation vegetarian food is very popular in Bali.
One can buy fresh ingredients in Bali's local markets. These markets sell the freshest ingredients at a very economical price. Balinese cuisine are served from humble street carts to fancy restaurants to 5-star resorts. Balinese warungs or restaurants usually specified on certain menu, for example there are restaurants that specialized on solely serving babi guling (suckling pig), bebek betutu (crispy duck), or nasi campur (Balinese mixed rice).

Some of the famous dishes of Balinese cuisine are :
Babi guling, roasted suckling pig, famous in Bali

Betutu, steamed or roasted poultry (chicken or duck) highly seasoned. A specialty of Bali and Lombok

Bubur Sum-Sum, rice porridge with palm sugar sauce and grated coconut.

Bubur Injun (black rice pudding), black sticky rice with coconut milk.

Bantal, packages of sticky rice, coconut, sugar and fruit (often bananas or sometimes orange rind or even mango essence).

Iga Babi, Balinese pork ribs

Lawar, mixed vegetables and other ingredients

Nasi Bali, rice with various dishes

Sate Babi (pork satay)

Rawon babi, pork spicy stew similar to East Javanese rawon. This meat soup is usually served to accompany nasi bali or babi guling.

Sate Lilit, spiced mince meat on a stick.

The Arabica coffee plantation near Kintamani village is a very huge coffee plantation in Bali. Balinese coffee is a sweet, soft coffee with a very good consistency. Typical flavors include lemon, citrus and other notes. Arabica coffee from Kintamani is the first product from Indonesia that requests a geographical indication.
Where to shop and what to buy?



Ubud art market :



The Ubud art market known as the 'Pasar Seni Ubud' is one of the famous markets of Bali that is open daily. Here you can find beautiful scarves, lightweight shirts, handmade woven bags and hats; statues and many other hand-crafted goods.
Sukawati art market :



Sukawati art market referred to as 'Pasar seni Sukawati', is Bali's most distinguished and long standing art market. It's patrons can seek and purchase Balinese art items such as paintings, sculpted wooden figures, handcrafts and traditional handmade products.
Kuta art market :



Kuta is small beachside bazaar like complex where Bali souvenirs, arts and handicraft items are sold. This art market is located near the Kuta beach.
Balinese Spa :



Balinese massage is a full-body, deep-tissue, holistic treatment. Balinese massage uses a combination of gentle stretches, acupressure, reflexology, and aromatherapy to stimulate the flow of blood, oxygen and "qi" (energy) around your body, and bring a sense of wellbeing, calm and deep relaxation. Balinese massage uses a variety of techniques including skin rolling, kneading and stroking, and pressure-point stimulation, combined with the aromas of essential oils.

What to expect from a Balinese massage?
Balinese massage is usually performed on a massage couch, but can also be performed on a floor mattress. Aromatherapy forms an important part of a Balinese massage. The use of scented massage oil can be very therapeutic, with the aroma of the essential oils soothing your mind. The massage oil also helps massage strokes become fluid and free of friction, which makes for a more comfortable treatment. Sessions usually last about an hour.
What is Balinese massage good for?
Balinese massage techniques work to soothe damaged tissue, and relieve strained muscles and joint pain. The boost to your circulation will help reduce stress and rebalance your body, and the aromatic oils can also boost your mood. As this massage targets deeper layers of muscle, and boosts circulation, Balinese massage is useful for sports injuries.
Different types of Balinese massage
Bali is just one of hundreds of islands that make up Indonesia. Many of these islands have evolved their own special kind of Indonesian massage. All of the massages fuse ancient traditions and practices into treatments that will help your body to heal physically and spiritually, and leave you feeling wonderful. Few types of Balinese massage are :
Sasak massage


Lombok massage


Urat massage

Volcanoes :
Bali is a volcanic island. Bali hosts one of the world's largest active volcanoes called as Mount Agung and Mount Batur. Thanks to the volcanic eruptions of Mount Agung in the past, the soil of Bali is highly fertile. Mount Agung is a stratovolcano and it is the highest peak on Bali. The most important temple on Bali the Pura Besakih is located, high on the slopes of Gunung Agung.
Mount Batur is another active volcano situated in Bali. Mount Batur is a Volcanic caldera. The caldera contains an active, 700-meter-tall stratovolcano rising above the surface of Lake Batur. The first documented eruption of Batur was in 1804, and it has been frequently active since then, most recently in 2000. The substantial lava field from the 1968 eruption is visible today when viewed from Kintamani, a town on the southwest ridge of the caldera.

The sunrise mountain trek of Mount Agung offers a spectacular view. But this trek is considerably hard and requires a lot of time and energy to complete. This is not a leisure trek. Complete amateurs can take this trek. It takes about 6 hours to reach the peak of Mount Agung and it takes about 6-7 hours to descend. The activity level of this trek is high.
Tips to prepare for Mount Agung trek :
1 Wear comfortable shoes with a grip.
2 Take headlight to keep your hands free as the sunrise trek of Mount Agung starts at midnight.
3 Take a moderate amount of food to avoid being weighed down by it. Take plenty of water and energy bars.
4 Wear gloves to protect your hands.
Mount Batur is located near Kintamani village. The sunrise mountain trek of Mount Batur is a leisure trek. It takes about 2 hours to reach the peak point from the starting location. Complete amateurs can take this trek. The temperature will be between 8 – 15 degrees centigrade at the peak point of the mountain. The activity level of this trek is moderate.
Tips to prepare for Mount Batur trek :
1 Wear comfortable shoes with a grip.
2 Take headlight to keep your hands free as the sunrise trek of Mount Batur starts at around 3:30.  
3 Take a moderate amount of food to avoid being weighed down by it. Take plenty of water and energy bars.
Money saving tips :



1 Eat the local food : Bali is a country which has been blessed with its own special cooking style. So, ditch the expensive western restaurants and eat the local delicious food native to Bali. The most popular dish of Bali is Gado Gado and Pachamama.
2 Save money on rideshares : Transportation is always a problem while travelling. While private transportation can cost a lot of money, it is always better to go for shared rides and public transportation. Uber is cheaper than the local taxis and you can use the Uberpool to cut down unnecessary expenditure on transportation.
3 Bargain : Bali is a tourist country. And in such places the only way to ensure on not getting ripped off is by bargaining. Do not accept anything at face value and drive a bargain with the vendor. Bargain hard and bargain often. Do not pay the first price that you were quoted.  
Money Exchange



The currency of Bali is IDR (Indonesian rupiah). The exchange rate is 1INR = 209.71IDR. Bali also accepts US dollars as a valid currency.
Clothes to pack to Bali



Bali is a tropical country. And as such, make sure to pack lightweight breezy clothes to make sure your body remains cold in the hot tropical climate of Bali. Opt for light clothing such as t-shirts and shorts. While visiting a temple make sure to cover your shoulders and knees. Generally temples provide a sarong. Carry a rainproof jacket when visiting Bali in November to February as quick and sudden showers can occur.
Bali's Visa process:



The process of obtaining a Bali visa is absolutely hassle free. There is no need to do anything in your home country. If your stay in Bali is less than 30 days and if your purpose to visit bali is tourism, then you get a free entry in the country.
Apply for visa after arrival in Bali via a process called Visa on arrival (VoA) if you plan on staying for a period of about 30-60 days. The step by step process of applying can be given as,
Passport must be valid for another six months after arrival in Bali.

Stand in the immigration line and get your visa granted.

Pay a processing fee of $35.

Important contacts:
If you have an international SIM then first dial +62361 and then dial the emergency numbers to reach the concerned department.
The following is a list of the important emergency contacts in Bali.
Bali police – 110

Bali ambulance – 118

Fire department – 113

Search and rescue squad – 111, 115, 151

Main emergency number of Bali – 112

Blue bird taxis –

+62 (0)361 70 1111




Indian Embassy in Bali – +62 361 259502