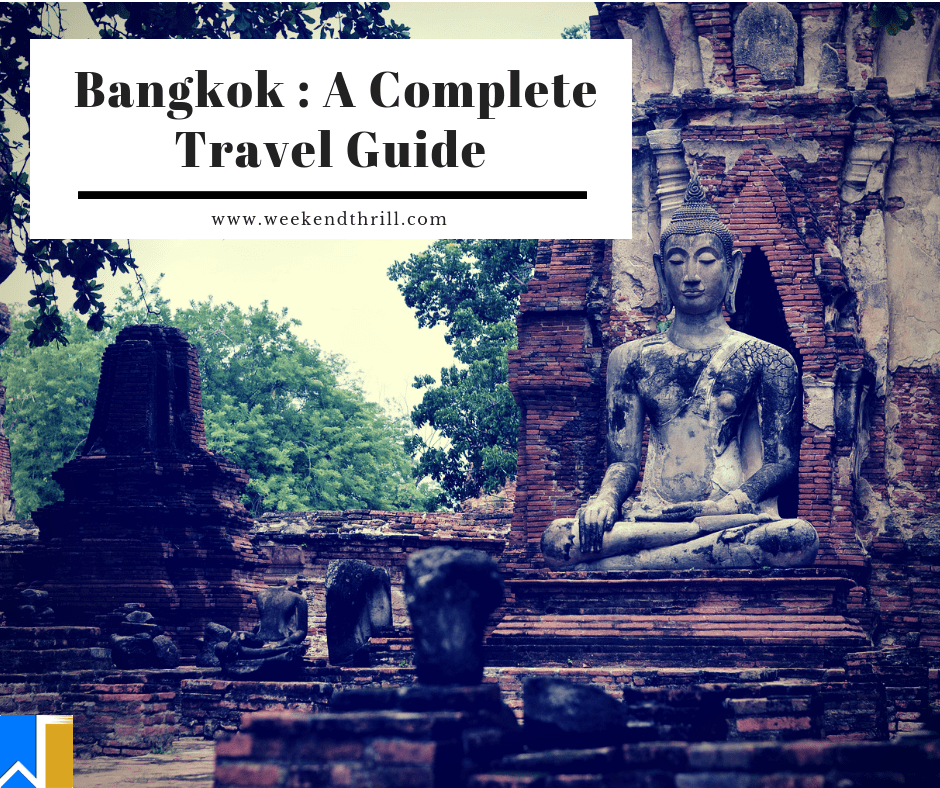 Bangkok city is a very popular tourist destination and it is also the capital of Thailand. Bangkok is an urban city which still has the charm of its ancient civilization. Bangkok is very famous for its nightlife, it's proximity to beaches and its cultural and historical significance. The people of Bangkok are friendly and the local cuisine of Bangkok is very famous. The local markets of Bangkok sell everything from electronics to handmade crafts.

Bangkok provides something to each traveller. Whether its a relaxing holiday or exhilarating nightlife. Bangkok has hence become an ideal tourist and travel destination. Learn about Bangkok and plan your visit to this city.

---------------------------------------------------------
Best Deals for the Month
History of Bangkok :

The history of Bangkok dates back to at least 15th century, when it was a village on the west bank of the Chao Phraya River, under the rule of Ayutthaya. Because of its strategic location near the mouth of the river, the town gradually increased in importance. Bangkok initially served as a customs outpost with forts on both sides of the river, and became the site of a siege in 1688 in which the French were expelled from Siam. King Rama I moved the city capital to the eastern banks of the Ranttanoskin island. The city pillar was erected on April 21 which is now known as the date of foundation of the present day city.

Bangkok's economy gradually expanded through international trade, first with China, then with western merchants returning from early-to-mid 19th century. As a capital Bangkok was the center of modernization as it faced the influence of western merchants from the late 19th century. Bangkok's role as a rest and relaxation destination by the American soldiers greatly improved the country's tourism business.

Geography and Landscape of Bangkok :

The city of Bangkok covers an area of 1,568.737 square kilometres. Bangkok is in the Chao Phraya River delta in Thailand's central plains. The river meanders through the city in a southward direction, emptying into the Gulf of Thailand approximately 25 kilometres south of the city centre. The area is flat and low-lying, with an average elevation of 1.5 metres above sea level. Most of the area was originally swampland, which was gradually drained and irrigated for agriculture via the construction of canals (khlong) which took place throughout the 16th to 19th centuries. The course of the river as it flows through Bangkok has been modified by the construction of several shortcut canals.

The geology of the Bangkok area is characterized by a top layer of soft marine clay known as Bangkok clay. This feature has contributed to the effects of subsidence caused by extensive groundwater pumping. There are no mountains in Bangkok, the closest mountain range being the Khao Khiao Massif, located about 40 kilometers southeast of the city. Phu Khao Thong, the only hill in the metropolitan area.

Climate and best time to visit Bangkok :

Like most of Thailand, Bangkok has a tropical savanna climate under the influence of the south Asian monsoon system. It experiences three seasons : monsoon, summer and rainy although temperatures are hot year-round ranging from an average low of 22 degrees in december to an average high of 35 degrees in Summer.

The rainy season begins with the arrival of south west monsoon around mid-May. September is the wettest month. The rainy season lasts until October. The hot season is generally dry but also sees occasional summer storms.

Outside of monsoon season the humidity is very low in Bangkok.

Bangkok can be visited all throughout the year. November to February is an ideal time to visit these popular destinations as the climate cools down considerably allowing you to enjoy the sights and visits to various places.


How to reach Bangkok :

By air :

Bangkok has two international airports. One is Suvarnabhumi international airport and the other one is Don Muang airport (DMK). Taking a flight to Suvarnabhumi airport is the cheapest way to reach Bangkok. Always book a return ticket to save money on flight bookings. There are flights from all the major Indian cities to Bangkok. Air India, Malaysian airlines offer the cheapest flight options.

By sea :

One can travel from India to Bangkok via sea as well. There are ferries from Kolkata and Chennai to Bangkok periodically. While travelling via sea, while the fare of the trip is extremely less, the time taken to travel increases.

A ferry from Kolkata passes through the bay of Bengal and Andaman sea. It then transverses through the strait of Malacca and passes through the sea of China to reach the gulf of Thailand and from there it proceeds to Bangkok. The total distance travelled is 2894 nautical miles.

By road :

Thanks to the Indian government, establishment of the Trilateral highway between India, Myanmar and Thailand has been completed. The highway begins in Moreh in Manipur and ends in Mae Sot in Thailand. The average distance travelled from India to Thailand is approximately about 4,305 kilometers.

Make sure to apply for a visa on arrival in Myanmar. A step by step guideline is provided by the government of Myanmar for the issual of visas. You can read the step by step guideline here : www.myanmarvisaco.com

You could apply for a visa on arrival in Thailand or you can take one beforehand.

You require an International driver's permit (IDP) to make the journey seamless. Thailand and Myanmar accept IDP as a valid license permit. You could apply for IDP in zonal RTO's in India. They require the following documents.

Valid driving license of home country.

Permanent address proof.

Identity proof along with valid passport.

Then fill out the required forms and pay an amount of 500 processing fee. The validity of IDP lasts for about a year from the issued date.

Things to see and do in Bangkok :

Visit the grand palace and Wat Po :

The grand palace is the official residence of the monarch of Thailand, though this palace is only used for ceremonies now. Visit the Wat Pro Krea which houses the 15th century emerald Buddha, temples and statues. Afterwards visit the Wat Po to see the famous golden reclining Buddha statue.

Visit Vimanmek mansion :

Built in the year 1900 by HM King Rama V, this royal palace is also the largest teakwood mansion in the world. It now houses the Thai National Heritage museum, and also boasts beautiful gardens and canals to explore on the estate. It is now full of collections of antiques, old photographs, porcelain, and memorabilia from the King's reign.

Explore Lumpini park :

Outdoor enthusiasts will find it hard to tear themselves away from Bangkok's Lumpini Park. Jogging paths, bicycle roads, picnic, and chess tables, Tai Chi classes, plenty of trees, weight-lifting, and rowboats for rent on its pair of lakes offer plenty to do and all the time in the world to do it.

Go temple hopping :

Bangkok is a city full of temples and ancient ruins. There are about 10 main temples in the city and you can visit them all in one day. It takes around 5 hours to visit all the temples around Bangkok. They all have different architecture and layouts.

Enjoy Bangkok's famous nightlife scene :

Bangkok is very famous for its nightlife. There is no dearth of good places to drink and amazing pubs to go to.  Onyx, Route 66, Ku De Ta, Levels, and Insanity are some of the popular nightclubs in Bangkok.

Visit the Dusit zoo :

Bangkok's first zoo, built over 60 years ago, sits in the middle of Bangkok's administrative center and is surrounded by important building like the Throne hall, Parliament and the Chitralada palace. It is a fully functional park, with an animal hospital, education center, and museum. There is also a sightseeing train that takes you around the zoo to see the more than 1,600 animals there.

Take in the view from Wat Arun :

This is a gorgeous Buddhist temple on the Chao Phraya River opposite the Grand Palace. It has one main spire and four small ones and is so iconic you'll find it on Thai money. From the top of the main spire, you get to see stunning sweeping views of the city. Wat Arun is one of the main temples of Bangkok city.

Take a day trip to Ayutthaya :

Close to Bangkok, you'll find the old capital, which is home to the summer palace, tons of breathtakingly unique temples. In 1991, it became a UNESCO World Heritage Site. Since it is so close to Bangkok, it's a very popular day trip destination for tours. Since it is very close to Bangkok, one can visit it by taking a train from Bangkok.

Food in Bangkok :

For being a very small country Thailand has a spectacularly diverse cuisine. Its capital Bangkok, serves as the melting pot for both food and for people. Bangkok is not an exception to the diverse cuisine of Thailand.

The immigrants from the southern part of China have long since been influencing the cuisine of Bangkok. The Chinese vendors were the ones who introduced wok and other varieties of noodles to Bangkok. Meat dishes became popular in Bangkok because of Muslims visiting the city during the 14th century.

Cooking in Bangkok places great emphasis on dishes that are prepared lightly but feature a very spicy edge and some strong aromatic elements. Food in Bangkok demonstrates attention to details, intricacy, taste, color, and texture. Bangkok lies near the sea and therefore the cuisine here is also abundant in seafood.

Different ingredients are used for preparing food that is good in its flavor and offers large scale medicinal benefits. Proper care is also taken in offering food the right smell, context, and appearance. Many dishes found in Bangkok include pork, freshwater fish, palm sugar and coconut milk.

Here is a list of some of Bangkok food :

Fried chicken, Gai Tod


Thai fish cakes


Thai steamed dumplings


Salt grilled fish


Grilled chicken (Gai yang)


Seafood


Pad Thai noodles


Thai wanton noodles


Pomelo salad (Yum Sum O)

Where to shop and what to buy in Bangkok :

Chatuchak market :

Chatuchak weekend market is the ultimate weekend market. The sheer size of this market is amazing. Stumble across anything from beads, suit of armor to a live seahorse. Bargaining is encouraged in this market. The shopping experience here is extremely exhilarating and chaotic.

Pantip plaza :

If you are a techno-geek then Pantip plaza is a heaven for you. Pantip plaza holds all the latest technology. Packed from floor to ceiling with shops selling all kinds of computer and technological and electronic paraphernalia explore this plaza with plenty of time to spare.

Pratunam :

Pratunam is well-known among locals for being the wholesale fashion district of Bangkok. Shopping here is fun as there is a whole gamut of accessories to dress yourself up from head to toes; all at a huge bargain.   

Money saving tips :

1 Eat from street stalls :
Food from street vendors in Thailand is some of the best Thai food. You can easily have a bowl of noodle soup, pad thai, or fried rice for 30 THB.

2 Use public transportation : Locals use the extensive bus and BTS systems to get wherever they need to go in Bangkok. To save money, you can do the same. A 20-minute taxi ride might cost you 120 THB, while the same ride in a bus might only cost 10 THB.

Tip: if you take the metro instead of a taxi, you'll be able to avoid the headache of inner city traffic.

3 Bargain : Use your negotiation skills to the fullest while shopping in the markets. The general rule is; the more you buy, the cheaper the prices will be. So, shop in packs and get the best price on products. Do not pay the first price that you were quoted.

Bargain with a smile and a friendly attitude. If you attempt to bargain in Thai then you must know your numbers well. Learn the words Thukk (cheap) and Phaeng (expensive) if you want to bargain with the native merchants.

Money Exchange :

The currency of Thailand is Baht. 1 Baht = 1.92 Indian Rupees.
Bangkok is a relatively expensive place, so the key to save money while travelling is to be frugal in expenditure.

Clothes to pack to Bangkok :

The general idea is to cover your shoulder and knees (for both the sexes).  Thailand is a very modest country, so modest clothing is the best attire that you can wear.  Since Thailand is a very hot country, the answer to you clothing situation is Linen. Use linen clothes to keep your body relatively cool and enjoy the Land of Siam.

Bangkok Visa :

Thailand provides visa on arrival for Indians. To provide this visa, Thailand enforces certain conditions. They are,

One must show a return ticket, flying out of Thailand within 15 days.

One must also show funds of 10,000 THB per person and 20,000 THB per family as living expenses.

The visit must be strictly for tourism purposes only.

It is advisable to obtain a visa beforehand in order to skip the long lines at the immigration office in Thailand. To apply for a visa before you get a regular visit visa from The royal Thai Consulate general which is in three cities – Delhi, Kolkata and Chennai. The documents required for Visa are,

Passport which has a 10-year validity which remains valid for 6-months from the date of departure.

2 Passport size pictures.

Filled and signed visa application form.

Air tickets and hotel vouchers.

Last 3 months' bank statements in original on banks' stationary.

Important contacts :

Bangkok is a relatively safe place to live in, and the locals are ready to help out foreigners. The list of contacts in case of emergency are

Thai police – 191 oe 123

Ambulance and rescue – 1554

Fire department – 199

Medical emergency – 1669

Indian Embassy in Bangkok –

+66 2 258 0300