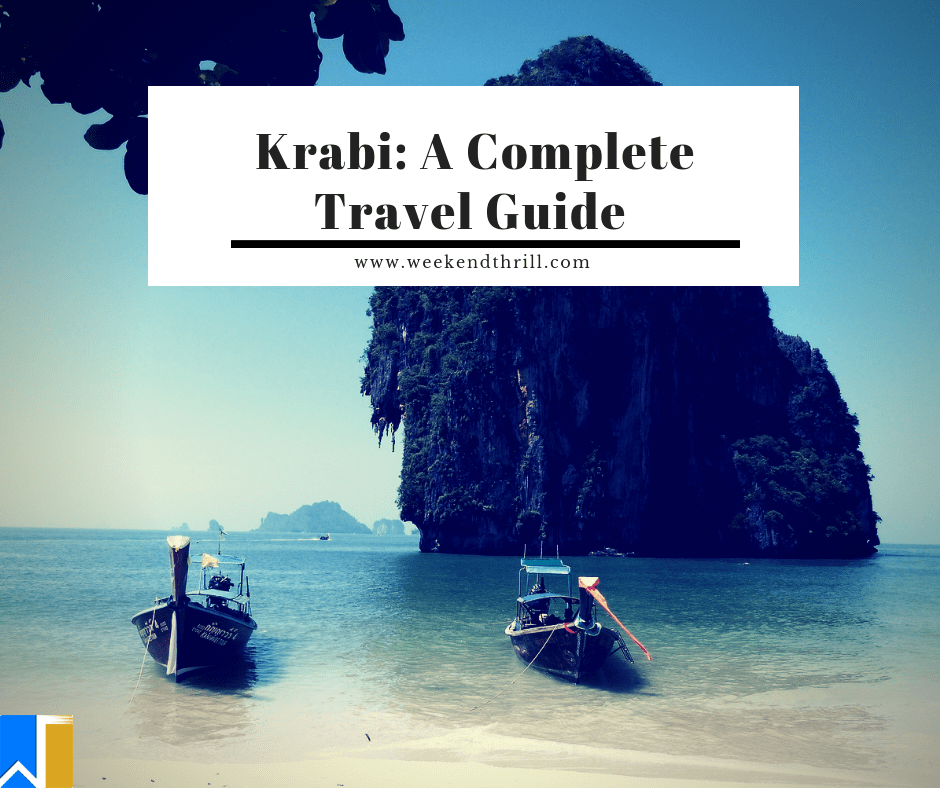 Krabi, on southern Thailand's west coast, is a province characterized by craggy, sheer limestone cliffs, dense mangrove forests, and more than a hundred offshore islands. Some of its most popular beach destinations include the Phi Phi Islands, which jut from the sea like giant rain forested boulders, and Railway Beach, accessible only by boat and a prominent rock-climbing spot.

Krabi is a province on the southeastern coast of Thailand, and it is located on the shore of Strait of Malacca. Neighboring provinces are Phang Nga, Surat Thani, Nakhon Si Thammarat, and Trang. Phuket Province lies to the west across Phang Nga Bay. Krabi town is the seat of provincial government.

History of Krabi :

---------------------------------------------------------
Best Deals for the Month
Krabi was tributary to the Kingdom of Ligor, a city on the Kra Peninsula's east coast, better known today as Nakhon Si Thammarat. In modern times, Krabi was administered from Nakhon Si Thammarat, even after 1872 when King Chulalongkorn granted Krabi town status. In 1875 it was made a direct subordinate of Bangkok, becoming what is now a province. In 1900 the governor moved the seat of the province from Ban Talad Kao to its present location at the mouth of the Krabi River.

It is believed the town may have taken its name from the word "krabi", which means "sword". This may stem from a legend that an ancient sword was unearthed prior to the city's founding.

Geography and landscape of Krabi :

The province is on the Strait of Malacca and is noted for its natural beauty. There are solitary limestone peaks, both on land and in the sea. Rock climbers from all over travel to Tonsai Beach and Railay Beach. The beaches form part of Krabi Phra Nang Peninsula. Other notable islands include Ko Phi Phi Don, part of the Phi Phi Islands, and Ko Lanta, a larger island to the south.

Krabi's limestone hills contain many caves, most having stalactites and stalagmites. In Lang Rongrien cave in 1986 archaeologists found 40,000-year-old human artifacts: stone tools, pottery, and bones. It is one of the oldest traces of human occupation in Southeast Asia.

Krabi's farmland is dominated by a duopoly of rubber and palm oil plantations. Palm plantations alone occupy 1,568 square kilometers, or 52 percent of the province's farmland. Together, palm oil and rubber cover 95 percent of Krabi's cultivated area with many smallholder farms amidst industrial plantations.

Climate and best time to visit Krabi :

Facing the Andaman Sea, like Phuket, Krabi is subject to a six-month rainy season between May and November, often with sustained heavy rains for days at a time during the monsoons. Krabi's highest ever recorded temperature was 39.1° C on 26 March 1998. Its lowest temperature was recorded on 11 January 2009: 15.3° C.

The rainy season begins with the arrival of south west monsoon around mid-May. September is the wettest month. The rainy season lasts until October. The hot season is generally dry but also sees occasional summer storms.

Phuket can be visited all throughout the year. November to February is an ideal time to visit these popular destinations as the climate cools down considerably allowing you to enjoy the sights and visits to various places.


Many water related activities may be restricted during the monsoon months due to the intensity of rainfall.

How to reach Krabi :

By air :

Krabi is located at a distance of 157 kilometers from Phuket and it can be reached in about 2 hours. So, the best way to reach Krabi is reach Phuket and take a taxi to Krabi.

Phuket has an international airport called as the 'Phuket international airport'. Flights from all over the world land in Phuket. Taking a flight to Phuket airport is the cheapest way to reach Phuket. Always book a return ticket to save money on flight bookings. There are flights from all the major Indian cities to Phuket. Air India, Malaysian airlines offer the cheapest flight options.

By sea :

One can reach Krabi from Phuket via sea. In fact, the fastest way to travel from Phuket to Krabi is on the sea via a speed boat. Leaving from Bang Rong pier at the northeast of Phuket, and travelling via sea it takes about 1 hour 2 minutes to reach Krabi. This is a year long service suspended only in the monsoon season if the sea waters are too rough.

One can travel to Phuket via sea as well. Since Phuket was originally a part of the trade route between India and China, this route is still operational till today. While travelling via sea, while the fare of the trip is extremely less, the time taken to travel increases.

A ferry from Chennai passes through the bay of Bengal and crosses through the Andaman sea to reach the port of Phuket. The distance between the port of Chennai and the port of Phuket is 1348 nautical miles.

One can also take a ferry from Mumbai or Kolkata as well and reach Phuket.

By road :

Thanks to the Indian government, establishment of the Trilateral highway between India, Myanmar and Thailand has been completed. The highway begins in Moreh in Manipur and ends in Mae Sot in Thailand. The average distance travelled from India to Thailand is approximately about 4,305 kilometers.

Make sure to apply for a visa on arrival in Myanmar. A step by step guideline is provided by the government of Myanmar for the issual of visas.

You could apply for a visa on arrival in Thailand or you can take one beforehand.

You require an International driver's permit (IDP) to make the journey seamless. Thailand and Myanmar accept IDP as a valid license permit. You could apply for IDP in zonal RTO's in India. They require the following documents.

Valid driving license of home country.

Permanent address proof.

Identity proof along with valid passport.

Then fill out the required forms and pay an amount of 500 processing fee. The validity of IDP lasts for about a year from the issued date.

After entering the borders of Thailand, head towards the south east coast of Thailand, where Krabi is located. It takes nearly 3 days and 10 hours to travel from Mumbai to Krabi via road.

Things to see and do in Krabi :

The southern Thailand town of Krabi serves as base camp for exploring the province of the same name, a lush region of jungles, limestone cliffs and idyllic isles floating just offshore in the Andaman Sea. Buddhist shrines still used by local monks are tucked into the chambers of the town's top attraction, Tiger Cave. The riverside pier links travellers with ferries and longboats to the best scuba diving, rock climbing and white sand beaches on the coast.

Visit the Railay beaches :

Railay is one of Thailand's most sought-after beach areas. Located just south of Ao Nang and accessible only by boat, Railay presents a timeless serene world. In just one small peninsula you'll find four gorgeous white sand beaches, soaring limestone cliffs, viewpoints, caves and a lagoon hidden inside the cliffs. No wonder it's one of the most visited places in Krabi.

Visit Koh Poda :

Koh Poda is one the most popular islands in Krabi archipelago. Located just six kilometres offshore of Ao Nang beach, it roughly takes 25 minutes to get there by long-tail boat. Covered with palm and pine trees and almost entirely encircled by a soft white sand beach, it is every inch the stunning tropical getaway. A coral reef lies about 20 metres from the beach with a variety of sea life.

Soak in the Emerald pool :

Krabi is well-known for being an area of outstanding natural beauty. One place that should make your must-see list is the Thung Teao Forest Natural Park. It's a lowland forest rich in biodiversity, complete with a nature trail. It is especially famous for the Emerald Pool and the Blue Pool; two ponds vividly coloured by the reflection of the sun.

Explore the Tiger caves (Wat Tham Sua) :

Located near Krabi Town, Wat Tham Sua or 'Tiger Cave' is one of the most famous caves in the area. Part of a temple complex where monks live and worship within a maze of natural caves surrounded by lush jungle. Inside one of the caves are what appears to be tiger paw prints embedded in the stone. The main tourist attraction however, is the 1,272-step climb up a limestone tower to see the 'footprint of the Buddha'.

Relax in Khlong Thom hot springs :

Klong Thom Hot Springs are located in the jungle near the Khao Phra Bang Khram Nature Reserve. Ancient volcanic chambers are the origin of these thermal springs. They are believed to ease a number of ailments such as rheumatism, sciatica and other skin problems. They offer a pleasant time, bathing in the warm water surrounded by a pristine lush environment.

Visit Ao Luk Mangroves :

Ao Luk mangrove and caves is a great field for exploration and soft-adventure experiences in Krabi Province. Ao Luk District is located some 40 kilometers north of Krabi Town on the road to Phang Nga Town. It enjoys a splendidly preserved natural environment.

Spend a day on Phi Phi island :

Phi Phi islands is Thailand's superstar island. Even with all the hype around it, it doesn't disappoint. The islands, when approached by boat, rise from the sea like a fortress. Sheer cliffs tower overhead, then give way to beach-fronted jungle. Phi Phi island is a tropical island dream come true.

Food in Krabi :

Southern Thai food makes more use of coconut milk than elsewhere in the country. Curries are richer and creamier. The cuisine is influenced by nearby Malaysia; spices such as cumin, cloves, turmeric and aniseed, which are not used elsewhere in Thailand, are commonly used here. The usage of pork is unrestricted, and lots of dishes uses pork meat.

Different ingredients are used for preparing food that is good in its flavor and offers large scale medicinal benefits. Proper care is also taken in offering food the right smell, context, and appearance.

Here is a list of some of the famous and authentic food available in Krabi :

Khanom Jeen : Rice noodles with a variety of curry sauces, vegetables both fresh and pickled and hard boiled egg.


Yam Kai Dao : Fried egg salad.


Pad Thai : Stir fried noodles with fresh vegetables.


Quail eggs


Tod man Pla : Fish cakes.


Sang kaya Fug Tong : Pumpkin and custard
dessert.


Khanom Tar : Palm sugar pudding.


Itim kati : Coconut ice cream.


Kanom krok : Coconut pancakes.

Where to shop and what to buy in Krabi :

Krabi town walking street :

The Walking Street is certainly the most important shopping event in Krabi Town. It is held every Friday, Saturday and Sunday from 17:00 to 22:00 in Soi Maharaj 8. With something like 50 stalls selling a wide range of products and street food, the Walking Street gathers every weekend an incredibly large crowd for such a small area.

Chock Dee Silver and Gold jewellery :

Chock Dee Handmade Silver & Gold Jewelry is a long-established boutique located on Ao Nang's beachfront. It has a wide choice of bracelets, necklaces, earrings and more. The particularity of the jewels sold at Chok Dee Handmade is that they are all original creations made of precious, semi-precious and rare materials.

Saiba ba Bar and souvenir shop :

Saiba ba bar and souvenir shop is the most unique souvenir shop in Krabi. Located on Klong Muang beachfront, this restaurant, bar and souvenir shop offers its patrons a novel and a very well thought-out souvenirs made out of recycled materials and fabrics. The shop also sells authentic Thai-style handcrafted souvenirs made of wood and ceramic.

Money saving tips :

1 Eat from street stalls :
Food from street vendors in Thailand is some of the best Thai food. You can easily have a bowl of noodle soup, pad thai, or fried rice for 30 THB.

2 Use public transportation : Locals use the extensive bus and BTS systems to get wherever they need to go in Bangkok. To save money, you can do the same. A 20-minute taxi ride might cost you 120 THB, while the same ride in a bus might only cost 10 THB.

Tip: if you take the metro instead of a taxi, you'll be able to avoid the headache of inner city traffic.

3 Bargain : Use your negotiation skills to the fullest while shopping in the markets. The general rule is; the more you buy, the cheaper the prices will be. So, shop in packs and get the best price on products. Do not pay the first price that you were quoted.

Bargain with a smile and a friendly attitude. If you attempt to bargain in Thai then you must know your numbers well. Learn the words Thukk (cheap) and Phaeng (expensive) if you want to bargain with the native merchants.

Money Exchange :

The currency of Thailand is Baht. 1 Baht = 1.92 Indian Rupees.

Clothes to pack to Krabi :

The general idea is to cover your shoulder and knees (for both the sexes). Thailand is a very modest country, so modest clothing is the best attire that you can wear. Since Thailand is a very hot country, the answer to you clothing situation is Linen. Use linen clothes to keep your body relatively cool and enjoy the Land of Siam. Pack a lot of sunscreen and swimsuits for your fun day at the beach.

Thailand Visa :

Thailand provides visa on arrival for Indians. To provide this visa, Thailand enforces certain conditions. They are,

One must show a return ticket, flying out of Thailand within 15 days.

One must also show funds of 10,000 THB per person and 20,000 THB per family as living expenses.

The visit must be strictly for tourism purposes only.

It is advisable to obtain a visa beforehand in order to skip the long lines at the immigration office in Thailand. To apply for a visa before you get a regular visit visa from The royal Thai Consulate general which is in three cities – Delhi, Kolkata and Chennai. The documents required for Visa are,

Passport which has a 10-year validity which remains valid for 6-months from the date of departure.

2 Passport size pictures.

Filled and signed visa application form.

Air tickets and hotel vouchers.

Last 3 months' bank statements in original on banks' stationary.

Important contacts :

Krabi is a relatively safe place to live in, and the locals are ready to help out foreigners. The list of contacts in case of emergency are

Thai police – 191 oe 123

Ambulance and rescue – 1554

Fire department – 199

Medical emergency – 1669

Indian Embassy in Bangkok –

+66 2 258 0300