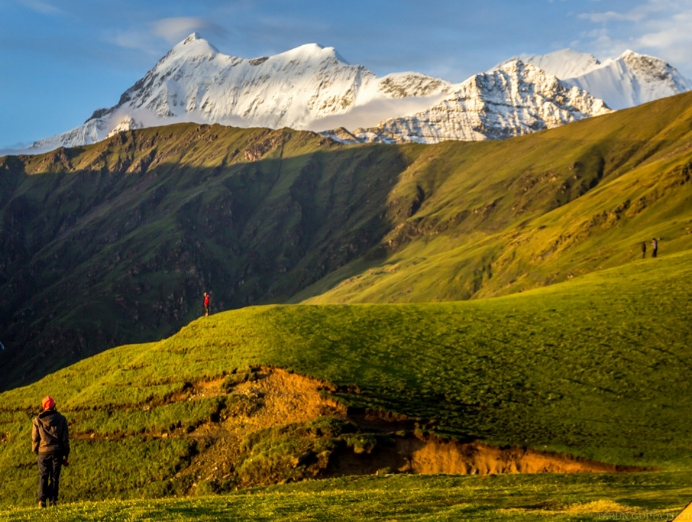 Roopkund is a picturesque glacier located in Uttarakhand district. This stupendous glacier is a part of the tehri Himalayan belt. The trek to Roopkund glacier is famed for the diverse areas through which the trail leads one. Roopkund trek is also called as skeleton trek. In a sentence, the Roopkund trek is every trekkers paradise.
Roopkund is located at an altitude of 4,800 meters above sea level in the Chamoli district of Garhwal. It is close to Nainital and Kathgodam. One can find skeletal remains of humans and horses near the banks of Roopkund dating back to the paleolithic age. The cold weather preserved the skeletons and upon carbon dating it is found out that one can finds human skeletons belonging to people of various morphological structures.
Lohajung is the starting point of Roopkund trek. Lohagunj is located at a distance of 210 kilometers from Kathgodam. The other prominent areas that you will stop at over the trekking trail are Didna village, Ali Bugyal, Patar Nachauni, Bhagwabasa and finally Roopkund. The whole trek lasts for about 6 days and you will reach Roopkund on the 6th day. Spend the next two-three days making your way back to Kathgodam.
---------------------------------------------------------
Best Deals for the Month
The trail to Roopkund is dotted with mighty oak forests which provides a safe haven to the diverse array of fauna living in that region. One comes across a multitude of picture perfect spots during the trekking trail to Roopkund. Enjoy your trek to the interior part of Himalayas and bask in the blessings of nature's bounty.
Source : https://www.flickr.com/photos/re_c500
Best time to visit Roopkund :
One can enjoy the exquisite views of Roopkund almost throughout the year.  Summers (April to May) is a wonderful time to engage in the Roopkund trekking trail. One can also view the skeletal remains during the summer months as Roopkund lake will not be covered with snow. One can also undertake this adventurous trek during September to October when the whole area is covered with snow.
How to reach Roopkund :
By train :
Kathgodam railway station is a prominent station in the district. It is well connected by trains from Delhi, Lucknow and Howrah. The route to Roopkund is always in demand, so it is imperative to book the tickets well in advance.
By bus :
One can take a bus to reach Kathgodam and its twin city of Nainital. It is recommended to book tickets on a government bus. One can find multiple buses to Nainital and Kathgodam from Delhi.
Source : https://www.flickr.com/photos/photomukul
Places to visit in Roopkund :
Kwani Bugyal park.

Village of Saildhar Tapovan.

Binsar Mahadev temple.

Chattrakand lake.

Namik glacier

Baijnath town.
Source : https://www.flickr.com/photos/129111827
Things to do in Roopkund :
Star gazing.

Trekking.

Outdoor camping.

Mountaineering.
Immerse yourself in the mystic Roopkund trek and make tons of life enriching memories.