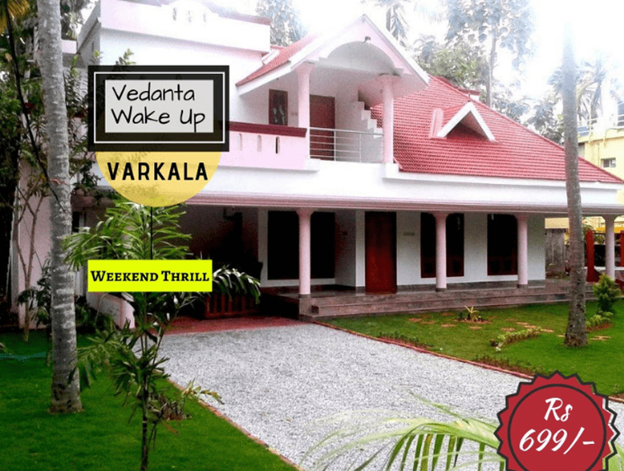 Staying in a hostel in Goa is every bachelors dream. Goa is a place for many beaches, resort, beautiful city experiences to stay, enjoy relax and explore.

Hostel in Goa

1. Zulu hostel, Goa

---------------------------------------------------------
Best Deals for the Month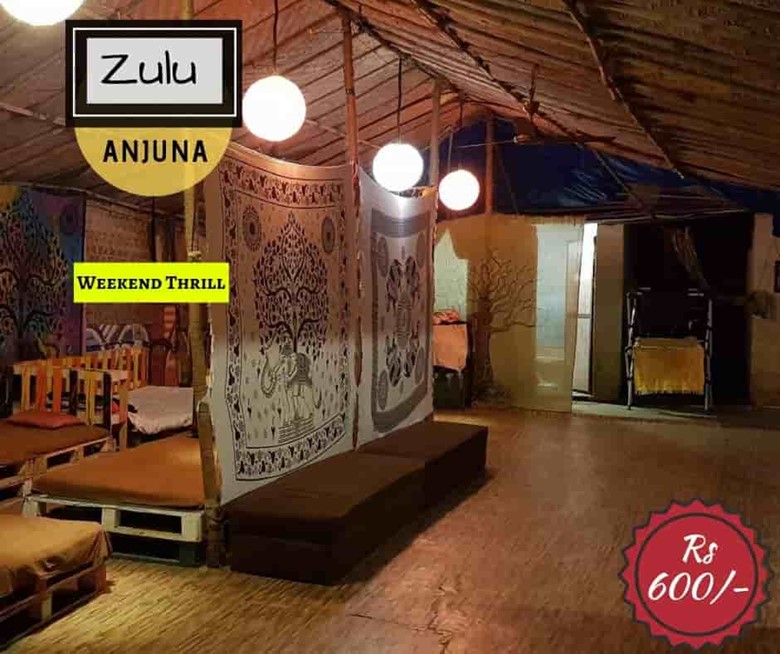 Overview:  Zuku hostel is located in a Nestled area in the heart of Anjuna which offers easy access to the cities must visit destinations. Guests can make the most of their trip here and all that the lively city offers. If you are looking for a convenient accommodation while you are in Anjuna, Zulu hostel will be the ideal choice.

Address: Mazal Waddo, Anjuna, Goa 403509

Phone: 099755 14136

Features/Services offered: chapel, laundry, safety deposit boxes, daily housekeeping. Library, smoking area. dry cleaning, luggage storage, free WiFi, pets allowed, check in/out( 24 hours), airport transfer, taxi service, bicycle rental,car park( free of charge), rental car, coffee shop.  

Nearest essentials: Goa international airport (23.9 km), Panjim bus station (13.6 km), clinic, ATM, Kolhapur airport, Thivim railway station.

Landmarks nearby:

Heidi's Beer Garden(550 m), UV Bar ( 820 m), Anjuna Flea Market ( 840 m), Moon Star BeeBar Restaurant -(870m) , Andy's Tattoo Studio – (900 m), Anjuna Beach – (990 m), Shiva Valley Party Spot – (1.47 km), Brahmani Yoga Centre – 1.5 km, Arpora Go Karting – (1.59 km) Splash Water Park – (1.61 km).

2. Bedweiser Backpackers, Agra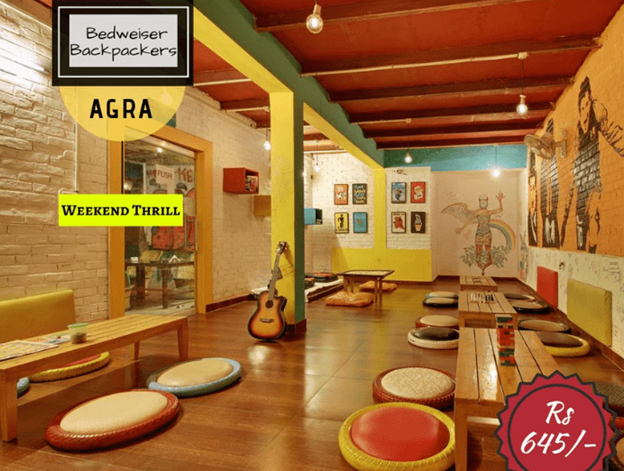 Overview: The best part of this hostel in Agra is that it is a walkable distance to Taj Mahal. It provides the best accommodation with modern families. It is much appreciated for its cleanliness. It has amazing features like in-house cafe, game room, great interior and so much more at affordable prices. What else do you need? Go book a room at this hostel right away!  

Features/Services offered: room top hangout area, small game room with big screen, in-house cafe, AC rooms, laundry service, free high speed WiFi, restaurant, breakfast.

Few things to note:

1. Check In Time- 12 Noon. Check Out Time: 11 am.

2. IDs from Agra are not allowed.

3. Cash has to be paid at the check-in only.

4. for free cancellation, inform at least 2 days prior to arrival.

5. Minimum age requirement is 14.

Address: MIG-57 Taj East Gate Road, Near, Shilpgram Parking, Taj Nagari, Phase-I, Uttar Pradesh 282001

Phone: 0562 223 1902

3. Jugaadus Eco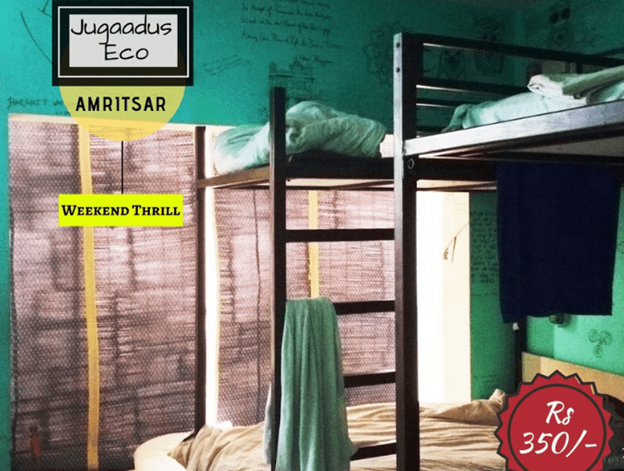 Overview: This hostel is at a walkable distance from major attractions in the city like Jallianwala Bagh, Golden Temple and most famous eating places. Lots of supermarkets.the interesting fact about this hostel is that the owner of this hostel was a backpacker who travelled around India and Europe and collected many ideas for a perfect hostel. This dormitory has ultra-modern washrooms and very clean common rooms. This hostel is a 2-story building and 4 dorms room with a total of 24 beds and outdoor terraces. It is very affordable and shows the tours a very traditional hospitality. It also has a very interesting offer which says if we book a room for 3 days, the 4th day is a free.

Features/Services offered: free breakfast, free WiFi, laundry service, kitchenette, 24 hour reception, housekeeping, luggage storage, airport transfer, board games, and free towels.

Nearby attractions: Golden Temple, Jallianwalabagh, Gurudwara Sarahgiri Sahib, Gurudwara manji, Baba Deep Singh Ji Memorial. Mcdonald's, Brother's Amritsari Dhaba.

Few things to note:

1. No Drugs/alcohol allowed in the hostel.

2. Quiet Time: 11pm – 7am.

3. Air-conditioning in the dorms starts from 7pm till 8 am.

4. WiFi is turned off 5-7 pm when the evening tea is served. You can use guest computer/ ask for special access during this time.

5. Max beds bookable as a group is 6.

6. 12% tax extra on private room.

Address: Bazar Maai Sewa Wala | Near Golden Temple, Amritsar 143001, India

Phone: 085688 00020

4.  Red Door Hostel, Anjuna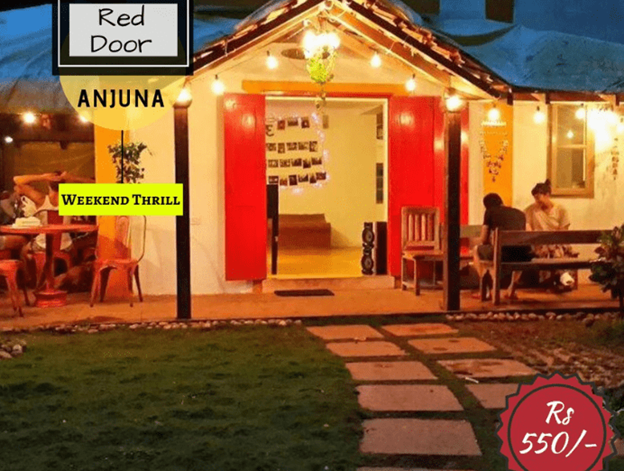 Overview: This beautifully decorated hostel is located in the village Anjuna, which is very close to the Anjuna beach. This hostel has 10 rooms out of which 2 private (2 single beds). 1- 3 bed dorm, 3 – 4 bed dorm (bunk), 4 – 6 bed dorm (bunk). It is also rated as the best place to stay at for couples.  AC and Non-AC both options are available in this hostel. Bathrooms are very spacious. It has a common kitchen. It is also very close to the airport. Check out the features of this hostel below.

Features/Services offered: Bar (open from 10 am-midnight), Big Lounge room with LCDs, Home theatre, Cable TV, Free wi-fi. Have an open kitchen where anyone can cook what they desire, garden with lots of garden table/chairs, free parking, dry cleaning, laundry service, airport transfer.

Nearby attractions: Anjuna beach, The Goa collective Bazaar, Eva cafe and many more.

Address: 651/4, D Mello Vaddo, Dmello Vaddo, Anjuna, Goa 403509

Phone: 0832 227 442

5. Social Rehab, Bangalore.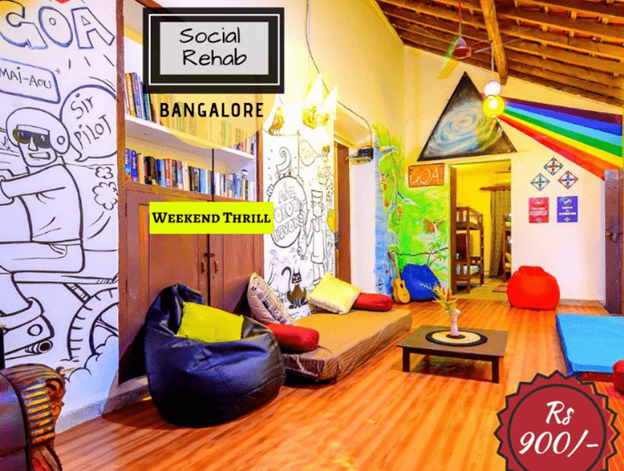 Overview:

This hostel is set in Bangalore. It is 9 km from Kanteerava Indoor Stadium. It also provides air-conditioned rooms and a shared lounge. The hostel is located 5 km from Brigade Road, 8 km from Forum Mall, Koramangala and 5 km from Commercial Street. The accommodation offers a 24-hour front desk, airport transfers, a shared kitchen and free high speed WiFi. in your leisure time, you can play darts at the hostel. The best thing is that this hostel offers bike and car on rent if you are thinking about hiring one to travel in the city. The very famous Chinnaswamy Stadium is 6 km away. The nearest airport is Kempegowda International Airport, 38 km from the accommodation. The area indiranagar where the hostel is located is an ideal place for people who are interested in nightlife.

Features/ Services offered:  

Free parking, airport shuttle, nonsmoking rooms, laundry services, 24 hour front desk, free WiFi, luggage storage,cable TV,  housekeeping, ATM, board games.

Nearby attractions: mystery rooms, fabmall, the amazing escape bangalore, phobidden fruit, mamagoto and many more.

Address: 273, 100 Feet Rd, Stage 3, Indiranagar, Bengaluru, and Karnataka 560038

Phone: 097394 68098

6. AAO, Bangalore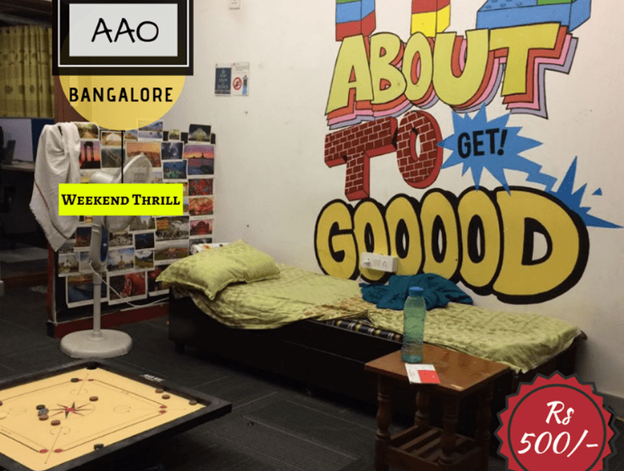 Overview:


The hostel is around 9 km from The Heritage Centre & Aerospace Museum, 7 km from Commercial Street and 5 km from Brigade Road. The rooms at the hostel come with a seating area situation. The guests are provided with a wardrobe and a kettle. The property has an open terrace too. It also has a business room where you can get newspapers, use the fax machine, and xerox machine. Chinnaswamy Stadium is 7 km from the hostel, while Indira Gandhi Musical Fountain Park is 8 km away. The nearest airport to the hostel  is Kempegowda International Airport, 41 km from AAO Hostels Bangalore.

Features/Services offered: free WiFi, laundry, non smoking rooms, entertainment and family services, outdoor furniture, terrace, business centre with internet access.

Nearby attractions: mystery junkies, escape rooms, bags 'n' memories, PVR.

Address: 191, 5th Cross Rd, KHB Colony, 5th Block, Koramangala, Bengaluru, Karnataka 560095

Phone: 094804 97267

7. Happy Camper, Cochin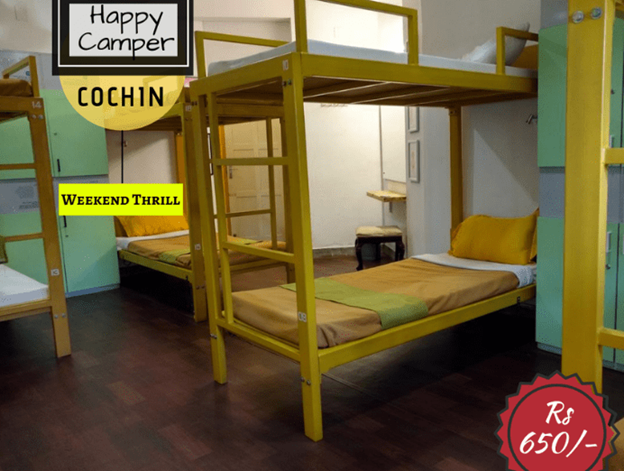 Overview:
Happy Camper hostel is located in the heart of Fort Cochin, the first European colony in India. The hostel rooms are designed with a great deal of comfort, convenience and privacy in mind. All the beds in the hostel rooms are provided with  individual plug points. The hostel's main agenda is for their customers to feel comfortable.

Features/Services offered:  free WiFI, laundry, free parking, free towels, AC rooms, common rooms, cable TV, airport transfers, bicycle hire, luggage storage.

Nearby attractions: vasco da gama squares, Santa Cruz Cathedral Basilica, princess street, mattancherry palace etc.

Few things to note:

1. Check in Time: 12:00 Noon

2. Check out Time: before 12:00 noon

3. 24 Hours Reception is available but please inform the property in advance for any earlier or later check in.

4. Both cash and credit card payments are acceptable upon check in at the property.

5. At least 72 hours in advance notice for free cancellation.

Address: KL Bernard Master Rd, Fort Nagar, Amaravathy, Fort Kochi, Kochi, Kerala 682001

Phone: 0484 221 7144

8. Happy Panda Hostel, Goa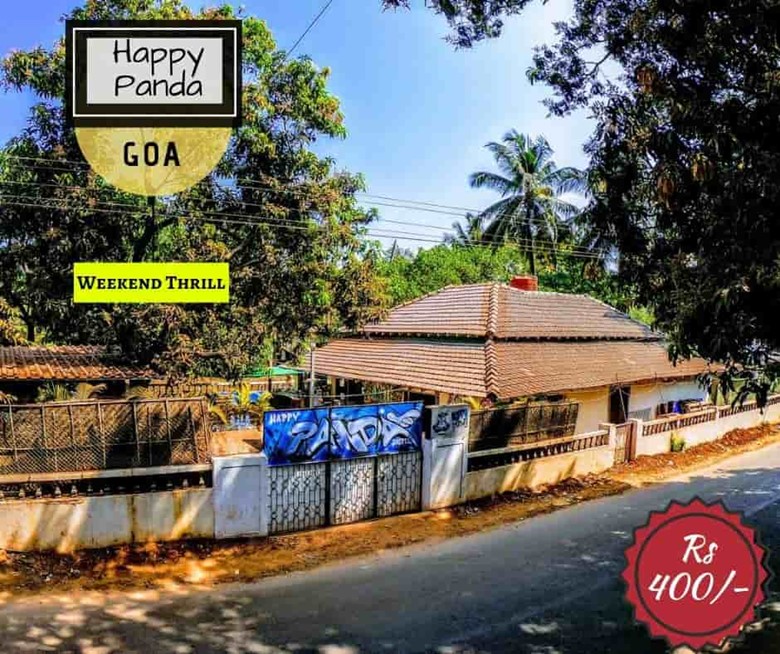 Overview: Happy Panda Hostel is located in Arambol so the guests can enjoy the on-site bar. It has shared bathrooms. The hostel provides bike and car hiring arrangement.

There are many fun places around the hostel which are a must visit for you travellers. Tiracol Fort is 5 km from Happy Panda Hostel, while Arambol Beach is 1.2 km from the property. The nearest airport is Goa International Airport, 36 km from the Hostel. This place is rated good for the couples.

Features/Services offered: free parking, free wifi, bar, non-smoking rooms, airport shuttle

Closest landmarks: tiracol fort, chapora fort, chapora river, baga night market, saturday night market, club cubana, britto's, little italic cafe, this is it, organic vibes, parab supermarket.

Address: Mandrem Road, Madhlawada Arambol, 403524 Arambol

Phone: 096732 01979

9. Jugaad, Delhi.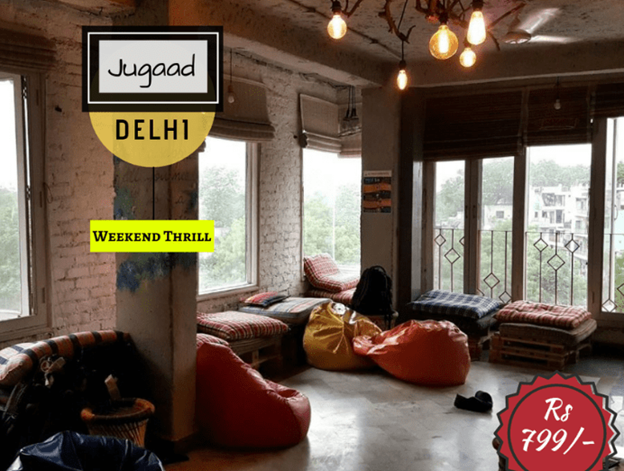 Overview: Jugaad is located in  in an urban village in upscale South Delhi. It has 4 Dorms and 5 Private rooms,1 Common lounge with TV/Games/Guitar/AC/Travel Books and Magazines,1 Huge rooftop with beautiful panoramic views of the city, This is the only hostel in India that has multiple Attached/Ensuite Showers and Loos.

The airport is only a 30 min drive from Jugaad and same from the big railway and bus stations. It is 3 kms from the Green Park Metro station and walkable distance from Hauz Khas Village. It takes only 20 mins or a quick metro ride from the City center, 15 mins from Qutub Minar and Humayun's tomb besides some other popular sights. Also, the famous and most popular streets for shopping and handicrafts,Sarojini Nagar and Dilli Haat are at 2-3 km distance.  

Features/services offered:, 24 hrs Front desk. Check-in at any time and no curfews, AC's in Dorms run only from 9:00 PM to 9:00 AM. Common Room AC's run throughout the day, concierge, nonsmoking rooms, free WiFi, airport transportation, Walking tours, Special discounts and deals at the best clubs, pubs and restaurants, Free Parking, laundry, luggage storage.

Few things to note:

1. Check in Time: after 14:00 pm only.

2. Check out Time: before 12:00 noon only.

3. Reception is open 24 hrs.

4. The hostel accepts both Cash and Credit Card payments, but there will be a 3% extra charge on credit card transactions.

5. Free Cancellations Deadline is 7 Days.

6. No Smoking inside the Hostel, You can go to the terrace and smoke.

7. Our hostel is  on the 4th floor and we have a lift that comes till the 3rd floor . You will find the hostel door right in front of you and then you can enter and have to climb one floor.

8. During summers the AC will run from 21:00 hrs to 09:00 hrs only for all dorms. The Common Room AC will run till 12:00 at night.

Address: 4th Floor Jhandu Mansion F 128, Mohammadpur, New Delhi, Delhi 110066

Phone: 085100 01800

10. Road House, Jaipur.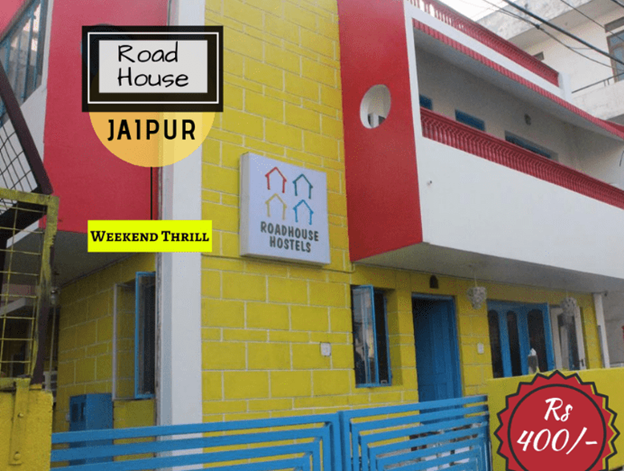 Overview: The property is situated  at Chomu House Circle on Prithviraj Road. it is situated in an area where it is very convenient for the travellers to go to local markets and shopping malls which are very close to our place etc. The dormitories are Air conditioned and have attached bathrooms which make the stay comfortable. There  are rooms for 2 sharing rooms, 4 sharing rooms, 6, and 8 sharing rooms. Vehicles are available for rent in the hostel so that it is convenient for the travellers to explore the surroundings. There is also a games room in the hostel.

Features/Services offered:

Open kitchen, 24 hour security, free WiFi, in house food and beverages, travel desk/tour, exchange books, AC dorms, cable TV, pin based access, luggage storage, reading lights on bed, housekeeping,

Nearby attractions: Ramakrishna Mission, Mojo Café,Naturals Ice Cream, Home Café by Mr. Beans, Hawa Mahal, Jai Mahal, Jantar Mantar, Nahargarh Fort, Jaipur zoo, Amber Palace, Birla Temple.

Address: D-76, C Scheme, Chomu, Prithviraj Rd, Devi Niketan Compound, Jaipur, Rajasthan 302001

Phone: 074288 82828

11. Le pension, Jaipur.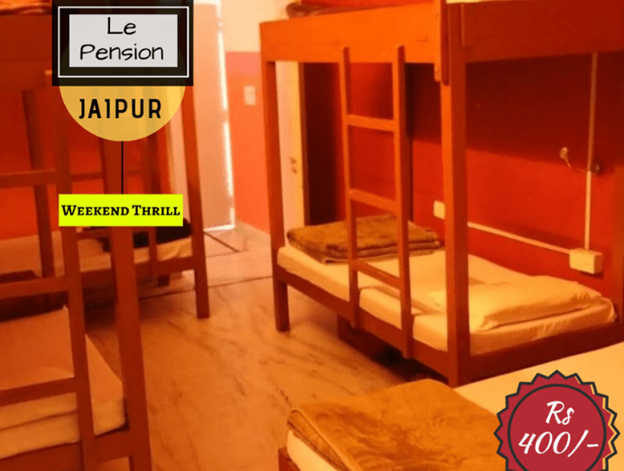 Overview:

Rooms in this hostel are fitted with a flat-screen TV. Some units of the hostel  include a seating area or more lian an open area for your convenience. All the rooms have a private bathroom fitted with a bath. The  airport is also only 9 km from the hostel. The hostel has a rooftop cafe which serves delicious Indian and Continental delicacies which the guests can enjoy while relaxing at the cafe. The hostel also has an onsite library and a boutique.

Features/Services offered: free WiFi, free parking, restaurant, non smoking rooms, 24 hour front desk, room service,AC rooms, airport transportation, business centre with internet access, dry cleaning.

Nearby landmarks: Govind Dev Ji Temple, Birla Mandir, Jaipur Railway Station, RIICO, Jaipur University, Statue circle, Sindhi Camp.

Address: K-94, behind dana pani restaurant Kishan Nagar, Kishan Nagar, Shyam Nagar, Jaipur, Rajasthan 302019

Phone: 070167 68700

12. Moustache, Jaipur.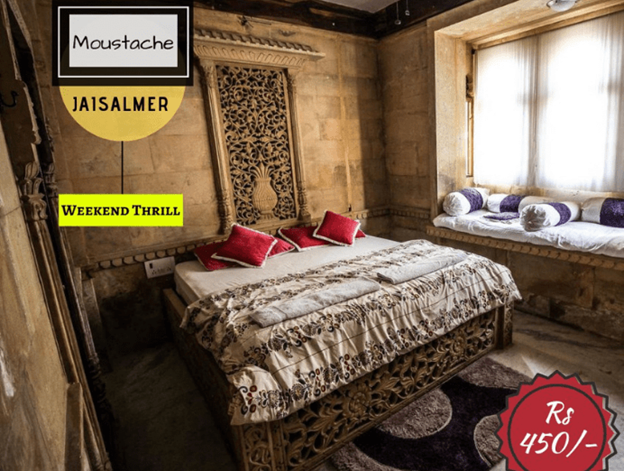 Overview: This hostel was constructed with the elements of Rajasthan culture. All rooms in the hostel are provided with privacy curtains, charging ports, WiFi, lockers, hangers reading lights, and table fans. A shared bathroom is also provided.

There is also a lobby in the hostel where you can relax or in  front yard. On the rooftop terrace there is a seating area and a view of the Nahargarh Fort. Other facilities offered at the hostel include a games room and luggage storage. The hostel is 1 km from Jaipur Railway Station and 1.5 km from Bani Park. Jaipur International Airport is 11 km away from the property.

Features/ Services offered: luggage storage, games room, musical instruments, laundry. Free parking, restaurant, bar.

Address: 7, Park House, Near Ganpati Plaza, Mirza Ismail Rd, Jaipur, Rajasthan 302001

Phone: 0141 403 4419

13. Lost Tribe, Manali.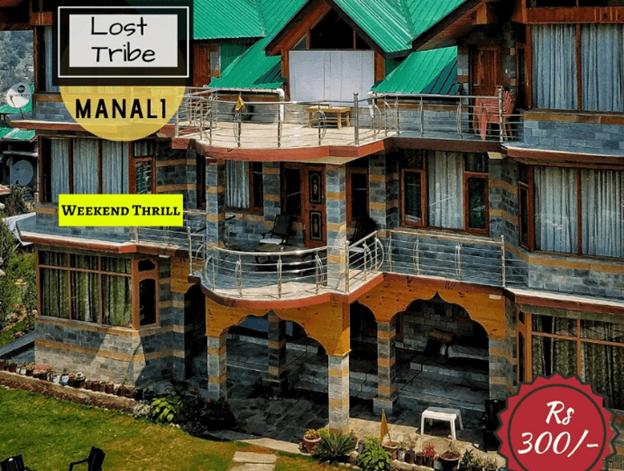 Overview: if you are a backpacker and a travel freak, this is the right place for you. The hostel's  prime motive is to bring back the original idea of backpacking. Imagine yourself walking in the lush green lands, in the middle of  apple orchards painted with white and red. Imagine yourself surrounded by mountains, it will give you a break from the city's hustle.

Features/Services offered: pets allowed, free WiFi, laundry, free parking, restaurant, cable TV, BBQ, wake up calls, housekeeping, bus shuttle service, 24 hours service.

Address: Kullu – Naggar – Manali Rd, Jagatsukh, Opp Punjab National Bank, Jagatsukh, Himachal Pradesh 175143

Phone: 090759 10230

14. Panda Appetite, Mumbai.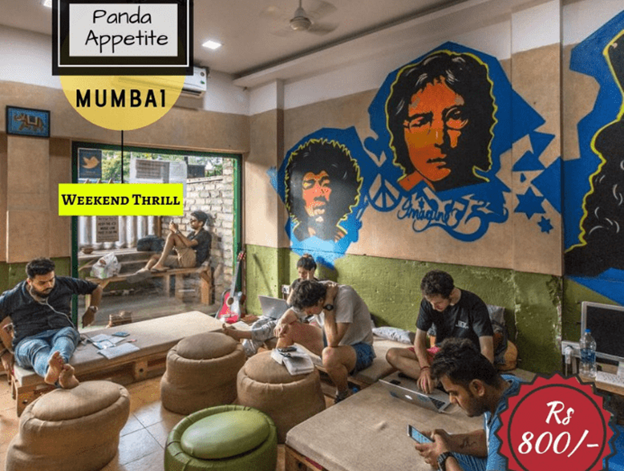 Overview:

This funky hostel with graffiti-style artwork is a 2-minute distance from metro station and 3 km from the famous Hindu Siddhivinayak Temple.Pared-back, bright mixed-gender and female-only dorms feature bunk beds, lockers and free Wi-Fi are available in this hostel. Bathrooms are shared. There is an open kitchen, and a laid-back lounge, pallet seating, a flat-screen TV and games. There's also a colourful terrace featuring a mosaic tile floor.

Some house rules:

1. Alcohol is not allowed inside the hostel.

2. Check in: 02:00 PM Check Out 12:00 PM. inform in advance about checking in and out.

3. Children below the age of  15 are not allowed even when accompanied by elders.

4. At least 1 day advance notice for free cancellation.(for group booking 1 week)

5. Card and cash both welcome when check in at the property.

6.Link for payment would be sent for long stays/peak period/group bookings requesting for payment of the balance amount in advance

Features/Services:

AC dorms, free WiFi, Hot showers, reading lights, laundry, luggage storage, housekeeping, microwave, washing machine.

Address: 186, New Andheri Link Road, Bhagat Singh Colony,, Andheri East, Mumbai, Maharashtra 400059

Phone: 097687 70088

15. Old quarter, Panaji.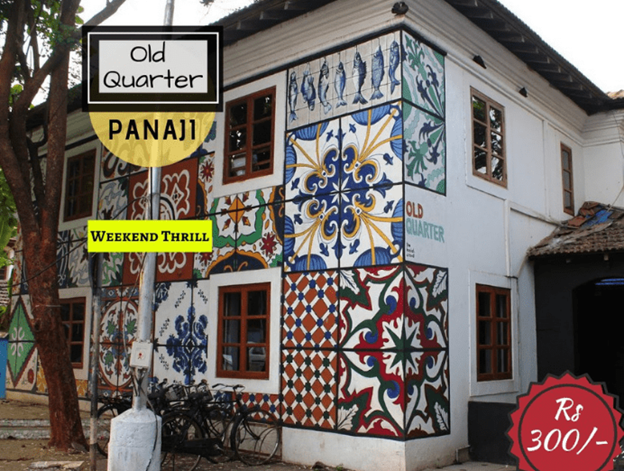 Overview: The hostel is located in Panaji and the Panjim Church is 1 km distance while the Miramar Beach is 2 km distance. Some rooms have private bathrooms that come with a shower.The hostel is located at a distance of  1 km from Panjim Bus Station and 20 km from Goa International Airport. The Madgaon Railway Station is 30 km from the hostel.

Features/Services offered: free WiFi, laundry, free parking, non-smoking rooms.

Nearby landmarks: Goa State Museum, Bishop's Palace, Bridge Panaji, River Cruise and many more.

Address: 5/146, Rua 31 de Janeiro, Fontainhas (quarter), Altinho, Panaji, Goa 403001

Phone: 070573 24666

16.  Zostel, Spiti, Himachal Pradesh.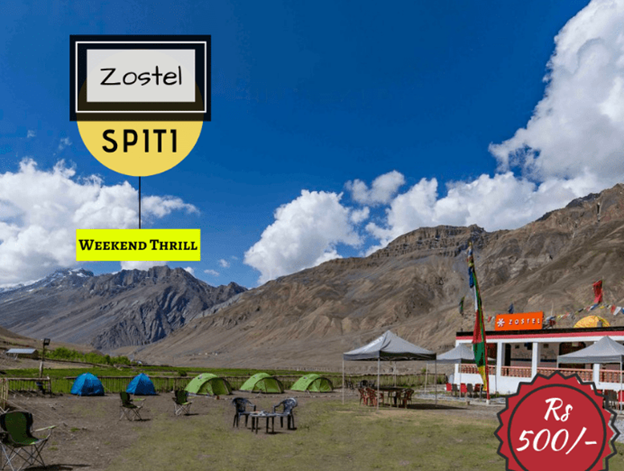 Overview: Been top ranked by guests, Zostel Spiti fosters new friendships and helps you explore the majestic  mountains and rivers in Spiti on a budget. The air surrounding the zostel will freshen you up for a time of lifetime. Feast your eyes and enjoy the scenic views of rising mountains just behind your hostel.spend your evening time going on walks. Making new friends, exchanging exciting stories about your trips. There are private rooms and tents available in the hostel too.

Features/Services provided:

Mountain views, cafe, water dispenser, laundry, common hangout area, parking facilities, storage facility, linen included, bedside lamps, valley view, common television, breakfast, 24 hour reception.

Address: Leo, Village Rd, Kaza, Himachal Pradesh 172114

Phone: 022 4896 2265

17.  Bunkyard, Udaipur.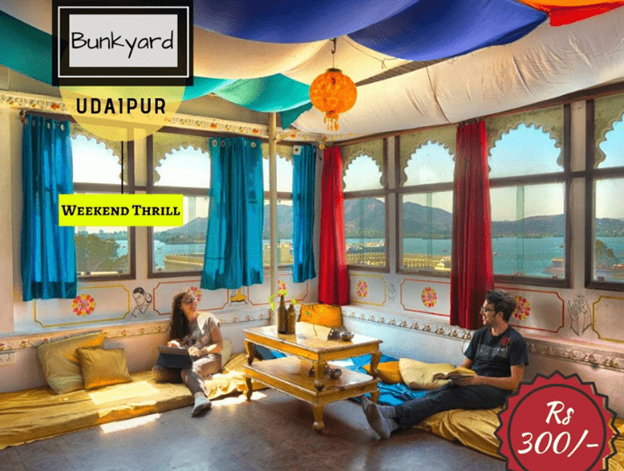 Overview: This hostel is located in Udaipur which is only a 100 m from Bagore ki Haveli, Bunkyard offers  a barbecue and terrace. Guests can have fun at the on-site restaurant. Every room has an attached bathroom, hair dryers are also provided in the rooms. While you are staying here, you can engage in various activities,like as horse riding and cycling. Jagdish temple is 50 m from Bunkyard, while City Palace of Udaipur is at a distance of  100 m from the property. The nearest airport to the hostel is Maharana Pratap Airport, 22 km from the property.

Features/Services offered: free wifi, games room, laundry, dry cleaning, vehicles for rent, 24 hour reception.

Address: 23, Lal Ghat Road, Old City, Silawat Wadi, Udaipur, Rajasthan 313001

Phone: 077422 88326

18.  International Travellers', Varanasi.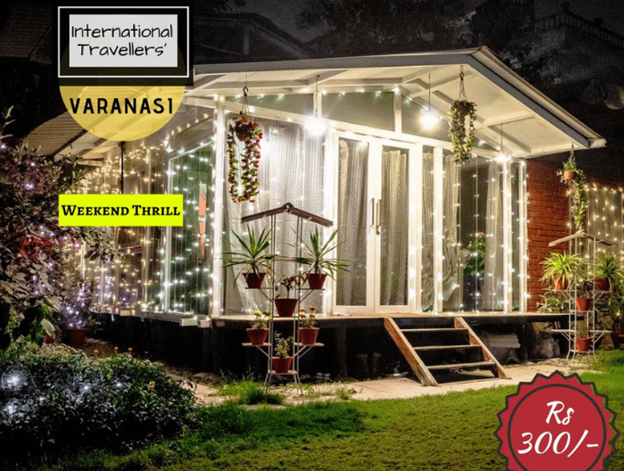 Overview:

International Travellers' Hostel is situated within 7-minute walk distance from the Varanasi Railway Station. Mixed and female-only dormitories, private rooms, family cottage and tents are available.The hostel is located at 3.5 km from Kashi Vishwanath Temple, 4 km from Dashashwamedh Ghat and 10 km from Sarnath Buddhist Temple. Bharat Mata Temple is just an 8-minute walk  away. The Lal Bahadur Shastri International Airport is 22 km away.

Features/Services offered: free WiFi, shared lounge, TV, lockers, board games, vegetarian kitchen only.

Address: C-32/4, Vidyapeeth Rd, Englishiyaline, Vidya Vihar Colony, Shivpurwa, Varanasi, Uttar Pradesh 221002

Phone: 0542 222 0058

19.  Stops, Varanasi.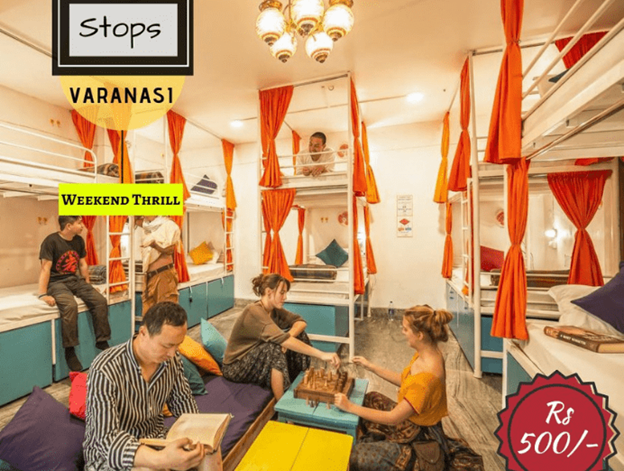 Overview: Located only 1 km away from the popular Assi Ghat, Stops Hostel features dormitories, private rooms and tents with an Indian décor. It offers a communal kitchen and a lounge area with a TV.

With free Wi-Fi access, dormitories all come with air conditioning. Each shares a bathroom.

Several grocery and convenient stores are located within walking distances from the hostel.

Shri Kashi Vishwanath Temple is a 5-minute drive from Hostel Stops. Manduadih as well as Varanasi Junction Railway Station are 4 km away.

Address: Vijayanagaram Palace, A-2 Plot No. B-20/47 Lg Store, Colony, Bhelupur, Varanasi, Uttar Pradesh 221010

Phone: 074288 82828

20. Vedanta Wake Up, Varanasi.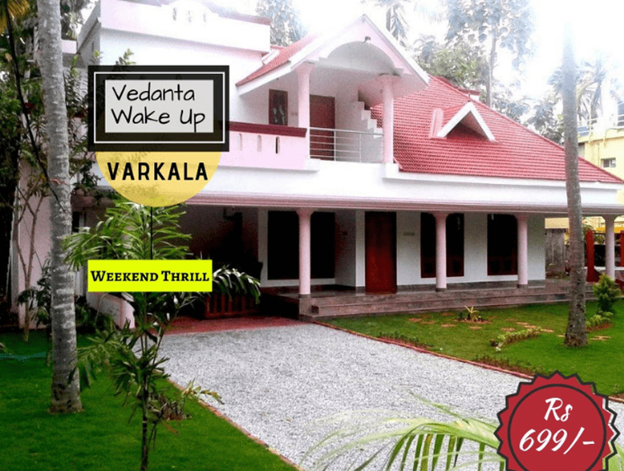 Vedanta Wake up is  India's best chain of backpacking hostels for travelers. It was conceived to address the most important concerns of backpackers and budget travelers. Vedanta Wake up! along the dreamy backwaters, Alleppey, is situated along the network of rivers. It is a perfect place to enjoy a beautiful sunny day at the famous Kerala backwaters. The property has lush green lawns and it's architecture is inspired from local elements and local architecture. Their rooms are comfortable and clean. They offer shared rooms with en-suite bathrooms. There are also private rooms available for families. At Vedanta Wake up you are in an environment where you will get meet fellow travelers in the lounges, free Wi-Fi, television sets, movies, libraries where you can also exchange books, guitars, board games, maps and eateries. The  eateries provided by them are hygienic.

Features/Services offered: WiFi, free parking, laundry. Non-smoking rooms, family rooms, AC and much more.

Address: North Helipad Cliff, Varkala, Kerala 695141

Phone number: 0470 205 1341