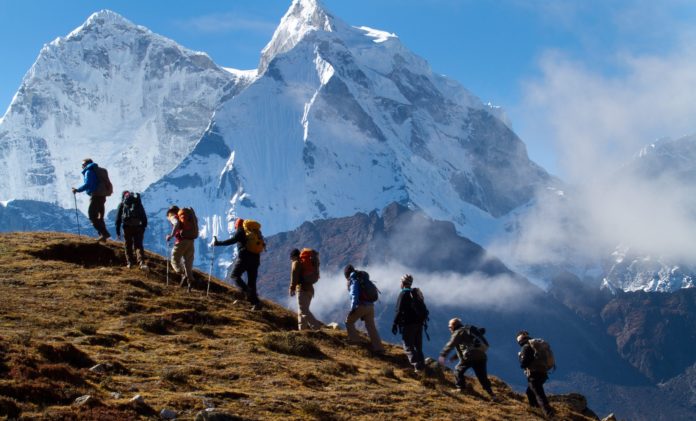 India is land of many terrains, You will mighty Himalayas in North to plains in centre to plateau & stunning Coast line in South. It provide ample places for a trekking in India. The foothills of the Himalayas offer world-class trekking trails to travelers and trekking exercises are coordinated with other fun exercises like water sports and different others. A trekking campaign is not just an excursion that you take to find nature's magnificence and abundance but it is additionally the one that takes you to a journey of self discovery. In the event that you are an adventure junkie &love outdoors then trekking will fulfill your hunger for something new. A percentage of the major trekking trails in India can be found in Garhwal, Darjeeling, Manali, Sikkim and Ladakh.
All You Need To Know About Trekking in India
1. Types of trekking in India
"Trek" is an extremely bland word. Treks can be anything from a simple one to a moderate one or one that can be truly hard a one.
Simple trek
---------------------------------------------------------
Best Deals for the Month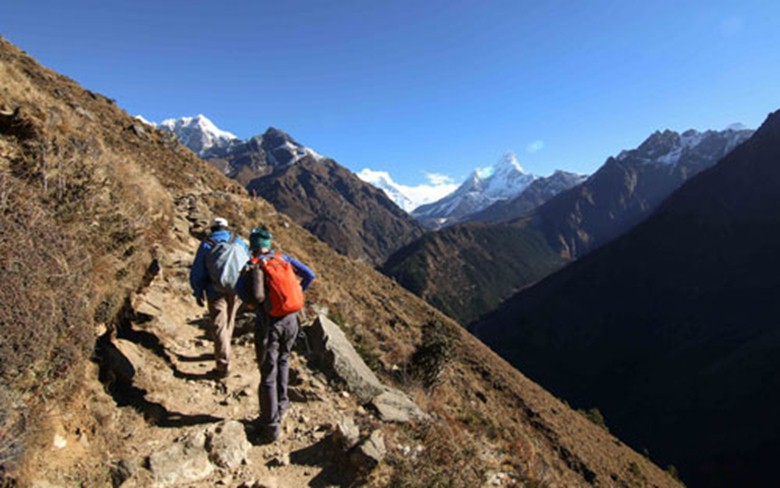 A simple trek extends for 2-3 days, have low landscapes & ideally covers 4- 5 KM in a day.An example of a simple trek is the Naag Tibba trek which is a short and delightful trek and should ideally be covered in 2.5 days.
Moderate Trek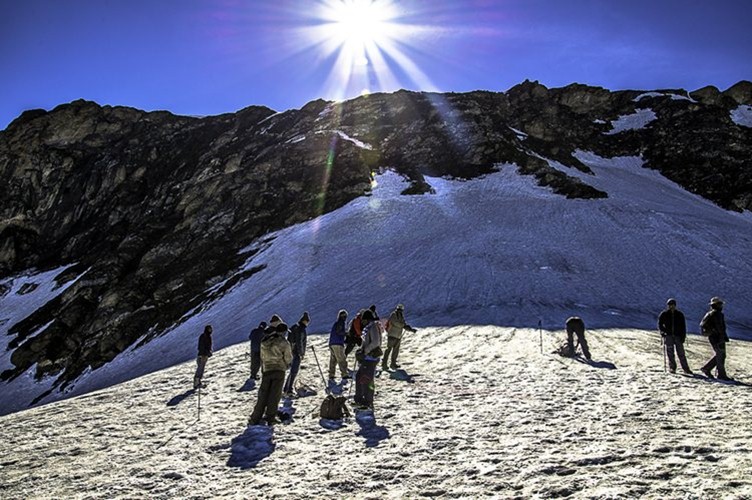 A trek which includes crossing territory which require a specific level of stamina, include various days of stroll in harder conditions is of this kind. A trek that represents a higher level of test to the trekker and includes 5-6 hours of trekking in a day can be categorized as moderate trek. The Hampta Pass trek in the Pir Panjal reach is one which can be considered as a moderate trek.
Hard Trek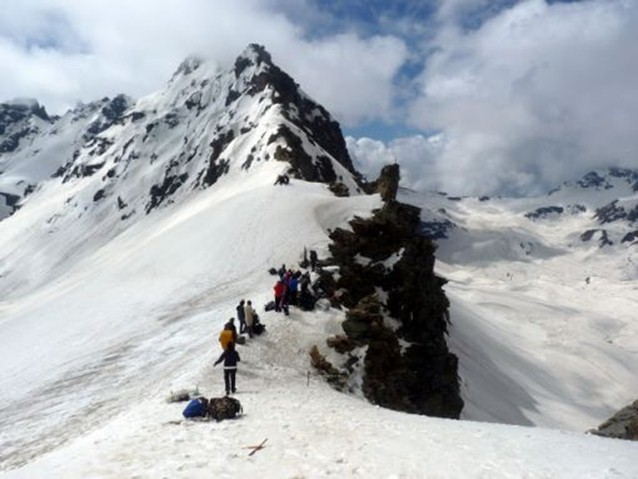 A trek that requires trekking for a extended period (6-7 hours) every day & test your stamina falls into difficult trek. It generally goes through steep grades and profound chasms. Difficult treks not only test your physical strength & stamina but also need mental strength to conquer the trek.
2. Trekking places in India
There are multiple trekking places in India, the best ones being: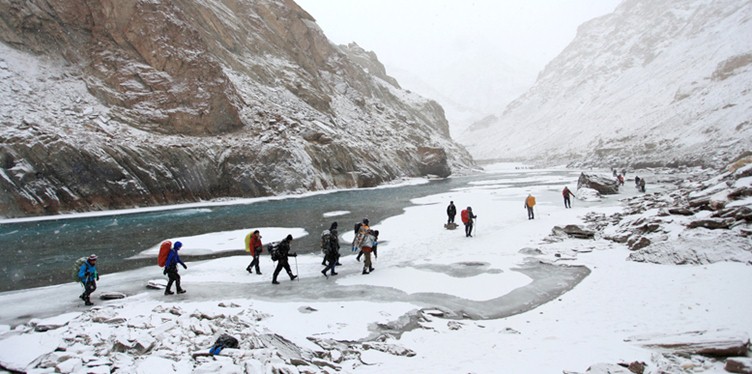 i. Hampta Pass trek
The Hampta Pass trek is of around 35 KMs. It begins from Hampta town in the Kullu valley and wraps at Chatru in the Lahaul and Spiti valley. The Hampta pass trek is a perfect trek for anyone starting a high altitude trekking in India.This trek takes you through various scenic places from thick deodar backwoods to start with, through snow clad valleys lastly through the one of a kind infertile scene of Lahaul and Spiti.
ii. Roopkund Trek
The Roopkund trek is brimming with stunning knolls and astonishing perspectives of the powerful Nanda Devi, Nanda Ghunti. Adding to this view is the puzzle of the Roopkund Lake with its human skeletons.
iii. Markha Valley Trek
The Markha Valley Trek is absolutely a standout amongst the most fluctuated and lovely treks in the Indian Himalayas. Amid the Markha Valley Trek one traverse through 15,000 ft (4575 m) height. In this trek, trekkers go through shifted territory from astonishing restricted valleys to completely open vistas of Ladakh's interesting desolate landscape.What makes it significantly more uncommon is the one of a kind Buddhist society you encounter all through the trek. The trail is enhanced with various "Chortens" and bright Tibetan request to God banners.
iv. Stok Kangri
The Stok Kangri is a forceful 6153 meters high top, however you can trek up without earlier mountaineering experience.The trek begins from Stok town through patches of green fields in a frosty desert. There are world records for people who have summit this crest in under 24 hours beginning from Leh. Keeping the records aside this trek is generally covered in 9 to 12 days after proper climatic acclimatization.
v. Dayara Dodital Trek
Dayara Dodital trek is a great trek and it begins at Barnala which is close to Uttarkashi and ends at Hanuman Chatti near to Darwa pass. This trek is a pleasant trek. It is also a sought after treks as you find your companions in flying creatures such as Monal, Whistling Thrush, Babbler and Wagtail.
vi. Pindari Glacier Trek
The Pindari Glacier trek is done in the Kumaon district of Uttarakhand. It's a simple trek in India which begins from the pleasant town of Khati. The Pindari Glacier is the wellspring of a Pindar Ganga which is a tributary of The Alaknanda River. This Glacier is 3 km long and is located beneath Mount Changuch.
3. What to carry and wear during trekking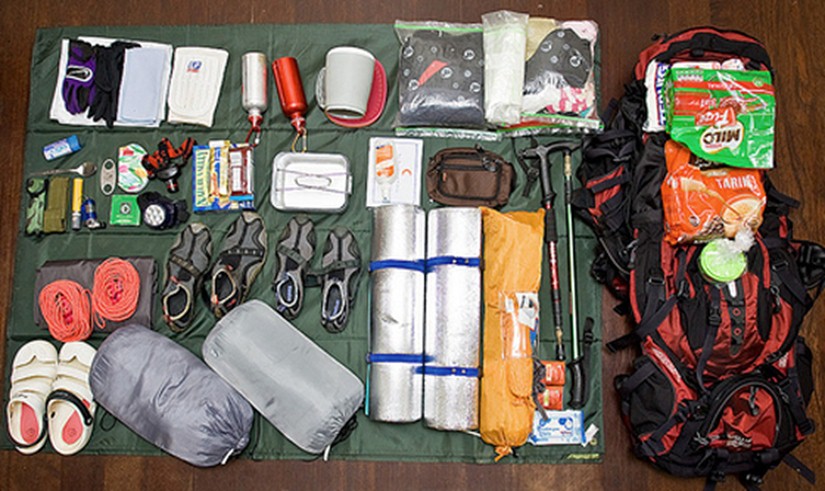 Trekking garments, in any case, are an alternate story. To somebody simply beginning in trekking adventure trips in India, the variety of apparel decisions can be mind boggling and dazing. In this article we separate garments to the essentials. You don't have to purchase another closet before you hit the trail in the Himalayas, yet you'll require a couple of fundamentals to stay protected and comfortable. The general guideline for picking the right garments on any trek is to broadly scrutinize your course and to keep away from cotton.
Research says you should wear few yet more fitting garments. Proper apparel keeps you better prepared for crises and severe climate conditions. Fitting dress likewise implies you convey less weight on your back. The territory that you should experience and the climate on your trek days are the two perspectives that you have to look into for choosing what to wear.
4. Trekking Equipment
A standout amongst the most important thing that a trekker must have is a couple of good quality trekking shoes or boots. It is your feet that bear the effect of your trekking exercises thus it is vital to wear suitable shoes when you are trekking. Select a couple of trekking shoes that are intended to withstand the climate and territory you decide for trekking trips in India. On the off chance that you are going to trek in a rough territory that has a great deal of uneven landscape, you ought to wear a couple of trekking shoes that has great lower leg support. In the event that you are going to trek on level landscape, you require trekking shoes with low lower leg support. The material of the shoes should suit the climate and foliage of the range you are trekking.
A suitable and brilliant rucksack is additionally an imperative open air gear for trekking. The knapsack must have enough space to carry exceptionally vital trekking things, for example, your extra garments, resting pack, sustenance and different items, water bottle, crisis medicines, trekking instruments, and a stove. Diverse models of knapsacks with numerous pockets and compartments are accessible in the market or any trekking specially shop.
Another important gear to have is a cap to cover your head. You should also invest in a good quality waterproof and breathable coat. This is additionally a vital open air gear. Attempt to pick a coat that has pockets to put some imperative stuff. You have to purchase winter gloves and headpiece in the event that you are going to do winter trekking. Numerous trekkers use trekking shafts to look after equalization, pick up strength, and to give backing to their joints and knees. The trekking posts are likewise useful to build speed, diminish tiredness, and to minimize the weight on back, knees, legs, and feet.
Notwithstanding these trekking open air gear things, you may also require certain vital trekking adornments, for example, routine supplies like compass, guide, and aides, electric lamp, blades, lighter, matches, and wet wipes. Your trekking garments must be lightweight, breathable, sturdy, and climate safe.
5. Trekking with guide and independent Hiking
A few treks require an aide because of the trouble of the trail or neighbourhood regulations. Different courses like the Markha Valley Trekking is possible to do freely (e.g., without an aide) in light of the fact that the trail is really all around checked and there are towns to stay in all through the way. You then have the choice of whether to go all alone or contract an aide. Variables include: spending plan, your trekking knowledge, aptitude at perusing trekking maps, and climate. Despite the fact that our Markha Valley trek is possible without an aide, it is in best regards to have an aide with you especially if you are a beginer. Having a neighbourhood guide gives us the genuine feelings of serenity that we are on the right way and can thoroughly enjoy our trek.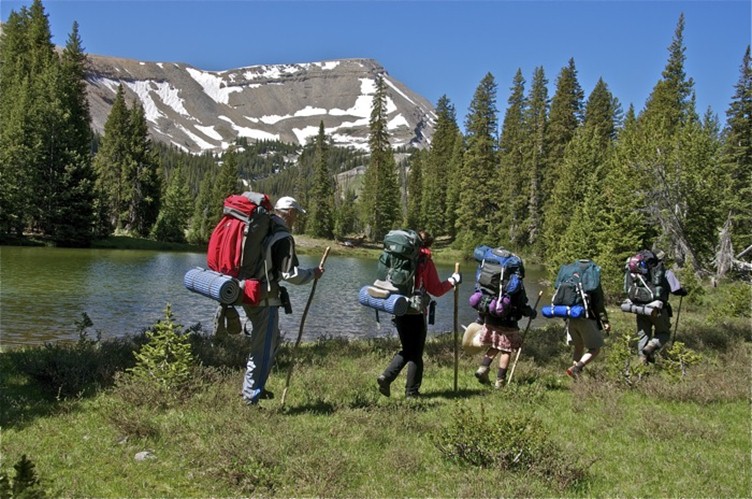 Trekking independently – making all your own courses of action, conveying your own particular pack and staying in cabins gives you more opportunity or adaptability on the trail But is encourages if you have done extensive trekking previously. As far as course decision is concerned, it's more restricting than a composed trek.
Doing it without anyone else's help gives you more control over numerous parts of the trek: you can go at your own pace, stop when and where you like, pick your voyaging allies and take rest days or side outings however you see fit. The drawback is that you need to spend a day or three coating up transport or plane tickets, leasing hardware, purchasing supplies and maybe finding a doorman or aide.
6. General tips for trekking in India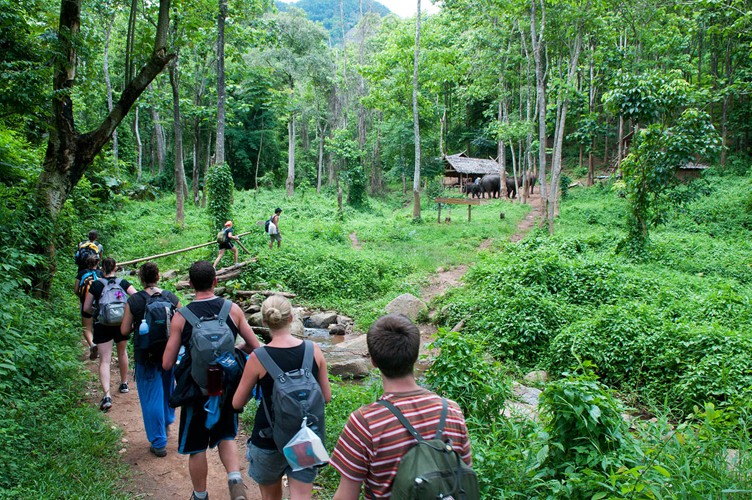 Pick an Easy Trek First
As you are an apprentice, you ought not to go for the intense treks as they are for the most part implied for the specialists and veterans. Picking a simple trek first will be an insightful move as you will get experience, appreciate the rush and can savour a magnificent visit on such trek as a novice. An intense trek might be unsafe for you & sometimes is only restricted to veterans.
Verify That You are Perfectly Fit
Physical Fitness is of utmost importance for trekking. Many Trekking organizers give you a fitness regime to follow to prepare you for the trek. The regime may start from 3 months to 1 month before your trek depending on your trek intensity. You should also get medical check up done before starting the trek to know your fitness level. At times trekkers may experience the high altitude sickness, upset stomach etc. If you have any strange feeling about your health, you should immediately inform your trek leader about it & take proper medication.
Research Can't be Compromised
The arranging and research for the trek ought to be done painstakingly. A legitimate exploration is to a great degree fundamental and its significance becomes much greater on the off chance that you are an apprentice. When you have done legitimate exploration on the area and atmosphere that you might experience amid the trek, you can do further arranging of your journey.
Legitimate Scheduling is a Must
Make a complete calendar when you are getting ready for your experience; the timetable ought to be planned according to the atmosphere and circumstance of the destination. You ought to ensure that you have educated a relative or a companion about your timetable, as they can go to your guide in the event that you get into any issue.
What's the Budget?
Vital variables of the visit, for example, costs of sustenance, convenience, and so on ought to be sufficiently given thought while arranging a financial plan. The cash you are conveying ought to be somewhat more than what has been assessed, as there are numerous unanticipated costs that might come up on the trekking in India trip.
Pack All the Essentials Carefully
As you are a learner, you should realize that the foodstuffs and garments are something that may not be accessible amid the trek adventure tourism in India. Thus, you should convey sustenance and garments in adequate sum. The nature of the garments ought to be great as amid the trail, there is a plausibility of garments being torn. Also, it is difficult to wash garments while on a visit.
7. Best time to visit and ideal conditions for trekking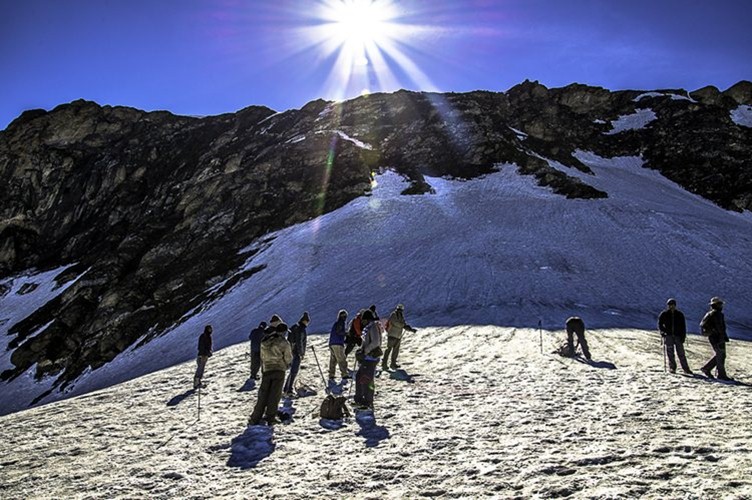 India's climate is to a great degree differed, something you should consider when pondering the best time to travel. The most compelling component of the Subcontinent's atmosphere is the wet season, or storm. This breaks on the Keralan coast toward the end of May, working its path upper east the nation over the next month and a half. While it keeps going, consistent and delayed storms are scattered with blasts of hot daylight, and the pervasive mugginess can be serious. At the stature of the storm – particularly in the wilderness locales of the northwest and the low-lying delta terrains of Bengal – flooding can extremely upset interchanges, bringing about across the board devastation. In the Himalayan foothills, avalanches are basic, and whole valley frameworks can be cut off for quite a long time.
The best time to visit the majority of the nation, accordingly, is amid the cool, dry season, in the middle of November and March. Delhi, Agra, Varanasi, Rajasthan and Madhya Pradesh are perfect right now, and temperatures in Goa and focal India stay agreeable. The warmth of the south is never under exceptional yet it gets to be smothering in May and June, so plan to be in Tamil Nadu and Kerala in the middle of January and March. From this time onwards, the Himalayas develop more available, and the trekking in India season achieves its crest in August and September while whatever is left of the Subcontinent is being doused by the downpours.