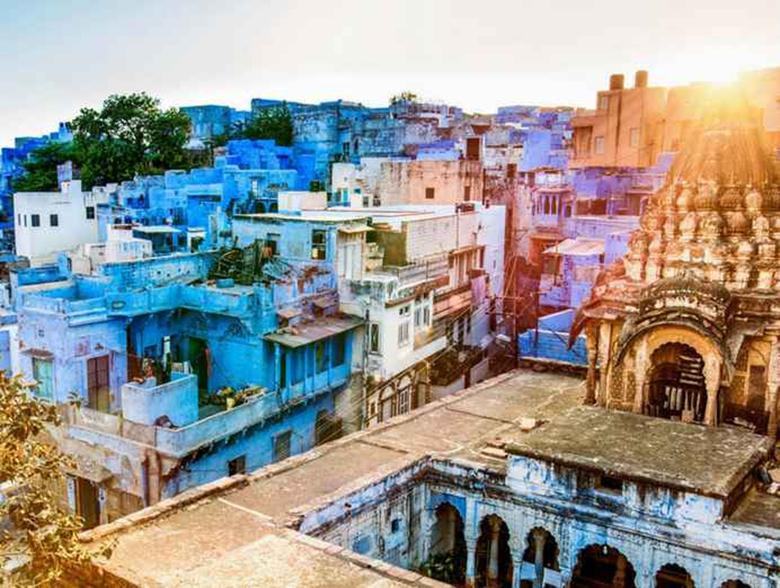 India has some special places that exhibit the true colors of the fall. Autumn is the season when our surroundings undergo a subtle change and the weather becomes pleasant. With so much of oozing charm around us, there are places to visit in October in India that wear the fresh cologne & oodles of colors and compel us to step out of our homes and get enthralled by nature's magnificence.
Places in India to visit in the month of October
1. Jammu and Kashmir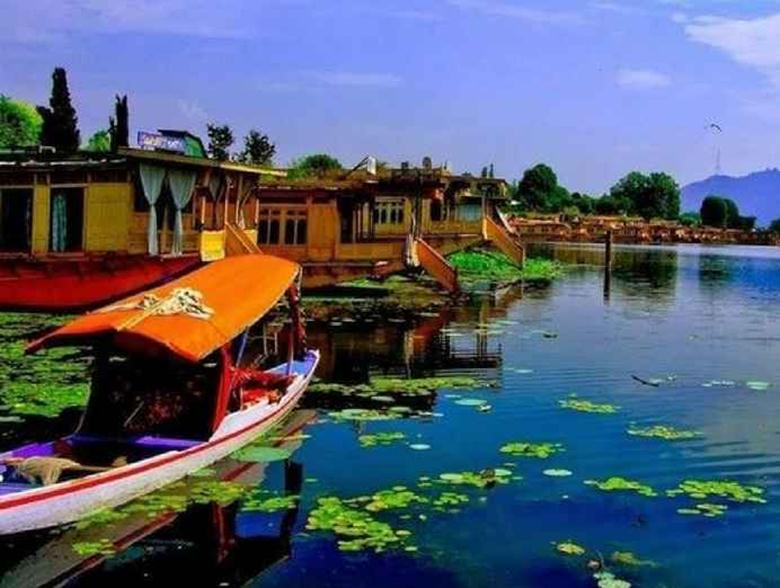 Source: wordpress
---------------------------------------------------------
Best Deals for the Month
Aamir Khusro merely described the place that sings the lore of beauty and belittles the paradise itself if there exists any. Ranked as one of the best places to visit in India in October, Jammu & Kashmir constitutes all the spectrum of nature. Be it Leh-the highest desert city in the Himalayas or a brimming Jhelum river originating from the foot of Pir Panjal range, Kashmir definitely belongs to heaven.
Places to visit: Gulmarg Biosphere Reserve, Sonamarg, Kupwara, Vaishno Devi Shrine, Hemis National Park, ancient monasteries, and Pahalgam.
Things to do: Shikara ride, stay in a houseboat in Srinagar, trekking and camping, skiing, and spotting rare animals.
2. Rishikesh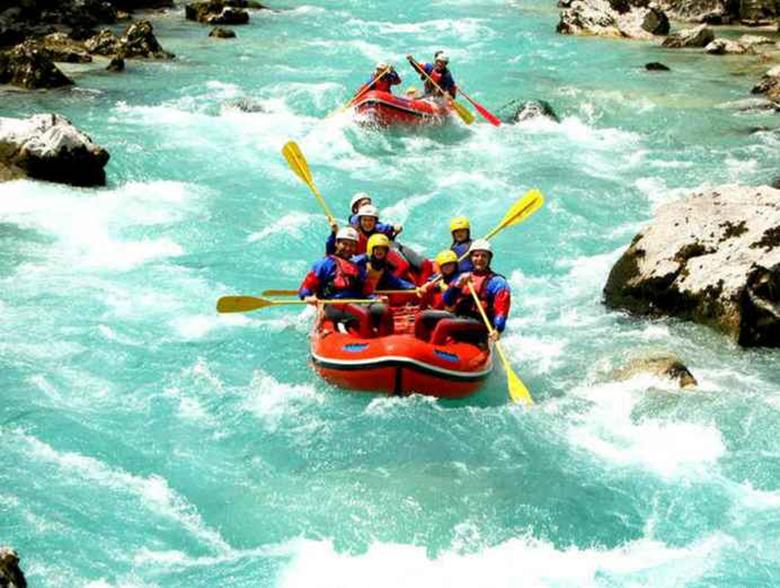 Source: wordpress
Sitting pretty on the northern frontier of the Himalayas is Rishikesh; a holy city that thrives by the banks of the Ganges. There are quite a few religious places and plenty of adventurous activities that make Rishikesh an ideal holiday destination in India in October.
Take a dip at the Triveni Ghat- the confluence of Ganga, Yamuna, and Saraswati, and wash all your sins coz it's time to begin afresh.
Places to visit: Laxman Jhula and Ram Jhula, The Beatles Ashram- sit back, relax and enjoy the serenity, Rishikund, Vashishta Gufa, Kunjapuri Temple, and Triveni Ghat
Things to do: Bungee jump, flying fox, giant swing, attend Ganga Aarti, and go river rafting in Rishikesh
3. Jodhpur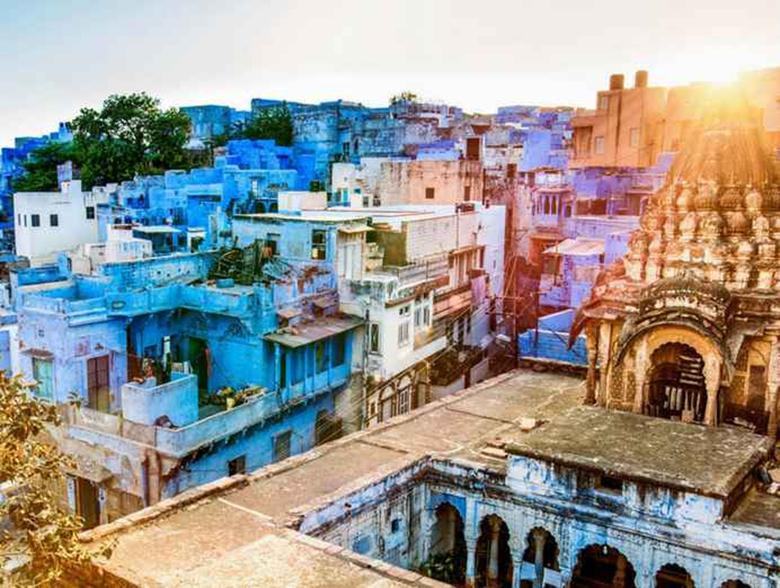 Source: wordpress
If you are still fiddling with the thought of visiting best tourist places in India in October, Jodhpur is the answer. Number 3 on our list of most colorful places in India, it is a city that is characterized by museums, vibrant colors, traditions, weapons, paintings, and the never ending history of the Rajputs.
When in Jodhpur, take the desert safari and play by the sand dunes as you ride your favorite SUVs. The finely scattered sun rays playing along the contours of sand make a pleasant sight as you contain every bit your mesmerizing trip at one of the preferred places to visit in October in India.
Places to visit : Mehrangarh Fort, Jaswant Thada, Umaid Bhawan Palace, and Mandore Gardens
Things to do : Dine at Indique Restaurant and Pal Haveli (breathtaking sunset view is complimentary), relish Makhani Lassi at Mishrilal Hotel, make a wish at Jaswant Thada, and experience desert safari
4. Pachmarhi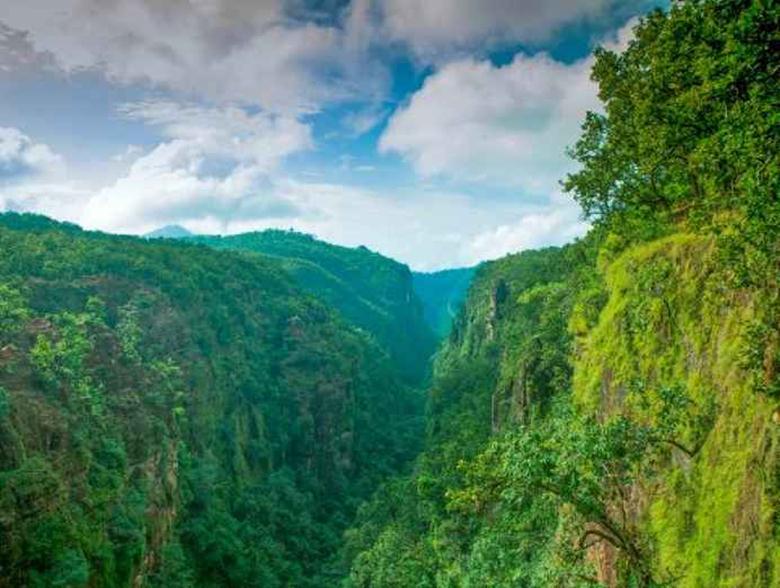 Source: wordpress
The queen of Satpura is one of the most popular hill stations and also a primary holiday destination in India in October. Sitting pretty at an altitude of 1100 meters above sea level, Pachmarhi lies beautifully entangled amid lush green nature, ancient caves, and waterfalls exuding beads of life.
Don't forget to keep it on the bucket list of your favorite locations when you are shortlisting the most beautiful places to visit in India in October.
Places to visit: Handi Khoh, Apsara Vihar (fairy pool), and Pandava and Jatashankar Caves
Things to do: Go for a nature walk, listen to the soothing splash of water at Rajat Pratap waterfall, and catch the sunrise exclusively from Hathi Shikhar located at 1359 meters
5. Hampi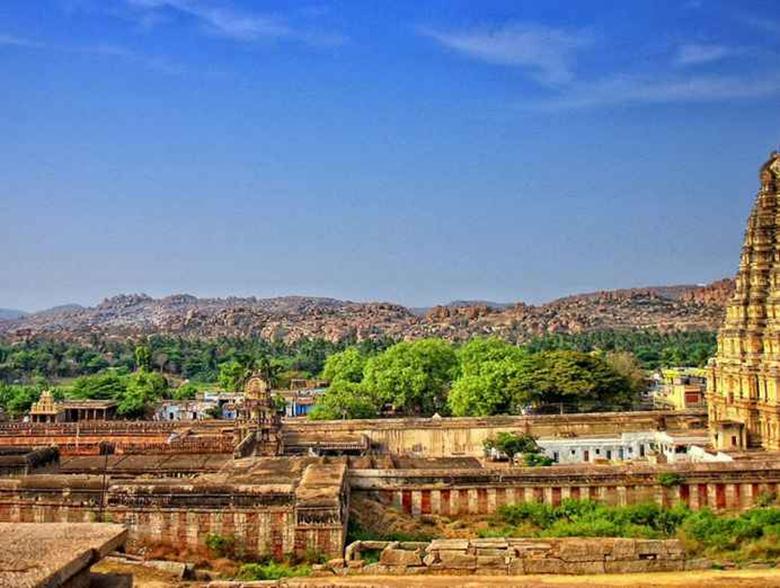 Source: flikr
Located amid the remains of the ancient city of Vijayanagar, Hampi is also known as the richest and one of the most prosperous cities during its prime. Call it a cult, seat or an everlasting monument, Hampi even in its ruins, continue to be a backpackers paradise, and a pilgrim's delight, which puts it among the top notch places to visit in India in October.
Go around and relish the marvel of this UNESCO World Heritage Site which is undoubtedly one of the best places to visit in South India in October. Clustered with temples and exceptional pieces of architecture, the Hampi town encompasses royal and sacred centers and plenty of other attractions that continue to enthrall its visitors.
Places to visit: The Islamic Quarter, The Sacred Centre, The Royal Centre, and a legion of temples
Things to do: Enjoy the awe-inspiring view of Tungabhadra river, explore the Stepped Tank and the Hampi bazaar, and take a tour of elephant stables
6. Mysore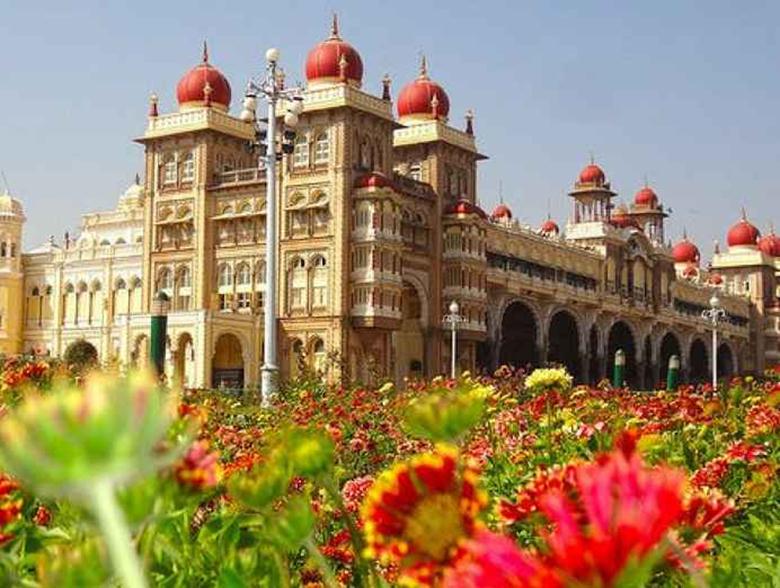 Source: flikr
Of all the places to go on holiday in October, Mysore looks nothing less than a perfect destination. While the entire city of Srirangapatna stands testimony to the heroics of Tipu Sultan- the tiger of Mysore, the Krishnaraja Sagar Dam bedazzles the visitors with its prevalent charm and the beautiful Brindavan Garden located at its feet. God's own country- Kerala stays in its close proximity and to top it all, the cozy weather won't let you go away.
Dussehra only adds to the allure of Mysore that remains one of the most sought after places to visit in October in India
Places to visit: Mysore Palace, Srirangapatna, Mysore Zoo, Railway Museum, and Maharaja's Palace
Things to do: Soak in the colors at Mysore fountain, take a tour of Sandalwood oil factory, a tour of silk factory, and drive down to Chamundi Hills
7. Wayanad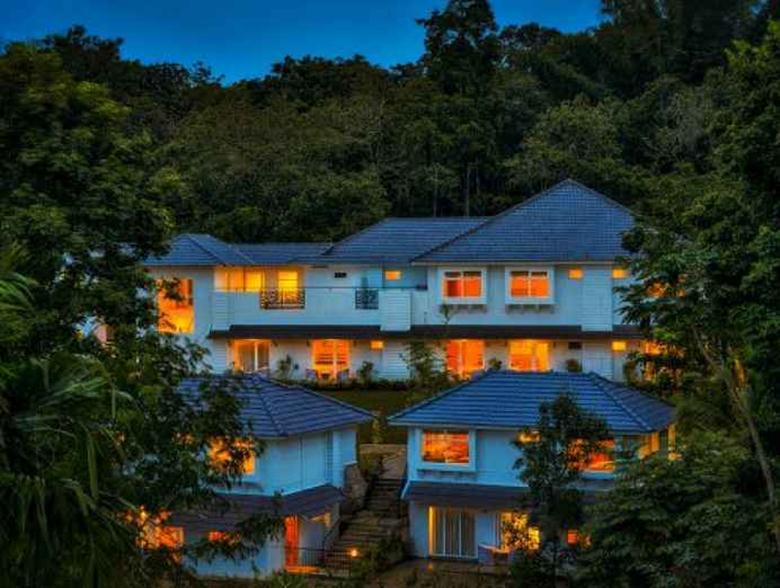 Source: flikr
Inheriting the charisma of the gorgeous Kozhikode and Kannur, Wayanad district is one of the different shades that Kerela flaunts with pride. Nestled among the mountains of the Western Ghats, Wayanad boasts of several tea estates. The hushing aura of nature, surreal experience of fluffy clouds brushing past your face, and near to perfect escapades around make it the best place to visit in India in October for a honeymoon.
Places to visit: Chembra Peak, Kuruva Island, Pookode Lake, Muthanga Wildlife Sanctuary, Edakkal Cave, and Thirunelli Temple
Things to do: Mountain trekking, backpacking, wildlife refuge, nature walk, and strolling in tea estates
8. Rajgir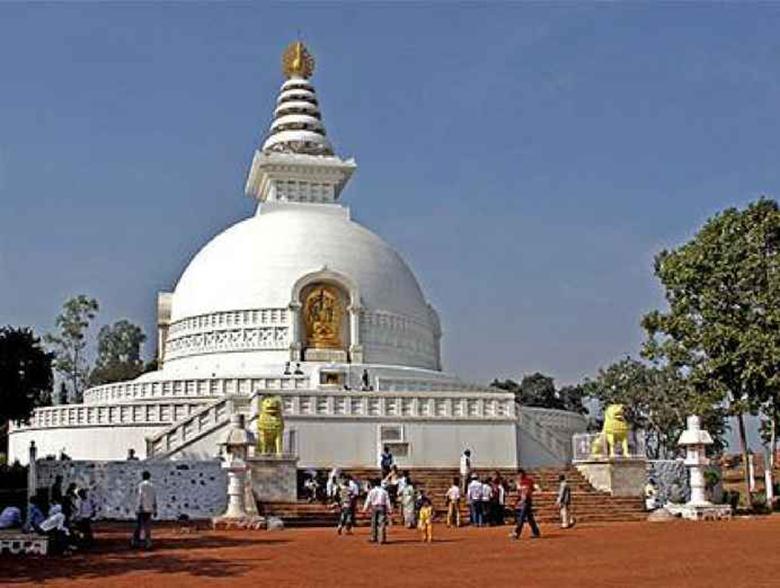 Source: flikr
The first capital of the biggest and invincible Mauryan empire is Rajgir, which is also one of the best holiday destinations in October. A major tourist attraction in Nalanda district, Rajgir is a notified place that means the abode of kings (Rajgir- Rajgriha). The fact that Rajgir played host to Lord Mahavir and Buddha puts it closer to the hearts of Hindus, Buddhists, and Jains.
Places to visit: Shanti Stupa atop of Ratnagiri hills, Jarasandha ka Akhara, Jivakameavan Gardens, Ajatshatru Fort, Venu Vana, Swarn Bhandar, and Pippala Cave
Things to do: Ropeway to Shanti Stupa, explore the ruins of the Nalanda University, stroll around Cyclopean Wall, a dip in hot springs, and boating in Ghora Katora Lake
9. Digha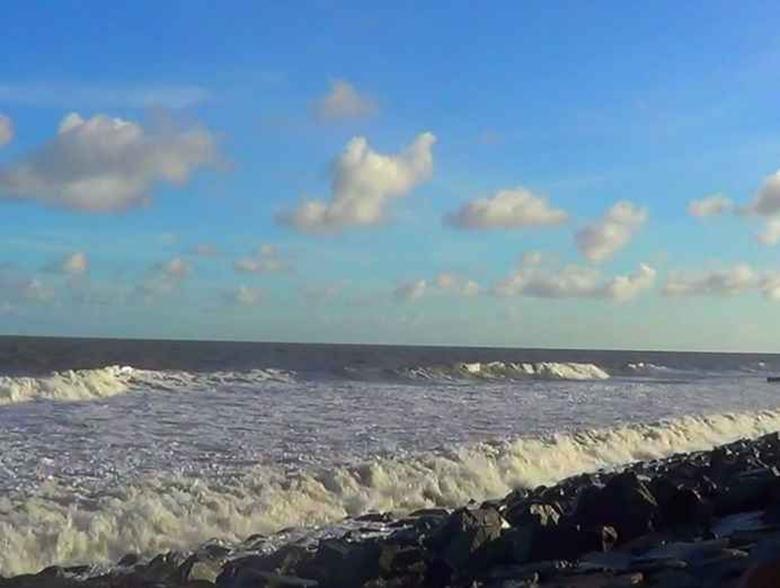 Source: flikr
This romantic holiday beach destination in West Bengal is your answer to where to go in India in October. Also known as the Brighton of the East, Digha has shallow sand beaches that greet its visitors with mesmerizing sea waves. Dotted with casuarinas plantations along the coast, Digha also presents beautiful sunrise and sunset views to the romantic couples who flock to the place to especially catch the breathtaking shades of nature.
Places to visit: Shiva Temple, Kapal Kundala Temple, Talsari, the Subarnarekha delta, the Mandarmani Beach, Junput, and Amarabati Park
Things to do: Marine aquarium in Digha, Shankarpur- a new discovery and look-alike of Digha has a lot to offer; go on and explore it, go shopping in Digha; the place is famous for shell jewelry
10. Kolkata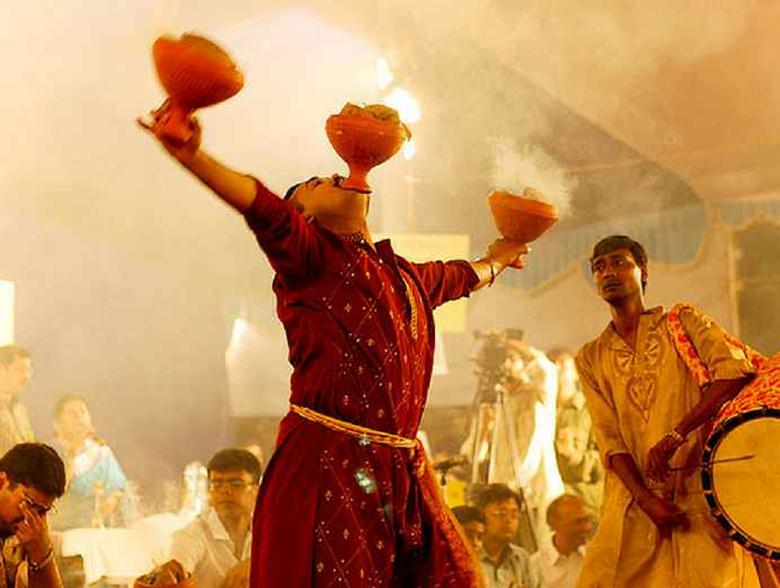 Source: Flikr
October is the time when the whole Kolkata city awaits Durga Puja- the 10-day carnival! Residents adorn the city meticulously and turn it into a grand spectacle thus making Kolkata into one of the top holiday destinations in India in October. As you negotiate your way through crammed spaces of the serpentine bylanes, you can actually feel the camphor infused air around and people hailing the goddess.
But there's much more to explore when you are in the city. Kolkata is dotted with museums and buildings of historical relevances. Go around and find it for yourself, you can still find pulled-rickshaws and trams on the city streets.
Places to visit: St. Paul's Cathedral, Victoria Memorial, Eden Gardens, Mother Teresa House, Mullick Ghat Flower Market, and Howrah Bridge
Things to do: Try street food: ghugni chaat, jhaal muri, and paani puri, don't miss Kolkata special rosogollas, ride the legendary trams- the only tramway left in India, spend some time at National Library- India's largest library by volume, and take a tour of Acharya Jagadish Chandra Bose Botany Garden