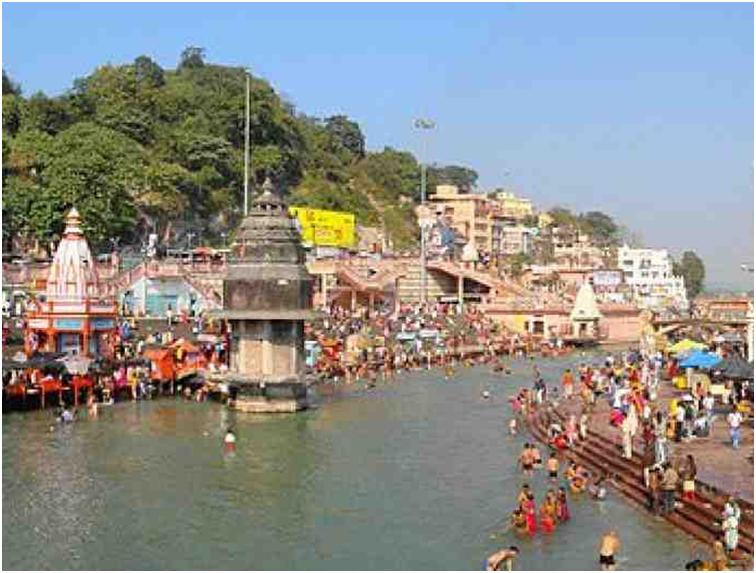 Weekend Thrill is aimed at providing you with the best and most accurate information on the places that you wish to visit. Our Haridwar travel guide provides you with up to date information which will help you to prepare for your next big trip.

Haridwar travel guide blog:

Haridwar is an ancient city and it is one of the most important pilgrimage sites for Hindus. It is located in the Haridwar district of Uttarakhand state. The holy river Ganga enters the Indo-Gangetic plane after flowing for 157 kilometers, here in Haridwar. This gave the city its ancient name of Gangadwara, literally meaning 'The gateway of the Ganga'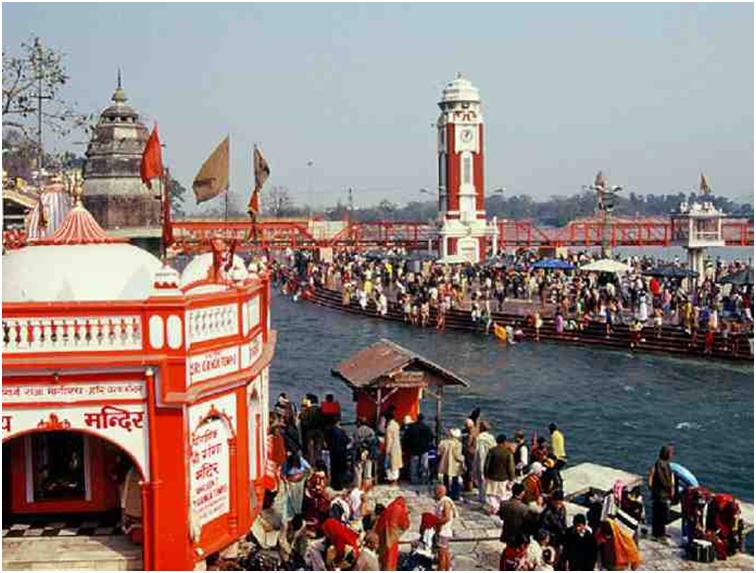 ---------------------------------------------------------
Best Deals for the Month
Source : uttarakhandtourism.gov.in

Haridwar is regarded as one of the seven most holy places for Hindus. Legend believes that a drop from the elixir of immortality fell on the Har ki Pauri ghat, and since then it is believed as a very sacred place. Haridwar presents a kaleidoscope of Indian culture and development. The sheer number of people gathering around Har ki Pauri Ghat give Haridwar a chaotic but a reverent feel.

History of Haridwar :

Hari is another name of Lord Vishnu and the name Haridwar literally translates to 'Gateway to Lord Vishnu'. It is true in the sense that, to reach Badrinath, a temple of Vishnu, one has to start their journey from Haridwar.  

Haridwar is a historical city which withstood the onslaught of different empires and still managed to retain its spiritual significance. This city has been mentioned in several texts and manuscripts from before the Buddha period. In the archaeological surveys in Haridwar it was found that terra cotta culture thrived in Haridwar during the period of 1700 BCE to 1300 BCE.

Haridwar was also mentioned in the travel texts of ancient Chinese traveller Husang Tsang.   During the reign of Emperor Jahangir (1596-1627) Thomas Coryat, an English traveller who visited the city mentioned it as 'Haridwara', the capital of Lord Shiva.

Geography of Haridwar :

The district of Haridwar covers an area of 2370 km square and lies in the South western zone of Uttarakhand. The river Ganga flows through Haridwar in a series of channels which are segregated from each other all of which are well wooded. There are seasonal streams in Haridwar named as Ranipur Rao, Begam Nadi, Pithri Rao, Harunaii Rao.

Haridwar is located to the south of Rishikesh at a distance of 20 kilometers. Haridwar is well connected to the national capital Delhi, and there is no dearth of an extensive network of transportation joining Haridwar to the rest of the country. Delhi is located at a distance of 210 kilometers from Haridwar and it can be reached in about 4 hours from Delhi taking about roughly 4 hours of time.

Climate of Haridwar :

Haridwar has a pleasant climate all through the year. As its location is in the hilly terrains, the climate is usually chilly and it doesn't reach very hot temperatures. Thus Haridwar can be visited at any time of the year.

The maximum temperature recorded so far is 46.9 degree Celsius and the minimum temperature of Haridwar is 14.6 degree Celsius. In the months of summer the temperature in Haridwar varies from 35 degrees to 45 degrees Celsius. The temperature ranges from 10 degrees to 30 degrees Celsius in the months of winter. The weather of Haridwar is often unpredictable.

How to reach Haridwar :

By air

Haridwar is located at a close proximity to the Jolly Grant airport in Dehradun district. The distance between Jolly Grant airport and Haridwar is about 20 kilometers. There are multiple flights to Jolly Grant airport from the nearest metropolis; i.e Delhi. There are flights to Jolly Grant from Mumbai, Trivandrum and Kolkata as well. The best way to get value for money is to book your return ticket at the same time. Air India offers economical flights from few of the major Indian cities to Jolly Grant airport. One can hail a cab from Jolly Grant airport to reach Haridwar.

By train:

Haridwar has a well maintained train line and it houses the Haridwar junction which connects it with the rest of the country. The Haridwar junction has trains coming in and going out from it at a regular frequency. Haridwar also has trains that connect it with Rishikesh; another important pilgrimage site in the Uttarakhand.

By road:

Haridwar is located at a distance of 225 kilometers from the national capital of Delhi. Haridwar is well serviced from Delhi and the other cities in Uttarakhand by a well maintained and an extensive network of roads. One can reach Haridwar from Delhi in about 6 and a half hours via the national highway 334. The roads in the hilly Uttrakhand region are well maintained so as to provide free movement from one place to another.

Things to see and to do in Haridwar :

Visit Har ki Pauri :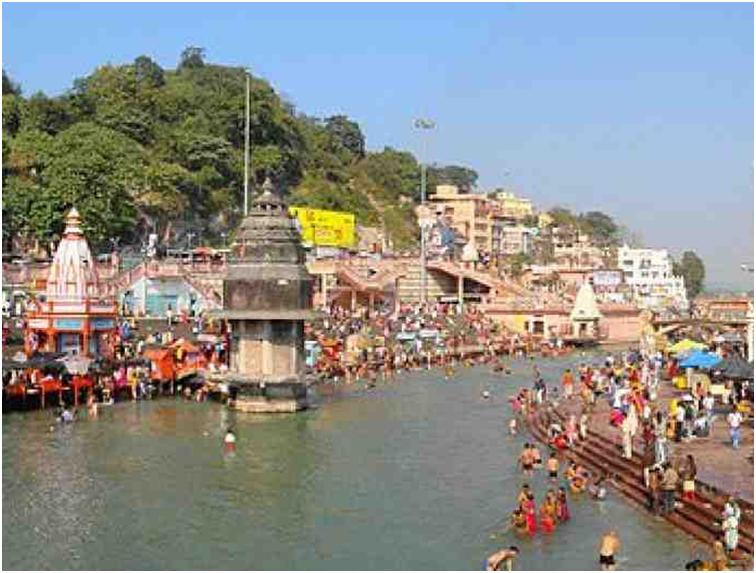 Source : en.wikipedia.org

Har ki Pauri is one of the most famous landmarks in Haridwar. This ghat is believed to be the exit point of the holy river Ganga. A huge procession called as the Ganga aarti takes place in Brahmakund area of Har ki Pauri. The biggest fair in the world, the Kumbh mela also takes place in Har ki Pauri.

Explore the Chilla wildlife sanctuary :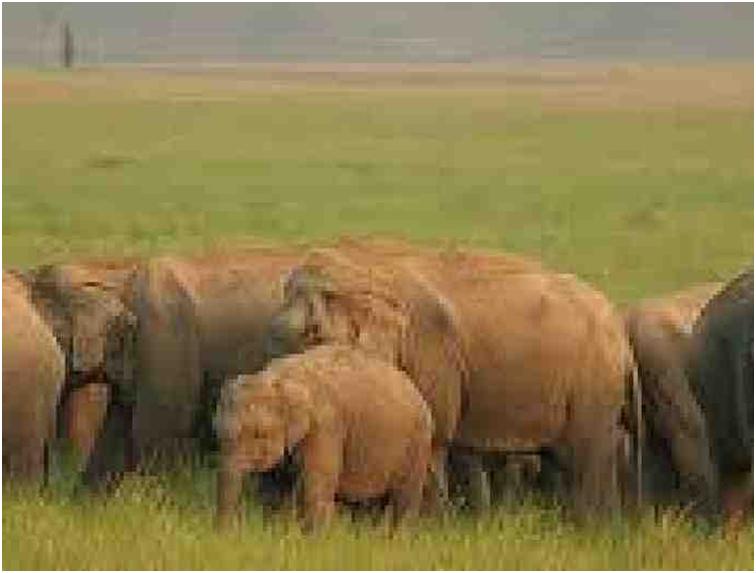 Source : www.indianwildliferesorts.com

The Chilla wildlife sanctuary is spread across an area of 249 square kilometers. It is situated on the eastern banks of the river Ganga at a distance of 10 kilometers from the city of Haridwar. This wildlife sanctuary showcases various animal species such as tigers, deers, elephants, peacocks, quails, hawks, hornbills etc. One can also enjoy the scenic view of the mighty Ganges gushing past the sanctuary.

Visit the Shantikunj ashram :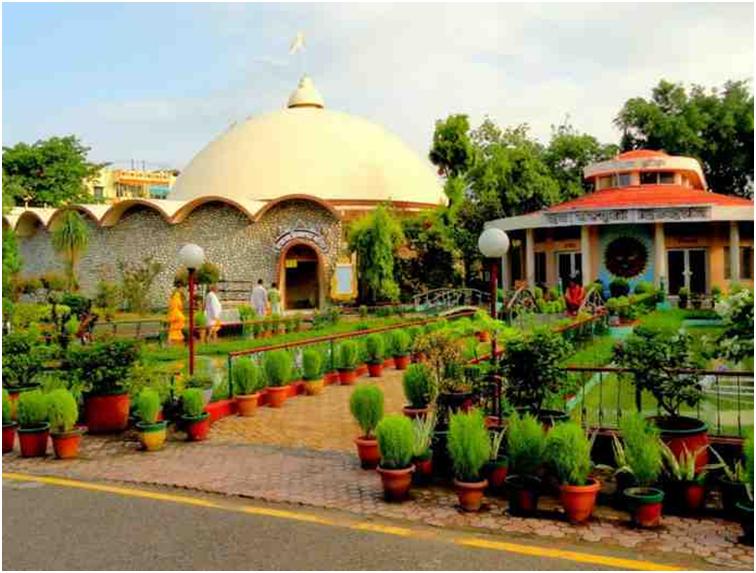 Source : www.awgp.org

Shantikunj ashram is well renowned ashram in Haridwar. People from all over the world visit this ashram in search of spiritual and moral enlightenment. It is located a distance of 5 kilometers from Har ki Pauri and it is also frequented by Dalai Lama.

Visit the Mansa Devi temple :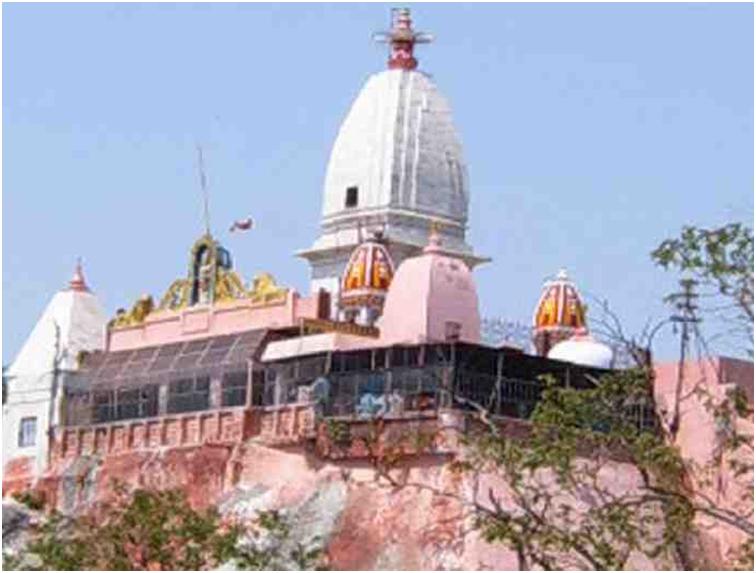 Source : www.haridwarrishikeshtourism.com

Mansa Devi temple is one of the most revered temples in Haridwar. It is located at the Bilwa parvat and this is a holy place to worship the Goddess Mansa Devi. Mansa Devi temple is a famous Sidhpeeth and temple offers an amazing panoramic view of the city.

Frolic in the Swami Vivekananda Park :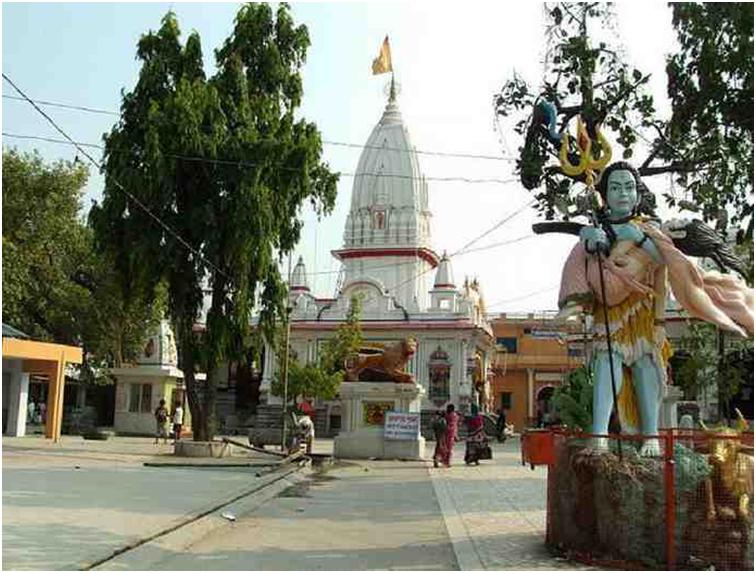 Source : www.chardhamtours.in

Haridwar has very few parks and amongst them, Swami Vivekananda park is considered to be the most beautiful and a very serene park. This park is situated on the banks of the river Ganga and it is enveloped in lush green plantations. The park contains a huge statue of Swami Vivekananda and Lord Shiva. This park is an ideal picnic spot and it also offers an amazing view of Har ki Pauri.

Visit the Chandi Devi temple :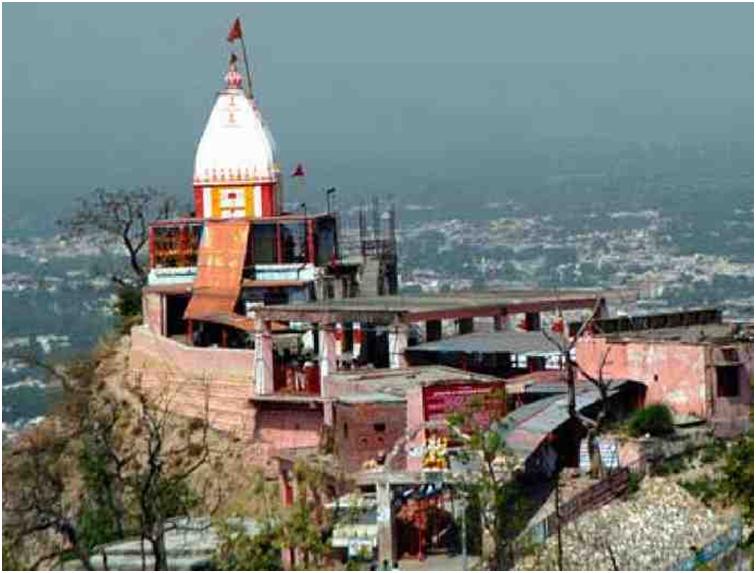 Source : www.haridwaronline.in

Chandi Devi temple is a very popular temple situated in Neel Parvat in Haridwar. Located at a distance of 4 kilometers from the city, the idol is believed to be erected by Adi Shankaracharya in the 8 century AD. The present day temple structure was built by the king of Kashmir.

Visit Khankal :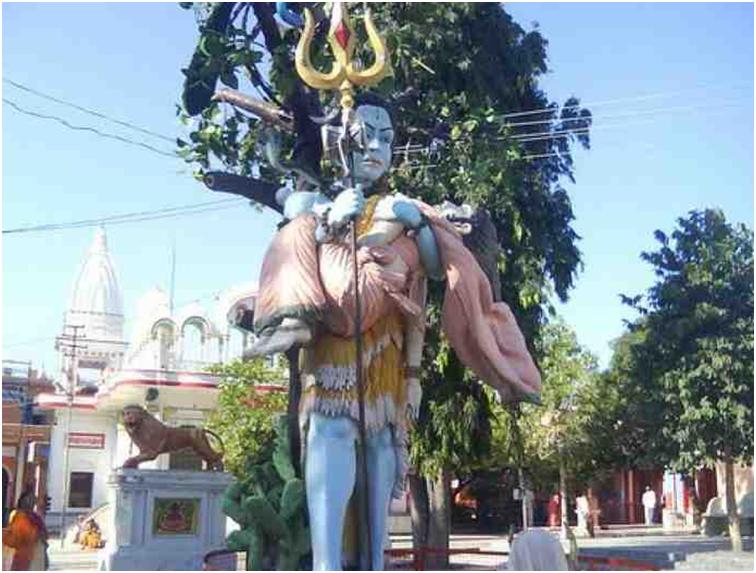 Source : en.wikigogo.org

Khankal is a small colony in Haridwar. Khankal is one of the five important pilgrimage spots known as Pnach teerth in Haridwar. It is known for housing the Daksheswara Mahadev temple.

Explore the Bhimgoda tank :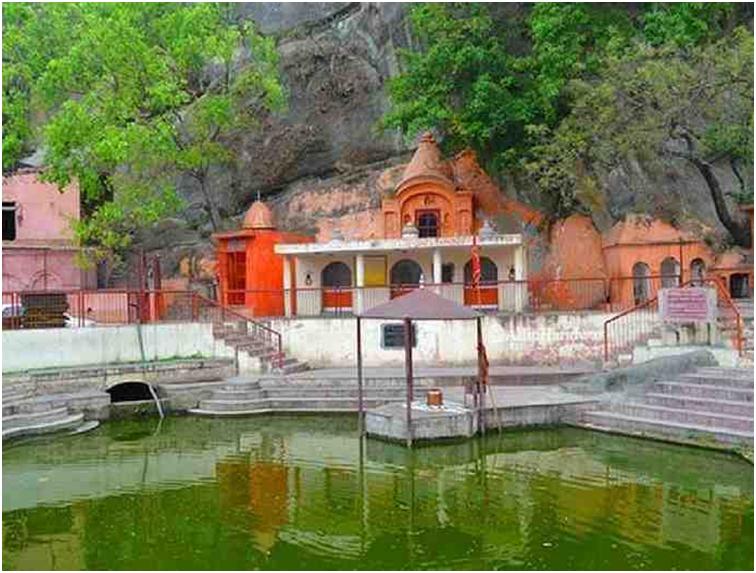 Source : www.trawell.in

Bhimgoda tank is named after the second of the five Pandavas, Bhim. It is believed that Bhimgoda tank came into existence after Bhim hit his knee against the ground which caused a huge tank.

Food in Haridwar :

Since Haridwar is a spiritual city, non-vegetarian food and alcohol is not consumed. To protect the spiritual integrity of the place, even the sale of meat and alcohol is banned in this pure city. Vegetarian food from both North and South India are available in Haridwar.

Here are some of the restaurants which serve the most delicious food in Haridwar :

The village restaurant

Big Ben restaurant

Guru Nanak foods

Dada Boudir hotel

Hoshiarpuri

Mashoor Mathure wale

Maharaja bakers

Aura restaurant

Hotel Raghuwanshi

Where to shop and what to buy in Haridwar :

Moti bazaar :

Moti bazaar is one of the famous and the oldest markets in Haridwar. It is located on the Northern side of the upper road of the canal. Here one can find colorful bangles, beads, sweets, Ayurveda medicine and much more.

Jwalapur market :

Jwalapur market sells every things from traditional items to modern products. The streets are lined with absolutely delicious food stalls and restaurants which will make you say 'goodbye' to your diet.

Bara bazaar :

Located on the railway road, this market sells religious and traditional products. It is also famous for the sale of ornaments. Ayurvedic medicines are sold at an economical price in this market.