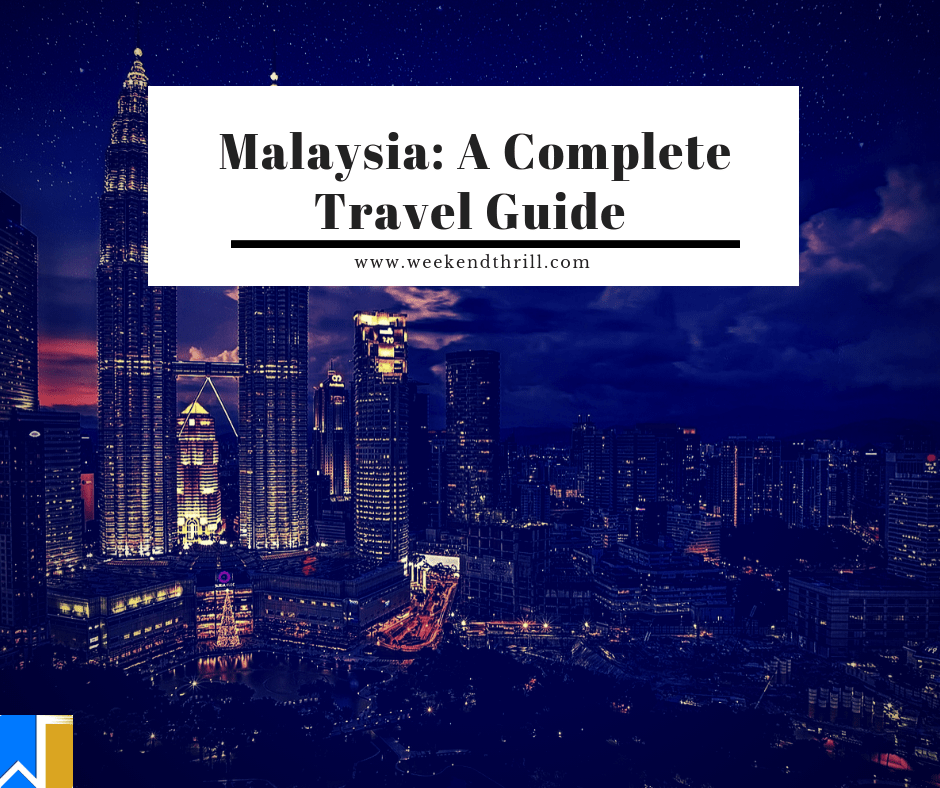 Weekend Thrill is aimed at providing you with the best and most accurate information on the places that you wish to visit. Our Malaysia travel guide provides you with up to date information which will help you to prepare for your next big trip.

Malaysia travel guide blog :

Malaysia is a country in Southeast Asia, located partly on a peninsula of the Asian mainland and partly on the northern third of the island of Borneo. Malaysia is a unique travel experience that is much different from its neighbors. From the dense urban jungle of Kuala Lumpur to the pristine beaches of the Perhentian Islands, Malaysia is a beautiful and an underrated country.

---------------------------------------------------------
Best Deals for the Month
Source : www.nationalgeographic.com

Spend the day with a traditional tribe or in a tea plantation in the Cameron Highlands or trek through the huge national parks of Gunung Mulu and Taman Negara, encountering incredible wildlife including tigers and orangutans. Make sure to head to Borneo and explore the jungle, and dive at Spidan, one of the best dive locations in the world. Malaysia has a ton of stuff to offer travelers.

History of Malaysia :

There are evidences of human civilization in Malaysia which dates back to 40,000 years ago. Traders and travellers from India and China arrived as early as the first century AD to this pure land. They established ports and trading communities by the second and third centuries and made Malaysia a trading hub. The presence of Indians and Chinese traders influenced the natives and the natives adopted Hinduism and Buddhism as their religion. One can see the sanskrit inscriptions that started appearing as early as the 4th or 5th centuries.

The kingdom of Langusake rose in the 4th century and maintained its presence till the 15th century in the northern part of the country. Islam began to spread to the Malay's around the 14th century. In the 15th century Malacca sultanate was founded. In 1511 Melaka was conquered by the Portuguese after which it was taken by the Dutch in 1641. The British established a presence by 1786. The British obtained the town of Singapore in 1819. By 1826, the British directly controlled Penang, Melaka, Singapore, and the island of Labuan, which they established as the crown colony of the Straits Settlements.

In the second world war, Japanese forces took control of Malaysia, north Borneo, Sarawak and Singapore for over 3 years. During this ethnic tensions were raised and nationalism in the country grew. Support for independence grew after the allied forces took control of Malaysia. The Malayan union, consisting of all the states which were under the rule of the British empire in the Malayan peninsula was formed in 1946.

On 31 August 1957, Malaya became an independent member of the Commonwealth of Nations. After this a plan was put in place to federate Malaya with the crown colonies of North Borneo (which joined as Sabah), Sarawak, and Singapore. The date of federation was planned to be 31 August 1963 so as to coincide with the anniversary of Malayan independence; however, federation was delayed until 16 September 1963. The country of Malaysia was formed excluding Singapore. Malaysia then transitioned from being an agricultural country to an industrial country.

Geography and Landscape of Malaysia :

Malaysia is the 66th largest country in the world. The
land area of 329,613 kilometers. It has land borders with Thailand in West Malaysia, and Indonesia and Brunei in East Malaysia. It is linked to Singapore by a narrow causeway and a bridge. The country also has maritime boundaries with Vietnam and the Philippines. The land borders are defined in large part by geological features such as the Perlis River, the Golok River and the Pagalayan Canal, whilst some of the maritime boundaries are the subject of ongoing contention.

Malaysia is the only country with territory on both the Asian mainland and the Malay archipelago. Tanjung Piai, located in the southern state of Johor, is the southernmost tip of continental Asia. The Strait of Malacca, lying between Sumatra and Peninsular Malaysia, is one of the most important thoroughfares in global commerce, carrying 40 per cent of the world's trade.

The two parts of Malaysia, separated from each other by the South China Sea, share a largely similar landscape in that both Peninsular and East Malaysia feature coastal plains rising to hills and mountains. Peninsular Malaysia, containing 40 per cent of Malaysia's land area, extends 740 kilometers from north to south, and its maximum width is 322 kilometers. It is divided between its east and west coasts by the Titiwangsa Mountains, rising to a peak elevation of 2,183 metres at Mount Korbu, part of a series of mountain ranges running down the centre of the peninsula. These mountains are heavily forested, and mainly composed of granite and other igneous rocks.

Mount Kinabalu is the tallest mountain in Malaysia. Mount Kinabalu is located in the Kinabalu National Park, which is protected as one of the four UNESCO World Heritage Sites in Malaysia. The highest mountain ranges form the border between Malaysia and Indonesia. Sarawak contains the Mulu Caves, the largest cave system in the world, in the Gunung Mulu National Park which is also a World Heritage Site.

Climate and best time to visit Malaysia :

The climate in Malaysia is tropical. The north-east monsoon (October to February) deluges Borneo and the east coast in rain and often causes flooding, while the west coast (particularly Langkawi and Penang) escape unscathed. The milder south-west monsoon (April to October) reverses the pattern. The southern parts of peninsular Malaysia, including perennially soggy Kuala Lumpur, are exposed to both but even during the rainy season, the showers tend to be intense but brief.

Malaysia is close to the equator, therefore warm weather is guaranteed. Temperatures generally range from 32°C at noon to about 26°C at midnight. But like most Southeast Asian countries, Malaysia's sun-shining days are interrupted by Monsoon season from November and February every year, and night temperatures can hit a low of about 23°C on rainy days.

How to reach Malaysia :

By air :

Malaysia has an international airport in Kuala Lumpur. Most major airlines, and also plenty of budget airlines also offer flights to Malaysia. The best way to get flights at a cheaper rate is to book a return ticket.

All the major cities in India offer flights to Malaysia. Since Malaysia is close to India the travel time from India to Malaysia is very less. Air Asia, Malaysian airlines and Singapore airlines offer flights to Kuala Lumpur offers flights at a very economical price.

Air travel is the cheapest and the fastest way to reach Malaysia.

By sea :

Since Malaysia was originally part of an ancient trade route between India and China, it can be accessed by sea. The journey to Malaysia via sea is an extraordinary experience. There are direct ferries from India to Malaysia so, one can book a relaxing ferry and relax on their travel journey to Malaysia. You can book a ferry from any of the big pot cities in our country.

Take a ferry from the port of Chennai, and relax on the decks of the ship. First the ship travels through the bay of Bengal and passes through the Indian ocean. Then the ship courses through the Andaman sea and then enters the strait of Malacca. Then finally it reaches at port of Klang in Malaysia. The total distance travelled by the ship is 1661 nautical miles.

Sea travel takes a lot of time, and it is not the best way to travel from India to Malaysia.

Things to see and do in Malaysia :

Visit Kuala Lumpur :

Source : blog.cloudflare.com

Kuala Lumpur is the capital city of Malaysia and as such is the most impressive city of Malaysia. Kuala Lumpur is the cultural and economic hub of Malaysia. Everyone who visits Malaysia, visits Kuala Lumpur. The petronas-skyscraper is a must see building. People don't mind heights should cross the bridge connecting the twin towers of the Petronas skyscraper. The bridge is located at a height of 1500 feet from the ground. There is also a bird zoo and few parks that add color to the city.

Dive in the Perhentian islands :

Source : www.timetravelturtle.com

These islands are hugely popular with snorkelers and divers as the reefs and crystalline waters surrounding them are host to a wide variety of coral, sea-turtles, small sharks, and reef-fish. The popularity of these islands are increasing.

Hike Mount Kinabalu :

Source : theplanetd.com

Mount Kinabalu is the tallest mountain in Malaysia. Hiking through the mountain adds a special thrill and entralls the hearts the souls of the hikes. The national park around Mount Kinabalu is huge at around 1000 square kilometers and it is covered with lush green plantations.

Visit the Batu caves :

Source : www.youtube.com

Batu caves are located at a short distance from the city of Kuala Lumpur. It is the spiritual hub of all the Hindu's present on Malaysia. Batu caves is a huge complex maze of limestone caves which have been transformed into shrines and Hindu temples. The biggest attraction is the huge statue of a Hindu deity. A steep climb of 272 steps leads to the inner shrine which houses Hindu deities beneath its high vaulted ceilings.

Visit the Taman Negara :

Source : tamannegara.asia

Taman Negara is a vast national park in Malaysia. Taman Negara is estimated to be almost around 130 million years old making it one of the oldest rainforests of our planet. Kuala Tahan, the main entry point, is a base for the nearby canopy walkway, river trips and treks through the jungle to the top of Mt. Tahan. The park is home to tigers, macaques and birdlife, as well as the enormous flowers of the rafflesia plant.

Spend a day at Ipoh :

Source : dreamstime.com

This is one of the largest cities in Malaysia and is host to plenty of great restaurants and interesting sights to visit. There are several museums, and historical buildings, including the Birch Memorial Clock Tower and various temples.

Discover Kota Bharu :

Source : yallabook.com

Also known as 'The Islamic City,' this is a great city to check out the royal palaces. Kota Bharu is also famous for an array of museums which holds many historical artifacts. The back-alley markets sell everything and are very popular.

Understand Malaysia's colonial roots :

Malaysia as a country has a very rich history. It was inhabited by the native people and soon people of Malay occupied the country. Then because of it being a part of a major trade route a lot of Indian and Chinese culture has been mixed. Then the country was conquered by Portuguese, later by the Dutch and finally it was ruled by the British. To understand the entirety of its colonial ancestry, visit Malacca. This city center was declared as a UNESCO world heritage site and it has plenty of interesting building, museums and temples to visit.

Dive at Sipadan islands :

Source : www.pinterest.com.au

Sipadan islands is one of the worlds best places to visit for a diving enthusiast.  Its crystal clear waters are filled with barracudas, manta rays, hammerhead sharks, whale sharks, and greenback and hawksbill turtles. This island has been described as an "untouched piece of art".

Visit the national Mosque of Malaysia :

Source : www.beautifulmosque.com

The national mosque of Malaysia is the biggest mosque of the country. It has a capacity to hold over 15,000 people. Its key features are a 73-metre-high (240 ft) minaret and a 16-pointed star concrete main roof. It is located in Kuala Lumpur and is an architectural wonder.

Food in Malaysia :

Malaysian cuisine consists of traditional cooking styles of the multicultural and multi-ethnic races that inhabit the land. The majority of Malaysian population can be divided into three major ethnic blocks : Malays, Chinese and Indian.

As a result of historical migrations, colonization by foreign powers,  and its geographical position within its wider home region, Malaysia's culinary style in the present day is primarily a melange of traditions from its Malay, Chinese and Indian cooking styles. This resulted in a symphony of flavors making Malaysian cooking highly complex and diverse.

Chilli peppers, Belacan a shrimp paste, coconut, soy sauce and seafood is indispensable to any Malaysian kitchen. Rice is predominantly used in Malaysian cooking. Noodles made with rice starch can be found everywhere. Since Malaysia was a colony for European countries, bread has been added into the their cooking.

Malaysia is a Muslim country and so, all of its meat is handled according to the halal standards. Fish and seafood is an integral part of the country's cooking. Pork is not prohibited in Malaysia, but many people generally do not consume pork as pork is banned by Muslim law.

Since Malaysia is a tropical country, its yield of green vegetables and fruits is very high. The usage of green vegetables in preparation of broth for noodles is very common. Fruits are used to make salads.

Here are a few popular restaurants that serve the best and the most authentic Malaysian foods :

Songket restaurant

Bijan restaurant

Little penang restaurant

Restoran Hatinie

Minah restaurant

Here are a few of the local dishes that will help you eat like a local. Nasi Lemak, Rendang, Nasi goreng, Ikan Bekur, ketupat, gulai and umai are few of the most famous local dishes of Malaysia.

Where to shop and what to buy in Malaysia :

Petaling street :

This shopping street in Chinatown sells everything; colorful flowers, bags, electronics, clothes; whatever you would expect to buy will be available here. This a paradise for people who are good at bargaining. There are plenty of restaurants and street vendors to recharge you with food along the way.

Suria KLCC :

Suria KLCC is one of the most iconic shopping malls in Kuala Lumpur. It is located in the Petronas skyscraper. This mall has stalls of all the luxury brands around the world. Even a stroll inside the mall is enough to freshen you up.

Berjaya Times Square :

It is one of the world's largest malls. It is a landmark on its own as it is located inside a 48-storeyed building. This building is recognised as one of the ninth largest building in the world. There are over 100 stores here which will spoil you with choices.

Langkawi fair shopping mall :

Langkawi is among the cheapest shopping places in Malaysia, thanks to its duty-free shopping experience. Langkawi Fair Shopping Mall is yet another lovely place to be when you're in the Jewel of Kedah. In this two-floored shopping mall, you have about 100 retail outlets ranging between souvenirs, handicrafts, and apparels.

Money saving tips in Malaysia :

1 Eat the local street food :
Street stalls are the place to go for hawker food which is delicious and costs just a few bucks. In my opinion, it's the best food in the country.

2 Don't drink : As Malaysia is a muslim country, alcohol is generally frowned upon, but it is not prohibited. To prevent the people from indulging in alcohol, the government imposes heavy taxes on alcohol increasing its prices.

3 Take a free walking tour : A free walking tour with Airotour is a great way to explore Kuala Lumpur. You'll not only get to see the sights but you'll learn about the history and culture, too.

4 Bargaining : The golden rule to saving money while buying souvenirs is bargaining. Most of the vendors sell overpriced things to tourists. Bargain in a very polite manner with the vendor and bring the costs down.

The most important thing to remember while bargaining is to always keep calm and greeting the vendors with a smile.

Money exchange in Malaysia :

The currency of Malaysia is Malaysian ringgit (MR). 1 Malaysian Ringgit = 16 Indian Rupees. So we can see that the currency of Malaysia is quite steep when converted from Indian currency. The country of Malaysia is not as expensive, but because of the exchange value, everything is relatively expensive.

Clothes to pack to Malaysia :

You're dealing with a hot and wet climate in Malaysia, so make sure that your clothing can stand up to the weather. This tropical region requires light clothing that allows you to breath. Cotton is an excellent choice, as are fabrics designed to wick away moisture. A light rain jacket keeps the water off of you, and rain boots let you slog through the mud without any problem.

Since most of the population is Muslim, make sure to wear clothing that is culturally appropriate. While wearing pants in generally preferred, shorts are also allowed. Just make sure to not wear short shorts.

Wear comfortable shoes, because there will be a lot of walking in Kuala Lumpur and in Malaysia. Apply mosquito repellent cream to stay safe from mosquitoes.

Malaysia's Visa process :

Malaysian consulate is located in all the major cities of India namely Delhi, Mumbai, Chennai and Hyderabad. To apply for a Malaysian visa one has to have the following documents.

Original passport

Passport photograph of the applicant.

Copy of passport main page.

Travel Itinerary.

Return flight ticket with E-Ticket Number

Then fill out the online application form and submit these documents to the Malaysian consulate at a city near you. The visa granting prerogative rests with the Consulate. Usually Malaysian Visas are granted within 6-7 business days.

Important contacts :

Indian embassy in Malaysia – +60 3-6205 2350

Tourist police hotline – 03 2149 6590

Police contact – 999

Ambulance contact – 112

Fire and rescue department – 994