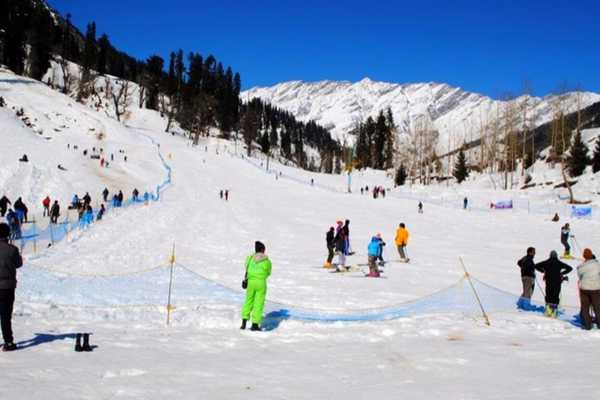 Wrecking the smooth heavenly snow surfaces in the harsh terrain of the hill stations swinging up and down along the slopes and the challenge of balancing in the steep slopes is what you are looking for, then hang on! This is the right place to guide you to have the best of the best experiences. Skiing in India one of the most sought sports activity, when it comes to holidaying in mountain valleys and hill stations. Travelers in India seek for new exciting places, offers and itineraries and short sweet weekend getaways. The sport is nerve cracking, adventurous and worth once in a lifetime experience. All you need is a good company and a place to ski.  Here is a tiny list but worth experiencing places to have the best experience of Skiing in India.

Best Places to Ski in India
The following enlists the must go places to Ski in India.

Gulmarg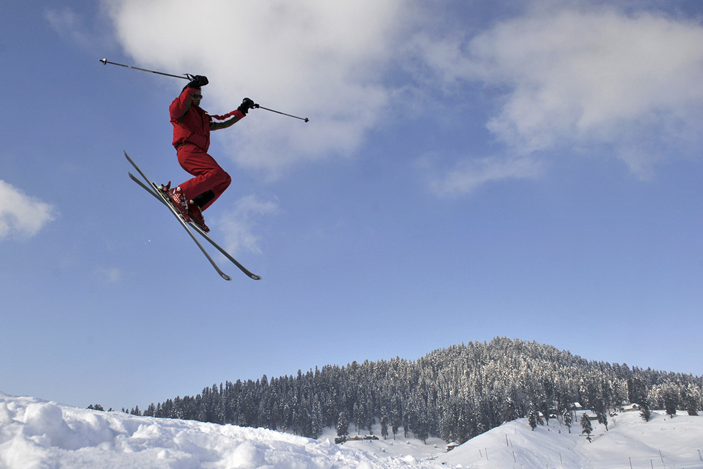 ---------------------------------------------------------
Best Deals for the Month
Image Source: GG2.net

The lovely snowy place puts up 883 km from Delhi, which is a distance to definitely take a road trip. Apart from this who seriously want to take up this ice skiing as a challenge and learn the exciting sport. Gulmarg offers Indian Institute of Skiing and Mountaineering, Ski and Snowboarding school to name a few to fulfill the desire you keep!

Munsiyari
The place located at the foothills of Himalayas is a perfect painting of an artist. The nature is the vanguard of the beauty that it beholds. The tops and curves of the place are absolute worth falling and is nothing but pure heaven on earth. The facilities to fulfill your sporty desires of having blood rush while gliding down the steep slopes can be found here. Perfect time to visit this place is December and January.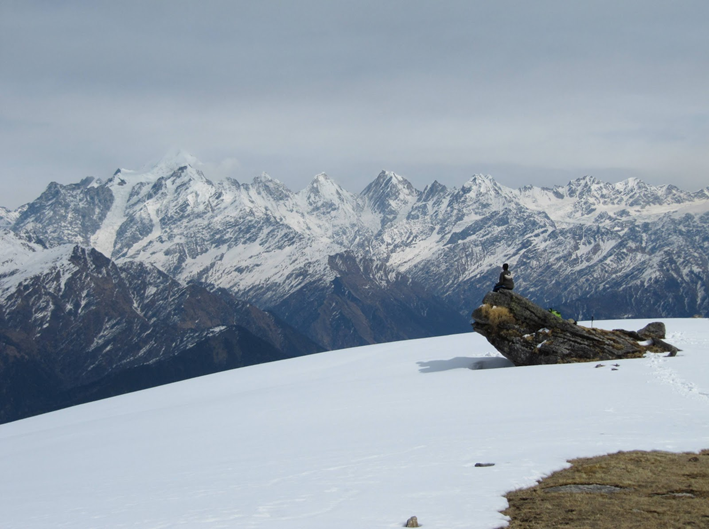 Image Source: India tourism

The place lies just 356 km away, though the rails can be taken where Kathgodam is nearest railway station about 100 km away. This place is the ideal place to sneak out to getaway in a weekend. Few institutions to name like Pandit Nain Singh Surveyor Mountaineering Institute run classes to learn Skiing; they have different packages and trainee level, what can be cooler than that?

Solang Nala
With its proximity to both Shimla and Kullu Manali, this place is sought after places in the whole best skiing places in India directory. The place is known as the hub of skiing as a recognized sport. The place institutions to learn and best of the facilities in this array. The valley has rigorous, rocky terrain but a thick ice sheet. The place is especially for the people who love rugged terrains in skiing. With its spectacular panoramic view which is provided during the ski, if you happen to visit this place, don't forget to ski! Best time to visit is November to February. Like other places Government runs some of the training institutes to take up skiing more than a fun activity and make it your passion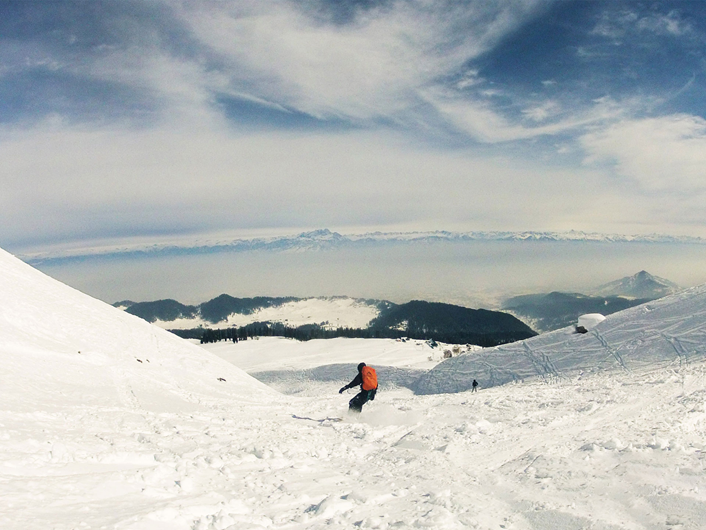 Image Source: Adventure Nation

Solang Nala can be reached via Delhi Manali highway via Rohtang pass. Though about 548 km from Delhi, one can first reach Shimla by a better conveyance and then take the road ways to Solang..

Yumthang Valley
The grand valley in the cradle of the pristine Himalayas is where you should be if you have the guts and buts to reach the very beautiful heaven of India, the Eastern India. Yumthang valley puts up in Sikkim and offers great levels of Skiing both for novice and experts. Away from the hustle bustle of Central India, the valley lets you feel the air around you along with the nerve cracking sport at its best. Ski academy and various professional teach skiing here from the very basic level to the professional like ones by Sikkim Tourist Department.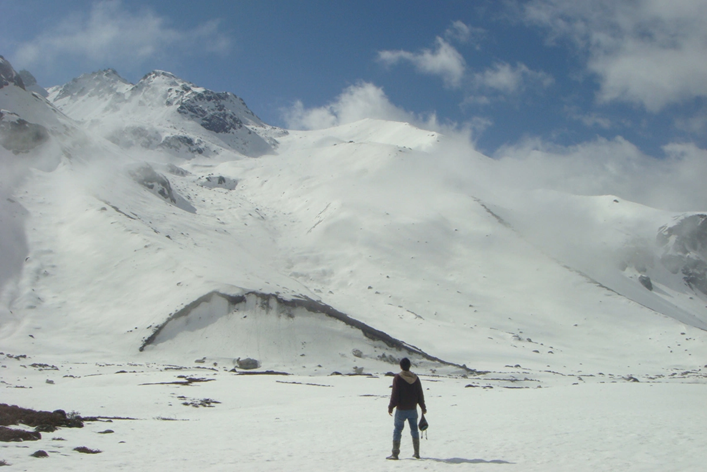 Image Source: Fledgling travellers

The route to Yumthang is not easy let me warn, but who cares when it's the place you want to be! From Delhi you can catch a flight to Gangtok, From there a 7 hour car ride will place you to Lachung. From Lachung 24 km away lies the Yumthang valley.

Auli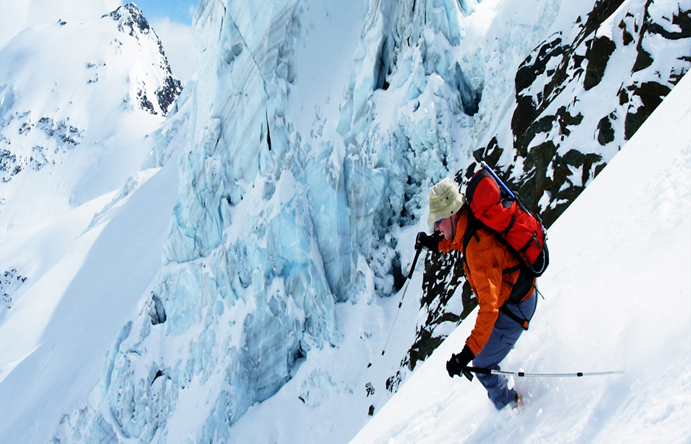 Image Source: Auliskiing

A fast growing tourist destination for mountaineers, snow enthusiasts, sporty people, Auli is a small town In Uttrakhand amidst the Gharwal Hills. It's a major attraction for magnificent view of the majestic Himalayas. Located at 3010 m above sea level; it has the highest and the longest ropeway after Gulmarg and hence brings inflow of people to explore the place. Auli is about 290 km from Dehradun by road, while Delhi Dehradun has direct connecting flights.

Following is a itinerary that can be taken as a guide to have a memorable trip to Auli.

The Indian Himalayas provide an excellent skiing experience owing to their great height which and great slopes. The snow clad mountains and the height of skiing slopes in India are enough to make these experiences a must do in one's life. India's ski resorts options are largely confined to North western Himalayas.The vast expans runs of 15-20 km are available, with fresh powder snow, and first class facilities.

Brief Itinerary for Auli

Auli being one of the most favored places in North India for snow skiing has one of the best facilities to let you knit few of the best memories. Following is the brief itinerary of Auli, a 4 day program for having the best experience.

Day 1: Arrival at Auli




Day 2: Go for attractions of Auli




Day 3: Skiing at Auli




Day 4: Return to Delhi



Detailed Itinerary

Day1: For Auli, it is located at about 290 km from Dehradun by road, from Delhi take a direct flight or railways to reach Dehradun first, or take direct roadways to Auli (about 9 hrs). Pre book a resort or a hotel and sit back and enjoy the resort and the  serene surroundings of Auli. Take a pick and be ready because next two days are going to be super fun and a bit exhausting but who cares if it is going to be a hell of memorable trip.

Day 2: The place has excellent mountain views and serene view points. In the summer enjoy the moderate weather while in winters experience the snow and a lovely ride in the valley! Auli brings together the astonishing combination of snow clad mountains and green valley in a panorama.

To get views you can start a early morning trip to get a full view of the famous Nanda Devi Peak and the Trishul peak and Dron. This famous point is Gurso Bugyal.

Moving ahead you will visit Kwani Bugyal where you can arrange a small not so tiring trek for yourself and walk on the very beautiful mountains, Don't forget to click pictures!

By the time you are done with these, it will be lunch time, a good delicious lunch can be done at the very beautiful Chenab lake. Enjoy the beauty and delicious lunch side by side. Have a quiet moment there and enjoy the place. Fall back to your place because tomorrow will be a tough day but a memorable one!

Day 3: Starting by 7:30 in the morning you will reach the Auli Skiing center on the lower reaches of the sirrounding Himalayas. The place is few of the best and has paramilitary training forces and academy for you to have a good time. Book yourself for a skiing session and wait for your turn.

They will provide you a skiing dress, equipment a photographer accompanying you and a trainer. Learn the basics from him and you are good to go. The session is going to be 2-3 hours long but enthralling. By the end you will be tired and your body will be aching but you must have had a hell of a time. Grab a good lunch and fall back to the pavilion. Spend a quiet evening.

Day 4: Pack your bags and push back for Delhi, taking loads of memories and stories.

How to reach

By Air: Jolly Grant airport from Dehradun has direct flights from Delhi, further up to Auli you can take the roadways.

By rails: Direct trains from Delhi are available till Dehradun ( Dehradun Express, Una Express) further taking the road to Auli.  .

By Road: Road ways are always more enthralling and memorable. Delhi Auli will be around a 9 hours approximately 363 km drive via the highway.

Cost terms

Inclusive:

Transport from Haridwar to Joshimath and return.

Accommodation (Home stay/ Guest House.)

1 round ticket of chair car per person per day (On day 3 to day 4 as per itinerary),

Meals – Breakfast, Lunch, Dinner, morning tea, evening soup and snacks as per itinerary.


Skiing equipment rental (For ski, boots and sticks), instructor's fee

Exclusive:

Ski Lift charges.




Hire charges.




Meals outside the accommodation, mineral water and other beverage.



Any kind of personal expenses.


Travel or any kind of insurance.