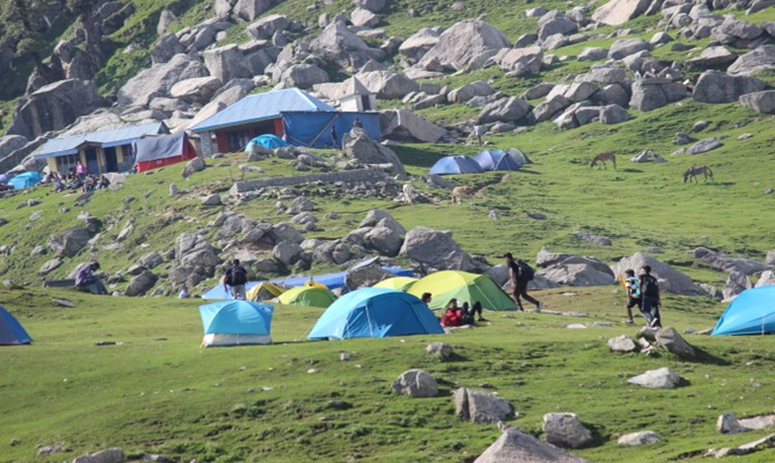 Also known as India's garden of rock and bangles, Chandigarh is one of the most tastefully planned cities in India with world-class infrastructure. The clean and green city has developed in the most quintessential way; keeping in mind the rich culture and heritage but moving forward with advancements, too. Controlled by the central government on its entirety, Chandigarh houses the famous Rock Garden near the Sukhna Lake that attracts lacs of tourists each year. Try boating in the Sukhna Lake one evening, you'll experience serenity like never before. With its dreamlike architecture, Chandigarh is one city to watch out for!
Places to go camping around Chandigarh
Chandigarh is a vast city, located in Punjab that shares its boundaries with Haryana too. In addition to this, it is also the gateway to Himachal Pradesh, home to all popular and must visit hill stations. With its expansive belts, Chandigarh makes it one of the most idealist spots for setting up a camp with your friends or family and spend the weekend in solitude. The best part? It won't burn a hole in your pocket, take you away from the bustling life in the town and rejuvenate you.
So, we bring to you 25 best camping sites around Chandigarh.
Places less than 150 KM from Chandigarh
1. Shivalik foothills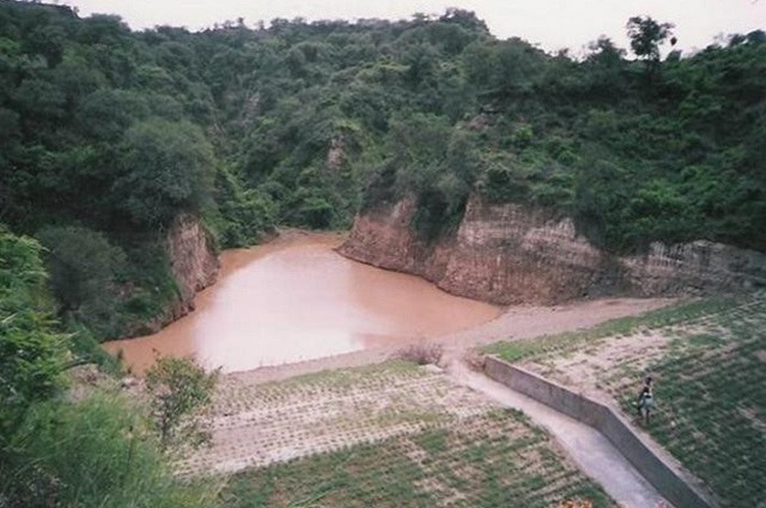 ---------------------------------------------------------
Best Deals for the Month
Image source:eenaduindia.com
Translating typically to the tresses of Shiva, the Shivalik foothills are ideal for camping with your friends. Perfect for the inquisitive mind, the camp might be amazing with the visit to the Shivalik fossil park where the rich history of fossils, including that of dinosaurs is housed. This will be very adventurous for the kids too.
Camps: Essential India Travel, Shivalik Travels.

Distance from Chandigarh: 14 KM.
2. Kalka

Image source: himtourers.com
Located just ahead of Chandigarh, Kalka is famous for the Kalka Railway that connects Chandigarh and Himachal; a place from where Shimla is just a few minutes' drive. Head here for a relaxing weekend and travel to Shimla on course as you camp your way to the top.
Camps: Adventure compass, Pine Hill Eco camp
Distance from Chandigarh: 28 KM.
3. Dharampur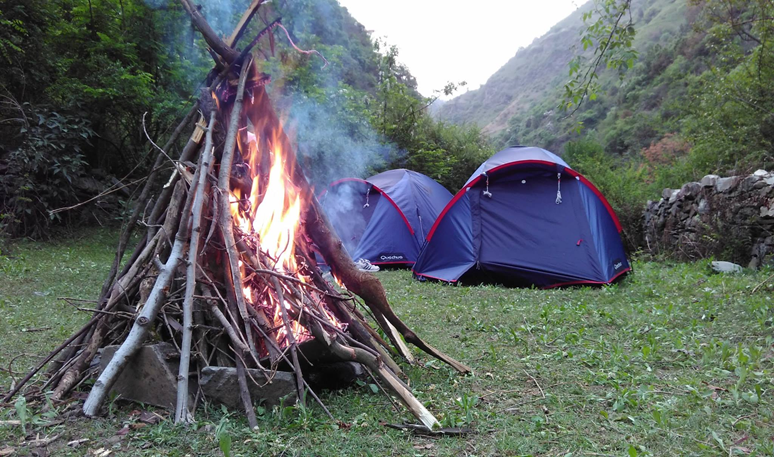 Image source: hailhimalayas.com
Nestled somewhat between the towns of Kalka and Shimla, Dharampur is a small village in the district of Solan, which is ideal for your weekend getaway. Pack your rucksack with a few essential and get ready to camp around the meadows here. Delve into the serenity and the unusual calmness here. Also, don't forget to dine at the symbolic Dharam ka Dhaba!
Camps: Shri Ram Chandra Mission camp,
Distance from Chandigarh: 30 KM.
4. Parwanoo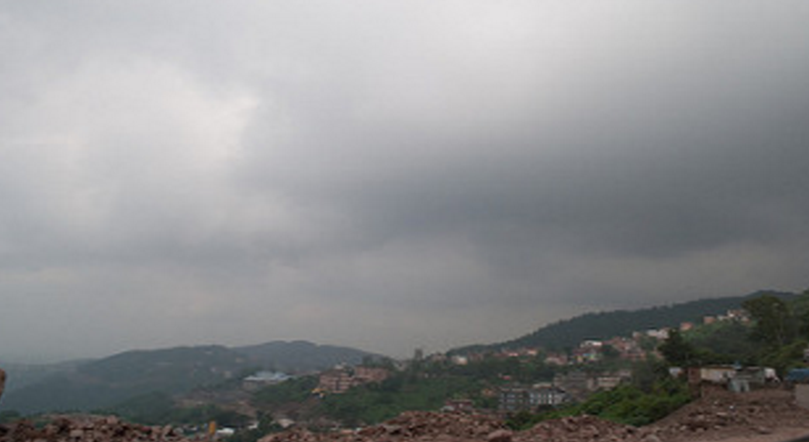 Image source: flickr.com
Located just before Nalagarh, Parwanoo has a serene ambience and is comparatively chillier than other hill stations in the vicinity, making it one of the go-to places for camping. A quaint place with a unique charm to it, Parwanoo might be the ideal place for a quick holiday for couples; and the weather is JUST perfect.
Distance from Chandigarh: 35 KM.
Camps: Windsmoor camp, Jungle camp Parwanoo
5. Morni hills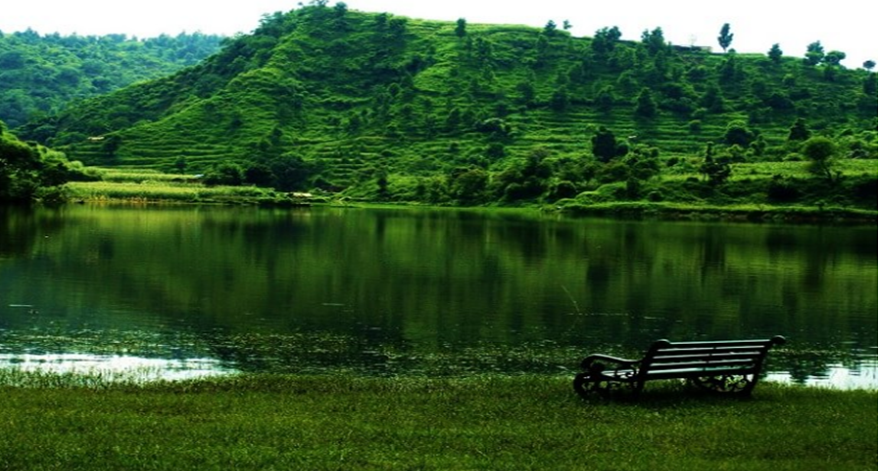 Image source: traveltriangle.com
A small, quiet hill station, north of Haryana is Morni Hills. Head to Morni hills to camp around, go for a nice trekk in the meadows and spend the afternoon bird-watching (which this place is famous for). Two manmade lakes at Tikar Taal have been made to camp around, conduct activities, adventure sports among et all.
Camps: Camp Wings Trails Morni Hills, Nature Camp Thapli
Distance from Chandigarh: 41 KM.
6. Kasauli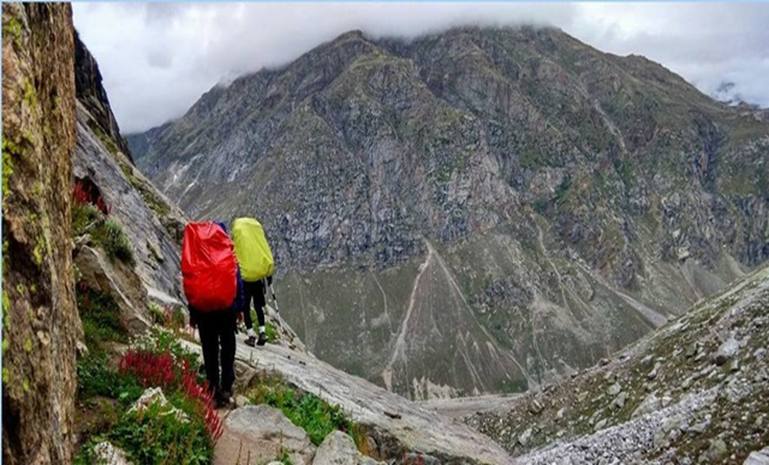 Image source: flickr.com
A popular weekend getaway from Chandigarh, Kasauli has a lot of options of adventure sports and makes it the perfect quick holiday destination. With numerous camping spots, Kasauli is a campers paradise; plus you can also delve into local Himachali food here. The Sanawar camp is extremely popular among travellers, making it the ideal place to go camping around Chandigarh.
Camps: Sanawar Nature camp, Kasauli camp
Distance from Chandigarh: 50 KM.
7. Nalagarh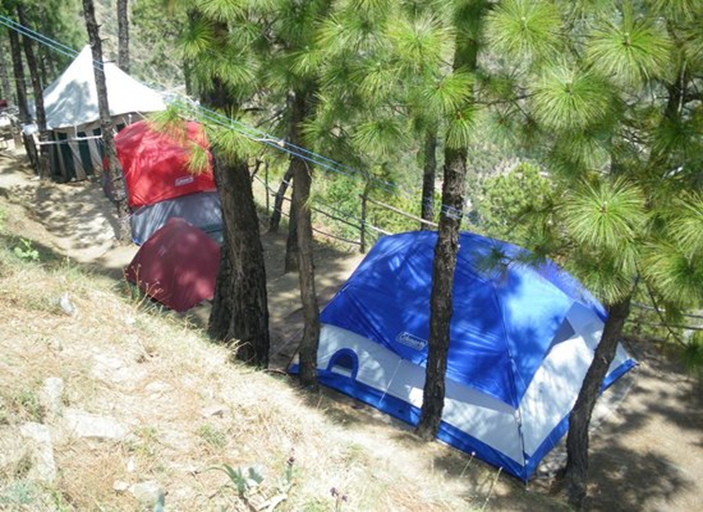 Image source:google images
Surrounded by the outer Himalayan range in the north-east and the Shivalik range in the south-west, Nalagarh is a scenic confluence of the two mountain ranges that make it a 'must camp to' place. Watch the Sun rise in from the Himalayan ranges, go for a trek in the Kharuni and watch the Sun setting behind the Shivalik ranges. Spend some time by the Sirsa River to wrap it all up!
Camps: Summer camps-Himacahl online.
Distance from Chandigarh: 60 KM.
8. Barog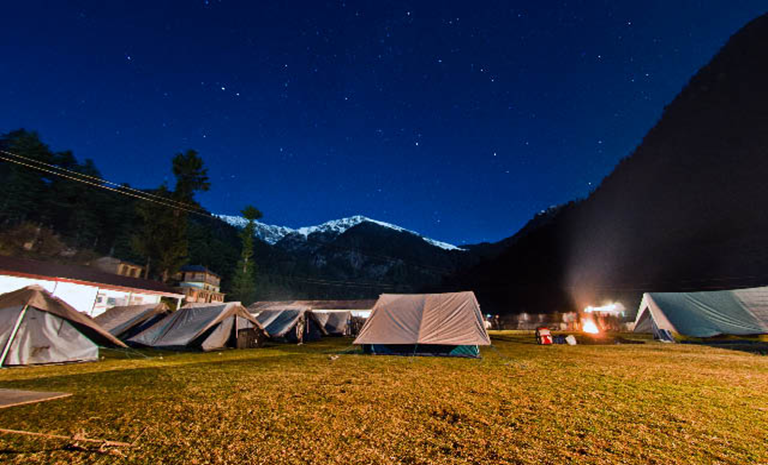 Image source: triphills.com
Known for high peaks and trails on those high peaks, Barog may prove to be just what you need to spend the weekend. Camp at Barog and spend the day at the fossil sites where fossils as old as thousands of years are to be found. Located on the Shimla-Kalka highway, Barog is also known to be one of the places in India to be haunted.
Camps: Camp Peach Valley, Camps and Treks-Barog camp
Distance from Chandigarh: 60 KM.
9. Bharatgarh fort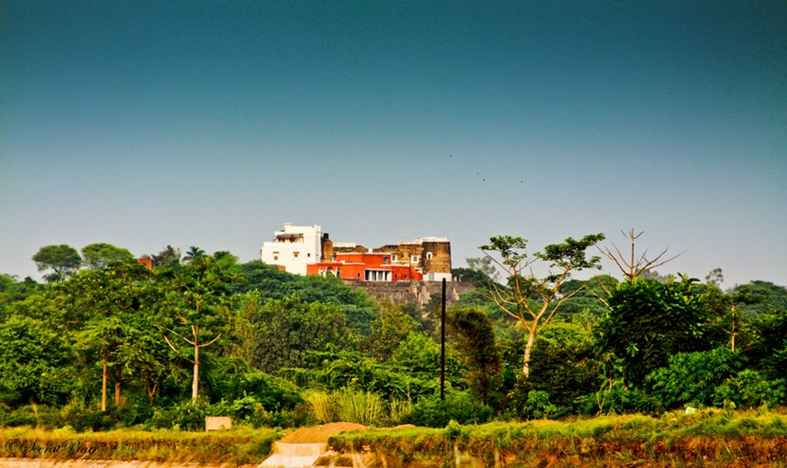 Image source: nivalik.com
Located in the state of Punjab, Bharatargh is a heritage destination to visit with the family; the plus point being, the camping spots here. The best part about camping in Bharatgarh is the perfect weather, which is just pleasant. Also, you can visit the Bharatgarh fort while camping, which is one of the popular things to do around Chandigarh on that perfect weekend getaway.
Camps: Nivalink, India Travelite-Bharatgarh Fort
Distance from Chandigarh: 65 KM.
10. Nahan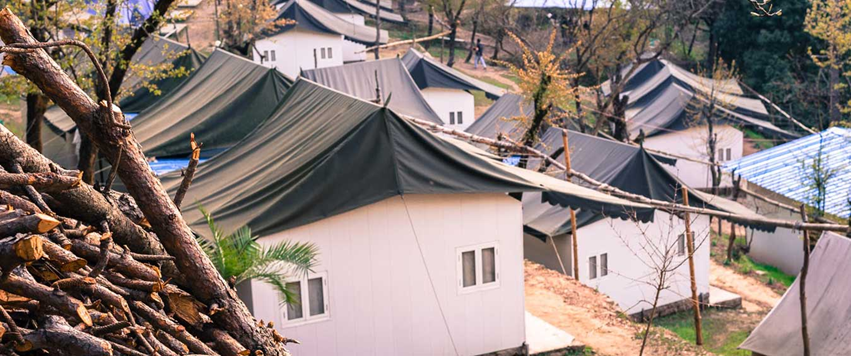 Image source: camproxx.com
A very small hill station in size, Nahan, an apt camping place around Chandigarh is surrounded by heritage palaces, as it has been a princely state and adjoining lakes. Trek to the famous Renuka Lake, which is the largest lake in Himachal and breathe in the serenity while you camp the weekend away.
Camps: Camproxx, Camping hub
Distance from Chandigarh: 82 KM.
11. Doraha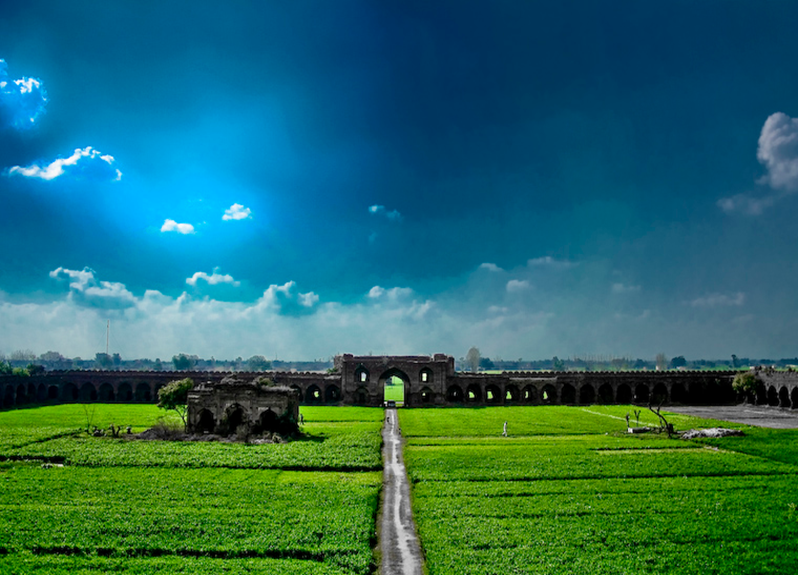 Image source: oyeludhiana.com
In the state of Punjab is Doraha, also called Mughal Sarai as it was used by the Mughal emperors to rest en route to places. When here on a camping trail, do visit the famous Mughal Sarai fort, for Mughal architecture. Also, this place is extremely popular among the college-goers. Also, this is one of the must-do things to do around Chandigarh as this is the famous RDB fort where Amir Khan shot for his movie with his crew.
Camps: Osho meditation camp
Distance from Chandigarh: 86 KM.
12. Shoghi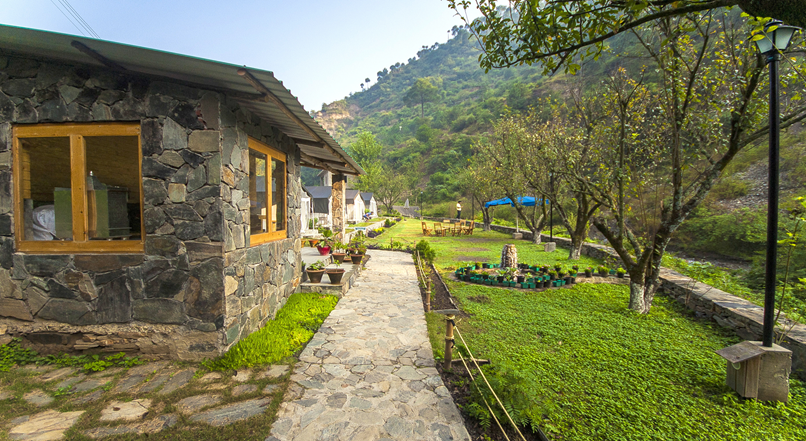 Image source: hailhimalayas.com
Want to find camping sites
around Chandigarh? Mark Shoghi. This is a place which can refresh your refresh your mind from all the worries of you daily life. Pack up your bags and go there to give your eyes that pleasure which it couldn't get in the city's hustle bustle. The weather and the tranquil surroundings can set your mood very well.

Camps: Treks 'n Rapids-camp Shoghi, Hail Himalayas
Distance from Chandigarh: 102 KM.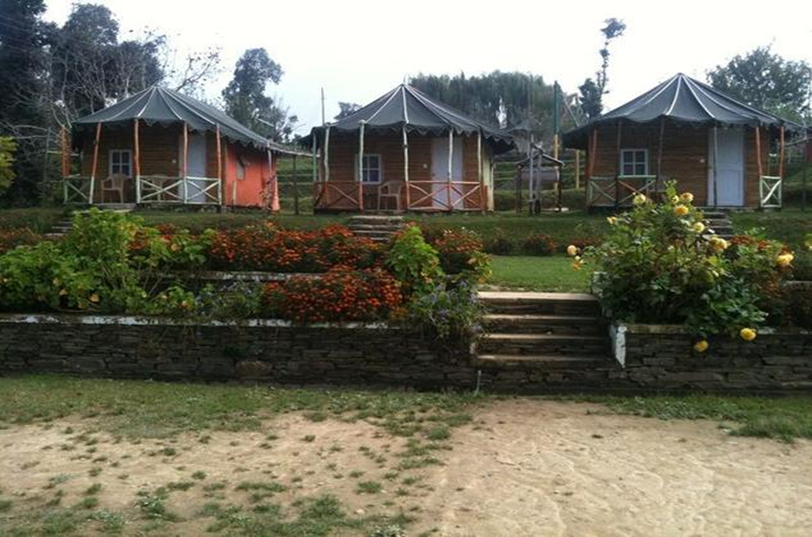 Image source: junglelivinn.co.in
Situated at an elevation of 2226m, this place is even higher than Shimla in altitude. Also known as "lover's hills, Chail is a perfect camping place around Chadigarh for all the explorers out there who want to get lost in the beauty of nature. You can have walk in the peaceful environment and let your mind dwell in the tranquillity of the place. A camp in the heart of nature is something which everyone would like to have.
Camps: Chail camps, Snow trail camps
Distance from Chandigarh: 112 KM.
14. Renuka Lake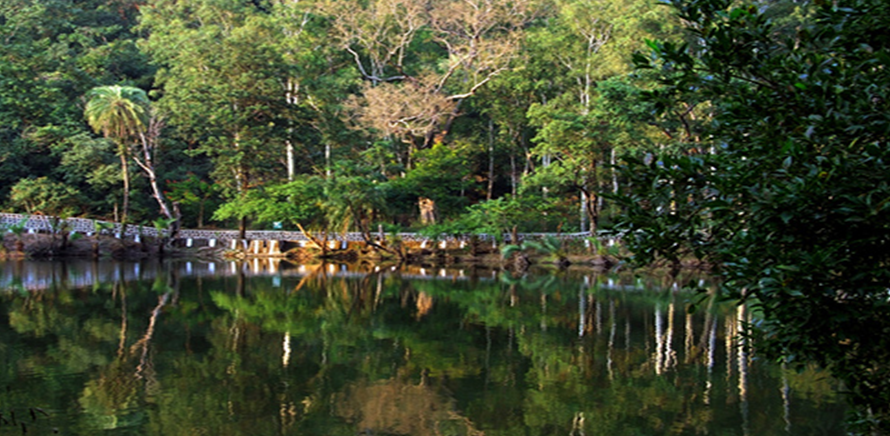 Image source: flickr.com
With a circumference of 2.5KM, this is the largest lake in Himachal Pradesh. It has underground springs and is surrounded by hills and dense forests that support a wide range of biodiversity. Mornings are invigorating. And night view is much more beautiful because there is no sound all around. Camping here cannot be a NO-NO! A weekend getaway for families, you can never go wrong with this one.
Camps: Adventure camps India-Adventure Wanderlust, Adventure activities-Renukaji
Distance from Chandigarh: 116 KM.
15. Shimla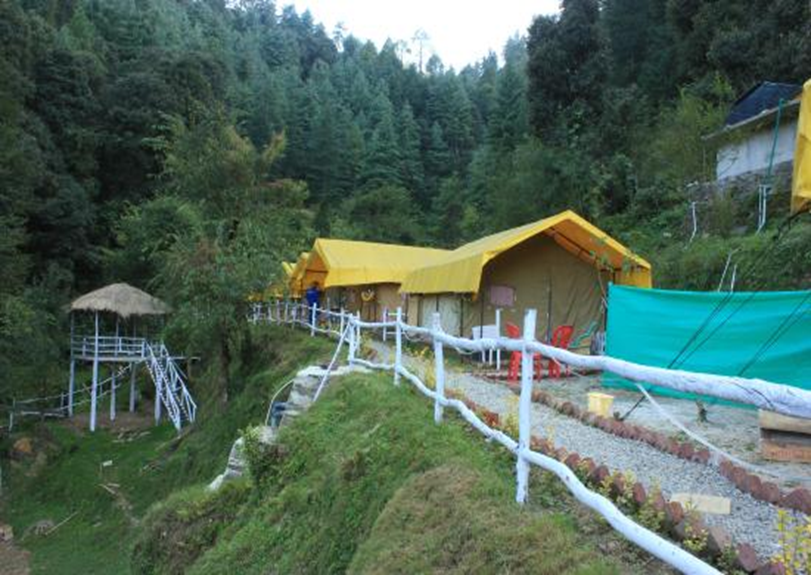 Image source: akkys.net
The queen destination of north-Indians in summer season is Shimla; which is also the most popular camping place around Chandigarh by far. Full of valleys and hills, Shimla was also the summer capital of British. You can visit many temples there and can choose the best possible place to set your camp in the arms of nature. It has been commercialized so you can find everything of your need there.
Camps: Redwood camp Shimla, Shimla camping
Distance from Chandigarh: 117 KM.
16. Solan valley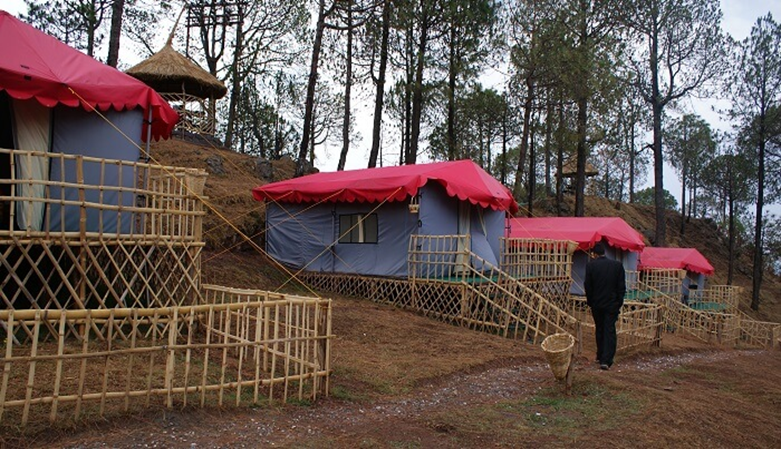 Image source: sanawarnaturecamp.com
Solan valley, in the foothills of Himachal Pradesh has emerged as a door to many beautiful hill stations in Himachal. The vast meadows of the Solan valley with its lush forests and green cover make this an ideal holiday spot for camping the weekend over. You can visit the mushroom and tomato orchards with kids for a new while you're at it; no wonder Solan is called both the 'Mushroom Capital' and 'City of Red Gold' for both these commodities.
Camps: Camp Peach Valley, Giri camp
Distance from Chandigarh: 142 KM.
17. Shojha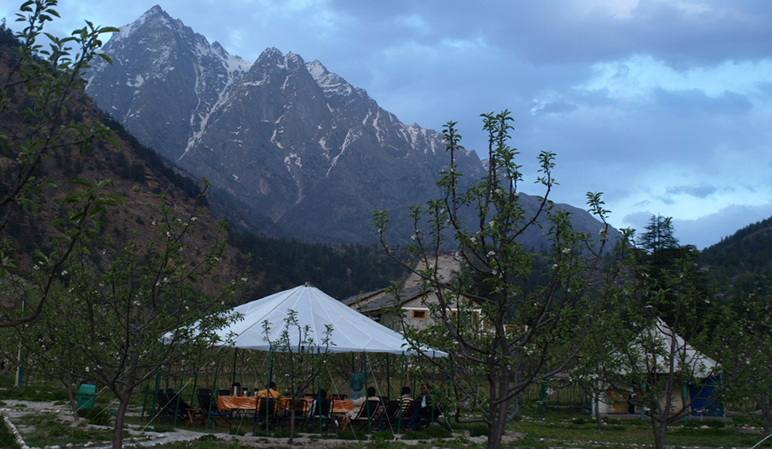 Image source: archive.feedblitz.com
This little village links the two popular destinations of India, namely, Kullu and Shimla. If you are fond of trees, then you must visit this place because you can witness different kind of trees like conifers, deodars and toosh. It is breathtakingly attractive because it is untouched by urbanization. You can set up a camp anywhere in the village and explore the mountains, the forests and everything, that pleases your eyes.
Camps: Himalayan Lodges-Shojha camp, Banjara camps-Shojha
Distance from Chandigarh: 150 KM.
Places 151-200 KM from Chandigarh
18. Kangra Valley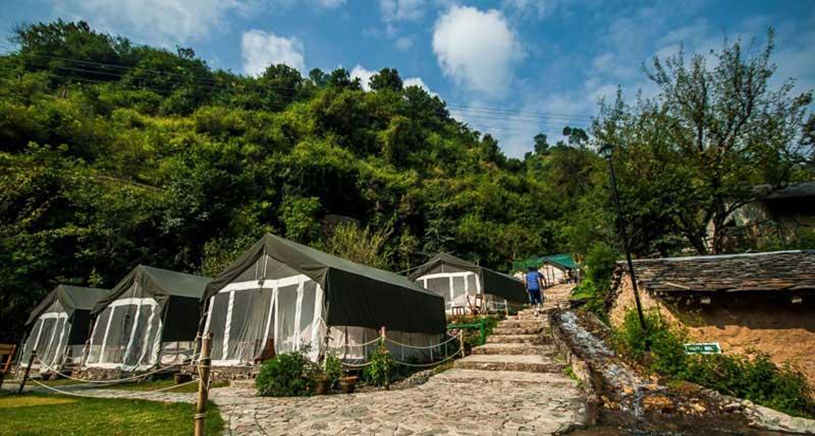 Image source:travelhi5.com
Kangra valley is one the hill stations that have not yet been touched by commercialisation and that is what adds to the charm and beauty of this place. Totally picturesque and green, this place calls out for ardent trekkers and nature lovers. The pertinent place to camp at, Kangra valley, with the Dhauladhar range in its scenery is a pleasure to wake up to in the morning. You can even go temple-hopping to a number of temples in the town; something which is on everyone's 'things to do around Chandigarh's' list.
Camps: Snow monk camp, Adventure karma
Distance from Chandigarh: 200 KM
Places 200-300 KM from Chandigarh
19. Dharamsala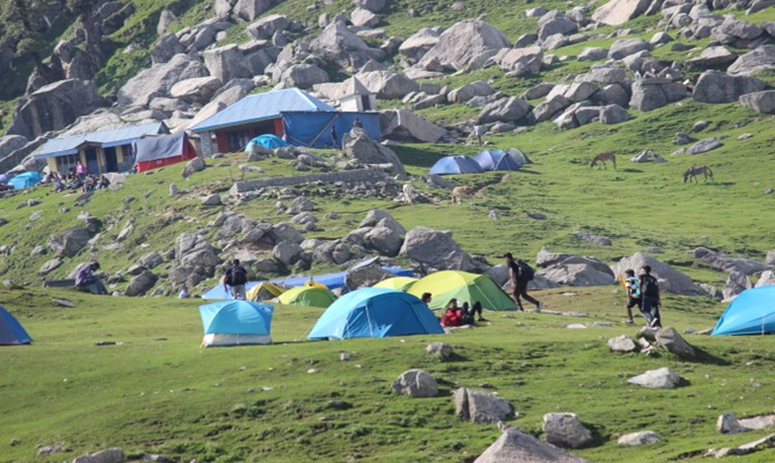 Image source: tapashimalayantours.com
This place has everything which you could think of while planning your weekend camp. It has forests, streams, markets, temples and hills. What a perfect combo! Who would want to miss the chance of spending your night in the fresh air? With unending slopes everything's to where, you can witness the nature in its most alluring view which is the most scenic when it comes to camping sites around Chandigarh. Want things to do around Chandigarh? Visit the monasteries that this place is famous for.
Camps: Akash adventures, Snow monk camp
Distance from Chandigarh: 247 KM.
20. Naldehra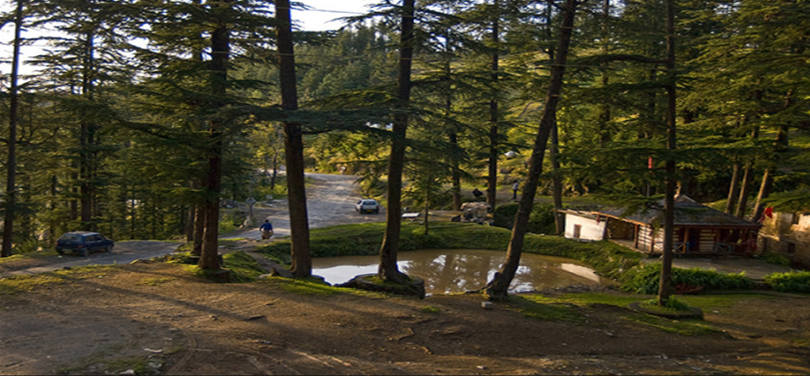 Image source: flickr.com
Located at an elevation of 2044m, Naldhera has a 9 hole golf course which is the oldest in India. This place is a popular destination for many sportspersons for its golf course and the picturesque view. It is an ideal place for camping and is well connected from other parts. In winters, the temperature even foes below the freezing point.
Camps: Elan adventures-Naldehra-Mashobra, The Indian voyage
Distance from Chandigarh: 280 KM.
Places 300-400 KM from Chandigarh
21. Manali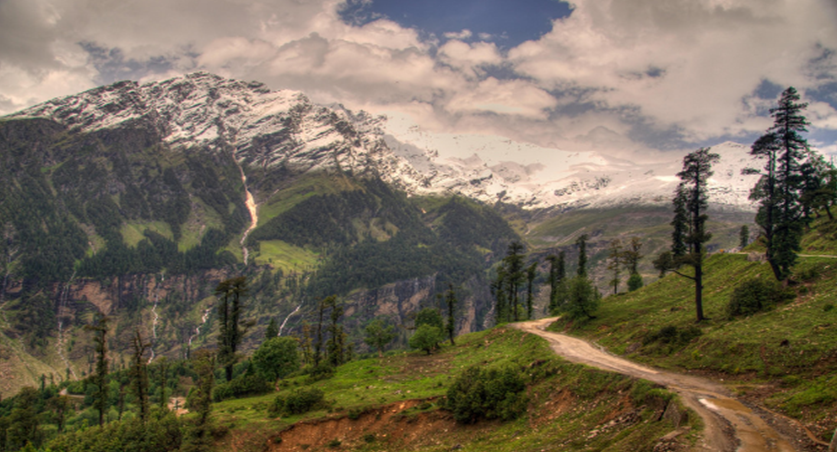 Image source: flickr.com
The most popular holiday destination in the hills by far, Manali has found its own fan base; people returning multiple times to smell the pines and green, thanks to numerous Bollywood flicks. Manali is the idyllic camping place around Chandigarh, if not the best. Besides, you can always go in for a plethora of adventure sports available at large by the River Beas flowing all through the route to Manali. Or, you can go trekking and camping at different places! There is nothing you can go wrong with, in Manali!
Camps: Camp Exotica Manali, Manali Camp
Distance from Chandigarh: 309 KM.
22. Dalhousie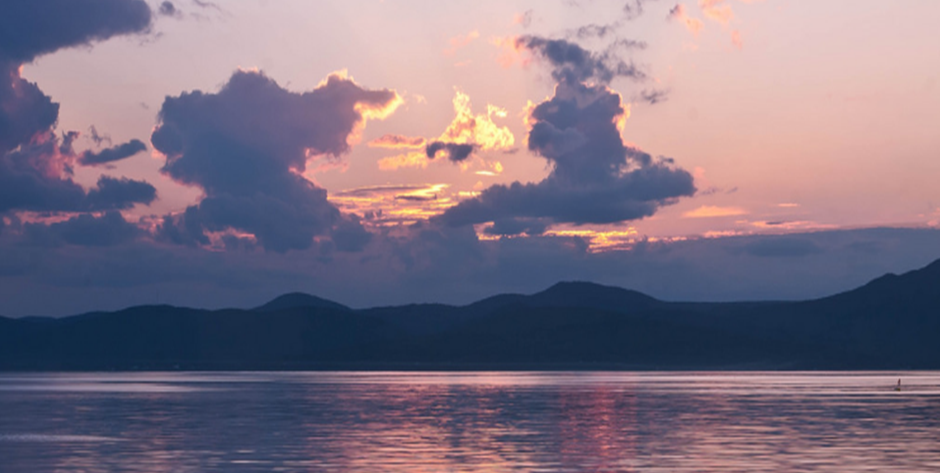 Image source: flickr.com
This place will make you feel like that you are back in the Rajas Maharajas era. Covering a total area of 14sqKM on a height of 2036m, it is formed on 5 hills. Isn't that amazing? If you are fond of architectural constructions, then you'll surely love it as it has some scenic colonial architectures and some marvellous churches. So if you want to have a thrilling experience, then pack your bags and head straightway to this place.
Camps: Dalhousie adventures, Sun adventures-camp-Dalhousie
Distance from Chandigarh: 315 KM.
23. Khajjar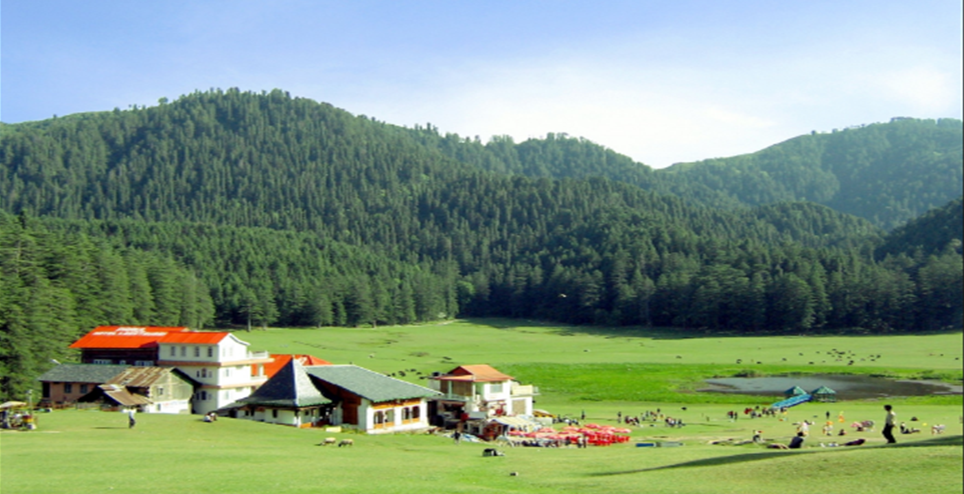 Image source: wikipedia.com
This exquisite place is honored with the title of "India's Switzerland" and so you do not need a Visa to experience this place & it feels like camping in foreign land. You can see deodar forests and many temples there. The temperature here hangs around freezing point. Excited? So make a plan with your group and explore this land, which is the perfect choice when it comes to camping sites
around Chandigarh.
Camps: Adventure activities, Evergreen Himachal
Distance from Chandigarh: 330 KM.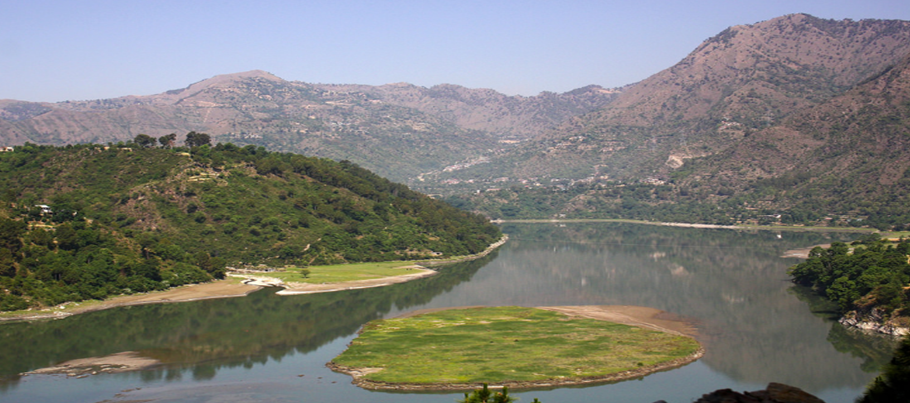 Situated at an elevation of 915m, it is on the right side of the river Ravi. It is famous for its amazing architecture and one of the oldest tourist destinations. The place is well connected and has almost all facilities which you enjoy in cities. The weather here is mostly pleasant and in winters, the temperature drops steadily. Definitely an ideal place for camping!
Camps: Overland escape, Adventure activities
Distance from Chandigarh: 350 KM
25. Kinnaur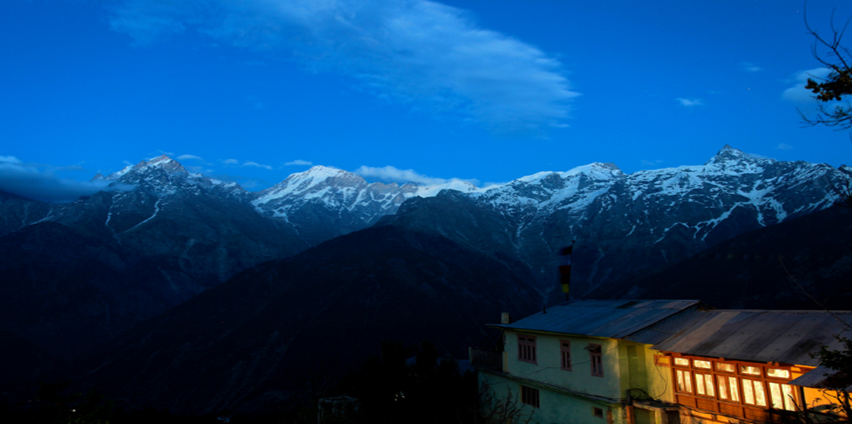 Image source: flickr.com
This spectacular place offers you a site of vineyards, snowclad peaks, green valleys and most importantly, an escape from the city's monotonous life. You can also visit the beautiful Sangla Valley and Hangrang valley nearby this place to find more things to do around Chandigarh. Do not forget to visit the largest and the most alluring village of Kinnaur, known as Kalpa.
Camps: Kinnaur camps, Apple camping
Distance from Chandigarh: 380 KM