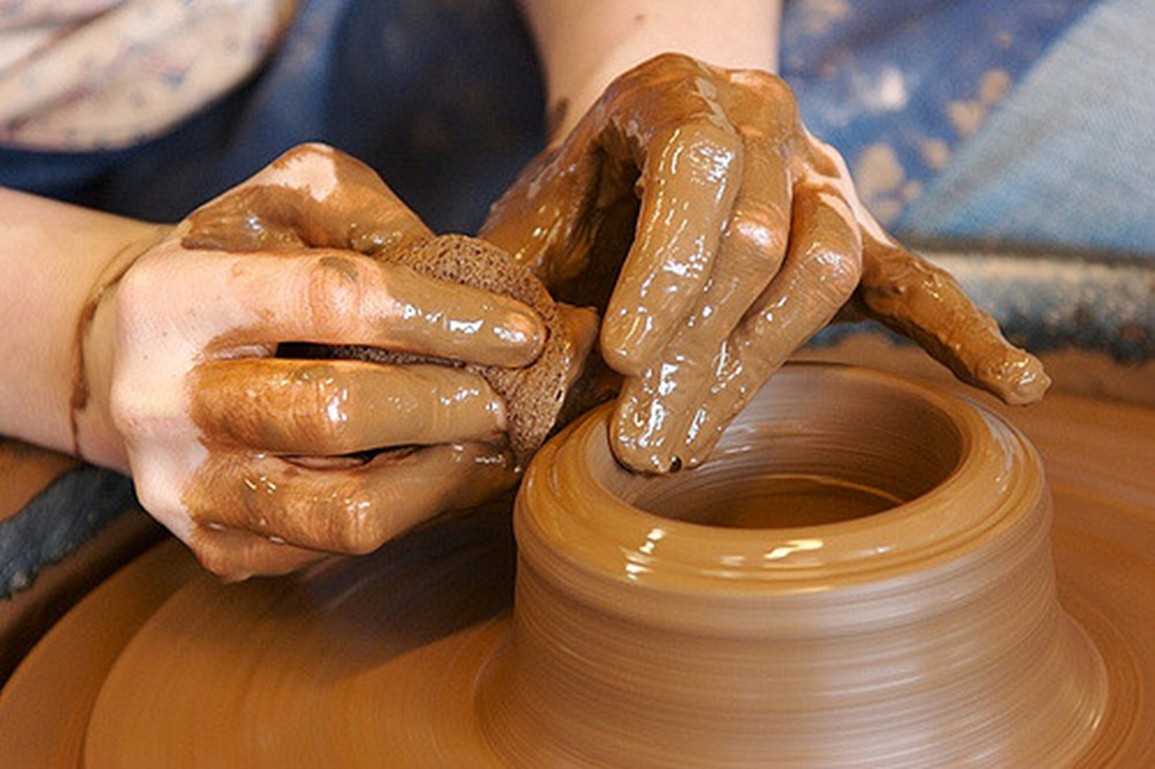 Pondicherry is a beautiful place and it's considered as French capital of the nation. This place offers sanctity and serenity in its actual sense. This city is popular for its urban structural design, calmness, depicting French style, and allure people around the world to see its beauty. Besides sightseeing one need not to bother about things to do in Pondicherry and places to visit in Pondicherry. You will have enormous fun in your small holiday trips to Pondicherry and make a fun filled excursion. When you are visiting Pondicherry then you need to see the best weather to visit this place.

Winter and pre-winter, that is from October till February are considered as best and comfortable time or season for holidaying at Pondicherry. It becomes one of the perfect weekend destinations for the folks in south India with a lot of activities to do in Pondicherry.

1 –

Surfing at serenity beach!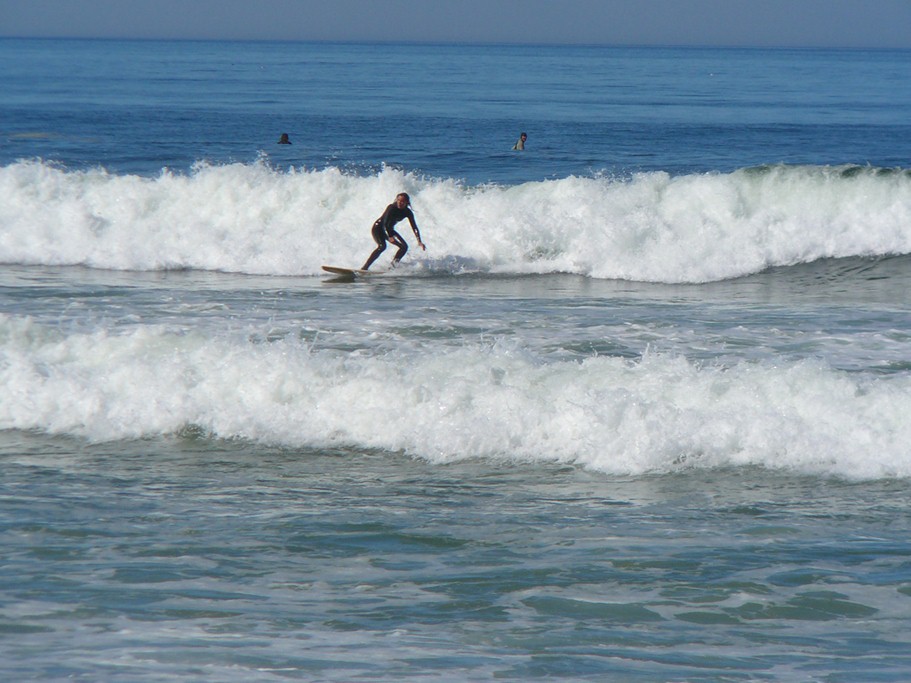 Polish your surfing skills!
---------------------------------------------------------
Best Deals for the Month
People who are looking for sea adventure games and surfing in Pondicherry then Serenity beach is the perfect place in Pondicherry. There are many things to do in Pondicherry for people who have fascination towards adventure sports. For people who like to catch glide and wind via mighty waves, surfing proves to be the much apt activity to do in Pondicherry. Surfing takes people into another world completely as you will play with beach waves and just love this sport. Serenity and Paradise, these two beaches offer this adventure sport to its tourists which are pretty famous places to visit in Pondicherry. The gentle wind and playful waves proves out to be the perfect place for surfers. It's the most enthralling activity to do in Pondicherry.
2 – Take boat rides to paradise beach Island at Chunnambar boat house!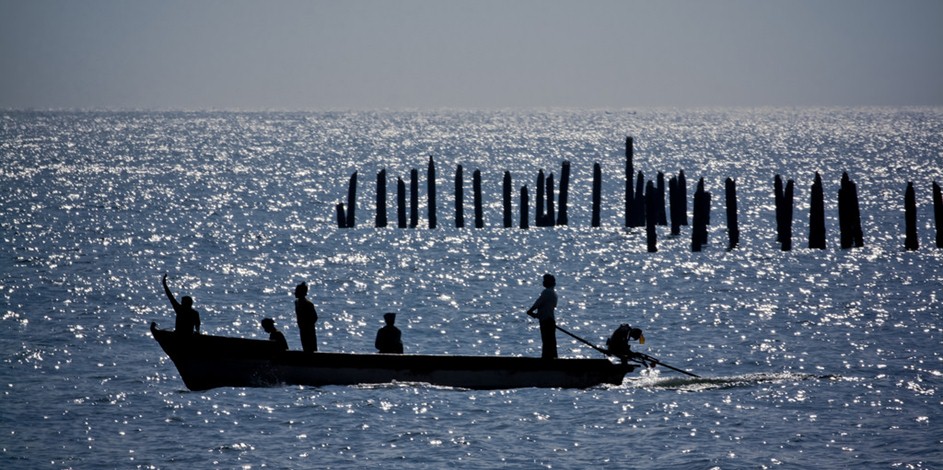 Enjoy Boating
A must experience activity in your itinerary if you are travelling to Pondicherry as a weekend destination. The famous venue provides spectacular boating amenities in Chunnambar River. You will have a gala time in the backwaters of backdrops and lush green plantation. It's positioned along the main road of Cuddalore, this is one of the best place for chilling-out and relaxing. Once can enjoy magnificent sights of sunset and take sunbathe here. The boasts generally take individual up to the picturesque and placid paradise beach, called as Plage Paradiso. Apart from boating experience on beach, you will get many thrilling and interesting things to do in Pondicherry. You can go for hiking, overnight campaign, picnicking and backwater boating.
3-Experience the heavenly dawn and birdwatching at Ousteri Lake!

Enormous and Beautiful Osudu Lake with Colorful birds
Ousteri lake, popularly known as Osudu Lake, is one the best places to visit in Pondicherry. it has most stunning picturesque as well as vital freshwater artificial lake of Pondicherry region. Ousteri Lake possesses mudflats and marshy lands and it's designated as significant wetland of Asia via IUCN or International Union for Conservation of Nature & Natural Resources. This lake is one of the most spectacular tourist magnetisms in Pondicherry. You will be able to accomplish your dream visit here as this place offers some really interesting things to do in Pondicherry. Moreover, the Ousteri Lake and marshes is affluent in biodiversity. Hence, the area houses many residential and migratory birds. You can enjoy this paradise for birdwatchers and nature lovers!

4-Scuba diving and underwater date with beautiful colorful corals!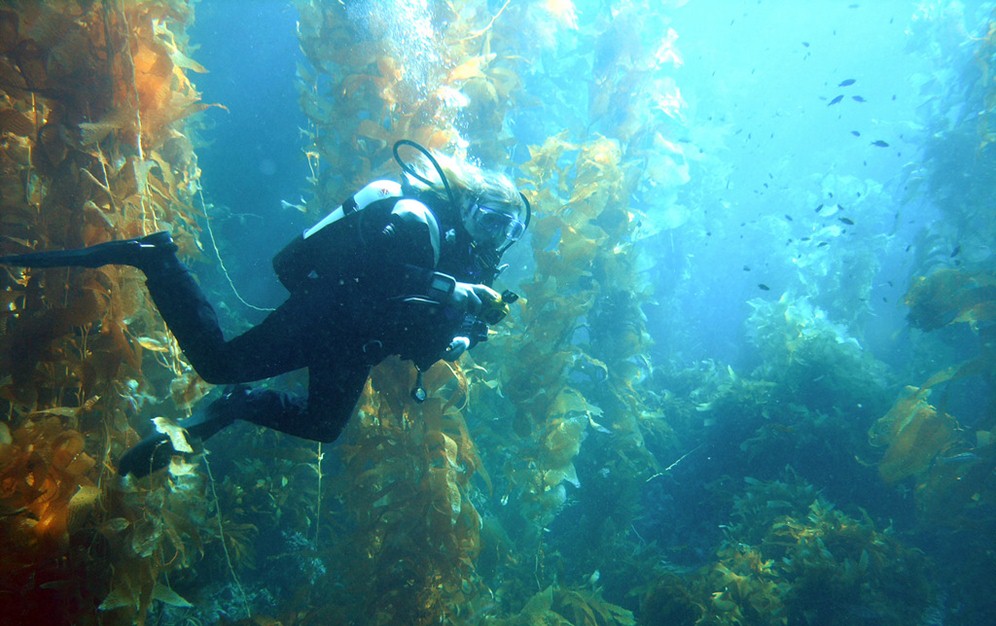 Enjoy the depth of Water with Scuba Diving!
If you love adventure then scuba diving is for you! It is a fun filled and most famous among this list of things to do in Pondicherry. It's the only spot for diving on Eastern Coast of India. This place is featured by rocky pop-ups, plethora of nautical organisms, man-made folds and expected coral reefs. The marine life of this place includes lionfish, moray eels, manta rays, sea snakes, angelfish, crustaceans, banner fish, triggerfish, kingfish, grouper, corals and parrot fish. PADI centre provides excellent PADI certification course and training in scuba diving. These courses include, advanced, nitrox, deep and over water dive masters. Pondicherry provides some diving sports such as Aravind's wall, 4 corners, the hole, ravines, temple reef and cool shark reefs for newbie's and professionals. Scuba Diving at Pondicherry itself can be a quick weekend getaway experience

5- Try several water activities at Karaikal beach!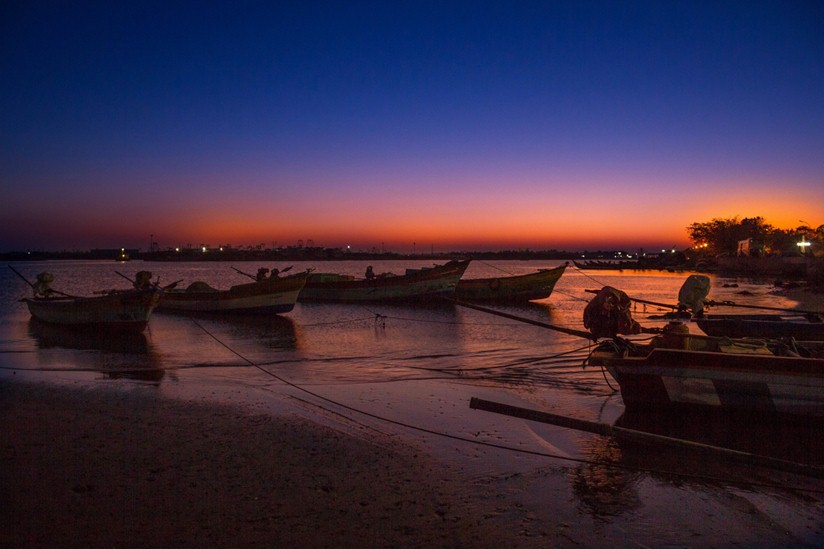 Enjoy evening at Karaikal Beach!
There are many water activities that you can try at Pondicherry in Karaikal beach. Paradise beach offers jet skiing, kayaking, boating and backwater sailing. These are few of the most adventurous things to do in Pondicherry.

6- Bicycle tours in Pondicherry!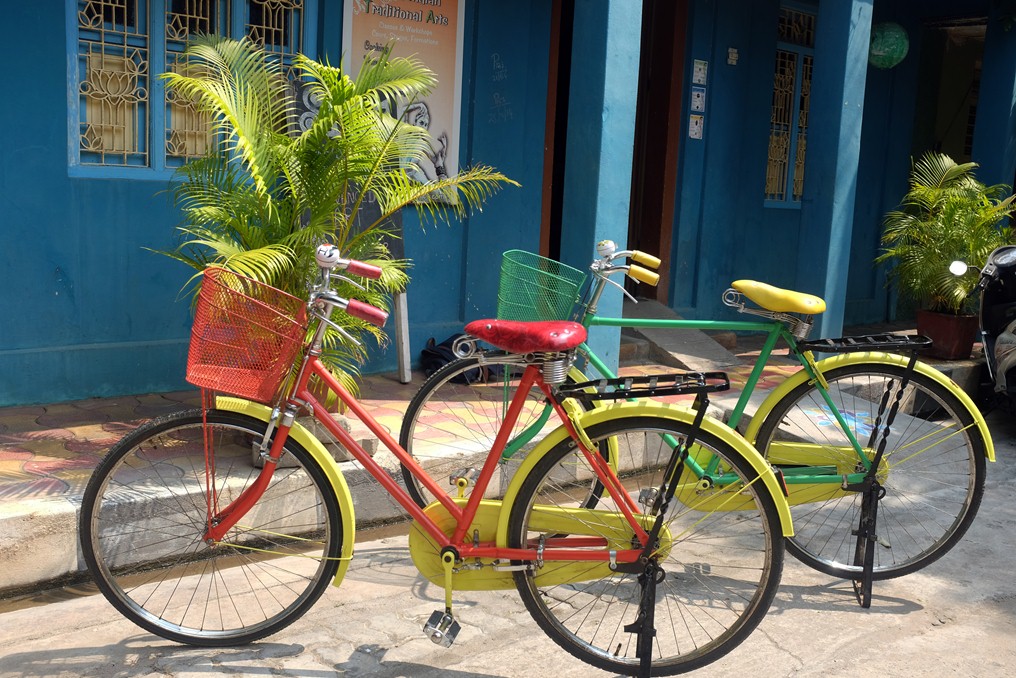 Take Bicycle Tour to experience the pastel town!
Pondicherry is the most mesmerizing place for tourists and offers various activities to do. This place offers fascinating and fantastic guided tours all around the French colonies as well as classical Tamil settlements on vintage bicycles. The tour includes Muslim quarters also known as green quarters, followed by French and Tamil houses, historical, traditional places and various cultural centers. These walking and bicycle tours are often supervised by French and English speaking guides. You can explore the design and city architecture as well as its people on Pondicherry cycle tours. These bicycle tours ensures entire snapshot of French capital of the nation in 2 hours. These are various things to do in Pondicherry.

7-Walk through the seafront!
A walk to remember!
Pondicherry is the right place for you to stroll away completely from the urban noises and chores by taking a walk through the seafront. This is the perfect place to do something exciting with children such as leisure walking and strolling. You might even witness young couples enjoying on the path. These are various things to do in Pondicherry apart from seeing crowd on seafront especially at the time of sunset and sunrise. The seafront at Pondicherry doesn't allow traffic in the morning and ensures hassle free and peaceful outing for visitors.

8-Sunbathe at Serenity beach on sun-kissed day!
Enormous Sea with Bright Sun!
Golden sparkling sands, pristine shoreline, glittering waves, shacks plus colorful beaches sum-up the picturesque of Serenity Beach at Pondicherry. This place is abutted with palm plantations and gorgeous beaches offer a chill-out and relaxed ambience for the visitors who generally come here for rejuvenating and sunbathing. This serene, spectacular, secluded beach isn't at all crowded and standout as an important sightseeing where you get many things to do in Pondicherry. From boulders and rocks to nets and fishermen's boats, and from cozy beaches to splashing waves to cafes, you will get all.

9 – Enjoy nightlife at pubs and lounge in Pondicherry!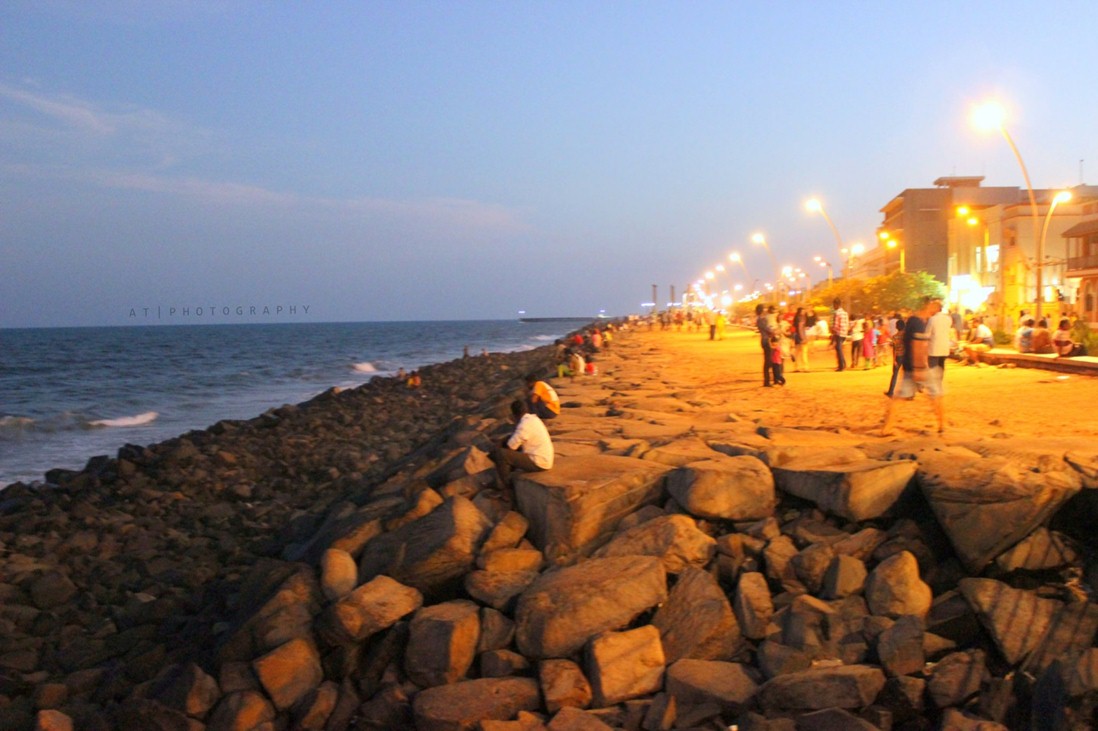 Enjoy the night life in French style!
You believe it or not, yet the nightlife of Pondicherry is just underrated. This place offer some of the most amazing pubs and lounge in Pondicherry to enjoy and have full filled nights amongst youth, primary due to the tax exemption on liquor. Most of the pubs and bars in Pondicherry are just amazing. You can visit bars like Zero house, St James court, Ecstasy, Paradise lounge, Bamboo bar and much more. These bars are must have some must have experiences in Pondicherry.

10- Night out with your partner and romantic dinners!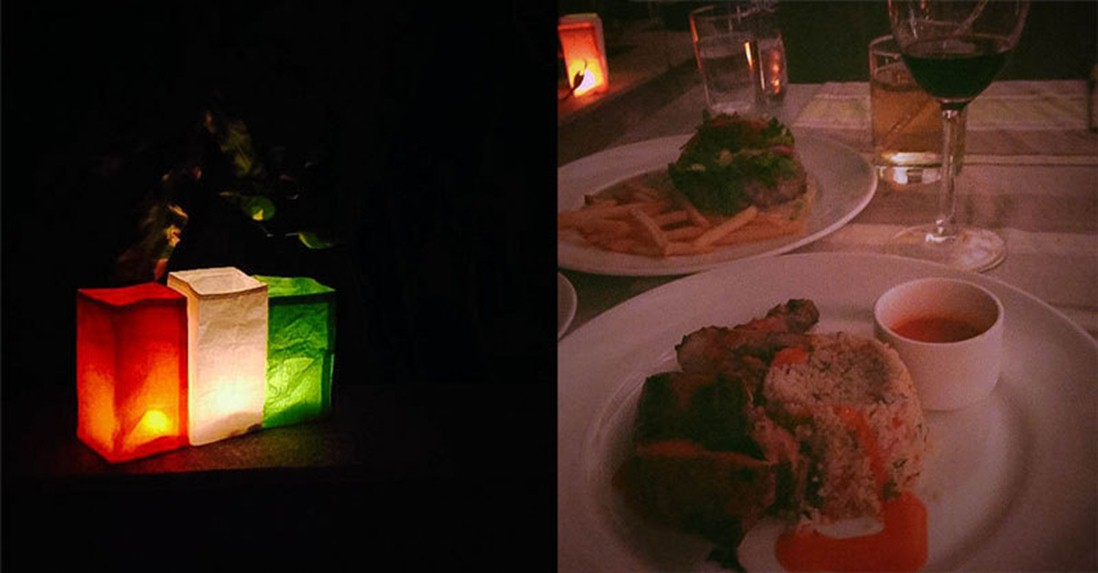 Romantic Dinner is the best thing to end your day!
Romantic dinners are loved by one and all. Another feather is added in the cap of Pondicherry and its nightlife. One of the must have experiences in Pondicherry is a romantic dinner. There are many hotels and restaurants that offer delicious mouth watering food and all arrangements of candle light dinners and romantic diner. You will be spell bound with the amazing interiors and architecture of these restaurants that add a unique touch to your diner.

11- Bonfire, romantic walks and sunrise at beaches of Pondicherry!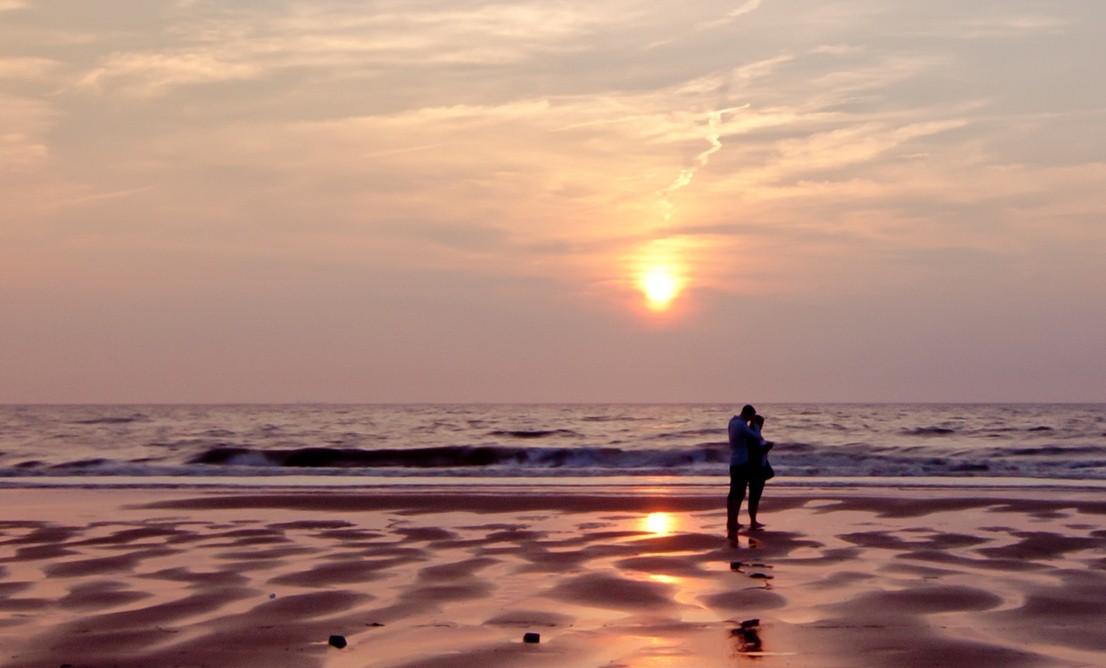 You will get everything here Beach, Sun, Wind and your partner, what else you need to be romantic with your partner?
When you plan a visit to Pondicherry then don't forget to go for bonfire night and sunset along with beautiful and memorable romantic walks. The nightlife of Pondicherry is beyond unconventional. Apart from this, the nightclubs, pubs, romantic walks, diners, this place houses many stupefying beaches such as the promenade, karaikal, mahe, serenity and auroville beaches. You will get to do many adventurous sports here and enjoy bonfire, camping and strolling, which are a must have experiences in Pondicherry at night.

12- Enjoy stunning Sunrise!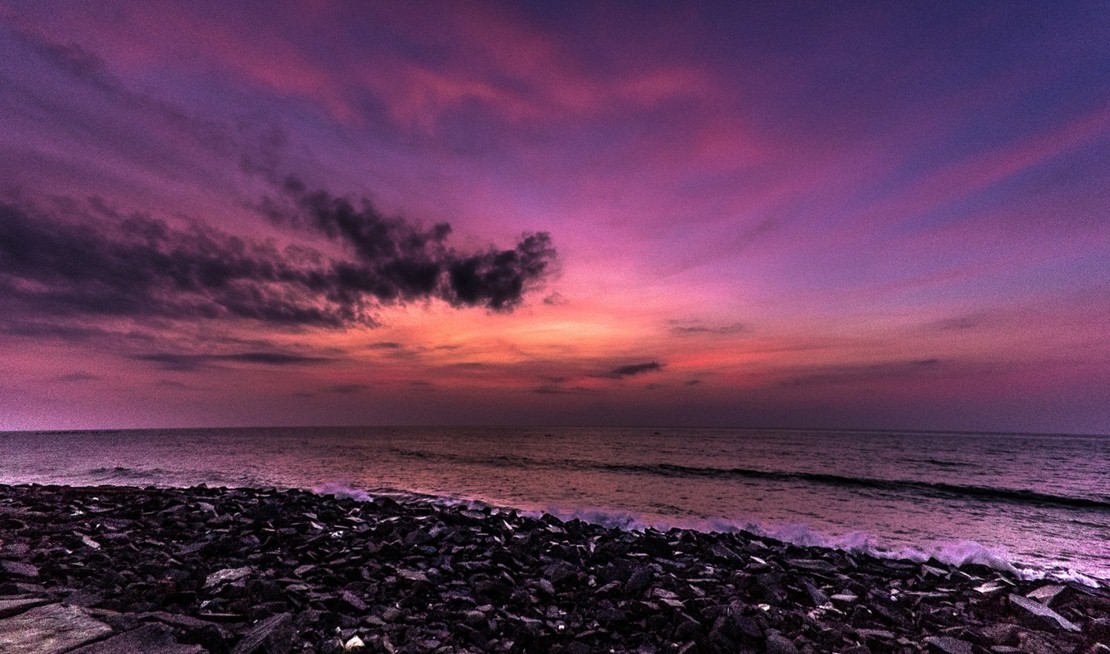 Enjoy the most scenic views at Beaches on Pondicherry!
This small coastal town boasts of few untouched and beautiful beaches. Additionally, this place has lots of beachside promenades. This adds-up to some amazing locations to see and observe few of the most stunning sunrises in the city. So wake-up early in the morning or stay-up all night to see the sunrise. Yet, don't forget to see this captivating view of your lifetime as watching sunrise from the huge expanse of Bay of Bengal is definitely one of the best activities to do in Pondicherry.

13-Canoeing and Kayaking in Pondicherry!

Like many other water games, canoeing and kayaking are 2 of the most amazing activities to do in Pondicherry and need a lot of training and hard work to expertise. You can master these sports with proper instructions and guidance from a professional trainer and even a person who is doing it for the first time can maneuver vessels as well as embark on enjoyable ride. You will find it the most amazing experiences and must have experiences in Pondicherry. This sport shouldn't be missed and considered as most exciting water sport. Scenic beach is the most ideal beach fro canoeing and kayaking activities and they can have striking experiences at this place.
14- Sailing and yachting in Pondicherry!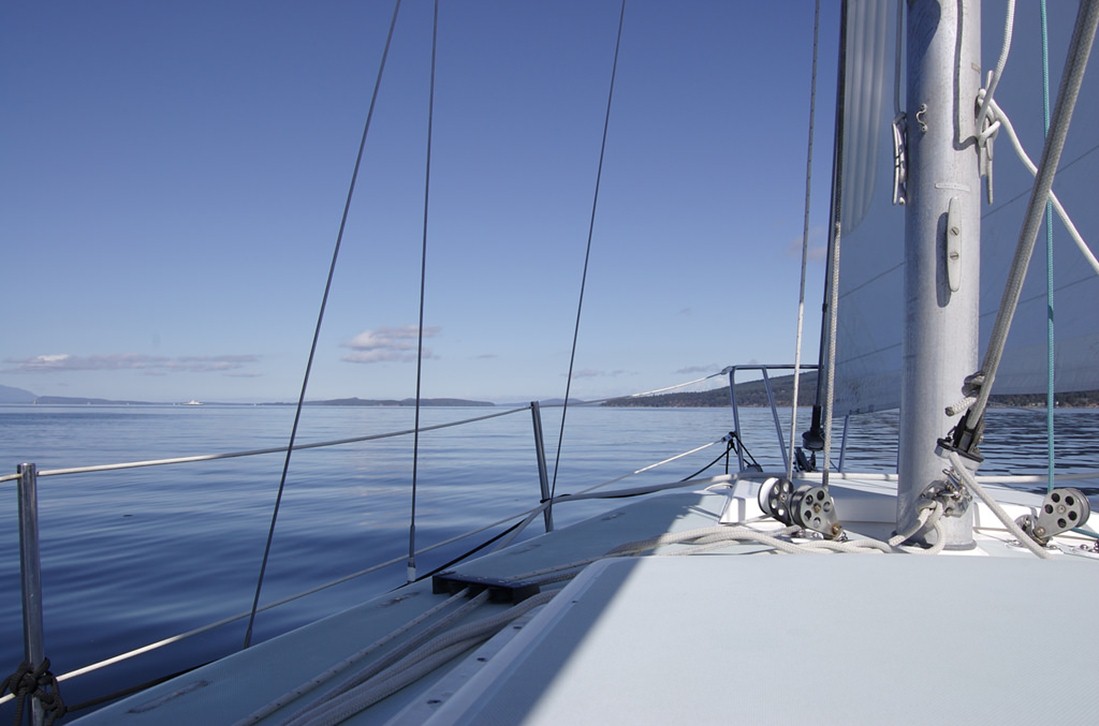 Most of the people who love water adventure love sailing and yachting. They like to yearn for luxurious living while sailing. Pondicherry provides a huge variety of charismatic yachts that are decked with comfort and luxury, these vessels generally come with high powered engines, which ensures high-speed and grooviest on the water. Sailing and yachting is a must have experiences in Pondicherry. A lively blend of elegance, comfort and speed, sailing and yachting has become one of the most enthralling things to do in Pondicherry. It attracts huge number of visitors around the world.
15- Sports, activities, beach walks-experience the tranquility of Pondicherry!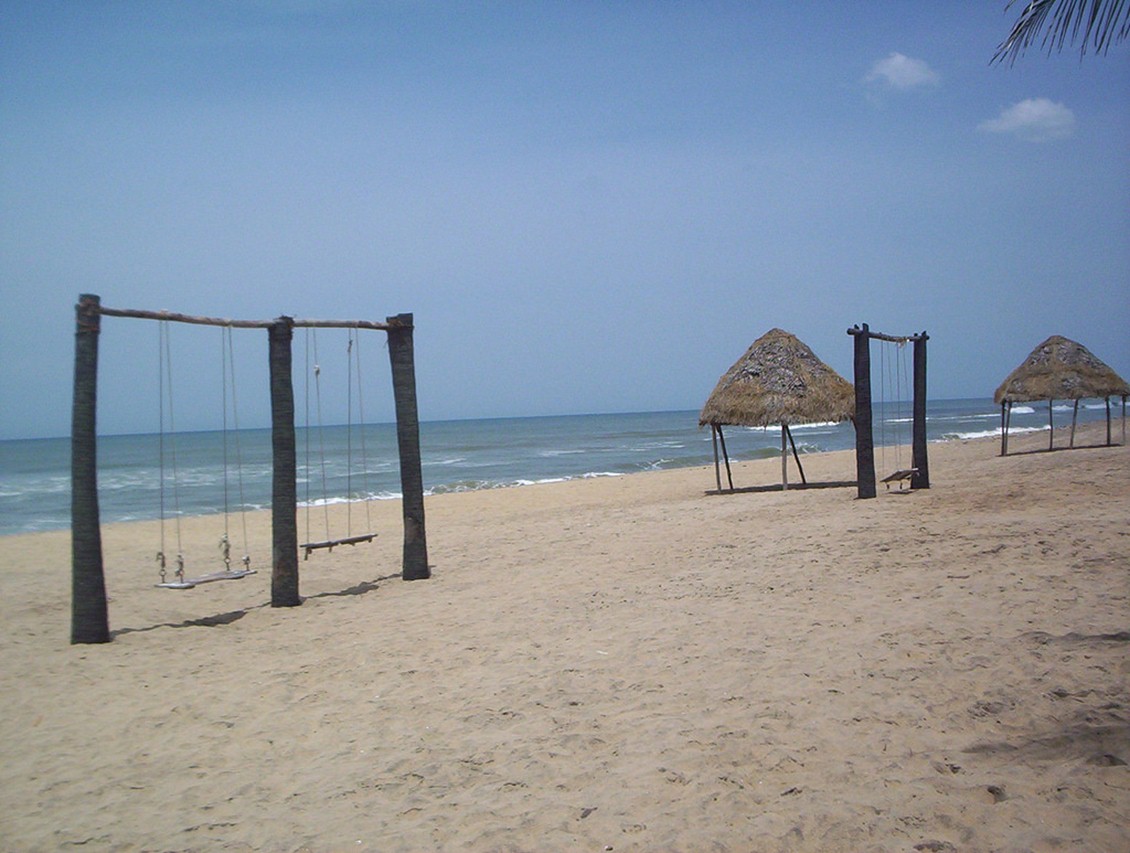 Swing with the charm of Pondicherry!
Pondicherry is blessed with striking coastline and its one of the most famous beach destination in India. Just like the other beaches in the nation, beaches at Pondicherry are well-known for its tranquility and calm ambience. For people who are crazy about beaches will definitely enjoy long walks on the beach, sport activities and above all the tranquility of the beach. You can experience many fun filled activities here. Auroville beach, Karaikal Beach, Serenity Beach, Paradise Beach and much more beaches attracts people to this place. You can play volleyball, kayaking, cricket, fishing, swimming and enjoy many more activities on Pondicherry.
16- Indulge in some mouth watering food and enhance your taste buds at Pondicherry!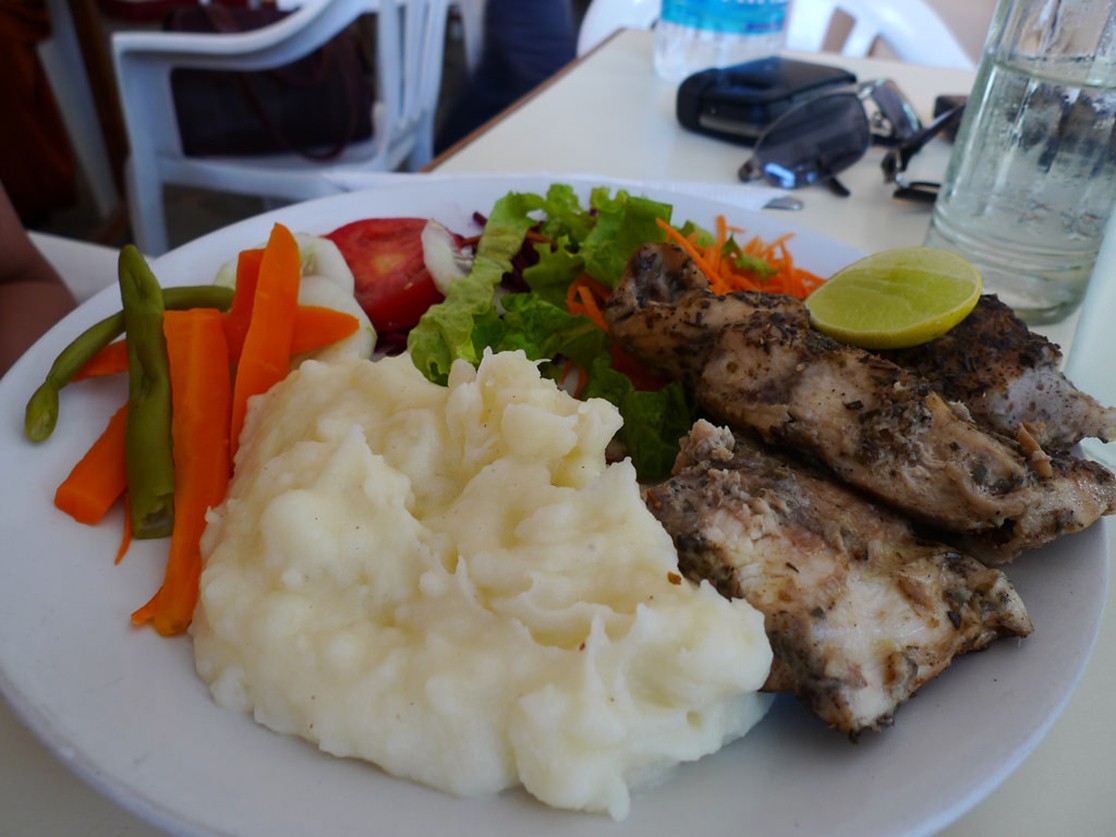 Yummy taste of Pondicherry!
You can pamper and enhance your taste bud from desi dishes to French cuisines. This place offer amazing food and it's like a heaven for people who love food. There are many places to visit in Pondicherry to try delicious mouth watering food. You can explore various types of cuisines, French food, traditional South-Indian food and continental delicacies. Everything is mouth watering and amazingly yummy!

17- Discover your spiritual side at Pondicherry!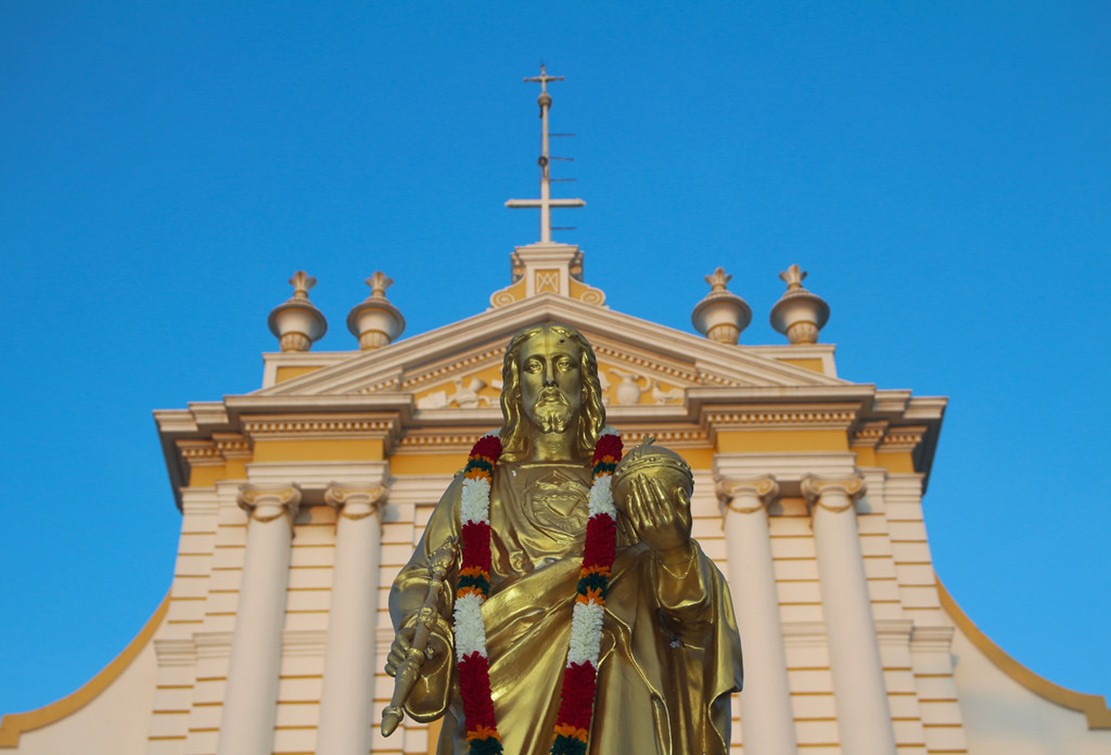 Pondicherry! Lot to explore
Little offbeat, yet you will find many places to discover your spiritual side at Pondicherry. You can visit many ashrams in Pondicherry that will give your peace of mind from the hustle bustle of city. You will be completely relaxed in the lap of such ashrams like Sir Aurbindo Society and much more. There are many places to visit in Pondicherry to explore your spiritual side.


18- Go on a shopping spree in Pondicherry!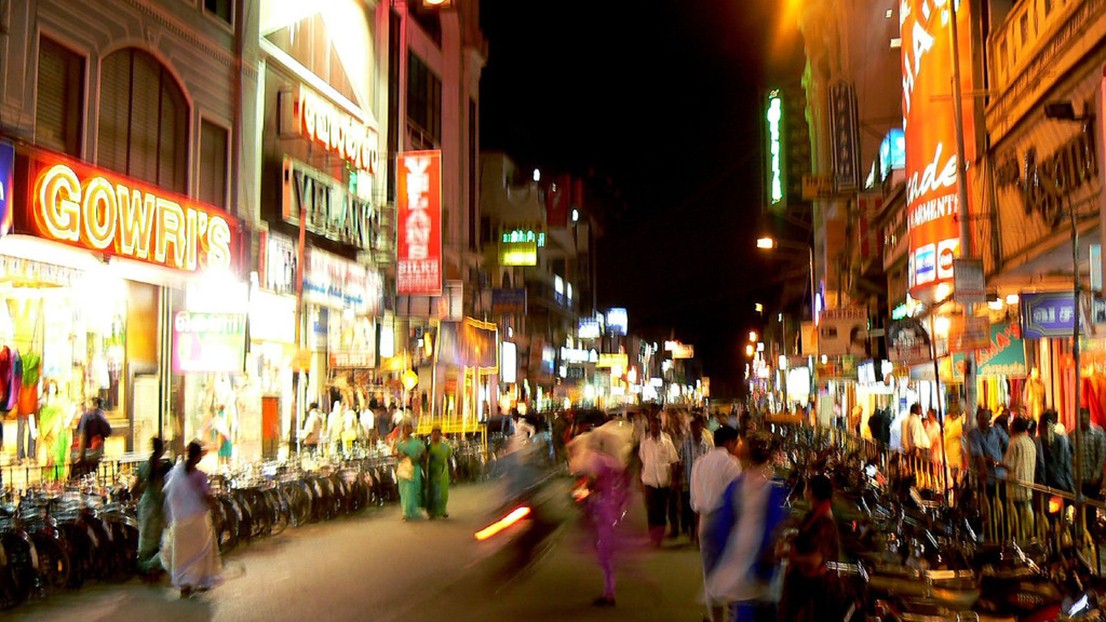 Shopping is always a fun!
You need to try retail therapy because nothing can beat shopping experience for girls at various places. Shopping is a synonym to woman and it goes hand in hand in Pondicherry. This is the most attractive shopping destination and famous for aromatic candles, handmade paper products, handicrafts, mementos, metal artifacts, souvenirs, cotton dresses, incense sticks, essential oils and much more. You can visit kalki boutique, geethanjali store and La boutique d'Auroville in Pondicherry. These are some of the places to visit in Pondicherry.

19- Sir Aurobindo Ashram-Holy and peaceful place!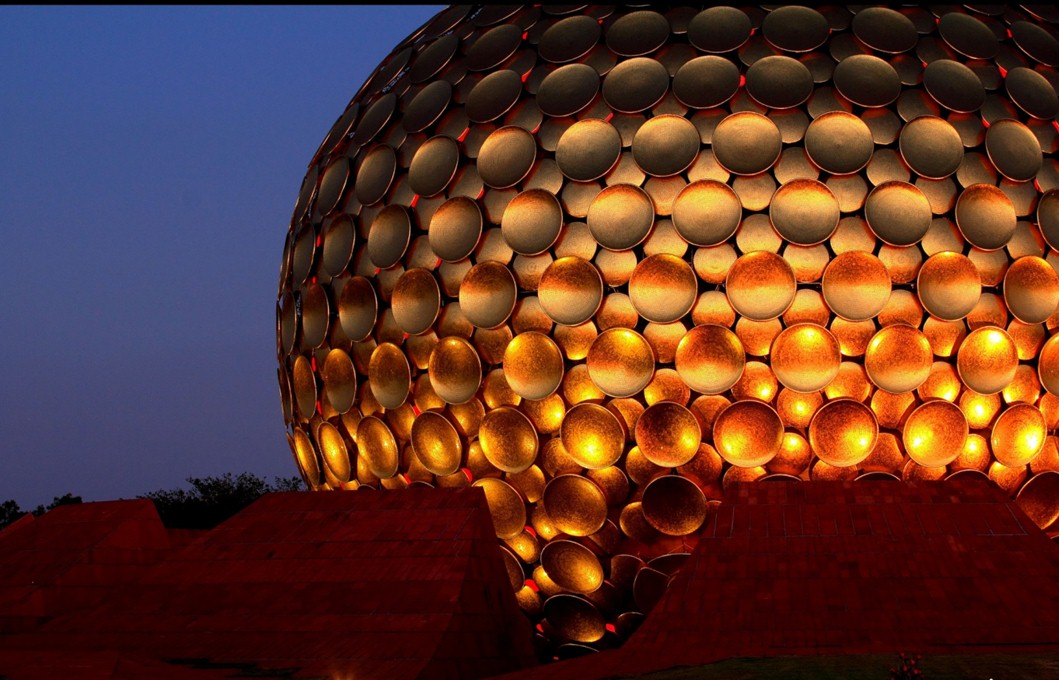 Divine Destination! (Sri Aurbindo Ashram)
This is a holy and peaceful place. This ashram gives you a chance to explore your spiritual side and know yourself completely. You must spend at least one day at this ashram. This is the most visited place for tourists around the world. Tourists who want to get some harmony and eternal peace usually visit this place. These are the most amazing and admired places to visit in Pondicherry. You can see the Samadhi of Sri Aurbindo and his mother along with some participants in collective meditations in Ashram offering prayers around the Samadhis in the main area on Monday, Wednesday, Friday and Tuesday. Additionally, one can also witness different exhibitions, work of Sri Aurboindo and watch videos based on his life.

20- Go for recreational classes and learn during holidays at Sita Cultural center, Pondicherry!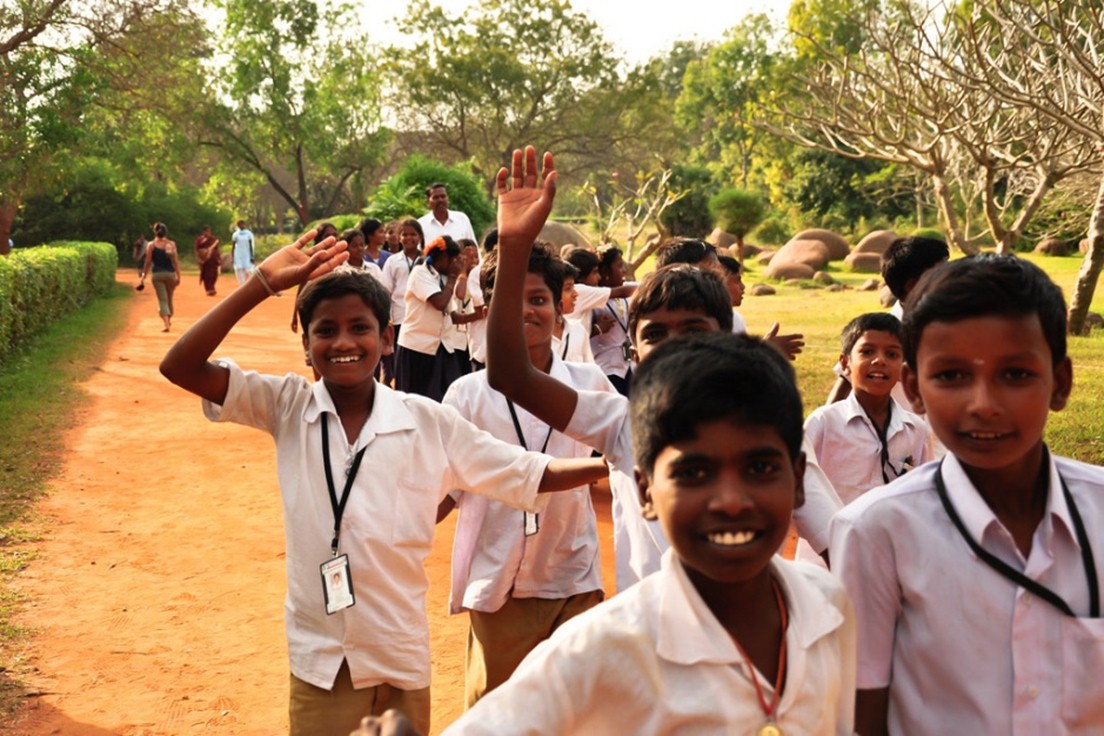 Feel Like student again!
This is the popular Franco Indian cultural centre and considered as one of the most alluring tourist spots in Pondicherry. This is one of those places to visit in Pondicherry, where you can learn during your holidays and do something creative and productive. It's located in Candappa Mudaliar Streets and provides different fun classes for rejuvenation, learning and enjoying for visitors. Depending up on your time, one can choose single session as well. You can make your visits colorful and fun filled by joining in classes such as Ayurvedic medicine, Pilates, yoga, Tamil language, Kolam and Indian cooking.

21- Learn Surfing and other sports at Kallialay School!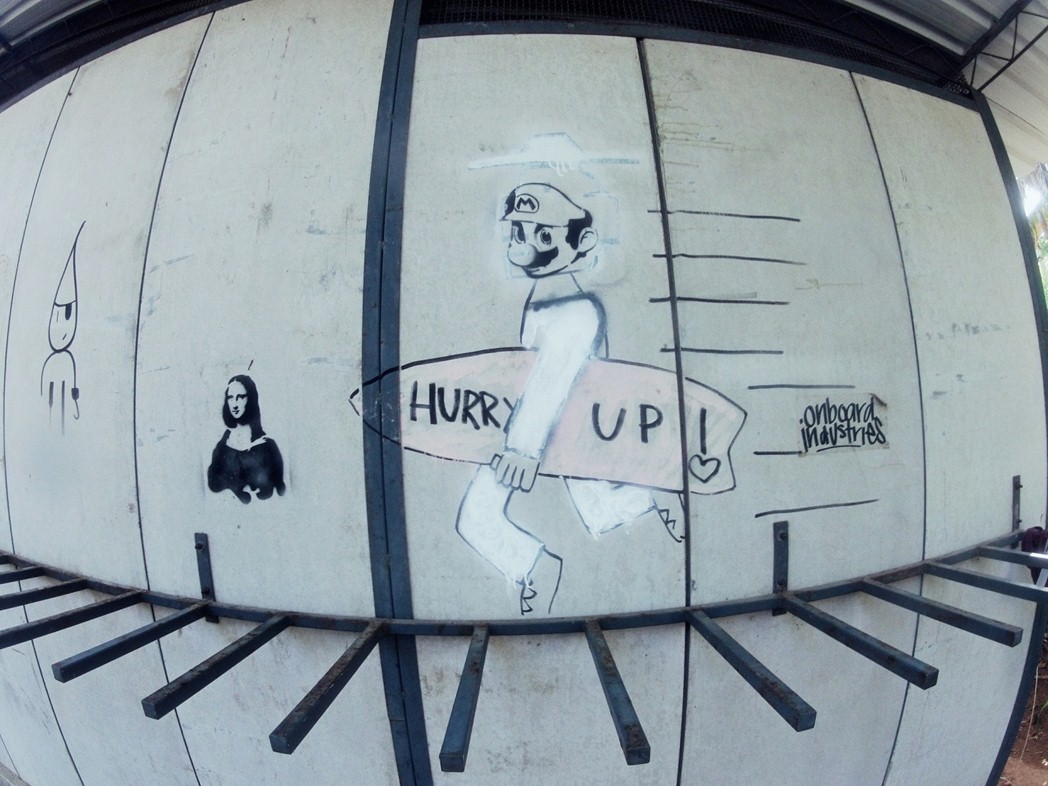 Be Professional Surfer!
Doing surfing and learning surfing are two different things. You can learn surfing at Kallialay School in Pondicherry. Riding waves are considered as the coolest things to do in Pondicherry and visiting kallialay surfing school is just amazing as you got to learn new things about surfing by 2 siblings from Spain. This is one of the best places to visit in Pondicherry because you will learn about the new water sport in case you have that courage in you and love for water sports. These classes begin around 1000 INR per person basis from startups to professional level. You will learn these sessions at the serenity beach.

22- Volunteering at the Auroville at Pondicherry!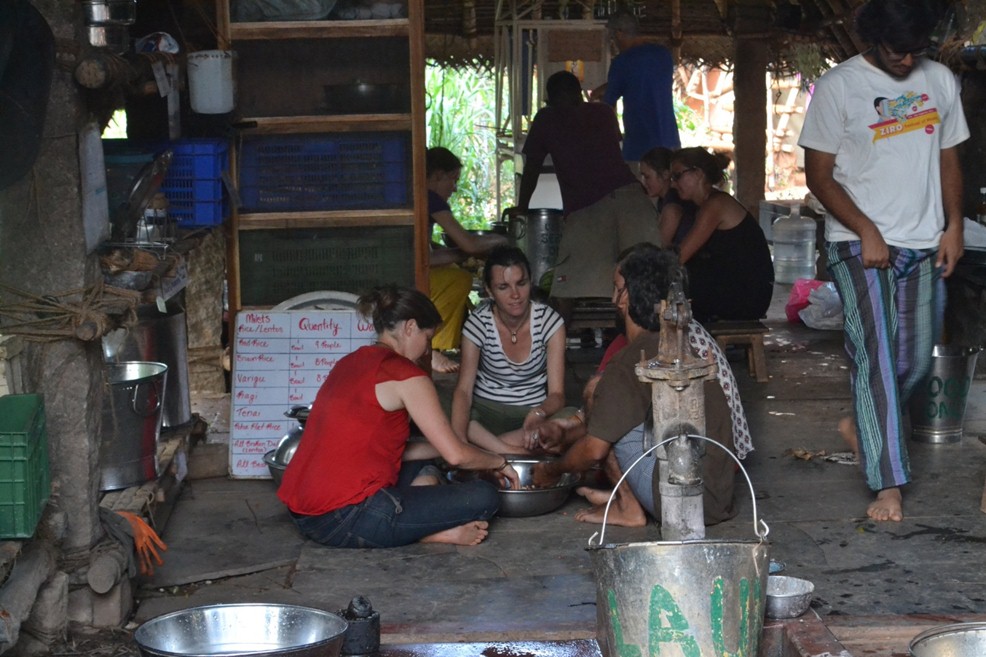 Experience the Indian Culture!

When you are travelling to Pondicherry then this is one of the best weekend getaways in Pondicherry. This is India's primary experimental town, main centre for people who are interested in education, child development, organic farming, women empowerment, healthcare, gender equality and much more. Apart from Auroville, this city has several NGOs that consider volunteers. One will experience various numbers of people travelling to this place to take part in volunteering activities and cultural exchange.

23- Experience Yoga and meditation at Yoganjali Natyalayam!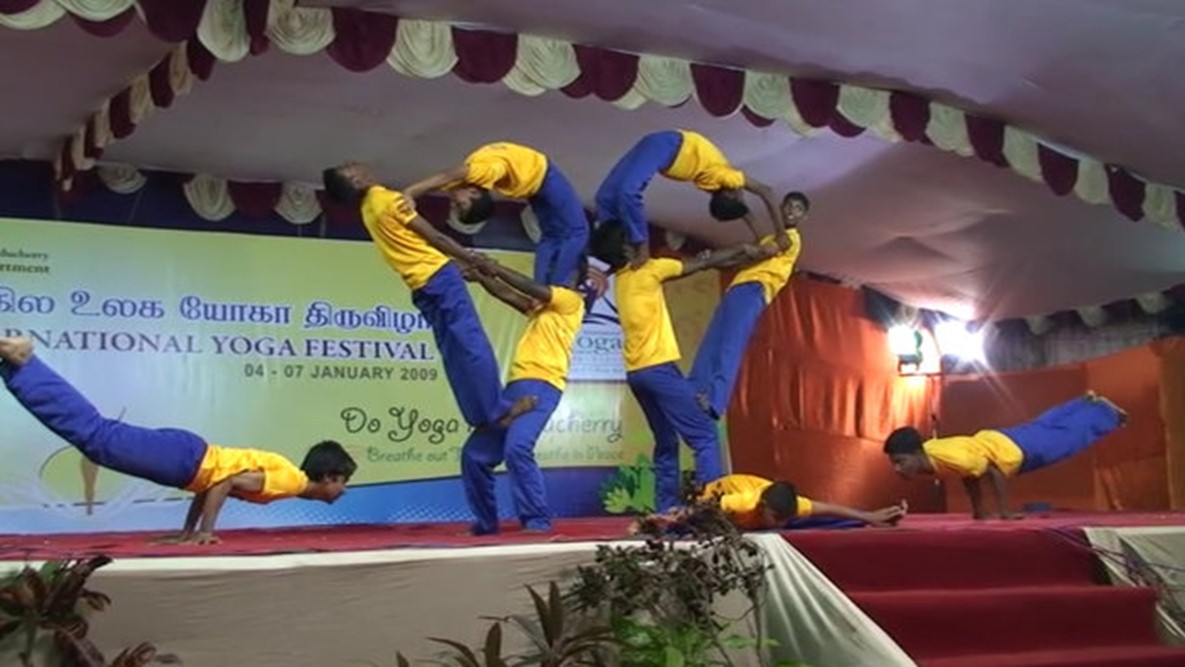 Release the tension, go for Meditation!

You can learn the ancient culture and practice of meditation and yoga at Pondicherry's best schools. You can choose from hatha yoga, ashtanga, therapeutic kind of yoga, vinyasa, bikram, Iyenagar, Pondicherry has professional faculties for all the forms. One can go for whole day meditation and yoga that retreats for more spiritual experiences. This is the perfect weekend getaways of Pondicherry.

24- Visit Church of Pondicherry!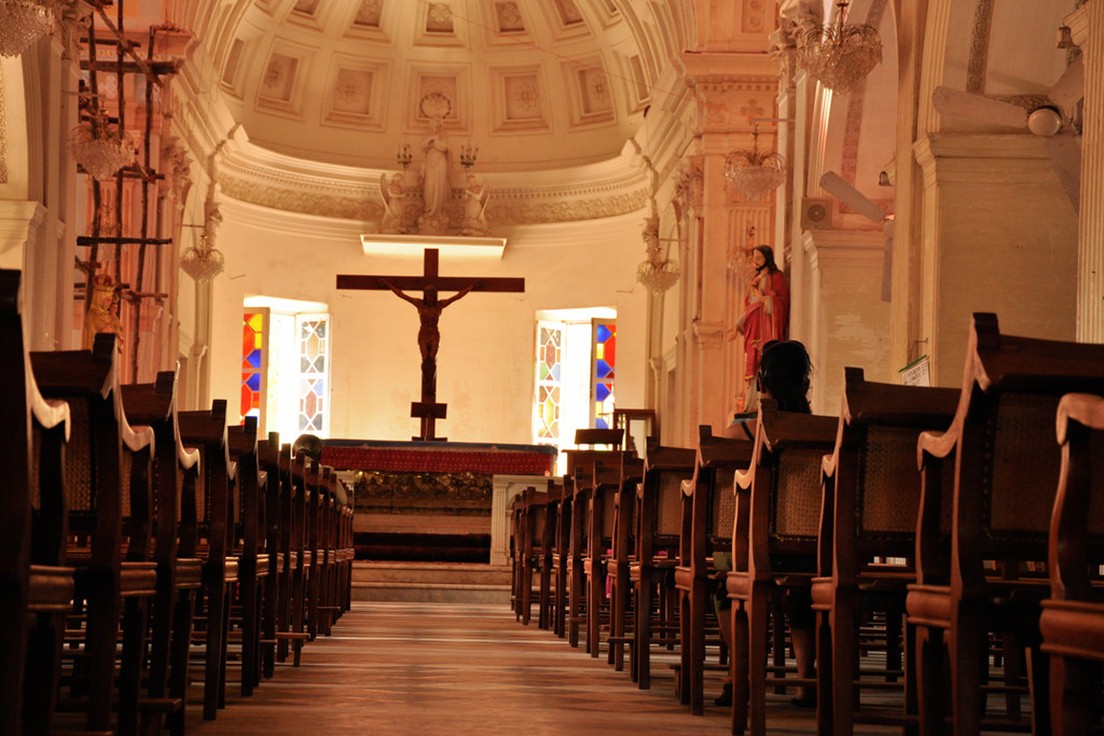 Feel The God!
This place is located at the South Boulevard in Pondicherry. The cathedral of sacred heart of Jesus is considered as one of the most amazing and iconic churches of the nation. A sample of the Gothic architectures, this acclaimed structure transports in to the era of French gothic style architecture and developments. This is the most admired weekend getaways for people who live nearby this Church.

25- Goubert Avenue – a place for joggers!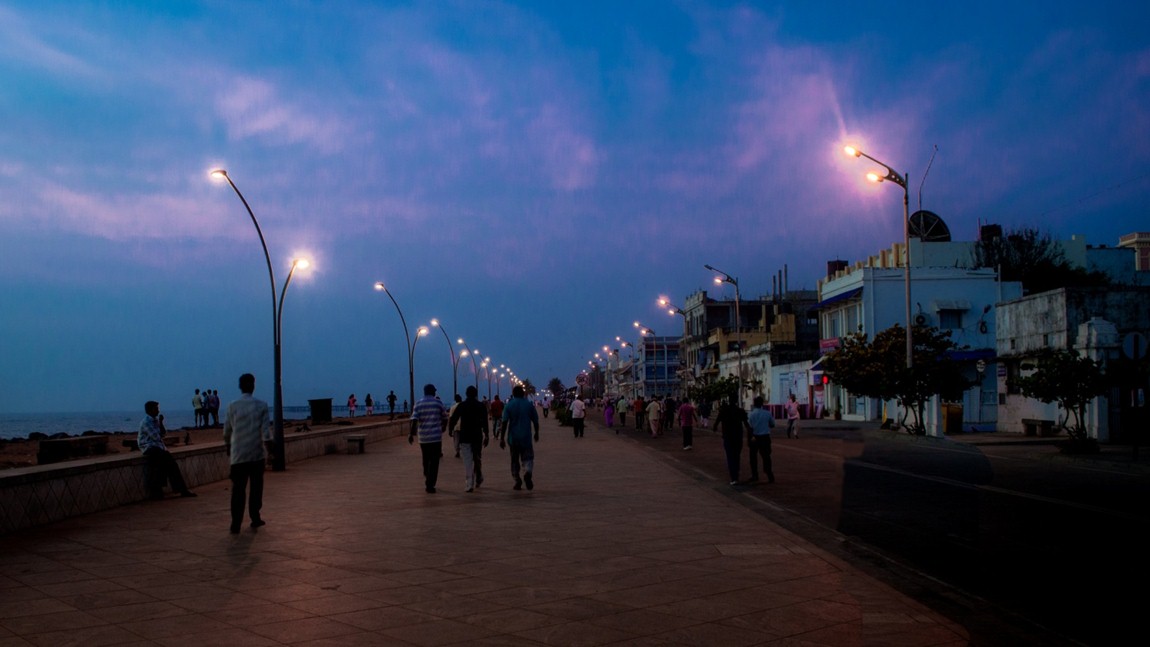 Joggers Place
This place is also known as the Promenade and it's one of the most favored places that make the best weekend getaways of Pondicherry. You can have fun in the peaceful tranquil walks. This is the best place for joggers and meets locales as well as enjoys socializing. You can refresh yourself with a cup of coffee or tea at stalls. You will enjoy the amazing sea breeze.

26- Visit the Pondicherry museum and enhance your knowledge!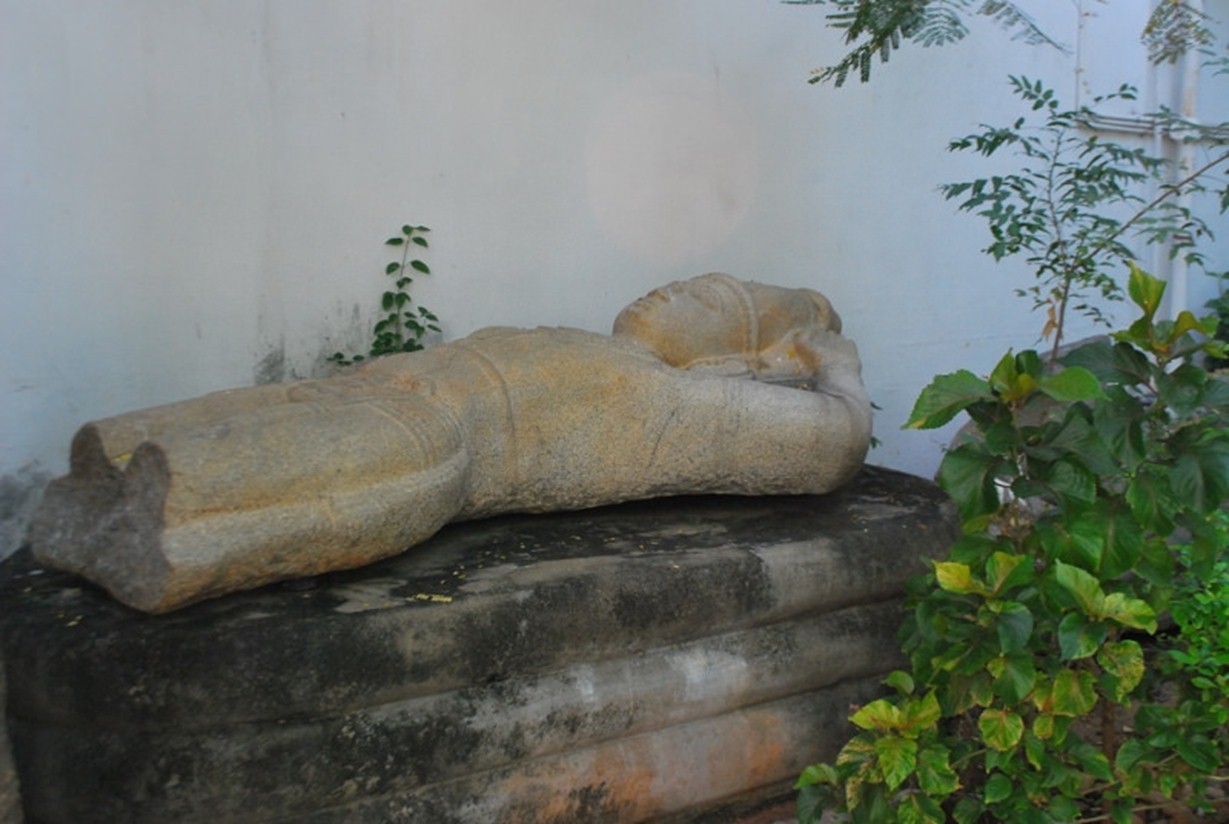 Pondicherry Museum
Pondicherry is a house of popular museum, which houses several sculptures and outstanding things in its gallery. This museum is well-known for having residues of an archaeological finding from Arikamedu the Roman Settlement in the city. This museum has a collection of stone sculptures, rare bronze sculptures that belongs to Pallava and Chola dynasty rulers. It also features artifacts of Roman Empire, who once settled in Pondicherry.

27- Enjoy Campaign at the Dune Eco Village in Pondicherry!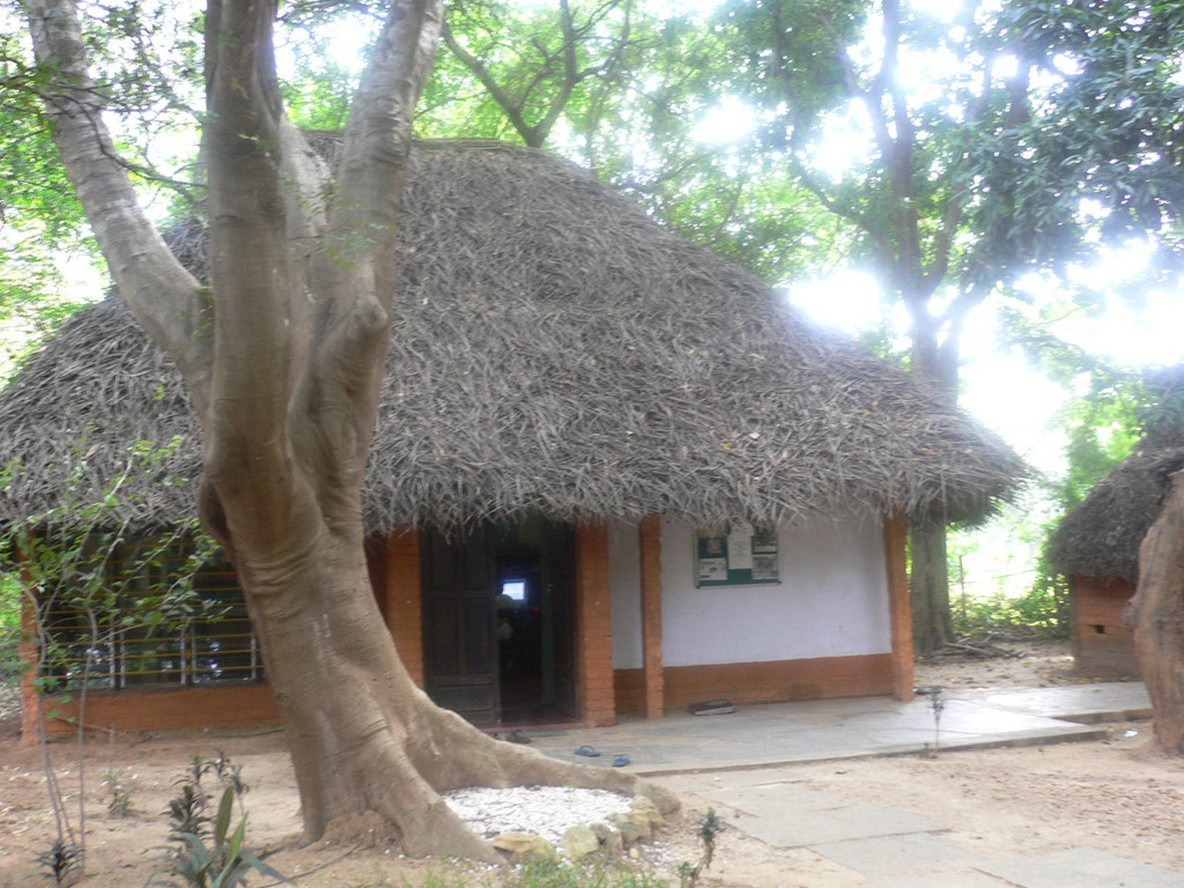 Wonderful Place!
Pondicherry is the perfect place for campaign and this place has many resorts that offer campaign facilities to the tourists. You will have amazing fun at the campaign. The organic farms, pool, fat jersey cow, watsu massage, bike rides, the proximity of the beaches, artistic and well designed space and much more, Pondicherry has everything. You will get to experience everything during campaigning in Pondicherry. This is the most amazing place for weekend getaways for people who live nearby. You can enjoy this weekend getaways to great extent.

28- Walk around at Roff Garden!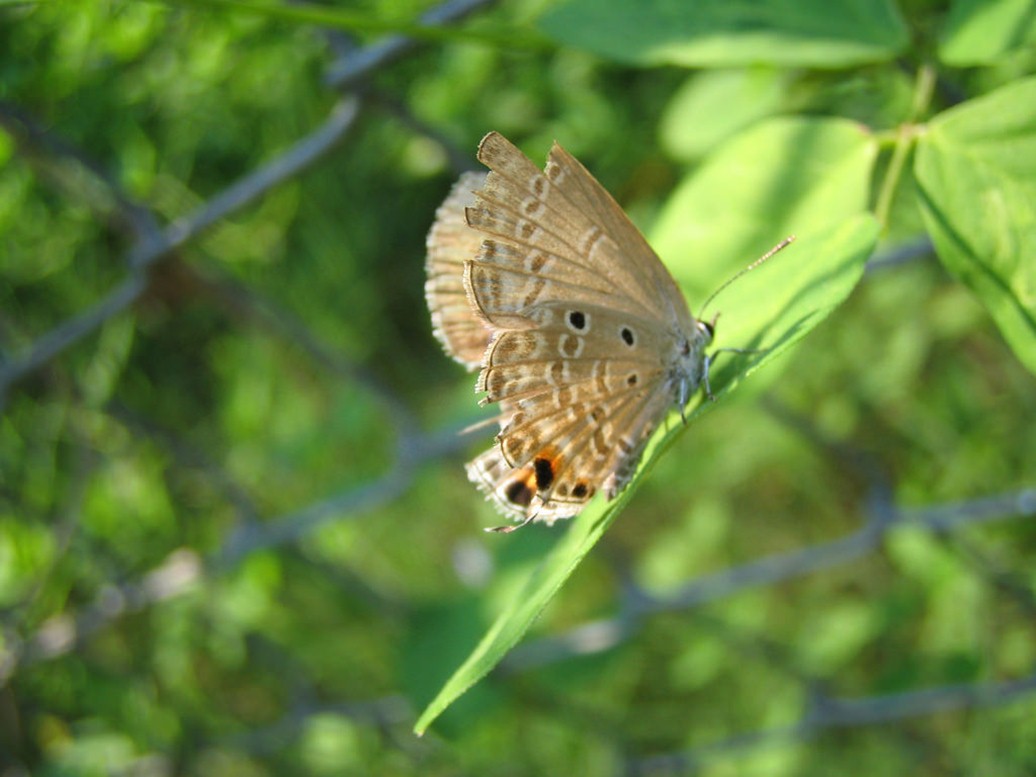 This place is not only for sightseeing, but you can also spend quality time with your family and loved ones. Extraordinary architecture, World Standards, Innovative Layouts together makes this place highly desirable among tourist. Surely you will feel fresh after visiting this place. You will take lots of memories together from Pondicherry and certainly few will be from this garden. So what are you waiting for?

29. The Green Delight of Pondicherry! Botanical Gardens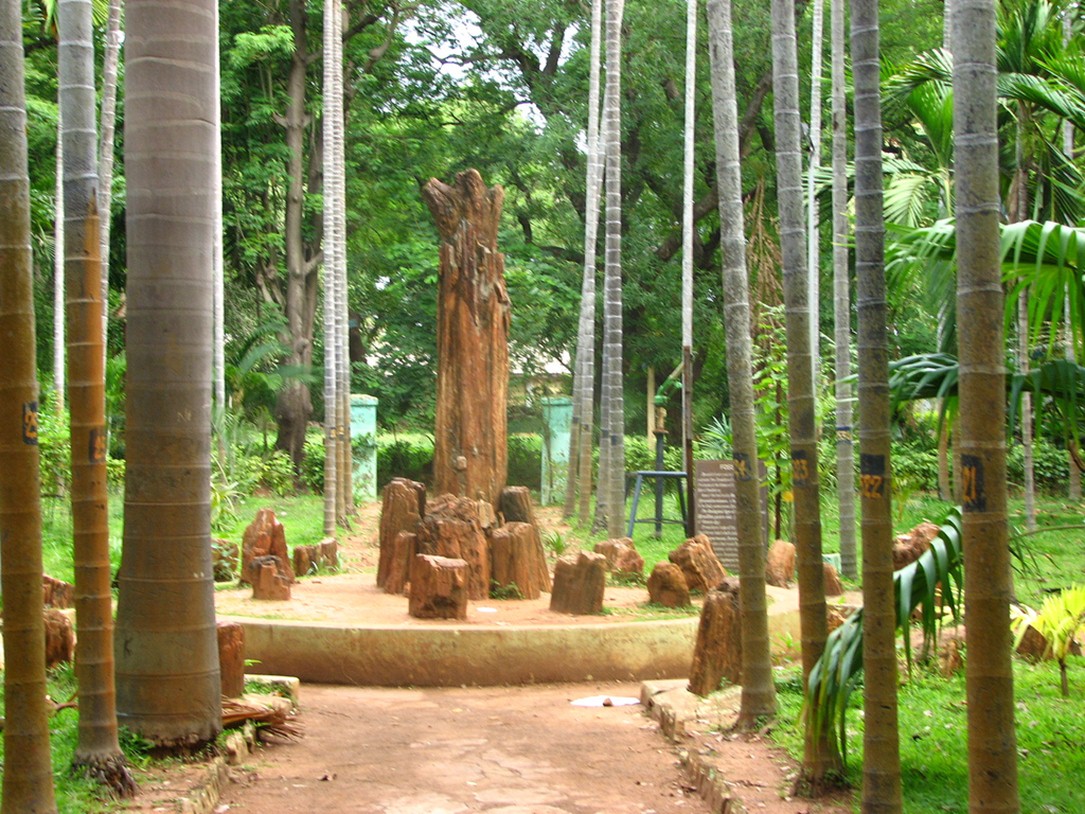 Fossil Trees at Botanical Garden!
This is situated at south of the New Bus Stand. It is a redolent of French structural design. There are more than 1500 species of plants. This place features fountains, pruned trees, flowers and gravel paths. You will be entertained by musical fountain. Couple of shows is also organized from time to time.

30. Scorch the heat at Bharti Park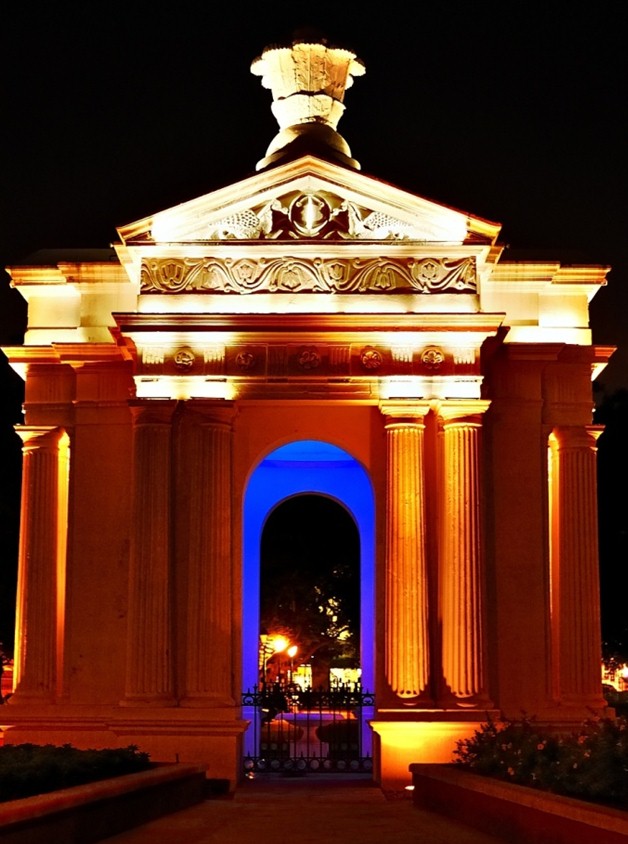 Monument at Government Park – Pondicherry
This is a nice place to visit. It is also called Government Park. This park will provide you with glimpse about government efforts to keep metropolis clean and green. This place is visited by hundreds of tourist daily. This is nice place for family outing.

31. The Pelican Playhouse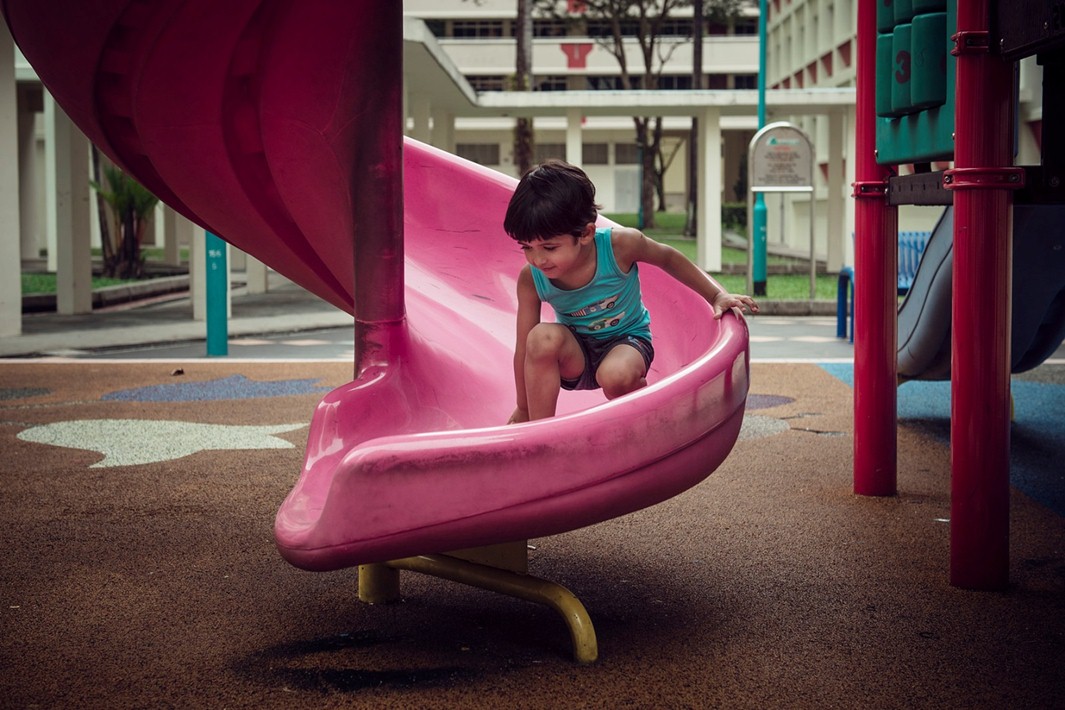 This is a wonderful place for kids. Your children can spend hours here without getting bored. There are lots on indoor game. This place is fully air-conditioned. They also organize birthday parties and other activities as well. It is at AR Plaza.

32. Saram China Market!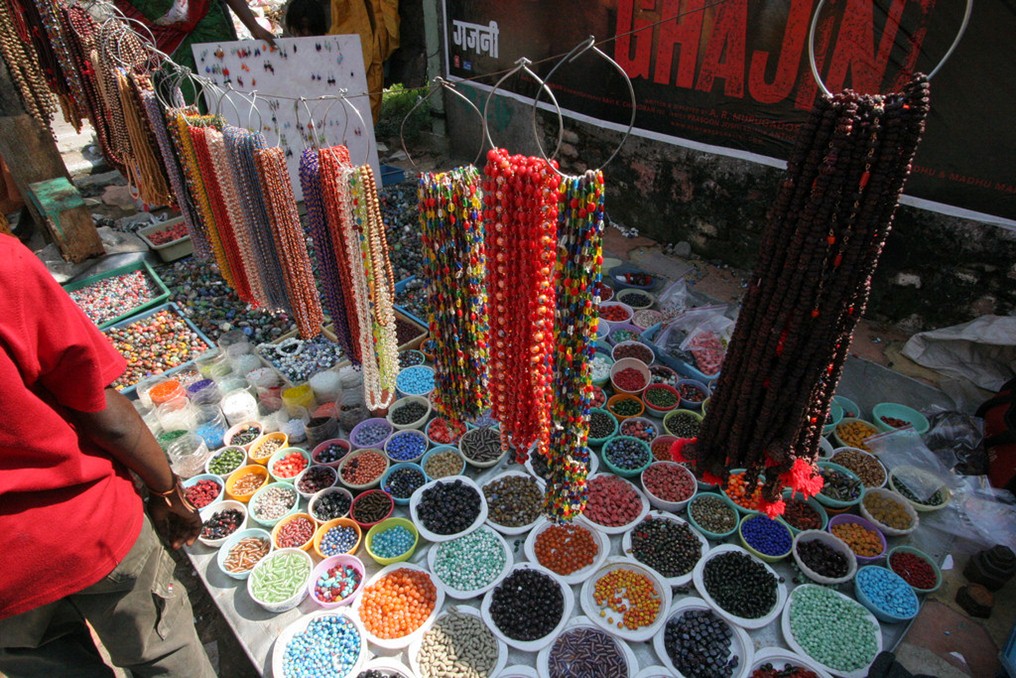 Show your bargaining skills!
Get A grade Chinese products from this market. This market is full of Chinese products, which are of good quality and at reasonable price. You must show your bargaining skill here. This market is near Naveen Garden.

33. Learn Ancient art of Clay at Golden Bridge Pottery Center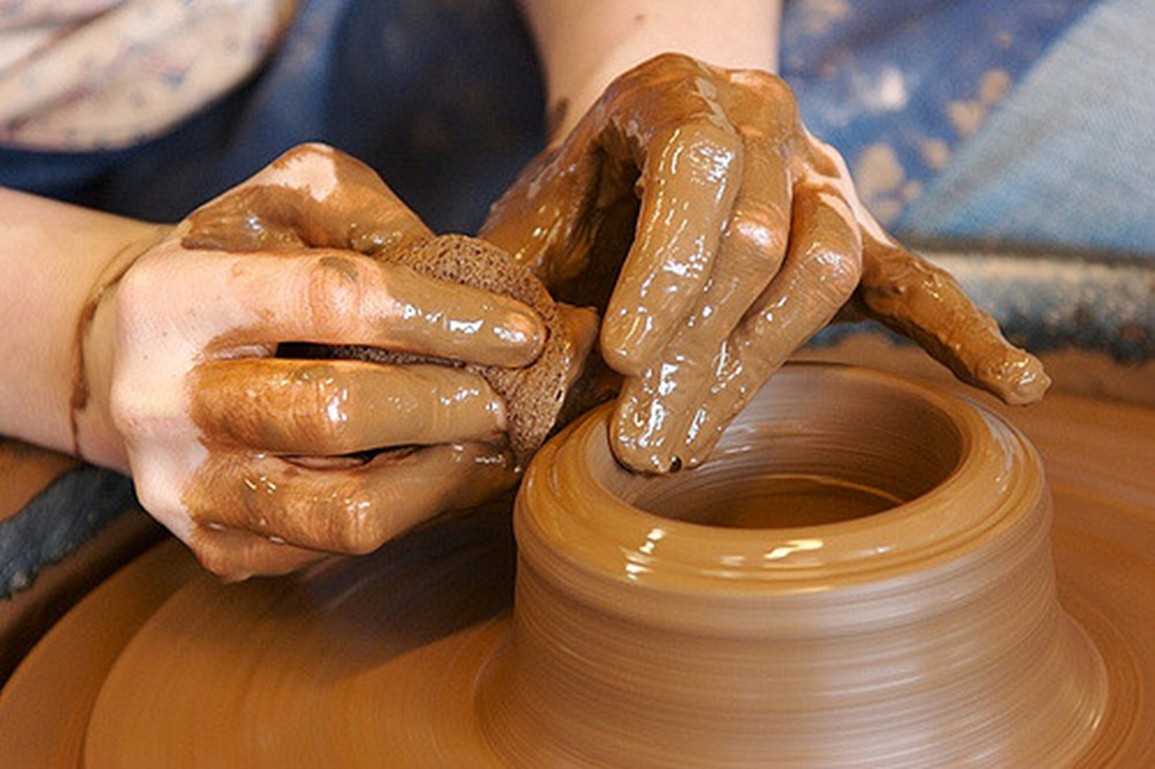 Try-Try until you succeeds!
This is the idyllic place to occurrence the clay art and pottery creation. This art is not an easy, you need to practice hard. Many students from all around the world wait to get enrollment. This is a beautiful thing.

34. Get Ayurvedic Treatment at Ayushman – Ayurvedic Treatment
World Best Treatment!
This is a perfect place to get rejuvenate. The staff of this place is professional and dedicate to their work. This is one stop solution for all Ayurvedic treatments. This place offer treatment for many health issues like Spondylitis, rheumatism, heart disease and more.

35. Dine at Bay of Buddha!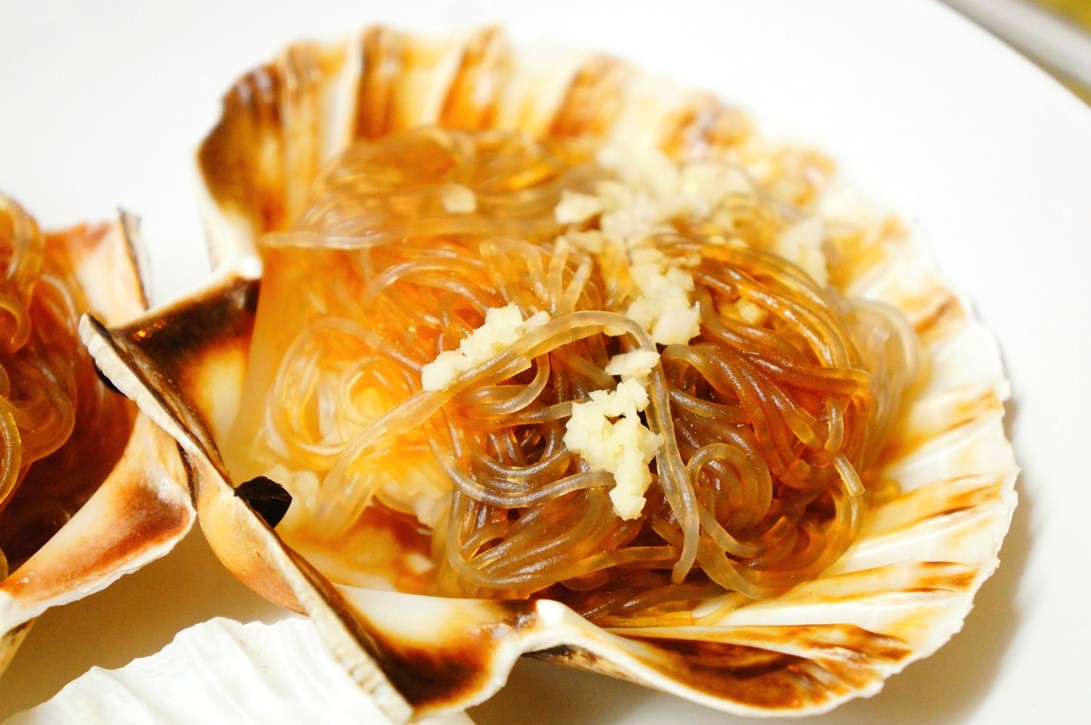 This fabulous place is at the promenade. You will surely love the taste of cuisines. You can get Chinese, Thai, Korean, Indonesian, Asian and many more cuisines. The view from this restaurant will make your food more delicious.