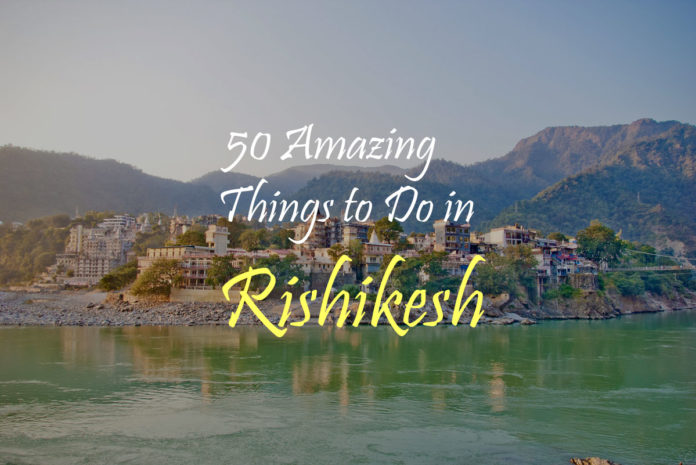 A popular tourist destination by far, Uttarakhand houses in its bosom jewels when it comes to tourist-y places. One of them being Rishikesh, the beginning step to The Himalayas. With spirituality dominating the air around Rishikesh, the mystical town of Rishikesh has become to be known as the Yoga capital of the world; no wonder The Beatles and British monarch visited Rishikesh to meditate too!
Not just devoutness, Rishikesh has become one of the hottest hubs for adventure sports too, water sports being one of the major ones. With its picturesque locations and Ayurveda centres, Rishikesh finds a hot-spot on our 'must visit' destinations. So, we bring to you 50 of the most amazing things to do, when in Rishikesh.
1. Rappelling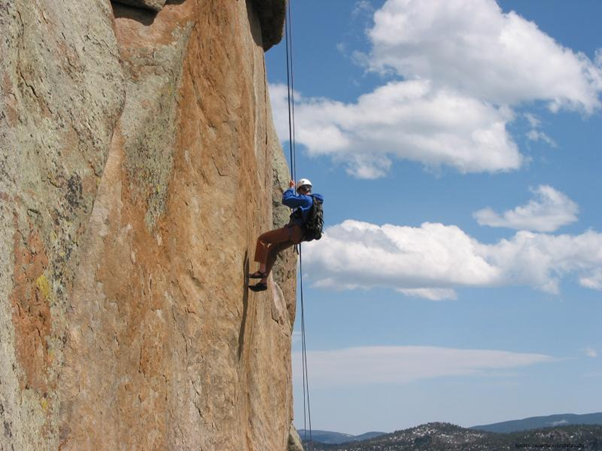 ---------------------------------------------------------
Best Deals for the Month
Source-travelhi5.com
Rappelling is a sort of adventure sport wherein you are tied with a rope to a sturdy end of the mountain and you make your way down, only using that rope as your guide and support. Rishikesh is the perfect spot for rappelling, thanks to the foothills and low, Rocky Mountains all around.
2.Kayaking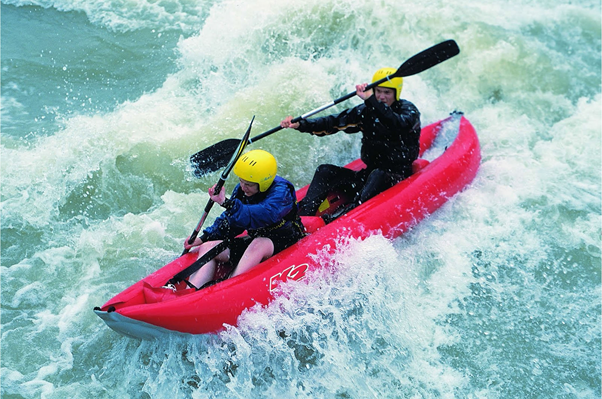 Image source: himalaynoutdoors.com
Popular all over the globe along with its little kayak, Rishikesh has become the go-to for this sport. An individual activity, as in, you do it all on your own, kayaking is a challenging sport and demands fitness to be able to succeed. With expert guidance, kayaking can be an experience to remember.
3.Rock Climbing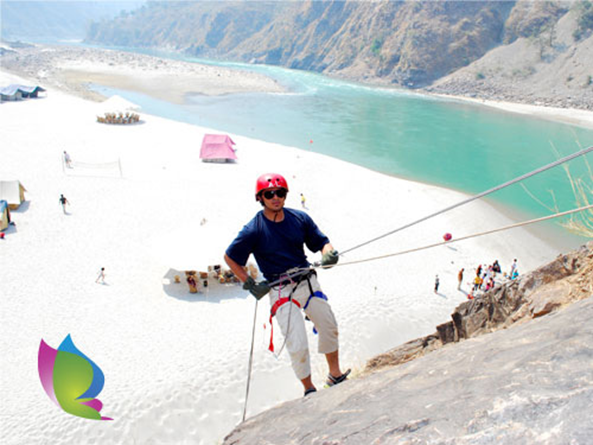 Image source: flickr.com
Another activity involving the Rocky Mountains in abundance at Rishikesh, rock climbing is a thrilling sport, which is bound to train both your body and mind. With expertly trained professionals all around the city, you are surely in for a treat when you reach that mountain-top!
4.Cliff Jumping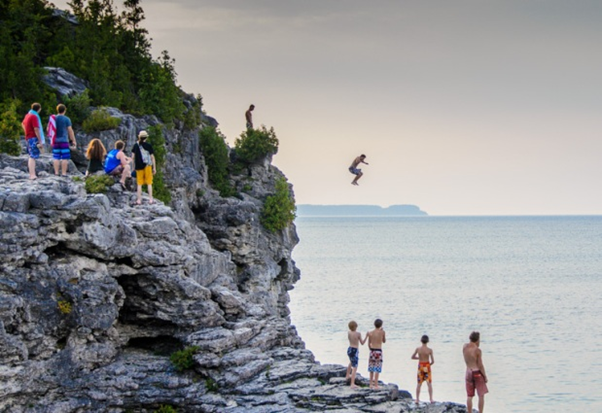 Image source: india24.xyz
Cliff jumping is serious business. And Rishikesh is full of options, when it comes to the right, picturesque spot for cliff jumping, aka, jumping from the top of a mountain, AT LEAST 35 meters in height. The height from where you jump may be more, if you are experienced and an adrenaline junkie.
5. Bungee Jumping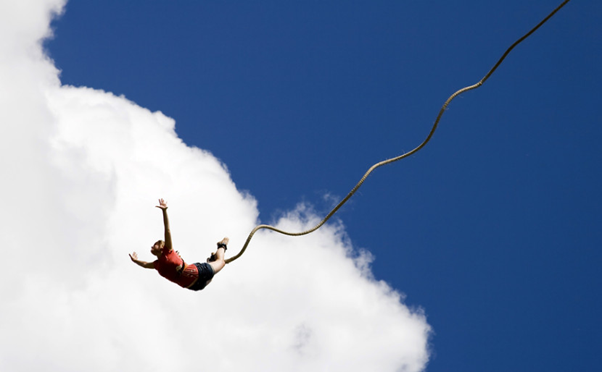 Image source: authormedia.com
Probably one of the most daring adventure sports ever, bungee jumping involves taking a free fall, with a harness attached of course, into the deep valley. The fall takes place generally from a height of a 150 meters. Bungee jumping exposes you to the beauty of Rishikesh valleys that might've not been visible to you from a normal standstill. THIS, by far is going to be one of the most endearing things to do in Rishikesh.
6. Giant Swing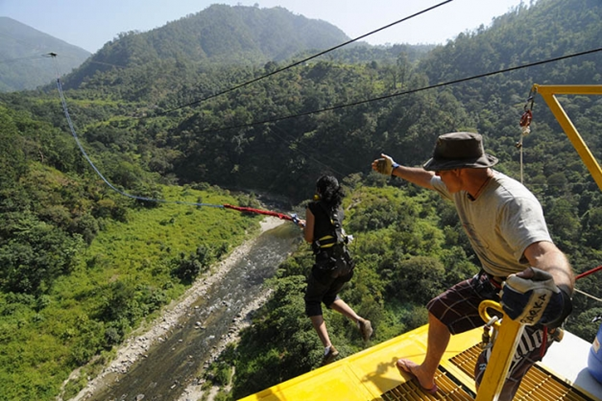 Image source: rishikeshtourism.in
Somewhat similar to bungee jumping, giant swing involves swinging via rope between two extreme ends of two mountains, at a height of approximately 80 meters.
7. Paragliding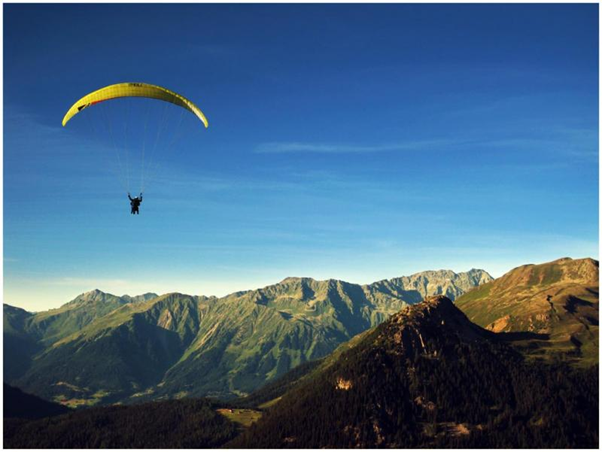 Image source: rishikeshtourism.com
Another adventure sport that involves jumping off a cliff with a parachute attached to you, get ready for an exhilarating experience as you witness the beauty of rugged mountains and valleys!
8. Flying Fox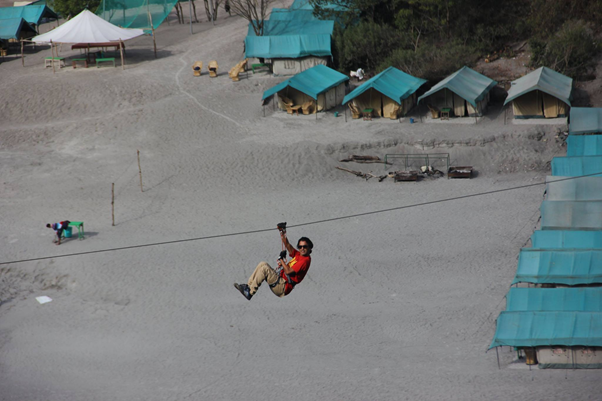 Image source:flyingfox.asia/destinations/rishikesh
A really fun activity to do with your buddies in Rishikesh, flying fox is generally done in a trio where, true to the name, you fly in the sky! So, fulfil your kid-dream of flying in the sky in Rishikesh!
9.Body Surfing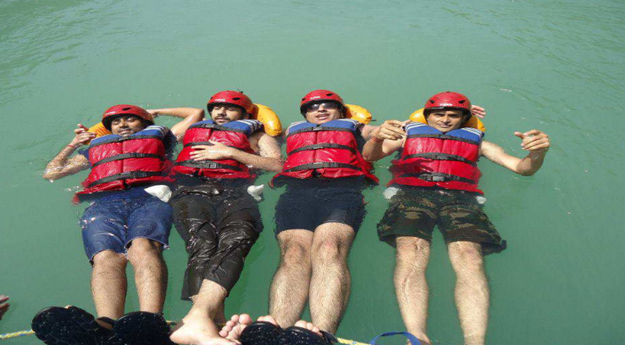 Image source: riverraftingrishikesh.com
Surfing is to face the waves in water with a board. Body surfing is to counter those waves with just lying bare on your back! As interesting as it sounds, the activity is much fun that where you just lie in the chilly waters of Ganga and experience the soft waves that gush through your body.
10. Mountain Biking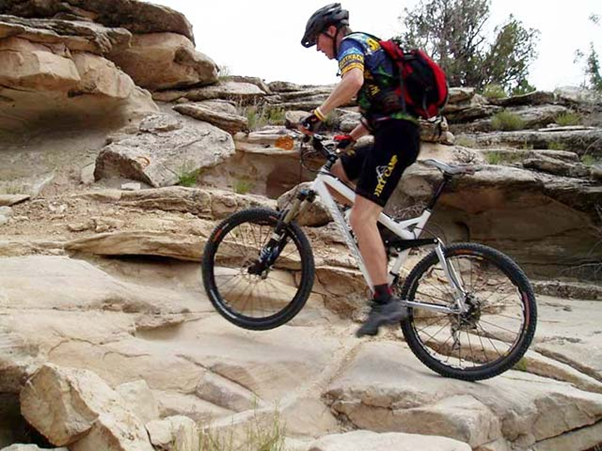 Image source: indianholiday.com
Biking in itself is a very calming experience and doing that among the lush, green mountainous terrain of Rishikesh is a must have experience. Get a mountain bike and protective gear on rent, easily available in Rishikesh and explore the beauty of the mystical city.
11.Waterfall Trekking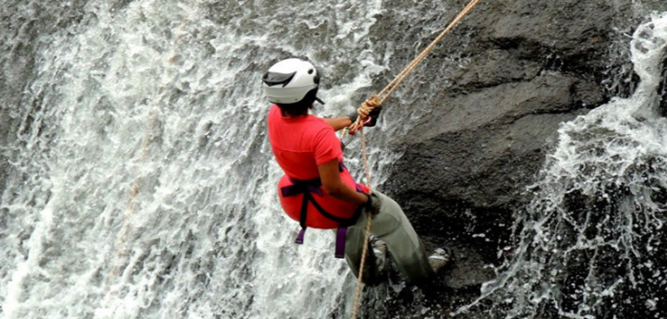 Image source: alaknandariverrafting.in
Waterfalls are a common phenomenon in Rishikesh and to be able to climb a waterfall sounds exciting! Trekking the mountain and tracing the path of the flowing water is adventurous enough to make you go do it.
12.Beach Volleyball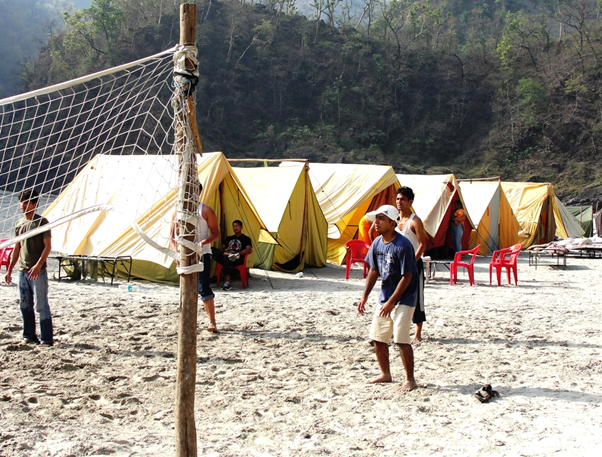 Image source: travelbonkers.wordpress.com
Not to forget the fact that you've come out on this holiday to chill, get on the wet sand and get a friendly match going with your friends and family. It sure is to rejuvenate you and increase your energy levels for other activities.
13. Mountain Trekking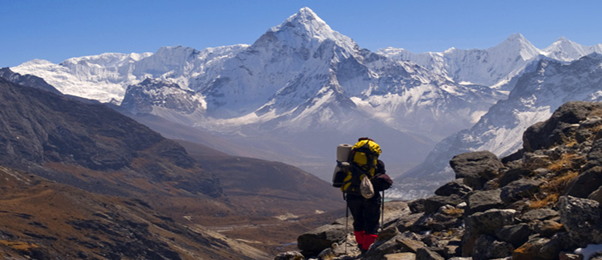 Image source: rishikeshadventures.weebly.com
With the terrain rich with flora and fauna endemic to Rishikesh, going on a trek with family and friends might just be ideal for you to wean all the city-life off of you for a while. So get your walking shoes and delve into the rich greenery and heavily oxygenated air!
14.Triveni Ghat Pooja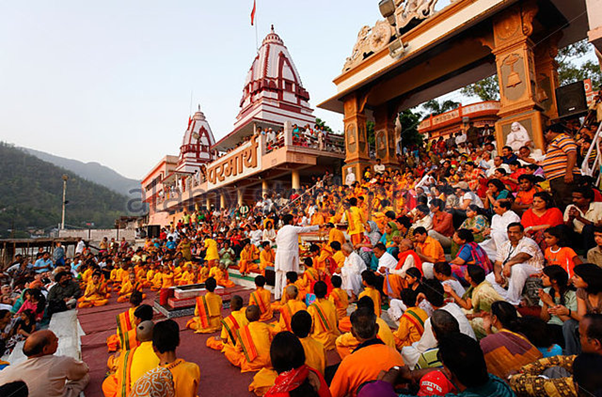 Image source: alamy.com
Triveni Ghat is by far the most famous river side places where the daily Maha Pooja takes place twice in the day; morning and evening. Every day, thousands of tourists and devotees gather here to witness the Aarti being performed and describe it as 'magical'. People seeking nirvana? This is the place to be.
15.River rafting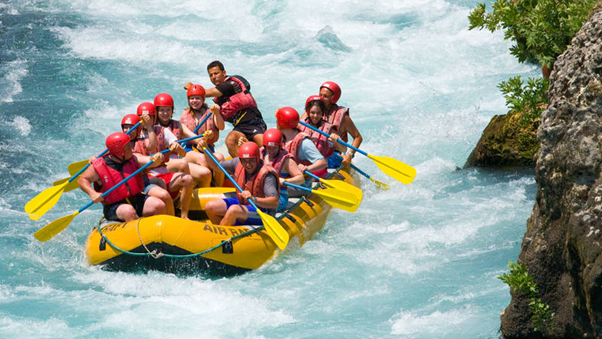 Image source: triphills.com
River rafting and Rishikesh go hand-in-hand. Going up, down and up again over the lofty, milky waters of the Ganges, dodging the rocks is an experience indigenous to this place and no other place can give you that thrill that adrenaline and that rush that makes you want to do it all over again.
16.Bharat Mandir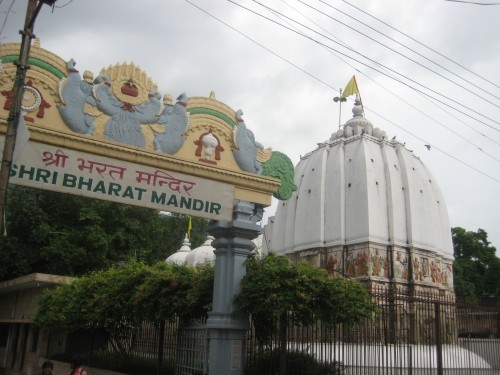 Image source: nticktravel.wordpress.com
Visiting Bharat Mandir when in Rishikesh should be a must, ode to its rich history. This is the temple for Lord Hrishikesh Narayan and holds a sacred position in the heart of many devotees. Legend has it, Lord Buddha has visited this temple too.
17.Lakshman Jhula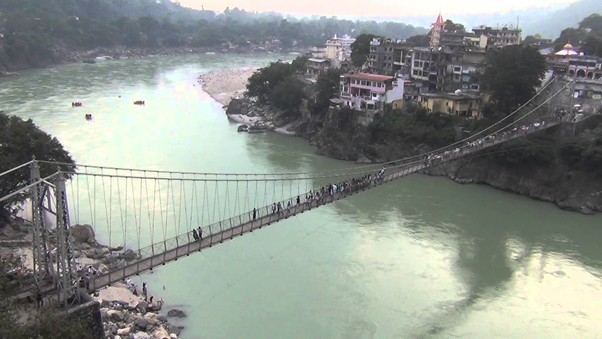 Image source: youtube.com
One of the statement structures in the town of Rishikesh is this Lakshman jhula, an identity of the place. It has a lot of markets and local bazaars around it due to which, the place is forever bustling with life.
18.Trayambakeshwar Temple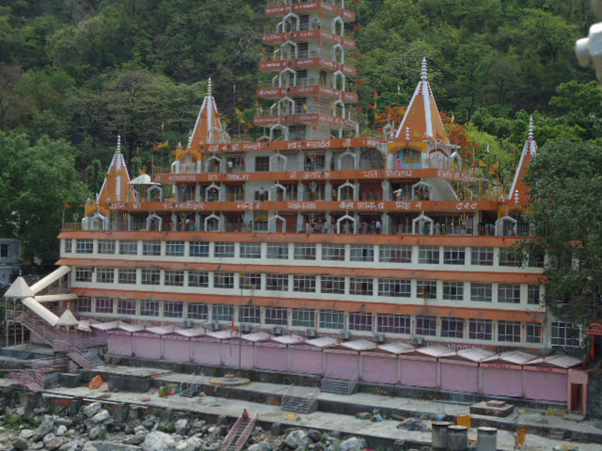 Image source: flickr.com
19.Parmarth Niketan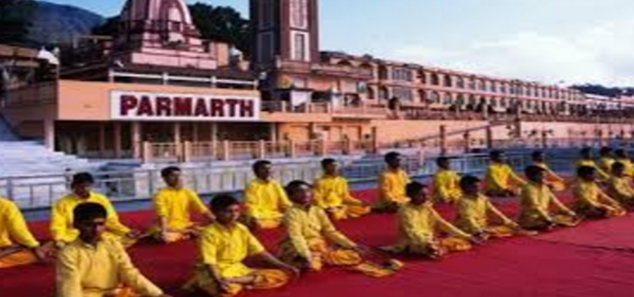 Image source: yoga.in
Parmarth Niketan remains one of the very limited Ashrams in India that still provide Vedic education to children. Visiting Parmarth Niketan is a must experience in Rishikesh to watch the kids in action doing the morning and evening Aarti.
20.Visiting Temples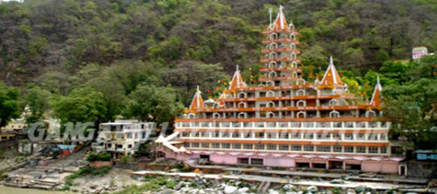 Image source: toumet.com
Visiting Rishikesh? You'll find a plethora of temples here. You can take a whole day out and go temple-hopping with your itinerary including trayambakeshwar temple, Mansa Devi temple, Maya Devi temple, Chandi Devi temple and the likes. The trio of the 3 Devi temples make the most mesmerizing places to visit in Rishikesh.
21.Aarti at Har ki Pauri Ghats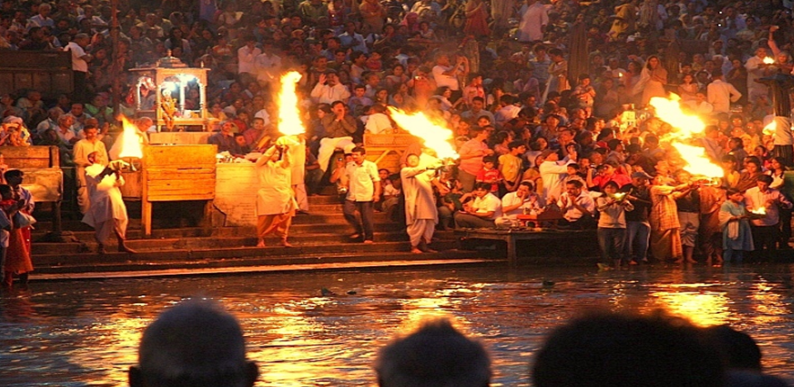 Image source: groupbookings.in
Hundreds of people flock the Ghats of the holy rive Ganga at the Har ki Pauri Ghat to witness the evening Aarti. Just because of this reason, Rishikesh finds itself as one of the most amazing weekend getaways in Northern India. As the Sun is setting down, the Aarti performed is a spectacle to watch!
22.Rajaji National Park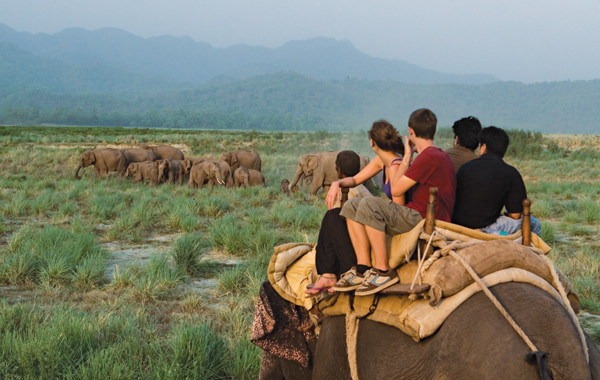 Image source: trippackage.in
Home to the Asiatic Elephant and the Bengal Tigers, Rajaji National Park is one place to visit in Rishikesh for the beauty of the extensive array of fauna. Get a jeep with guides and go on an expedition spotting Nilgai, Jungle cats, Leopards, Indian Hare, Indian Sloth, et all.
23.Yogpeeth
Image source: rishikeshyogpeeth.com
The land of Yoga, Rishikesh is home to some really effective Yogpeeth's or Yoga centres. People coming out of these centres can be spotted calling it a life-changing experience. Pack your bags for a weekend getaway to Rishikesh and explore the goodness of Yoga. A must have experience in Rishikesh, we say!
24.Luxury Yoga Centres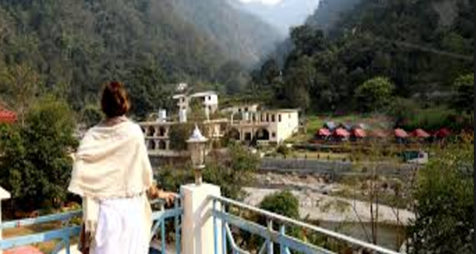 Image source: thesattva.com
If you are one of the luxury-seekers wherever you go, Rishikesh does not fall back. With exquisite centres for yoga and wellness in addition to detoxification programmes and spa sessions with oodles of spirituality, Rishikesh is the place to be!
25.The Beatles Ashram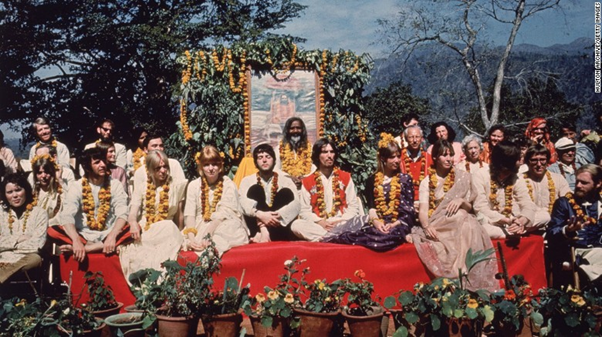 Image source: cnn.com
The Maharishi Mahesh Yogi Ashram (Chaurasi Kutia) in Rishikesh, also popularised as The Betles Ashram shoud be on your 'must-visit' places in Rishikesh. It has recently been revamped by the government and re-opened.
26.Music Concert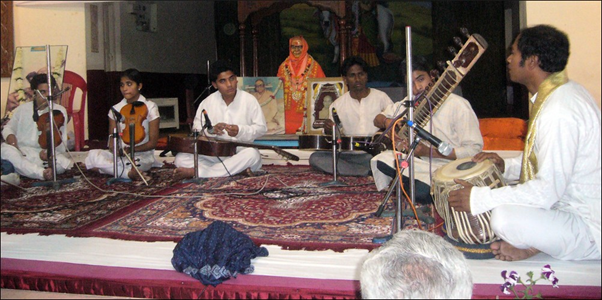 Image source: partage-culture-sarasvati.org
This a classical music school for children and every Sunday, they organise a sort of music concert, performed by the children learning tradional, classic music there. So when on a weekend getaway to Rishikesh, spend the Sunday evening rewinding here.
27.Ashram Activities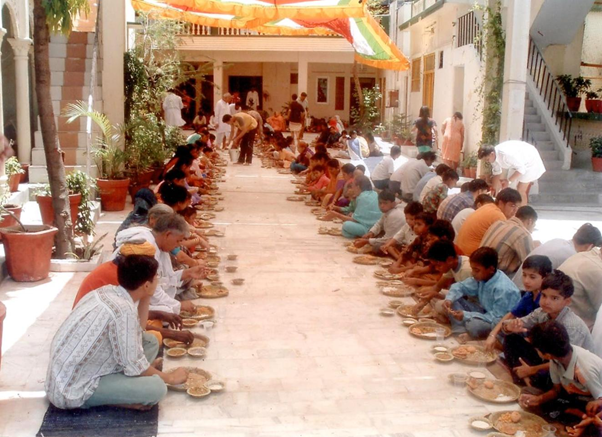 Image source:santsevaashram.org.in
You can always check into an Ashram for Yogic activities; however, apart from that, you can join an Ashram in Rishieksh to learn to meditate and explore your hidden facets. You can also learn a lot about Hindu's and their ancient philosophy acknowledged till date.
28.Relish Healthy Food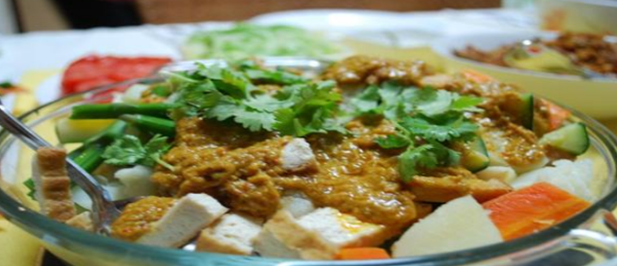 Image source: ixigo.com
A hub of wellness and rejuvenation centres, Rishikesh has a lot of healthy food centers and restaurants; one of the most popular being 'Mukti's Health Food'. You get delicious vegan food here, that has been freshly home-cooked and therefore is quite healthy. Run by a couple, head here to grab a meal from from oil, butter and cream.
29.A dip in the Holy Ganga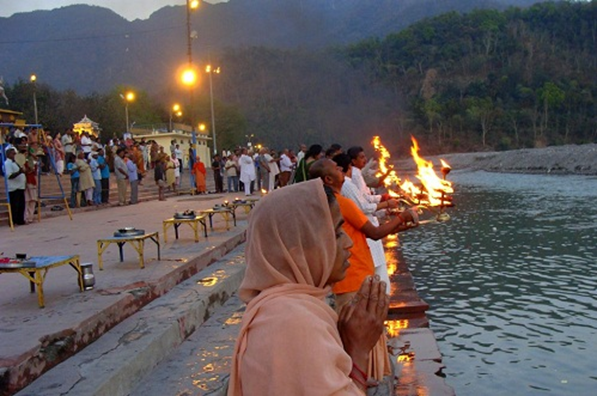 Image source: loupiote.com
A trip to Rishikesh can never be complete without a dip the waters of Ganga. One of the essentially top things to do in Rishikesh is this one. It is believed dipping into Ganga's water wash away all the sins committed by a person, whatsoever. This is the reason people flock the Ghats of Ganga all the time.
30.Osho Ganga Dham Ashram

Image source:oshogangadham.org
Founded by Osho, Indian spiritual guru and teacher, this Ashram is where you can learn some Osho Active Meditation techniques that can help you think better. You can simply relax and enjoy the lush surroundings or maybe take a walk in the adjoining oasis.
31.Byasi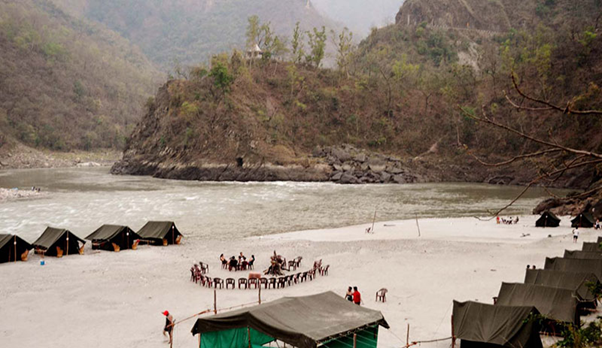 Image source: rishikesh.wildhawk.in
Rishikesh is abundant with adventure ports, however, they are all in different locations of the town. So the rescuer here is a place called Byasi, about an hour's drive from main Rishikesh city, Byasi is the hub of all adventure sports, all at one place. It is also home to the Shivpuri stretch, the longest stretch in India for rafting.
32.Rishkund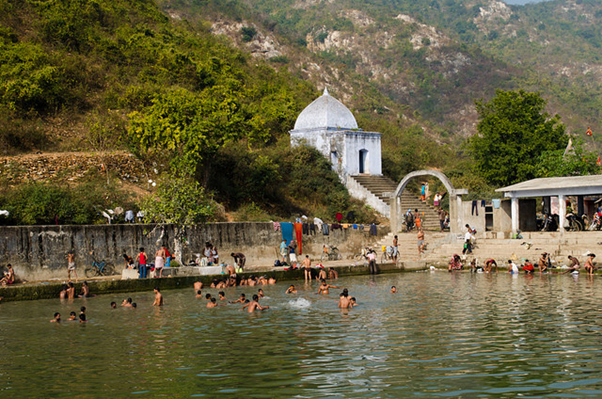 Image source: trodly.com
Known as the Pond of Sages, Rishikund is an artificial pond surrounded by steps on all sides. Legend has it that there was once a Sage by the name of Kubz who worshipped Goddess Yamuna and pleased, she filled this pond with water.
33.Camping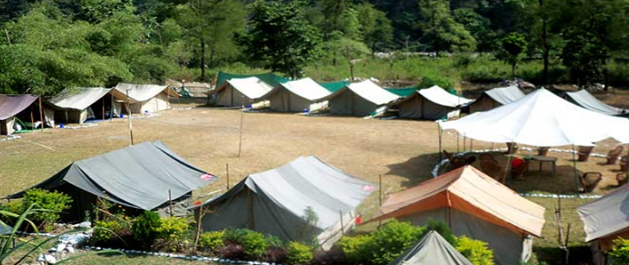 Image source: riverraftingrishikesh.com
Camping is such a great leisure activity and Rishikesh is full of little spots ideal to camp at!
34.Reiki and Astrology services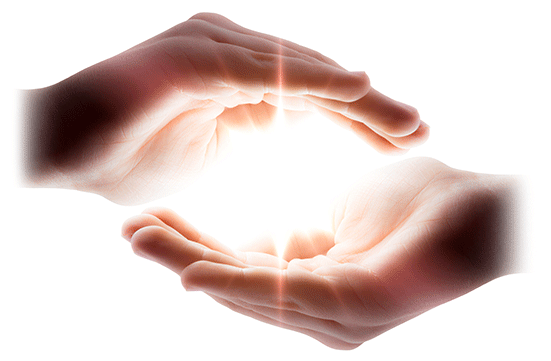 Image source: himalayanastrology.org
Reiki in Rishikesh? No wonder it's the land of spirituality! You can have personal astrology services on hire in Rishikesh and get your horoscope read by renowned tarot readers in Rishikesh. You can learn the art of Reiki yourself, too.
35.Vashishtha Caves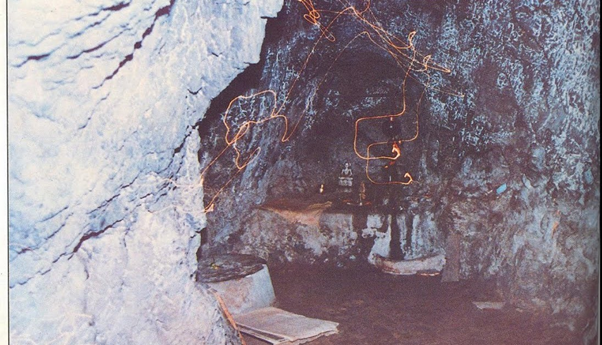 Image source: shravanam.blogspot.com
The caves or gufa, named after the sage (rishi) Vashishta (son of Lord Brahma), who mediated here are a popular attraction for peope who visit Rishikesh. People meditate here and according to them, find tranquillity.
36.Swarg Ashram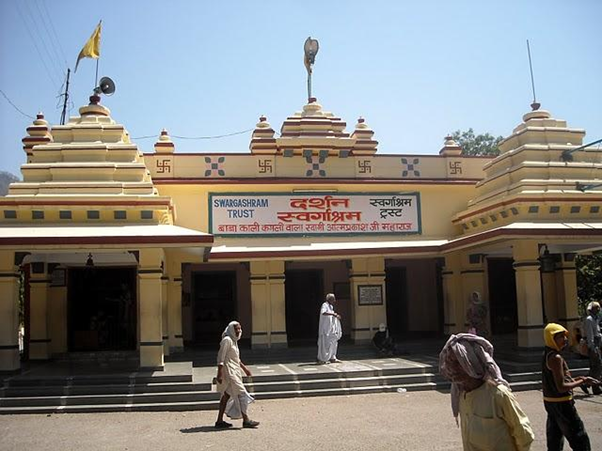 Image source: wikimapia.org
Swarg Ashram's literary meaning is heavenly abode and true to its word, this is a beautiful place amidst the flowing Ganga and the rocky terrain. Apt for meditation, this place has its own aura that transforms you into some other world.
37.Brahmpuri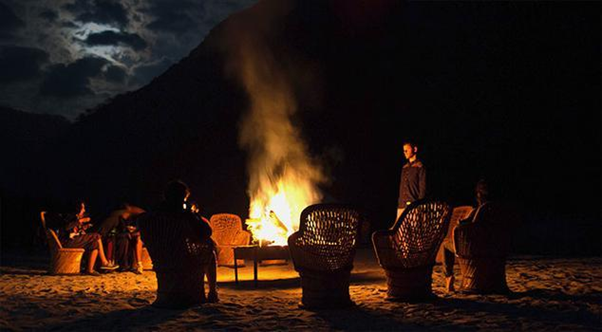 Image source:redchilliadventures.com
Brahmpuri is just another spot like Byasi, just a few minutes' drive from Rishikesh. This is one of the most ideal spots for camping by the river side, waking up to the fresh air and going for a hike and adventure sports.
38.George Everest House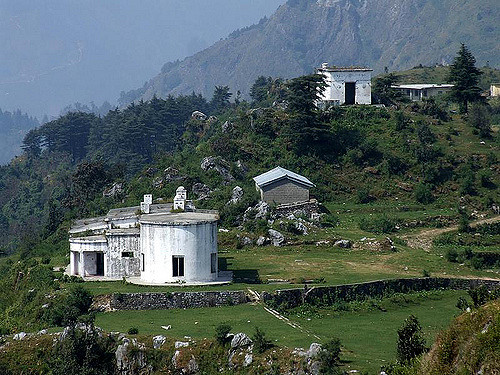 Image source: flickr.com
People generally hike up all the way through the George Everest Mountain to witness the breath-taking view, and of course the George Everest House, a little minaret. But the view is going to be onw of the must have experiences.
39.Neelkanth Mahadev Temple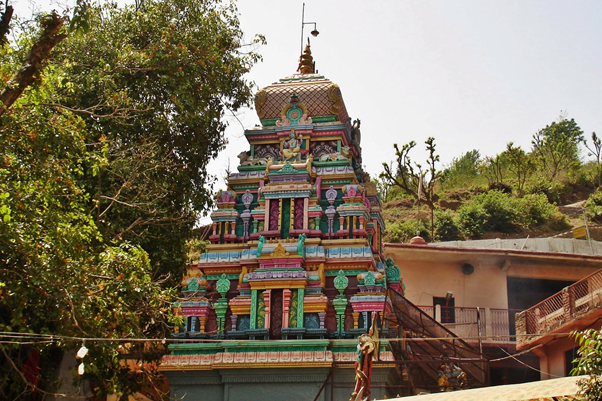 Image source: thegirlandhercamera.blogspot.com
Neelkanth is one other name for Lord Shiva, and this temple is dedicated to him. Situated a little away from Rishikesh, this temple has mythological importance due to the legend that Lord Shiva consumed the poison that emerged after churning the seas. Visit to know more!
40.Ananda in The Himalayas

Image source: indiatour.net
If you are the one to splurge on the holiday, this property is for you. This is essentially the converted property of the Royal Palace of Narendra Nagar, where even Lord Mountbatten once resided. They have indulgent packages of international spa therapies and professionals to guide you for the correct yoga asanas.
41.Ayurvedic tonics and teas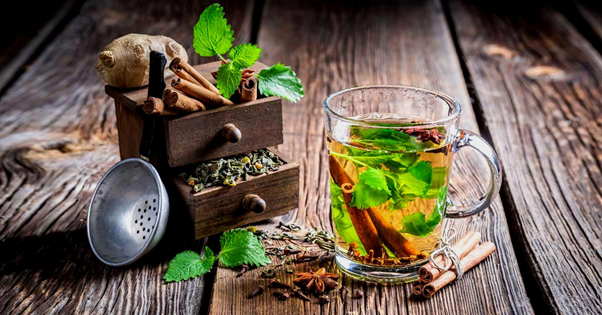 Image source: bramayoga.net
There are a few restaurants in Rishikesh that make up their own herbal teas and tonics using Ayurvedic ingredients and herbs; a must try experience when in Rishikesh.
42.Cuisine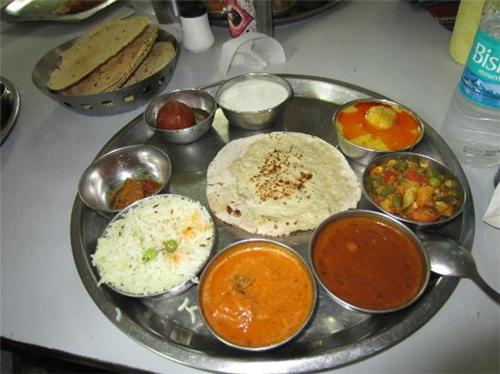 Image source: rishikesh.uttarakhandonline.in
There are no eateries selling non-vegetarian foods; they are completely banned in Rishikesh. You will find a lot of Satwik food here; food that is prepared without onions and garlic and surprisingly, you'll find it a delicious change. Most places here have a thali-system in place with about 5-7 vegetarian dishes being served with roti/rice. You have international cuisine too, but nothing non-vegetarian.
43.Local shopping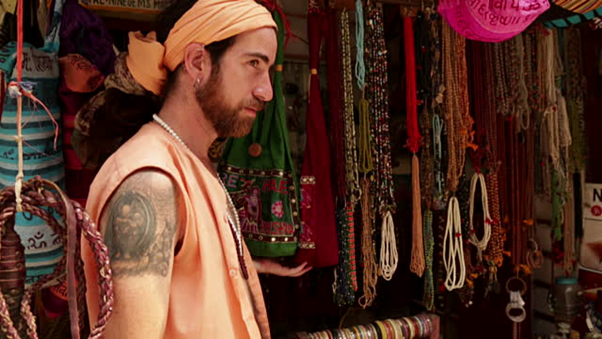 Image source: gettyimages.in
Just like any other destination you'll find many shops here, selling curios, bronze relics, aromatic incenses, and other exotic things. Since this place is flocked a lot by foreigners, prices will be a little exaggerated, nothing a good haggler cannot overcome.
44.Meditate to live music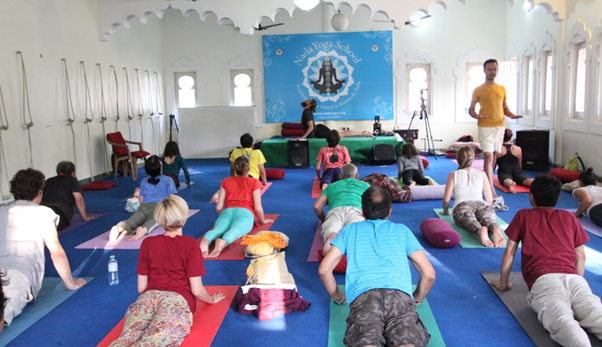 Image source: nadyoga.org
Swarg Ashram offers this group activity where live music plays and you meditate to it. They play different tempos of music for different type. When you calm your senses, light, soft tunes are played and the tempo increases when there is slow movement. All this is bound to increase your concentration power.
45.Yogic purification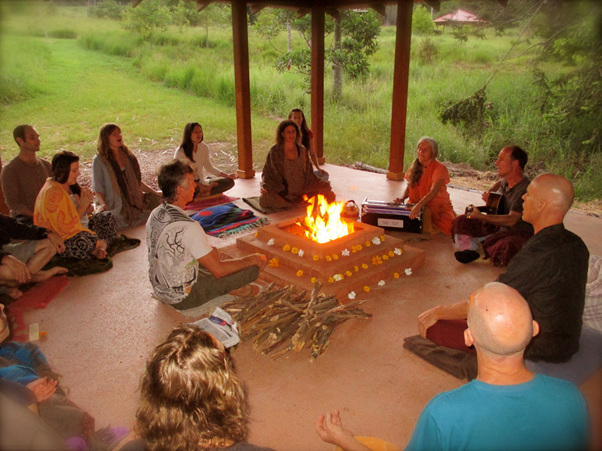 Image source: radiantlightyoga.com
Yogic purification is an activity that takes place at the Swarg Ashram where your body and mind are cleansed from the within and detoxified. Not only does this make the body stronger to fight diseases and pressure, it makes the mind happy and free of tensions.
46.Gita Bhawan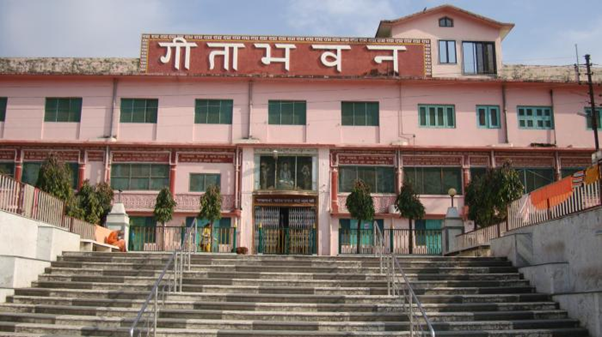 Image source: wikimapia.org
Guru Shri Ram Sukh Daas ji is considered to be one of the greatest thinkers of his time and the Gita Bhawan in Rishikesh is a place built by him. It has devout importance among the Hindu's and Ramayana readings happen here twice a year where people gather around to read the legendary scripture.
47.Getaway to Mussoorie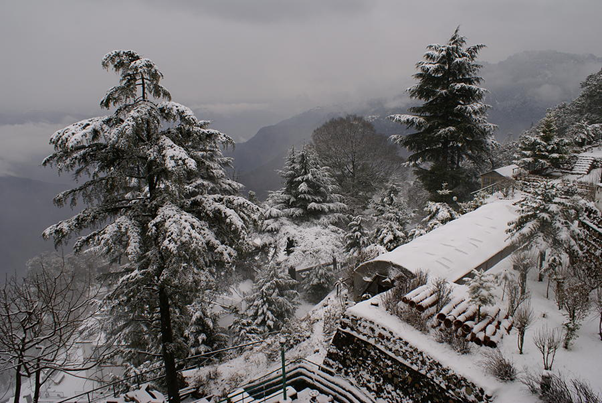 Image source: fineartamerica.com
Mussoorie, the queen of hills is just a two hour drive from Rishikesh and will be an amazing spot for you to chill away the ending of your holiday.
48.Getaway to Dhanaulti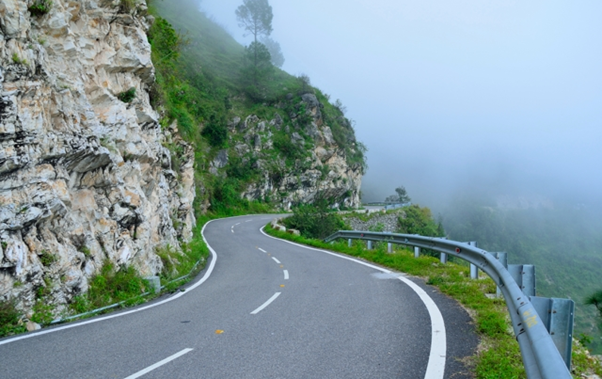 Image source: gotravelaz.com
Dhanaulti us just a few kilometres away from Rishikesh and a little colder than Rishikesh, making it the ideal destination for a little drive.
49.Getaway to Pauri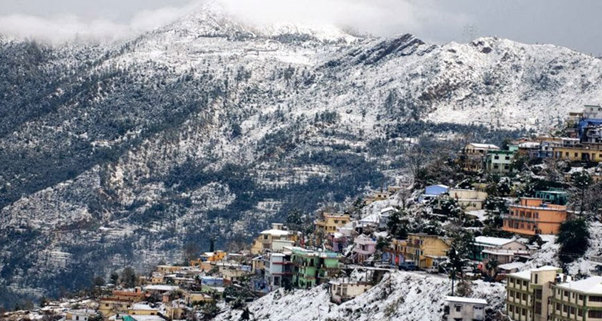 Image source: gangavalleyadventure.com
A little further off route, Pauri's picturesque locations won't let you leave Uttarakhand without visiting this place.
50.Sleep!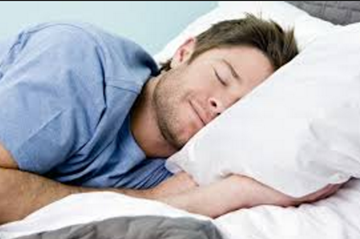 Image source: valleysleepcenter.com
Remember, you are here on a holiday to relax and chill; keep some time with you to sleep the city-habits off.