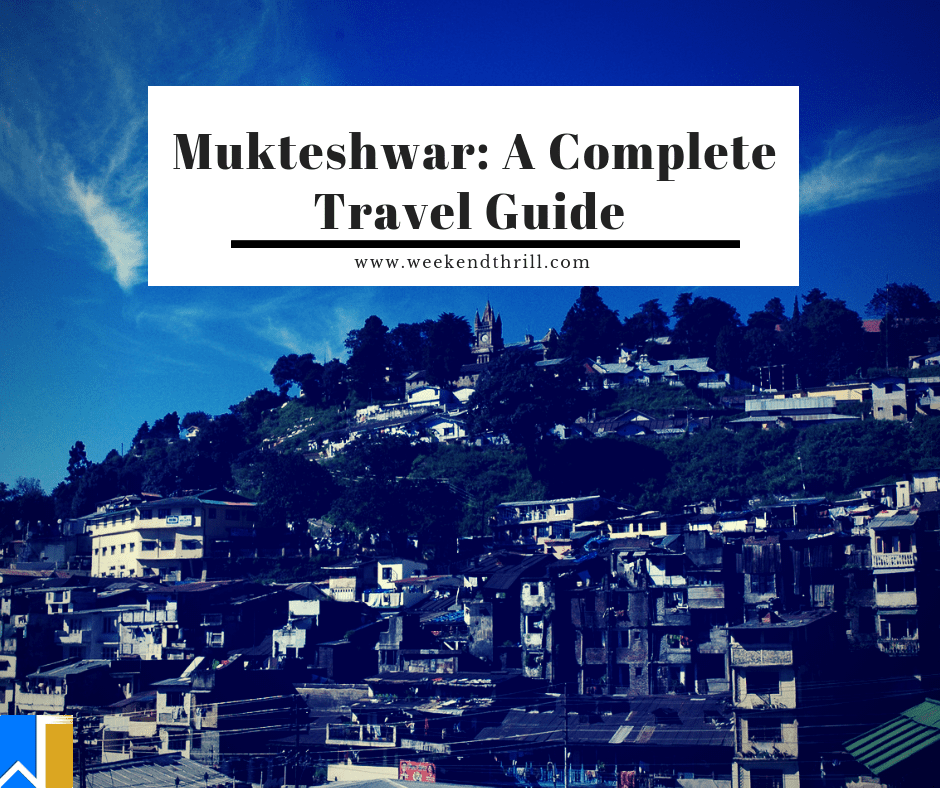 Mukteshwar is a hill station and a tourist destination and it is located in Nainital district of Uttarakhand. It is seated at an attitude of 2,286 meters in the laps of the Kumaon hills. This town got its name from a Shiva temple situated here by the name of Mukteshwar Dham. This temple is 350 years old and it is a very famous pilgrimage spot.

Mukteshwar was developed by the British as a center for research in the year 1893. Mukteshwar is surrounded by thick and dense forests of coniferous trees and fruit orchards. Perched atop a hilltop in the Kumaon region, Mukteshwar offers a 360 degree panoramic view of the majestic Himalayan mountain range.

History of Mukteshwar :

Mukteshwar was previously named as Muktesar as cities in Jim Corbett's book 'The temple tiger'. This name changes in 1947, and was renamed to Mukteshwar. Mukteshwar was only known for its temple until 1893. It was a quaint little hamlet.

Even the famous Nobel Prize winner scientist, Robert Koch has visited this place. The scientific equipment used by him are showcased at the museum managed by IVRI. The visitors attraction includes, the Hill carved cold room of the 1900s which is made up of biological materials.

Legend has it that, Lord Shiva had a fierce battle with a demon at Mukteshwar, when the demon was annihilated Shiva gifted him the boon of salvation or 'mukti'. Therefore, the place came to be known as Mukteshwar.

Geography of Mukteshwar :

It has an average elevation of 2,286 metres. Mukteshwar is situated in Nainital district at a distance of 51 km from Nainital, the district's administrative headquarter and 72 km from Haldwani, the largest city in Nainital.

Mukteshwar is rich in scenic beauty, with magnificent views of the Indian Himalayas including India's second-highest peak, Nanda Devi. Because of the hilly topography, agriculture in the area consists chiefly of potato fields and fruit orchards on terraces cut into the hillsides.

Mukteshwar is well connected by roads in the hilly terrain of Uttarakhand.

Climate of Mukteshwar :

Mukteshwar has a subtropical highland climate. The pattern of seasons is similar to that in other parts of northern India, with distinct summer, monsoon and winter seasons. However, due to its high elevation, Mukteshwar is spared the intense heat of lower-lying towns and cities.

Mukteshwar has cold winters and relatively cool summer with drastically escalated rain, in relation with lower altitudes, and frequent fog. Summers are warm with moderate rainfall, while the monsoon season is slightly cooler and features much heavier rain. Winters can be quite cool, and temperatures below freezing are not unusual. Snowfall occurs occasionally in December and January, though it is sparse, while the heavy rainfall events occurs during the monsoon season stretching from July to September.

How to reach Mukteshwar :

By air :

Mukteshwar doesn't have an airport of its own, but due to its proximity from Nainital, people can visit Mukteshwar from Nainital's airport which handles domestic flights by the name of Pant Nagar airport. It is situated at a distance of 91 kilometers from Mukteshwar and it takes about 3 hours to reach Mukteshwar from this airport. Pantnagar airport is one of the least busiest airports in India and it handles only 6-8 scheduled flights in a week. This airport is well-serviced by Air India.

By road :

There are daily buses run from Delhi. Delhi is at a distance of 382 kilometers from Mukteshwar and it takes about 9 hours to reach Mukteshwar from Delhi. It is connected by the National highway 9. Public buses and private transfers are available which provide transport till Mukteshwar.

One can also drive till Mukteshwar, as Mukteshwar is well serviced by an extensive system of roads.


By rail :

The nearest railway station is Kathgodam which is located at a distance of 67 kilometers away from Mukteshwar. One can book a taxi to reach Mukteshwar from the railway station. You can also walk out of Kathgodam station and reach the bus station which is at a distance of 1.5 kilometers away, and take a bus to Nainital. This is an economical option. One can also hail a taxi to reach Mukteshwar from Kathgodam railway station.

Things to see and to do in Mukteshwar :

Visit Dhanachuli :

Dhanachuli is a small hamlet which is located at an altitude of 7,000 feet from the sea level. Thi is located at a very close proximity to Mukteshwar, and this hamlet is blessed with scenic grandeur and a serene environment. This place is perfect to just relax and do nothing and unwind from the everyday stress of a busy hustle.

Explore Chauli ki Jali :

Chauli ki Jali is one of the most famous attractions in Mukteshwar. It is located behind the cliff which contains the Mukteshwar temple. This is paradise for nature lovers. The vast expanses which lie beyond Chauli ki Jali are unadulterated and pure. This is a favorite spot for adventure seekers as you can perform mountain climbing and bungee jumping. Chaul means rock and Jali means hole.

Visit Mukteshwar temple :

Mukteshwar temple is dedicated to Lord Shiva. The town derives its name as Mukteshwar from this 350 year old temple. This temple is perched at an elevation of 2,300 meters above sea level and it offers a fantastic view of the enchanting surroundings. This temple boasts a simple architecture with stone steps leading to the abode of the deities.

Visit the Indian veterinary research center :

This was built and maintained by the British, the Indian veterinary research center is one of the leading research facilities engaging in livestock research and is dedicated to the development of this region. It also houses a museum and a library within its campus.

Visit the Methodist church :

This is a homely church, in keeping with the town in which it was built for. The walls and the roof the church are well preserved. The only way to enter inside the church is to visit it between 3 to 4PM on a sunday.

Food in Mukteshwar :

Mukteshwar has quite a few restaurants and eating joints which offer multi-cuisines ranging from Chinese, continental to the scrumptious Indian cuisine – both North Indian and South Indian. Apart from that, one can also enjoy street food like Momos which are available all over the place and enjoy coffee by the lake side.

Here is a list of some of the restaurants that serve some of the most delicious food in Mukteshwar:

Nirvana organic kitchen

Rosefinich cafe and restaurant

Borra food plaza

Madhuban cottage

Cafe Chaandi Mati

Cafe Mukteshwar

Shopping in Mukteshwar :

Kilmora shop :

Kilmore shop offers a unique shopping experience to its patrons. Buy local handicraft souvenirs made from locally sourced material. Kilmora shop sells handicrafts at a very affordable and an economic price.

Choco-House choclatiers :

Choco-house sells some of the most delicious handmade chocolates in Mukteshwar region. The chocolates made here are fresh and are only prepared using locally sourced products. These chocolates are extremely delicious.

Clothes to pack to Mukteshwar :

Mukteshwar usually has a very pleasant climate. The clothes to pack usually depends on the season of your visit. If you are planning on visiting in the summer months, pack a lot of light clothes. In the winter months, Mukteshwar gets pretty cold, so pack lots of warm woolen clothes.