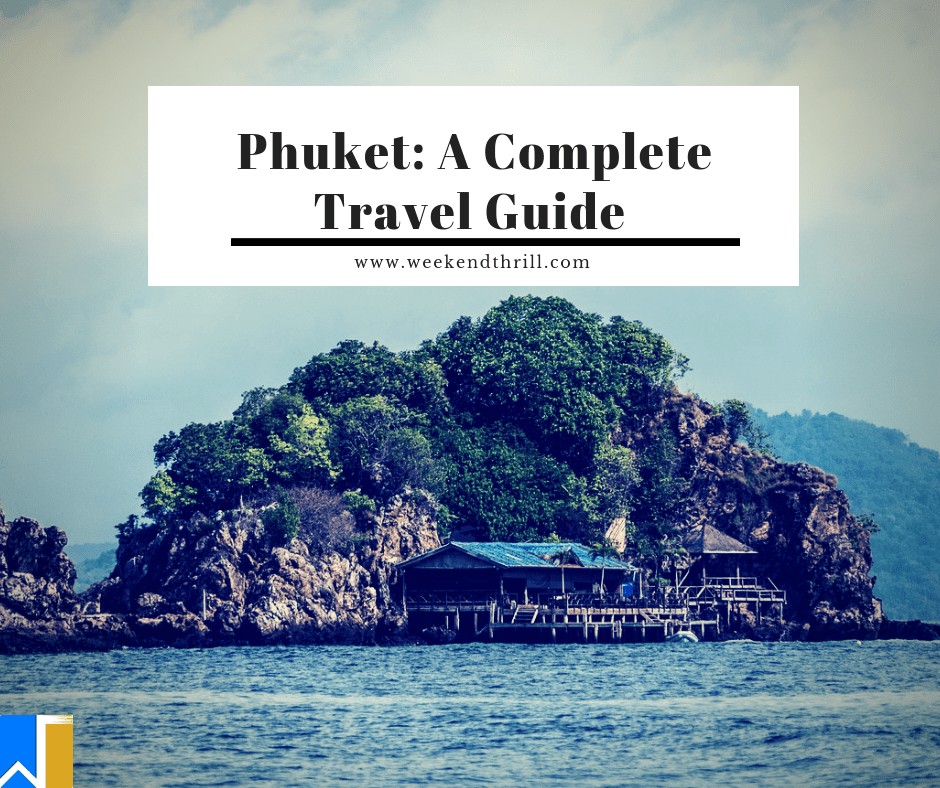 Phuket, a rain forested, mountainous island in the Andaman Sea, has some of Thailand's most popular beaches, mostly situated along the clear waters of the western shore. The island is home to many high-end seaside resorts, spas and restaurants. Phuket City, the capital, has old shophouses and busy markets. Patong, the main resort town, has many nightclubs, bars and discos.

Phuket is one of the smallest provinces of Thailand. Phuket's beauty is unparalleled in all of Thailand. Phuket consists of Thailand's largest island and 32 other islands off its coast. Phuket Island is connected by the Sarasin Bridge to Phang Nga Province to the north. The next nearest province is Krabi, to the east across Phang Nga Bay.

History of Phuket :

---------------------------------------------------------
Best Deals for the Month
Phuket has been a part of a major trade route between India and China and was frequently mentioned in the logs of the Dutch, French, Portuguese and the English traders. Because of its role as a stopover in a major trade route, Phuket has been a colonial hub from centuries ago. Phuket also has huge resources of tin and rubber which was exported to these countries.

In the 17th century, the Dutch and English competed for an opportunity to trade with Phuket because of its rich tin reserves. After the Dutch and the English gained influence in the area, the then king of Siam seeking to reduce the influence of Dutch and English named a French missionary, Brother Charboneau as the first governor of Phuket. Brother Charboneau remained as the governor of Phuket till 1685.

The French were soon expelled from the island of Phuket in the 1688 Siamese revolution and the island of Phuket was back in the control of the native people. The Burmese attacked Phuket in 1785. Than Phu Ying Chan, the wife of the recently deceased governor, and her sister Mook assembled what local forces they could. After a month-long siege of the capital city, the Burmese were forced to retreat on 13 March 1785. The women became local heroines, receiving the royal titles Thao Thep Kasattri and Thao Si Sunthon from a grateful King Rama I.

Geography and landscape of Phuket :

Phuket is the largest island in Thailand. It is in the Andaman Sea in southern Thailand. The island is mostly mountainous with a mountain range in the west of the island from the north to the south. The mountains of Phuket form the southern end of the Phuket mountain range, which ranges for 440 kilometres from the Kra Isthmus.

Phuket is approximately 863 kilometres south of Bangkok, and covers an area of 543 square kilometres excluding small islets.The island's length, from north to south, is 48 kilometres and its width is 21 kilometres. Seventy percent of Phuket's area is covered with mountains which stretch from north to south. The remaining 30 percent are plains in the central and eastern parts of the island. It has a total of nine brooks and creeks, but does not have any major rivers.

Climate and best time to visit Phuket :

Under the Köppen climate classification, Phuket features a tropical monsoon climate. Due to its proximity to the equator, in the course of the year, there is little variation in temperatures. The city has an average annual high of 32 °C and an annual low of 25 °C. Phuket has a dry season that runs from December through March and a wet season that covers the other eight months. However, like many cities that feature a tropical monsoon climate, Phuket sees some precipitation even during its dry season. Phuket averages roughly 2,200 millimetres of rain.

The rainy season begins with the arrival of south west monsoon around mid-May. September is the wettest month. The rainy season lasts until October. The hot season is generally dry but also sees occasional summer storms.

Phuket can be visited all throughout the year. November to February is an ideal time to visit these popular destinations as the climate cools down considerably allowing you to enjoy the sights and visits to various places.


Many water related activities may be restricted during the monsoon months due to the intensity of rainfall.

How to reach Phuket :

By air :

Phuket has an international airport called as the 'Phuket international airport'. Flights from all over the world land in Phuket. Taking a flight to Phuket airport is the cheapest way to reach Phuket. Always book a return ticket to save money on flight bookings. There are flights from all the major Indian cities to Phuket. Air India, Malaysian airlines offer the cheapest flight options.

By sea :

One can travel to Phuket via sea as well. Since Phuket was originally a part of the trade route between India and China, this route is still operational till today. While travelling via sea, while the fare of the trip is extremely less, the time taken to travel increases.

A ferry from Chennai passes through the bay of Bengal and crosses through the Andaman sea to reach the port of Phuket. The distance between the port of Chennai and the port of Phuket is 1348 nautical miles.

One can also take a ferry from Mumbai or Kolkata as well and reach Phuket.

By road :

Thanks to the Indian government, establishment of the Trilateral highway between India, Myanmar and Thailand has been completed. The highway begins in Moreh in Manipur and ends in Mae Sot in Thailand. The average distance travelled from India to Thailand is approximately about 4,305 kilometers.

Make sure to apply for a visa on arrival in Myanmar. A step by step guideline is provided by the government of Myanmar for the issual of visas. You can read the step by step guideline here : www.myanmarvisaco.com

You could apply for a visa on arrival in Thailand or you can take one beforehand.

You require an International driver's permit (IDP) to make the journey seamless. Thailand and Myanmar accept IDP as a valid license permit. You could apply for IDP in zonal RTO's in India. They require the following documents.

Valid driving license of home country.

Permanent address proof.

Identity proof along with valid passport.

Then fill out the required forms and pay an amount of 500 processing fee. The validity of IDP lasts for about a year from the issued date.

After entering the borders of Thailand, head towards the south east coast of Thailand, where Phuket is located. It takes nearly 3 days and 8 hours to travel from Mumbai to Phuket via road.

Things to see and do in Phuket :

There are plenty of really memorable things to do in Phuket. The island itself has a beautiful historical old town, great viewpoints and iconic cultural attractions. It is also a good base for exploring the nearby islands and must-see attractions. These include world-famous places like Phang Nga Bay and the Phi Phi Islands.

Visit Phang Nga Bay :

A distinctive feature of Phang Nga Bay are the sheer limestone karsts that jut vertically out of the emerald-green water.  James Bond Island and Koh Panyee are just two of the more famous spots in this bay. By far the best means of enjoying the spectacular scenery.

Spend a day on Phi Phi island :

Phi Phi islands is Thailand's superstar island. Even with all the hype around it, it doesn't disappoint. The islands, when approached by boat, rise from the sea like a fortress. Sheer cliffs tower overhead, then give way to beach-fronted jungle. Phi Phi island is a tropical island dream come true.

Visit the Big Buddha :

Visible from the most part of south Phuket, the giant Buddha sits on top of Nakkerd hills and looks down on Chalong, Kata and Rawai. The size of this Buddha is a massive 45 meters and it cost 45 million Baht for construction. A lot of people write messages on the bricks of the Big Buddha for good luck and in memory of passed-away loved ones.

Learn to cook traditional Thai food :

If you are looking for ways to make your journey to the Land of Siam become more richer, than the best way to do so would be to take traditional Thai cooking classes. There are many cooking schools located near Patong beach, take a class from their course list of classes ranging from a 30 minute class to a 6 hour one.

Explore the Sirinat National park :

This national park was founded in the early '80s, and consists of three beach areas along the northwest coast of Phuket. It includes a couple of beaches, including Nai Yang, Sai Kaew, and Mai Khao, as well as the mangrove forest where the saltwater and freshwater mix. This is a good place for camping. During the spring, endangered Leatherback Turtles come here to lay their eggs.

Visit the Thalang national museum :

If you are eager to find out more about historical Phuket, then make a visit to the Thalang National Museum. The Museum holds an exhibition of ancient artifacts from Old Phuket and items used during the war with Burma. This is a great way to immerse yourself in the history of the island.

Visit the Phuket weekend market :

Known also as the Naka market, this market is located right outside of Phuket Town. It is a crazy assortment of local and secondhand goods, interesting objects, and a huge variety of food.


Explore the Khao Phra Thaeo wildlife park :

Take a trip to the Khao Phra Thaeo Conservation Development and Extension Center, a center focused on preserving the environment. The center contains a park which is home to a number of endangered animals, and also contains giant trees in the midst of dense a dense forest. Make sure to check out the Nam Tok Sai waterfall, which is located close to the park headquarters. There is also a floating restaurant located among the mangrove trees.

Go Temple hopping :

Most of Phuket's population is Thai-Buddhist and there are close to 40 Buddhist Temples located all over the island. Wat Chalong is one of Phuket's most important temples and is visited by thousands each year. It's beautifully decorated, with infinite reflections from hundreds of tiny glittering glass pieces on its many pagodas. Wat Chalong is the spiritual centre of the island of Phuket.

Visit the Old Phuket town :

Sino-Portuguese splendours and funky shops in the most unlikely places will surprise and delight you in the heart of Phuket's sleepy provincial capital. The unique blend of colonial and Chinese architecture, along with a tangible quaintness, makes for a fascinating and unforgettable afternoon spent sauntering around Phuket's Old Town.

Food in Phuket :

The town of Phuket has been established after being recognised as a part in the major trade route. Being a harbor town, Phuket's cuisine has been influenced by foreign traders who frequented the town. Chinese cuisine has a huge influence on Phuket's cuisine due to a number of descendants of Chinese traders that settled down in Phuket.

Southern Thai food makes more use of coconut milk than elsewhere in the country. Curries are richer and creamier. The cuisine is influenced by nearby Malaysia; spices such as cumin, cloves, turmeric and aniseed, which are not used elsewhere in Thailand, are commonly used here. As a result of the heavy muslim influence, less pork is consumed here than in other parts of Thailand.

Here is a list of some of Phuket's local cuisine :

Ah-Pong : It is the signature snack of Phuket. It is made with flour, egg yolk, coconut milk, sugar; water and yeast.


Ang-Gu : It is a popular snack eaten during the auspicious ceremonies of Phuket. This snack is made from glutinous rice flour, vegetable oil, sugar and gold nuts.


Gaeng Som Blah : It is a traditional fish curry made in Phuket.


Oh-Aew : It is the signature dessert of Phuket. Oh-Aew is made from jellied banana-flour mixed with boiled red beans, ice and sweet red syrup Extra jellies and fruit is also added to make it sweeter and more flavorful.



Lo Bah : Lo Bah is deep fried pork organs served with fried tofu and spicy sweet sauce.


Oh-Tao : Oh-Tao is a famous hotdish in Phuket. Oh Tao, is a fried oyster or seafood dish prepared with eggs, flour, bean sprouts and taro root.


Pat Tai : Pàt tai is a local Phuket noodle dish prepared using a unique curry paste.


Moo Hoong : It is a stewed pork dish. It is originated from the Chinese dish called as "Hokkien".


Kanohm jin : Kanohm Jin is a noodle dish made from rice or fish and is topped with sauce.

Where to shop and what to buy in Phuket :

The island has a great variety of shopping, from bustling open-air village food markets, noisy night markets, street stalls and local shops to western-style department stores and upmarket specialist shops. Prices naturally vary, going from amazing bargains to credit card-melting designer labels. With traditional handicrafts, beautifully-designed clothing, jewellery, antiques, housewares and much more to choose from.

Jungceylon shopping market :

Standing downtown, diagonally opposite Bangla Road, the Jungceylon Shopping Complex has radically changed the face of shopping in Patong. The 200-plus other stores in this shopping heaven sell brand-name clothes, spectacles, sunglasses, cosmetics and perfumes, shoes, DVDs, computer games, tons of mobile phones and accessories, electrical goods but it is also a great entertainment haven with a five-room SF Cinema and a 16-lane bowling alley, perfect for rainy days or to escape the heat of the day.

Phuket weekend market :

Also known as Naka market, Chao Fa West Road just outside Phuket Town not far from Central Festival, is a fascinating jumble of secondhand goods, curios, pirated items, live animals and a large amount of great local food to sample.

Phuket walking street :

Phuket Walking Street is the latest attraction featured in Phuket Old Town. Also-known-as Lard Yai, which means 'big market' in southern Thai dialect. This weekly market started in October 2013 and is hosted on the beautifully renovated Thalang Road, right in the middle of the historical Sino-Portuguese district of Phuket Town. Phuket Walking Street allows visitors to discover some typical southern Thai culinary specialties as well as local handicraft and gift stalls.

Money saving tips :

1 Eat from street stalls :
Food from street vendors in Thailand is some of the best Thai food. You can easily have a bowl of noodle soup, pad thai, or fried rice for 30 THB.

2 Rent a bike or ride in a songthaew : If you are looking forward to exploring Phuket on your own, renting a bike is the best option. Bike rentals for the whole day is a lot cheaper than taking a taxi. Songthaew are converted pickup trucks that double as shared taxis, that come in at lesser price than tuk-tuks and taxis.

3 Bargain : Use your negotiation skills to the fullest while shopping in the markets. The general rule is; the more you buy, the cheaper the prices will be. So, shop in packs and get the best price on products. Do not pay the first price that you were quoted.

Bargain with a smile and a friendly attitude. If you attempt to bargain in Thai then you must know your numbers well. Learn the words Thukk (cheap) and Phaeng (expensive) if you want to bargain with the native merchants.

Money Exchange :

The currency of Thailand is Baht. 1 Baht = 1.92 Indian Rupees.
Bangkok is a relatively expensive place, so the key to save money while travelling is to be frugal in expenditure.

Clothes to pack to Phuket :

The general idea is to cover your shoulder and knees (for both the sexes). Thailand is a very modest country, so modest clothing is the best attire that you can wear. Since Thailand is a very hot country, the answer to you clothing situation is Linen. Use linen clothes to keep your body relatively cool and enjoy the Land of Siam.

Pack a lot of sunscreen and swimsuits for your day at the beach.

Thailand Visa :

Thailand provides visa on arrival for Indians. To provide this visa, Thailand enforces certain conditions. They are,

One must show a return ticket, flying out of Thailand within 15 days.

One must also show funds of 10,000 THB per person and 20,000 THB per family as living expenses.

The visit must be strictly for tourism purposes only.

It is advisable to obtain a visa beforehand in order to skip the long lines at the immigration office in Thailand. To apply for a visa before you get a regular visit visa from The royal Thai Consulate general which is in three cities – Delhi, Kolkata and Chennai. The documents required for Visa are,

Passport which has a 10-year validity which remains valid for 6-months from the date of departure.

2 Passport size pictures.

Filled and signed visa application form.

Air tickets and hotel vouchers.

Last 3 months' bank statements in original on banks' stationary.

Important contacts :

Phuket is a relatively safe place to live in, and the locals are ready to help out foreigners. The list of contacts in case of emergency are

Thai police – 191 oe 123

Ambulance and rescue – 1554

Fire department – 199

Medical emergency – 1669

Indian Embassy in Bangkok –

+66 2 258 0300