One of the first thoughts that come to mind when we hear "Rajasthan" is about dessert or the high temperatures. Rajasthan is definitely one of the hottest states in the country. Other than the rich heritage and crafts, this royal state is famous for its killing temperature in summers.

But every cloud has a silver lining. In this case, it is some of the places in Rajasthan that are comparatively cooler than the rest of the state. You can take refuge in these places while the sun continues to shower flames on us.

Grab a glass of lemonade and scroll down the list to find a perfect place to run to.

---------------------------------------------------------
Best Deals for the Month
Let's start.

Places in Rajasthan to escape summer heat
Lake Pichola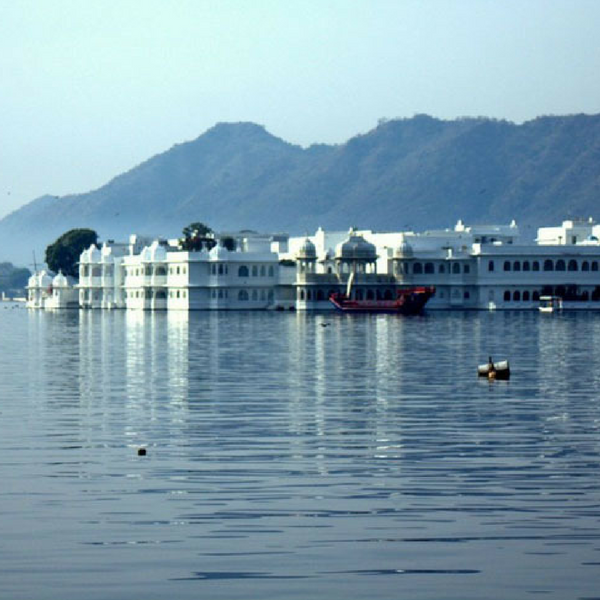 Source:lakepichola

City: Udaipur

Udaipur is also known as the "City of Lakes" or "The Kashmir of Rajasthan". As the name suggests, this city is blessed with many lakes and is breathtakingly beautiful.  As there are many water bodies in the area, the temperature is fairly moderate and much cooler than other parts of the state.

There is so much to see in Udaipur, but keeping summer heat in mind, one of the best places to visit is Lake Pichola.

There four islands in the lake- Jag Niwas, Jag Mandir, Mohan Mandir, and Arsi Vilas. There are palaces on the first two islands. Lake Pichola is surrounded by picturesque hills and bathing ghats. While there, you must enjoy the boating and visit all its islands.

The lake water will soothe you and is a perfect break from summers.  
Keoladeo National Park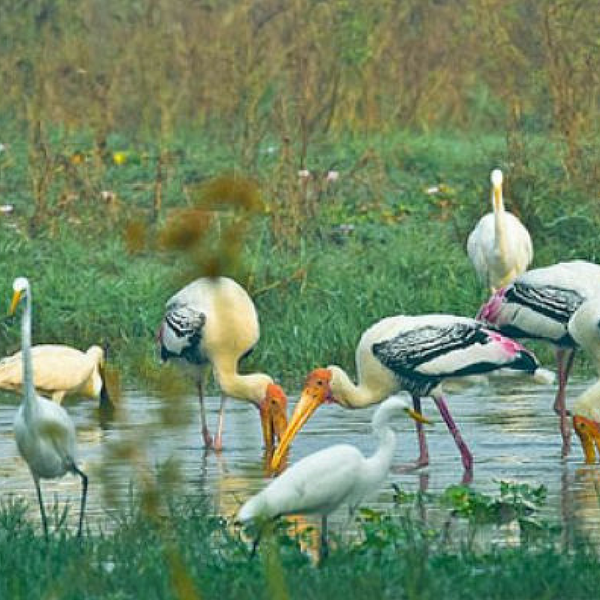 Source: rajasthandirect

City:Bharatpur

Why not visit the place we have all been reading about in our textbooks. Keoladeo National park attracts experienced bird watchers as well as tourists because of its diverse fauna.  You can either walk around or take a cycle-rickshaw. It is advised to spend 6-8 hours to completely enjoy the place. There are plenty of native and migratory birds and observing them and knowing them better is sheer delight. The place is heaven for photography freaks as well. The place, mainly famous for the bird species, also hosts monitor lizards, jackals, blue bulls, turtles, deer etc. Plus, this is a perfect hideout from the sun.

Whether you can't differentiate between a peacock and a parrot or you are a keen bird watcher, you will find this place highly captivating.  

Grab some sunscreen and a pair of binoculars, a great weekend is waiting for you. 
Fateh Sagar Lake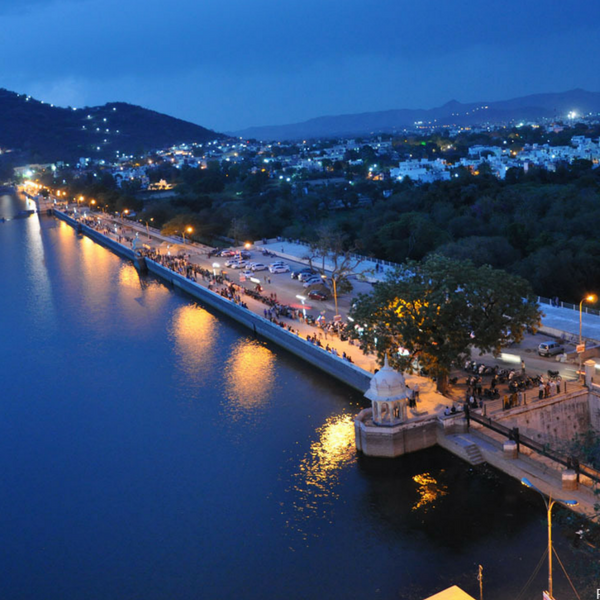 Source: udaipurtimes

City: Udaipur

One of the major attractions of the city is Fateh Sagar Lake. This lake gives you a tranquil experience. You can find a perfect spot while watching the water, visit the different flower exhibitions or cultural programs that are organized from time to time, know more about the history of the place by visiting the museums, picnic in the parks made alongside the road, enjoy the street food, take a walk or you can try boating, water adventure rides or camel rides. Also, there is an Aquarium that will amuse you.

There is a park in the middle of the lake- Nehru Park.  You can take a ride in the boat to reach the place and have fun there.

Either you are a local or a visitor, this place is a perfect spot to take shelter from the killer summer heat.
Nakki Lake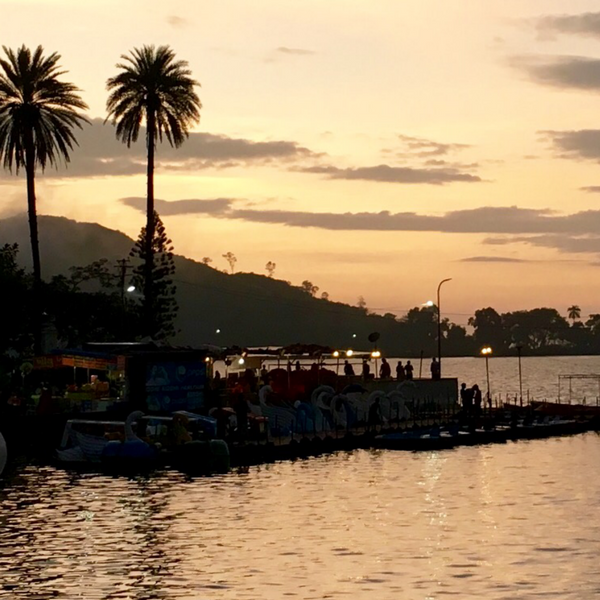 Source: mountabu

City: Mount Abu

This place gives provides you serenity from the hustle and bustle of life.  The lake has a garden near it where you can picnic, get pictures clicked in traditional outfits or just sit and enjoy the view. You can choose from different types of boating available or take a stroll along the lakeside. There are also many local shops and food joints near the lake for you to discover and enjoy. The place looks magnificent in evenings and night.

Sounds like a perfect place to spend lazy summer days? Then pack your bags. Hills are calling! 
Garden of Maidens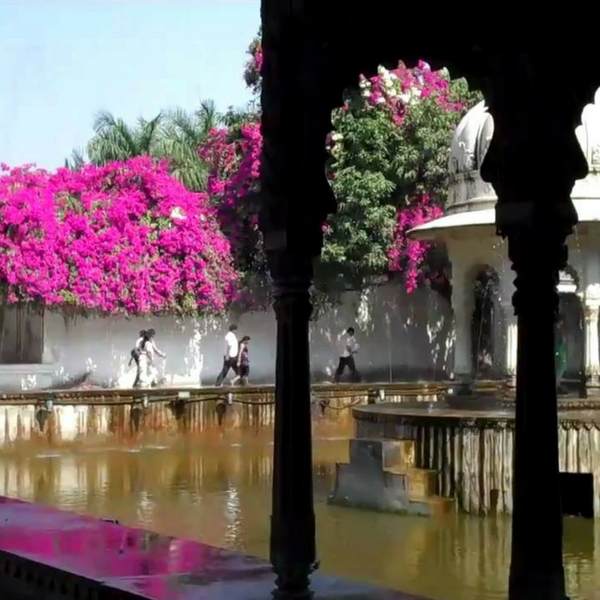 Source: youtube

City: Udaipur

Sahelio Ki Bari or Garden of Maidens is a major garden and tourist spot in the city. It has fountains, kiosks, and lotus pools to provide you with a soothing experience. The queen with her maids and female companions used this place as a relaxing spot and this garden is serving the same purpose till date.

The main attractions are natural fountains, different types of flowers, and a swimming pond made for the queens. Also, there is a museum inside the garden.

While there, you can stroll around, observe the fountains and understand their working, observe things at the museum, enjoy the rain effect of the fountains, or sit by the lotus pond and relax.

This place is definitely one of the calmest places in the city.

Spending time in the garden will not only save you from heat but also, this will help your mind and body to relax.

Plan a day out here and enjoy!
Siliserh Lake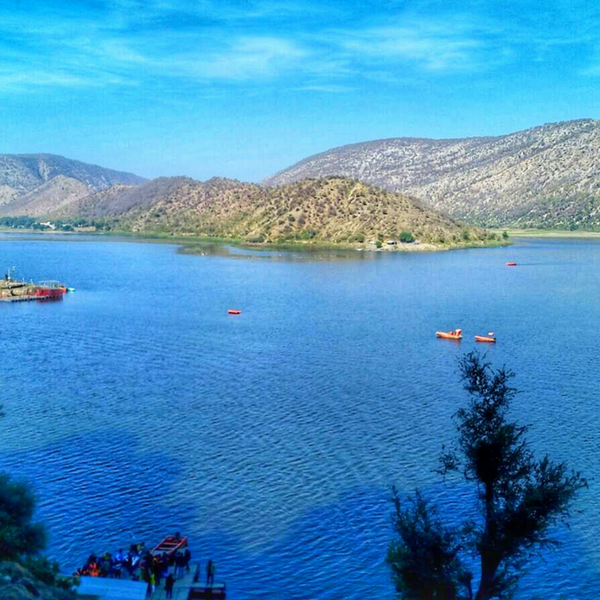 Source: eattravellaugh

City: Alwar

If you want to stay away from city and spend some quality time, this is your place. Siliserh Lake is at a little distance from the main city. It's large and picturesque. You can sit there and relax by the lake side as the water provides a calming experience. You can also go boating or jet ski in the waters of the lake. On the lakeside lie Siliserh Palace and some cafes. The place also provides good view of mountains that envelope the lake. Bonus point: Famous movie "Karan Arjun" was shot here, so you get to relive moments from one of the classic Bollywood movies.

Boating, skiing, sighting and the calming effect of water makes it a perfect place to spend summer days.

Spend a day in the lap of Mother Nature and let her protect you from the high temperature. 
Guru Shikhar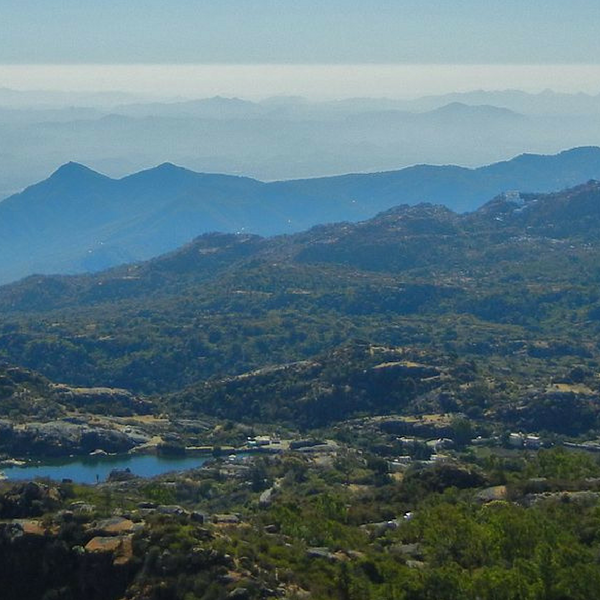 Source: wikipedia

City: Mount Abu

It is a peak in the Arbuda Mountains of Rajasthan and is the highest point of the Aravalli Range. At the summit, there are two temples dedicated to Dattatreya and his mother. Adjacent to the temple is the Mount Abu Observatory which has infrared telescope and some Astronomy instruments as well.

It is advised to visit the place in the evening as you have to climb a lot of stairs in order to reach the top. While there you can enjoy the spectacular view as the wind caresses your face. This place will take all your worries away and leave you refreshed. Also, you can try local food stalls on the way.

Time to conquer the top. 
Sunset Point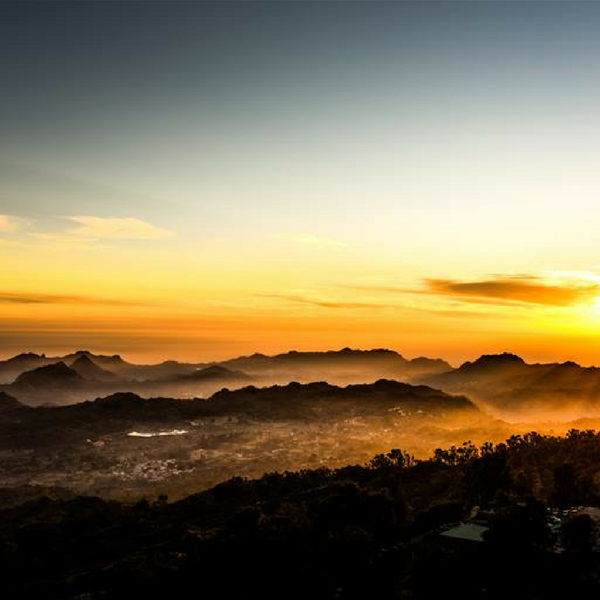 Source: tourism.webindia123


City: Mount Abu

Sunsets are magical in a very amusing way. Be it from the balcony of your room or over some lake or hill, sunsets never cease to amuse us. One such sunset point is in Mount Abu. Covered with greenery and hills on all the sides, this place provides a perfect view of the setting sun. While in Mount Abu, you must pay the visit to this point. A lot of tourists visit this place every day, sit on the hills and enjoy their snacks as they view the beautiful sunset.

Nothing can be better than saying goodbye to the sun on a summer day, right?

Don't forget to pose and take some great pictures while there. 
Bailey's Walk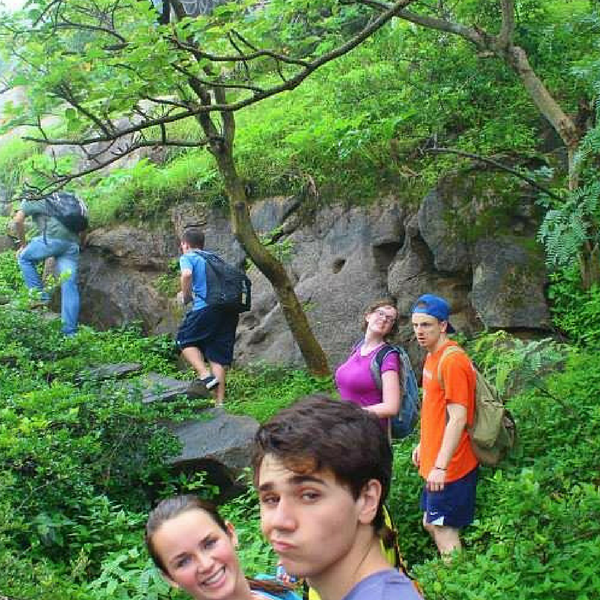 Source: tripadvisor

City: Mount Abu

Mount Abu is a blessing for Rajasthan, especially in summers. It is a wonderful trek that takes you from Nakki Lake to the sunset point. The view on the top is breathtaking and absolutely worth the effort. It is a long but easy trek with green hills by your side. Midway, there is a point from where you can see the whole valley. Also, you fill find Jamun trees along the path. You must try this exciting Jungle trail with your friends. Also, there are abundant shady places in the way, in case you want to just sit back and feel relaxed for a while.

If you are a nature lover or adventure fan, you must try this trek.

Time to find peace in the woods, away from the sun.    
Sitamata Sanctuary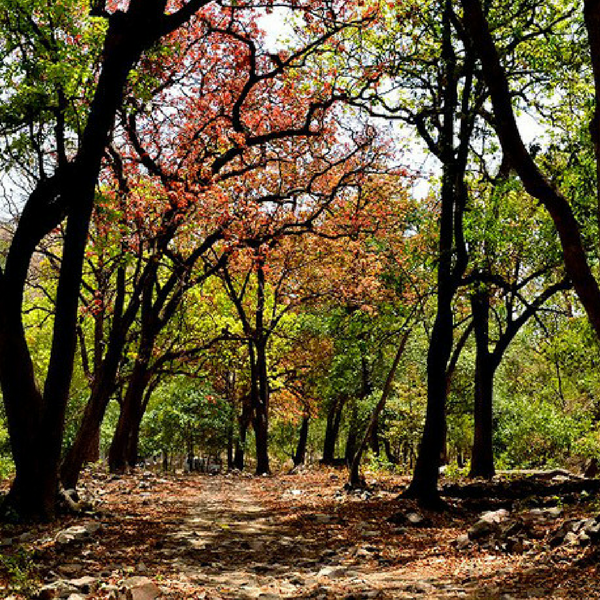 Source: sitamatawildlifesanctuary

City: Pratapgarh

Spread within an area of 422.95 square kilometres, this wildlife sanctuary has rich flora and fauna. It is also famous for its forests of teak, bamboo, strained fruit, amla, etc.

The forests, variety of birds and animals, rare herbs etc. make it a perfect place for any nature lover.

Few rivers flow through this region making the temperatures fall down a bit.

While there you can enjoy the calm of this place, take a path in ponds of the area, enjoy the waterfall and have a great picnic.

Don't forget to pack food and snacks with you, as there are no arrangements in the jungle. (Though you can always collect some forest fruits an eat them!)

This place is a fun escape from the scorching heat. A lot of adventure and fun is waiting for you. Are you ready for an exciting day in the woods?

Though Rajasthan is famous for its high temperatures but it has its share of hideouts as well. Choose your next weekend destination and take a break from the heat.

Happy summers!
Also Read,
8 SUPER COOL TREKKING PLACES YOU NEED TO VISIT AROUND JAIPUR
11 BEST 2 DAY TRIPS FROM JAIPUR
16 IDEAL WEEKEND GETAWAYS FROM JAIPUR FOR A FUN LONG WEEKEND