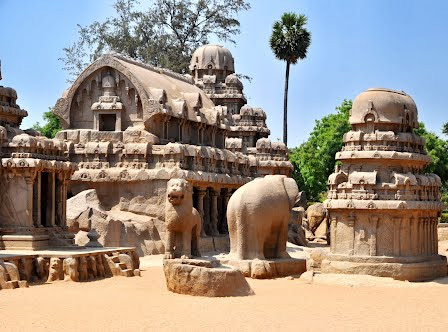 Mahabalipuram is considered as the most stopover tourist destination in Tamil Nadu. There are different stories related with the origin of Mahabalipuram and you will find this destination as the most loved place in the country. Some people say that, this place is named after demon Mahabali, who was popular for his benevolence and on the other hand, some believe that it's named after the Pallava dynasty King Narsimhavaram I, who was one of the greatest warrior as well as his name was kept due to his various achievements. There are countless historical monuments that will simply amaze you. There are many activities to do in Mahabalipuram.
1. Popularity of Mahabalipuram: comes under UNESCO World Heritage Site!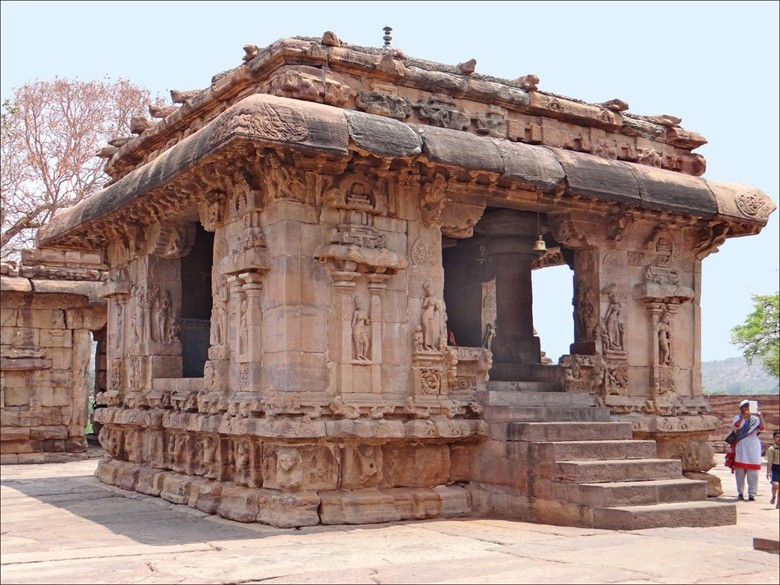 ---------------------------------------------------------
Best Deals for the Month
Explore UNESCO world Heritage sites! (Source: flickr.com/Jean-Pierre Dalbera)
Wow! What could be more exciting to see the place, which comes under UNESCO World Heritage Site? This is simply enthralling to visit the place that has its own ancientness and significant sculptures, temples and historic monuments that depicts the historical traditional and cultural legacy. You will come to know more about Dravidian civilization in Mahabalipuram. There are many activities to do in Mahabalipuram for people who are seeking peace and adventure both.
2. Relax and find divinity in the Shore Temple!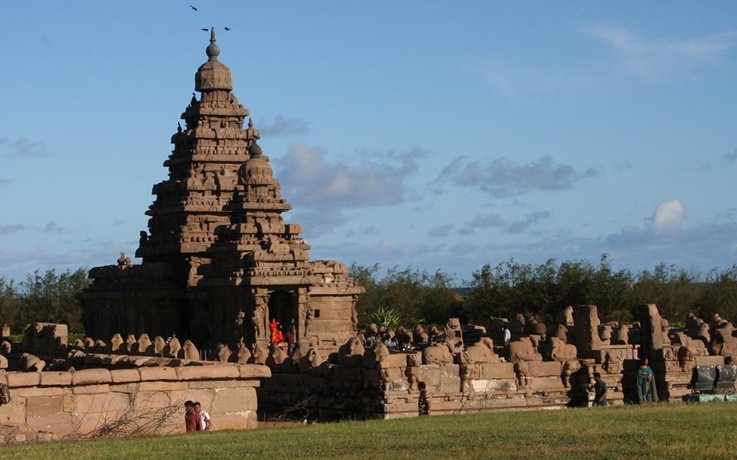 Shore Temple, built in 8th Century! (Source: flickr.com/Nagarjun Kandukuru)
The main attraction of this place is Shore temple that is devoted to Lord Vishnu and Lord Shiva, located on the Bay of Bengal along with the gateways from western side far from the sea. It's one of the most amazing World Heritage Sites as well as one of the prehistoric rock-cut temples around the nation. It's known for its beautiful craftsmanship, embellished motifs and complex carvings. The architectural design of this Shore temple is absolutely fascinating. There are many activities to do in Mahabalipuram like you can enjoy the architectural experience of this temple and enhance your knowledge and feel proud about your country!
3. Experience the Five Rathas sight!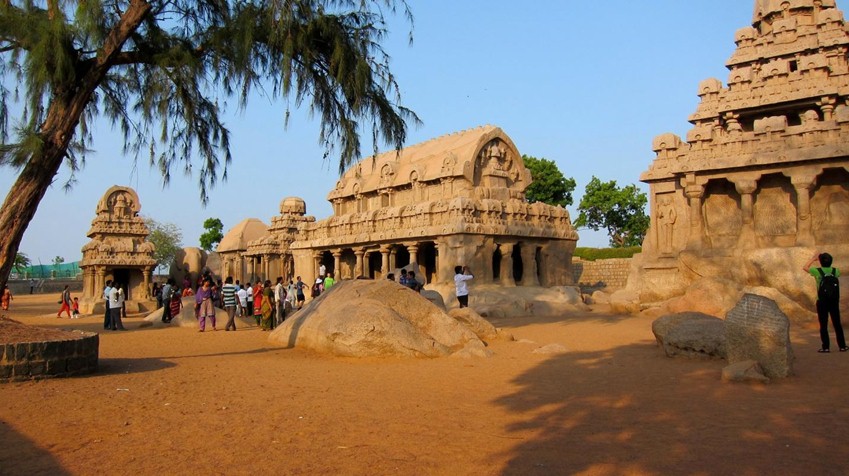 Huddled together near southern end of the Mamallapuram, this Five Rathas appear like buildings to people, however they were, surprisingly, all engraved from single huge rocks. All these 7th century temples are dedicated to Hindu Almighty and are named after pandavas, the 5 hero brothers of the ancient Mahabharata, and their wife Draupadi. These five Rathas were buried under the sand till excavated by British around 200 years ago. You will experience this sight with tremendous bewilderment. There are many activities to do in Mahabalipuram at this site as well.
4. Explore your adventurous side on Mahabalipuram Beaches: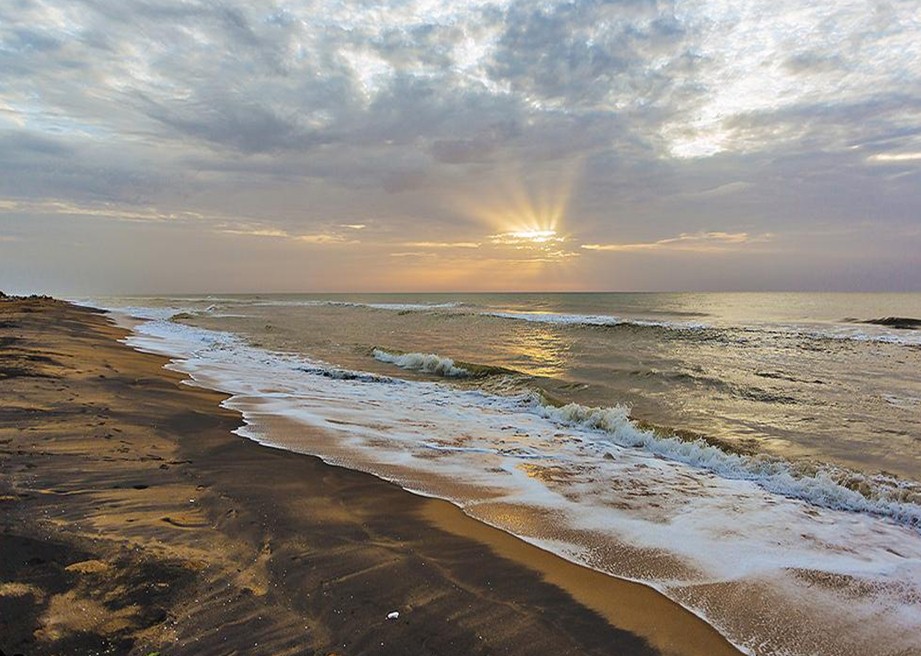 Enjoy sunny and sandy though Beautiful Beaches of Mahabalipuram! (Source: flickr.com/Sriram Jagannathan)
On sunny days and sandy seashore you can explore your adventurous side on the beaches of Mahabalipuram. This place has a rich history, which is summed up in the entirety. There are many things to do in Mahabalipuram beaches. The beaches are white, clean and mesmerizing. You can enjoy your days over here and tourists from around the world come to this place in search of serenity, explore their adventurous side and gain knowledge about various world historic sites and monuments.
5. Discover the impressive figures in Tiger's Caves: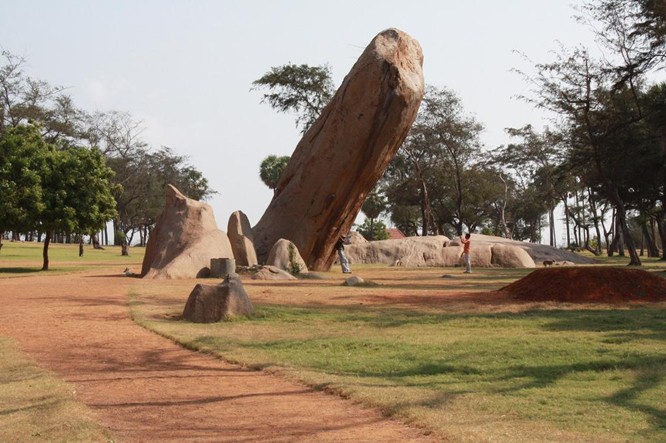 Unbelievable Figures at Tiger's cave (Source: flickr.com/Vikas Rana)
Tiger's cave is close to the coastal villages of Salurankuppam, which is just five km to the north side of Mahabalipuram. Tiger cave has spectacular mandap that comprises a shrine, which is completely dedicated to wondrous goddess Durga. Most of the massive still impressive figures are placed in the caves front side. As many carvings have a story to tell. The Tiger's Caves are considered as an incredible picnic spot where you will find many things to do in Mahabalipuram. Just go with your friends and family and have gala time!
6. Know a little more about the history: Arjuna's Penance!
Rock Carving at Arjuna's Penance! (Source: flickr.com/Nagarjun Kandukuru)
Arjuna's Penance is considered as much-admired rock carving, which showcases stories out of the country's wisdom. It's carved in to the backside of a whale formed rock. The sculptures measures nine meter high and twenty seven meters long. Knowing about your history is always exciting and it's the most amazing things to do in Mahabalipuram. Several demigods and gods along with people and animals have intricately been carved in the sculptures. The hard work and pain that went in to the creation of these outstanding sculptures is quite obvious and deserve respect. These characters appear both humorous and realistic.
7. Visit the Crocodile Bank: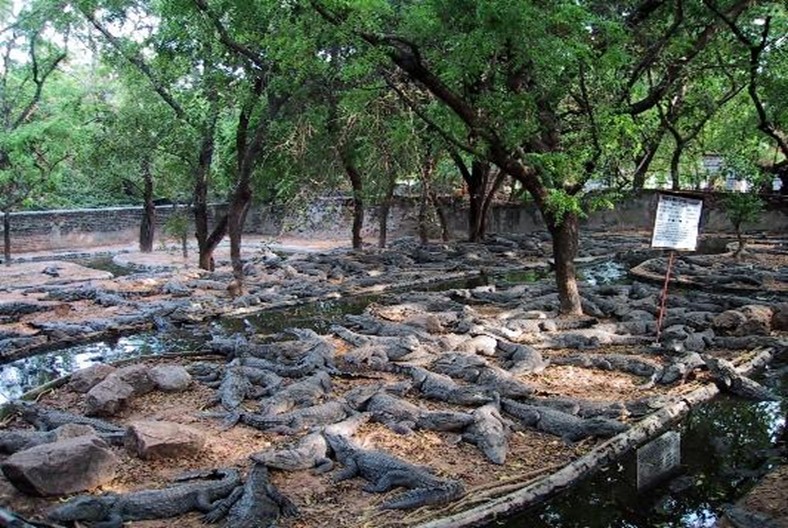 Mahabalipuram have everything for you! Crocodile Bank (Source: flickr.com/Prince Roy)
The crocodile Bank is situated 14 km from Mahabalipuram. This was established in 1976 by Romulus Whitaker, the herpetologist. It holds variety of species of African and Indian alligators and some crocodiles. They're kept in pools, which are open and made in such a way that it looks like a natural habitat. You will have many things to do in Mahabalipuram, especially in the Crocodile preservation center. People who are adventurous can explore their adventurous side by visiting snake farm that is located here,
8. Visit Alamparai Fort to discover more about this place: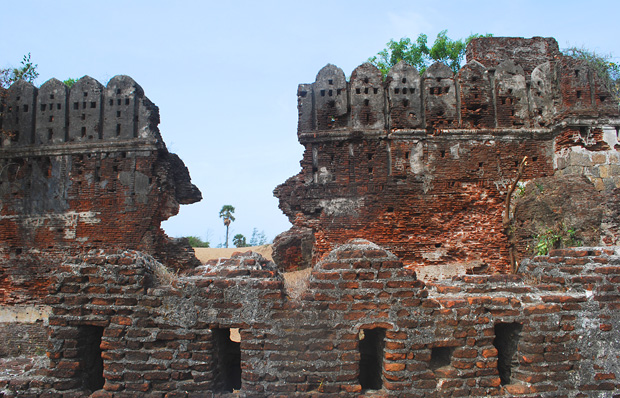 In between walls of Alamparai Fort! (Source:travel.paintedstork.com)
It is located around 50 km away from Mahabalipuram close to Kadappakkam village, Alamparai Fort is mainly in ruins now, though, and it's yet an amazing place to go. This fort is one of the most unexplored remarkable places in Tamil Nadu. You can explore many things here and discovering new things are the must have experiences in Mahabalipuram. This place is built at the Mughal time, in seventeenth century. This Alamparai Fort, earlier used for trade purpose of spices, salt, ghee and cloth, usually were exported from this fort. The
9. Explore the sea port: Kovalam!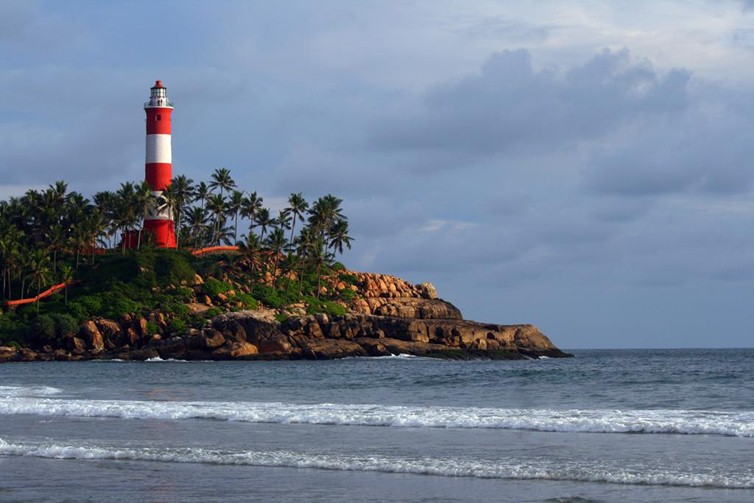 Light House from Kovalam Beach! (Source: flickr.com/Girish…)
Kovalam village was once a tiny fishing village, which was situated fifteen km from the Mahabalipuram. You will still find that village for fishing but this place has now become one of the most spectacular and exotic beach resorts all over India. This place will offer you some of the must have experiences in Mahabalipuram. One can explore the previous sea port, which used to be here. Several quality beaches and resorts are found at this place. These beach resorts are absolutely out of the world and exquisite. You will have tremendous fun at Kovalam and there are many things to do.
10. Enjoy in the beauty of Sadras!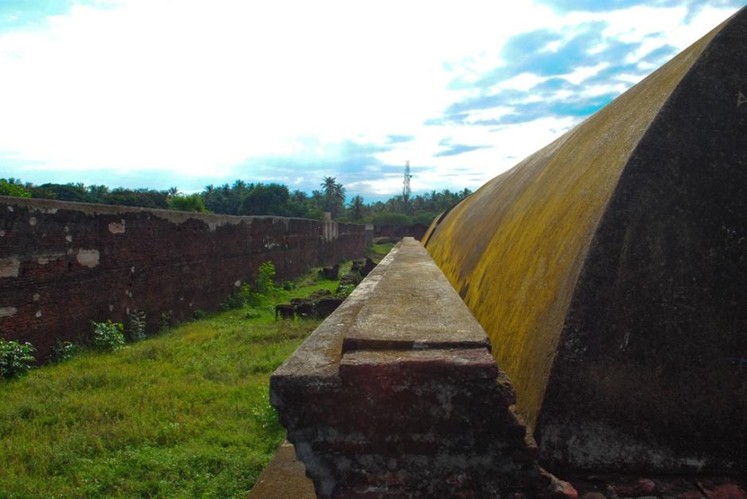 Nature war with ancient walls! Sadras (Source: flickr.com/Puru Shadows Galore)
Sadras is one of the most beautiful beach resorts, which has taken complete advantage of the exquisite landscapes. The beaches surrounded Mahabalipuram are simply green casuarinas orchards and mesmerizing. The contrast colors of these vibrant green orchards and sparkling beaches are simply breathtaking. You will find some of the must have experiences in Mahabalipuram at these beaches. They provide you sight delight to enjoy and have fun. This beach resort is situated around thirteen km outside the Mahabalipuram. It is an older Dutch Fort as well as Dutch cemetery among fine embossed headstones. It's intriguing to explore few of the regions that show Dutch history and that of your own country India as well.
11. Checkout the historic Mahishamardini Mandapa!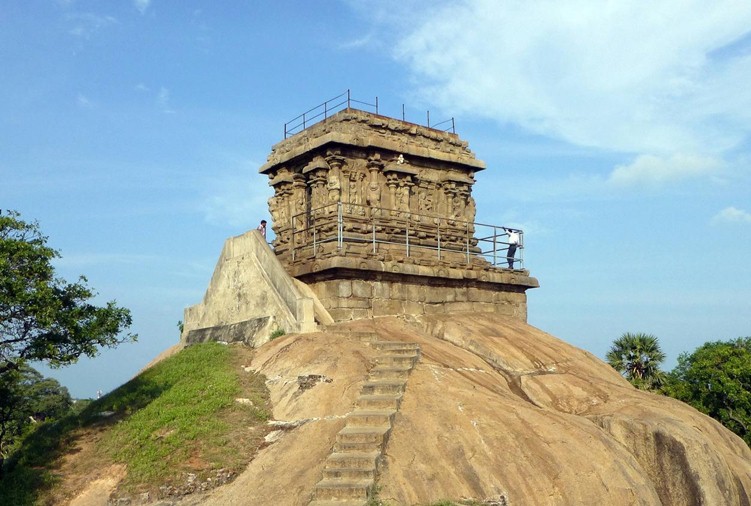 Mahishamardini Mandapa (Source: flickr.com/Tony Wasserman)
Mahishamardini Mandapa is engraved and carved from various rocks with outstanding scenes from Puranas. The left side panel displays Vishnu sleeping and right side you can see Goddess Durga astride her lion while killing demon buffalo Mahisha. Inside central shine, the Murigan is shown sitting among his parents Parvati and Shiva. You can explore various historic and prehistoric monuments at this place.
12. Know the truth behind Vedagirishvara Temple!

Tirukkalikundram (Source: flickr.com/Paolo_clickr)
Around fourteen km west from Mamallapuram in Tirukkalikundram, the VedagirishvaraTemple hilltop is dedicated to Lord Shiva. It is frequently known as Eagle Temple as per to the legend 2 eagles comes here every day from Varanasi in the noon, a good 2000 km away and they come in noon time. It is considered as the must have experiences in Mahabalipuram to see the eagles.
13. Experience the Mamallapuram Dance Festival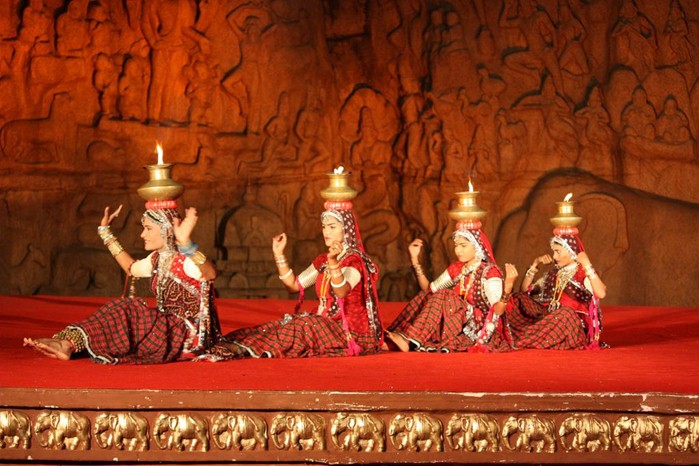 Enjoy the fabulous Mamallapuram Dance festival! (Source: flickr.com/Arian Zwegers)
You will experience a four week, weekend only dance festival displaying fold and classical dances from around various places in India. There are many things to do and places to visit in Mahabalipuram including Mamallapuram dance festival that has its own charm. You can see many performances in an open air platform against the striking backdrop of the Arjuna's Penance. The dances include Kuchipudi tribal dance from (Andhra Pradesh), bharatanatyam from (Tamil Nadu), and KAthakali from (Kerala drama).
14. Small Art Gallery to explore!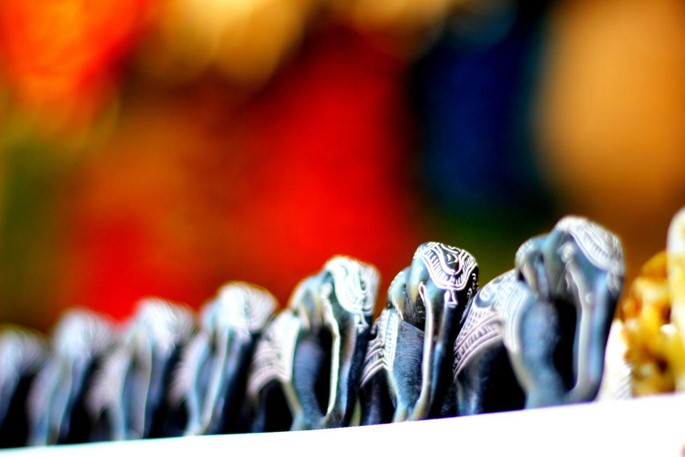 Explore several fabulous galleries of Mahabalipuram! (Source: flickr.com/Diwakar K)
You will see many small art galleries to explore in Mahabalipuram near beaches. When you visit the beaches then you will find some amazing small art galleries where you will see the handicraft items and collectives to buy. Though, this art gallery is considered as the best place to buy handicraft products. There are many places to visit in Mahabalipuram apart from these art galleries and shops. Many things you can see and experience.
15. Experience run half day bicycle: Travel XS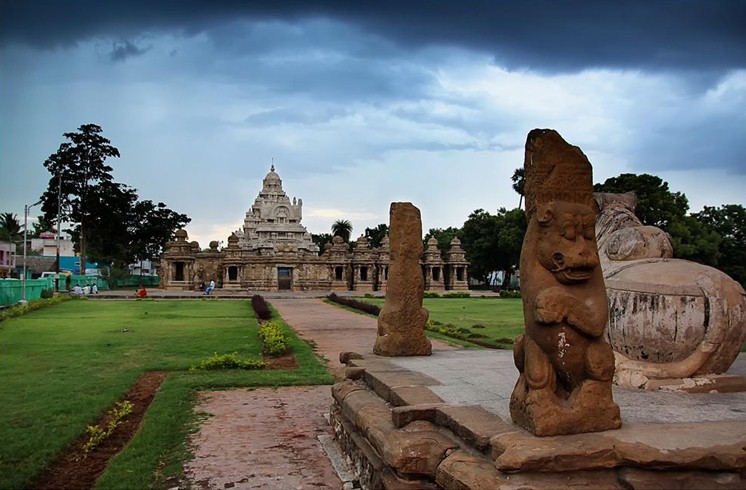 Kallasanathar Temple, Kanchipuram! (Source: flickr.com/Nithi Anand)
You can run half day bicycle tour to nearby villages, backpacking local potters as well as observing various activities such as Kolam drawing or rangoli, organizes day tours to places such as Vedanthangal Bird Sanctuary and Kanchipuram.

16. Find out more about Draupadi Ratha!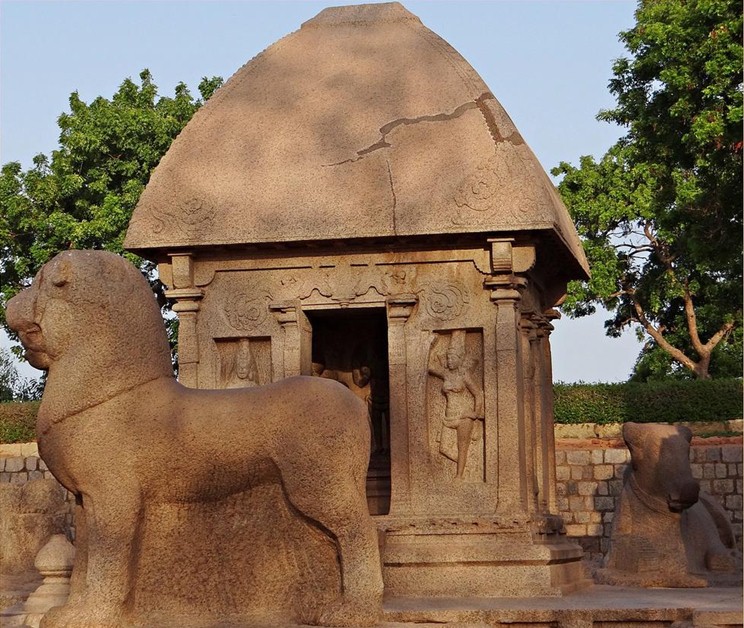 Smallest though beautiful ratha known as Draupdi Ratha! (Source: flickr.com/indianature9)
This is the 1st Ratha on left side once you enter in the 5 rathas, the most complex one is the Ratha of Draupdi and it is in the form of stylized South-Indian hut. It is dedicated to the demon fighting goddess Durga, that looks from inside, footing on the lotus. You will find many things about the Durga's mount, lion and her vehicle outside. These are some of the most amazing places to visit in Mahabalipuram.
17. Best activity to do in Gecko Restaurant!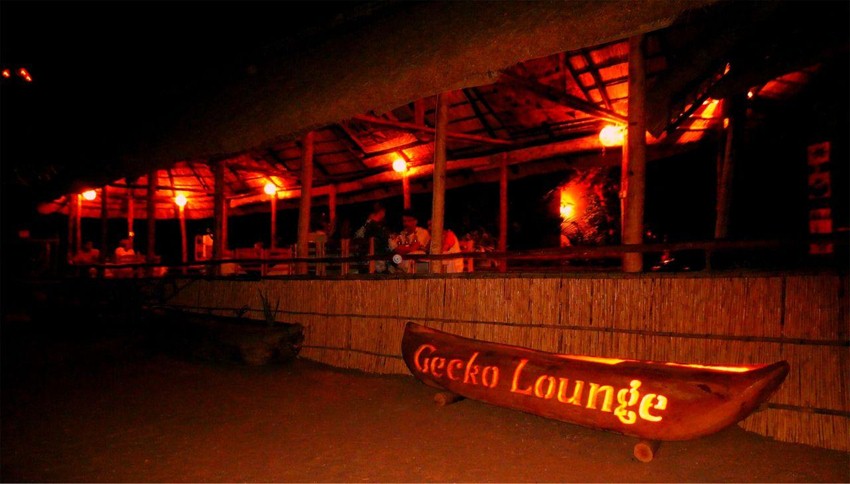 Unlimited Fun with fine dines! Gecko (Source: flickr.com/Simon O'Neill)
The 2 friendly brothers own this cute blue and yellow walled spot scattered with wood carvings and colorful artwork. The offerings as well as prices are not that diverse from various other tourist oriented places, but there is more love set into the cooking and it is delicious! You can do various activities at this place and it's a must explore places to visit in Mahabalipuram.
18. Enjoy on the Water's Edge Cafeteria!
Temple Bay of Radisson, Mahabalipuram! (Source: flickr.com/Raj)
What all you can do in Mahabalipuram? Enjoy on the water's edge cafeteria in the Radisson's pool side 'cafe' provides everything from grilled tofu to American pancakes, Indian vegetable dishes, and fantastic breakfast buffets. Here you will find The Wharf that appears like a beach-shack however is truly a gourmet multi-cuisine seashore restaurant. This is a must see and places to visit in Mahabalipuram!
19. Have fun and enjoy the best food at Le Yogi!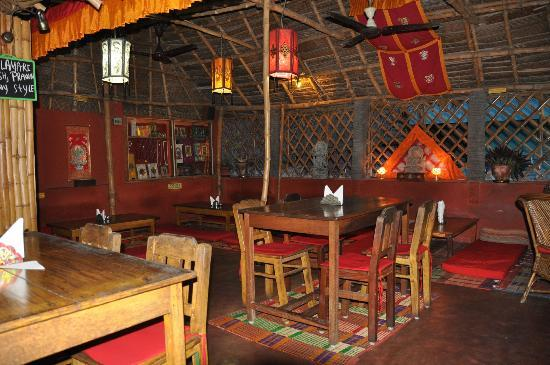 Invest your leisure time having delicious food! (Source:tripadvisor)
When you are looking for some best western delicious food in the city then this is the best place to visit that offers sizzlers, pizza, pasta and crepes that are tasty and genuine. The serving process is good as well as chilled out setting with pretty lamps, bamboo posts and dangling lights from thatched roof will make you go simply wonder in the beauty of this place. This place will offer you a romantic touch and it's a must visit weekend gateways of Mahabalipuram.
20. Have fun and relax at Moonrakers!
Enjoy mouthwatering cuisines and relax! (Source: flickr.com/Feroz Basha)
You will perhaps end-up at some time in Moonrakers as it is a type of place that is dominated by the backpacker ghetto streetscape forever. You will find amazing food here and will not win any prize yet it is okay, and the 3 floors tables keep you busy. You can experience amazing relaxation at Moonrakers!
21. Climbing challenge at Mamallapuram Lighthouse!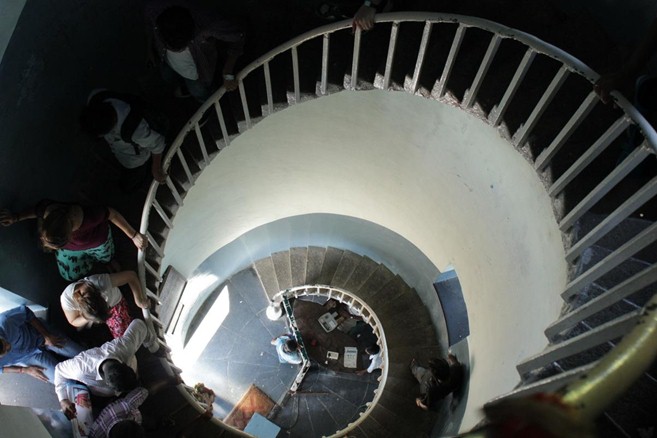 View of Staircase in the Lighthouse at Mamallapuram! (Source: flickr.com/Sowrirajan s)
This lighthouse at Mamallapuram is around a century old. You can go for climbing activity which is quite challenging and one stairway is just one way either you can go up or go down. This is a very famous weekend gateways of Mahabalipuram and you can experience amazing magnificent views from there. This is considered as very old structure that has survived various tides of time and sadly being plundered on the name of sightseeing. The stairs that takes you to the lighthouse is extremely narrow as well as the last journey of ten metallic stairs can churn anyone's stomach for sure. You have to take this journey on your own by foot.



22. Adventurous sports on Wide Beach!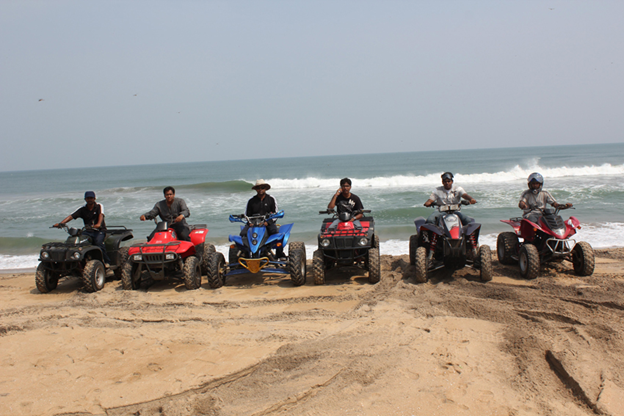 Enjoy Water sports until Sunset! Mahabalipuram (Source: redscarabtravelandmedia.wordpress.com)
This beach is very beautiful and to reach at this beach you need to go on the right-side of the seashore temple. One needs to pass through various shops in order to go there. You'll see sculpture of Thiruvalluvar. Kids will have amazing time at this place and can enjoy various adventurous sports. This beach is situated near Shore temple and this beach has average waves along with shallow water are good to spend some quality time with your family and friends.
23. Kitesurfing, windsurfing and surfing in Mahabalipuram!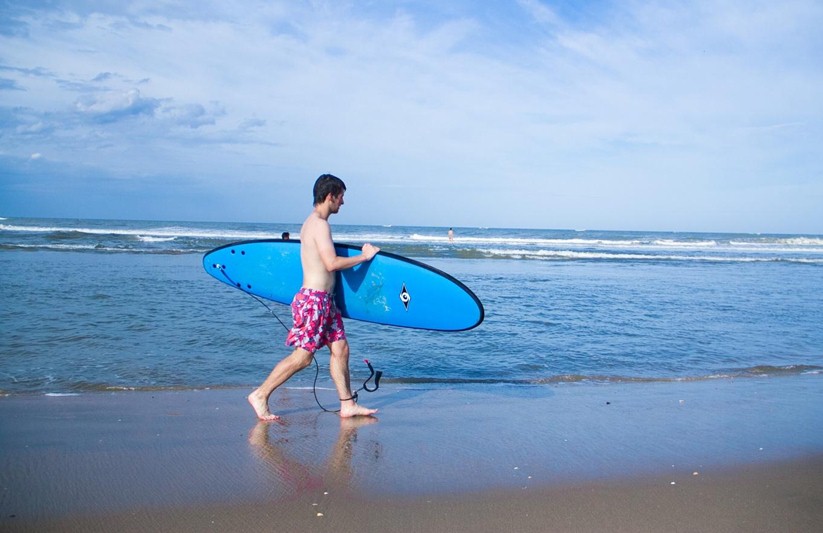 Show your Surfing skills at Mahabalipuram Beaches! (Source: flickr.com/badri narayanan)
When you are in Mahabalipuram then you should try all these water sports to explore life to the fullest. You can go for various windsurfing, kitesurfing and surfing in Mahabalipuram beaches. You need to take some time out for adventure sports. You cannot learn these sports in 1 or 2 hours but Mumu guides you and takes you direct inside the water. You are not there to learn though, simply to relax and enjoy and rest of the things will be taken care of. Mumu is experienced, passionate and knowledgeable about surfing. They have various surfing shops as their business and offer lessons to the beginners. If you wish you can even learn surfing through them in groups and individually as well. You need to show some enthusiasm and passion towards surfing to learn it in a better way. This makes it a best weekend getaways among tourists around the world.
24. Various outdoor activities to do in Mahabalipuram!

Enjoy India's Royal car for outdoor activities in Mahabalipuram! (Source: flickr.com/Fernando Saiz)
There are many outdoor activities that you can take up in Mahabalipuram. You should possess your own bike or car and any other vehicle to have fun in the outdoor activities. This place is extremely amazing for photo shoot. You will see beach behind the fort with some boats on the seashore which is surrounded by coconut trees. This is the most admired weekend gateways by people and you can have tremendous fun over here. You can visit ECR or East coast road and have to climb the top of the fort in order to see the out of the world views, scenery and click a picture to memories it later on. One must have enough guts and strength to climb and stand on the top of the fort. You can have some of the most amazing experiences in Mahabalipuram.
25. Check the gravity at Krishna's butterball!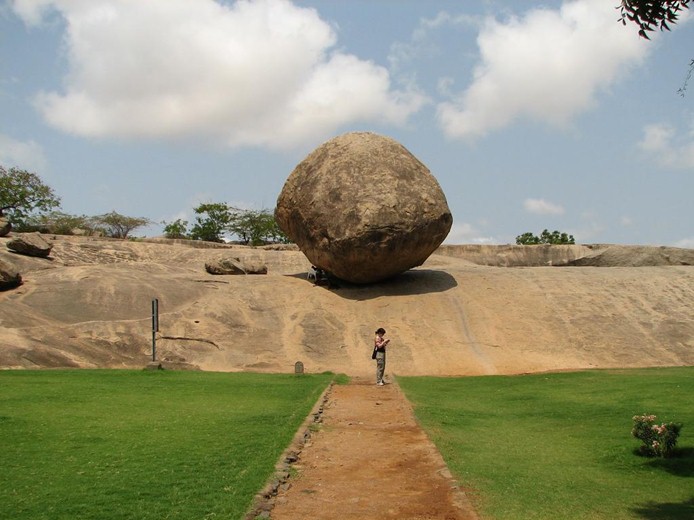 Elephant power was rolled down, but this rock is still at its place! Krishna Butterball! (Source: flickr.com/McKay Savage)
You will see amazing places in Mahabalipuram and one among those places is Krishna's butterball. You will find a 16 feet tall rock standing on a slope and not from few weeks, days or months and years, in fact it's there since 1000 years and more. There are many attempts were made by using elephants to roll down this butterball but everything failed! It's one of the most amazing places that you must visit and click pictures with you to remember it later on. Don't forget to visit this place when you plan your next trip to Mahabalipuram. Just awesome!