Tamil Nadu has seen a lot in terms of history and culture. It has seen human existence from very early days till date. It has been dominated by different rulers and has stood testimony to various dynasties.
It has seen various major events during colonial times as well.
It co-existed with external cultures and mended well with them over time to finally become the Tamil Nadu we know today.
A large number of temples, forts, monuments, paintings, and cultural events reflect the rich history that the place has. Tamil Nadu is gold for history enthusiasts. Visiting this place and knowing its past events is every history lover's dream.
Historical Places in Tamil Nadu
Here is a list of top 10 historical sites in Tamil Nadu.
Kanchipuram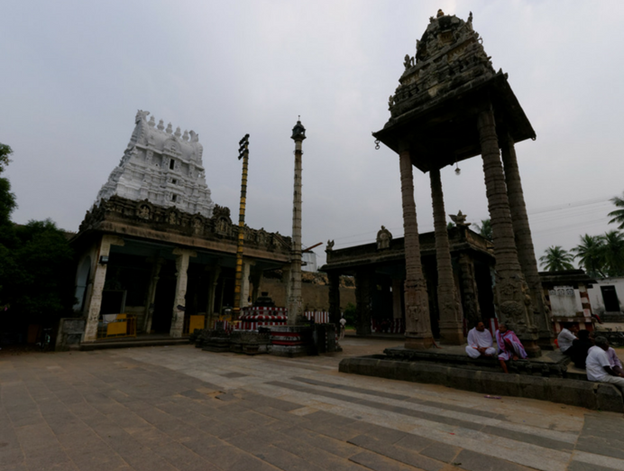 Source: flickr.com/photos/emmanueldyan/
On the banks of Vegavathi river lies this beautiful city of Kanchi which has been ruled by all the major dynasties of Tamil Nadu in past. It was also center of education and religious center of education for Jainism and Buddhism. It is also one of the seven Pilgrimage site in Hinduism.
It is also famous for its Silk-weaving industry. Here, visitors can buy silk at cheap rates.
There are a number of temples in the town with splendid architecture.
Some concerts are also held frequently where the local cultural music is played.
Kanchipuram holds a lot of weightage in history and has religious value as well because many religions flourished here. The Hindu temples are still in use while the remains of Jain temples here are of high archeological value.
Mahabalipuram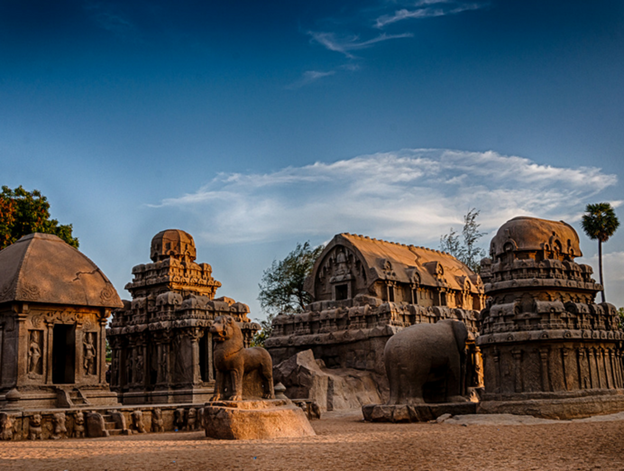 Source: flickr.com/photos/criatvt/
This small town in Tamil Nadu is famous for its stone carvings. These structures were made using typical South Indian architecture and are the oldest of their type. Mostly, the structures are made out of granite rocks.
This site has 400 ancient monuments and temples of different types. The architecture varies according to the time they were built in and it's interesting to study.
Tough the monuments have lost a lot of details over time due to negligence and erosion but they still manage to hold one's attraction.
If you are into literature and architecture, then this town with its sculptures will win your heart and give you a trip worth remembering.
Chidambaram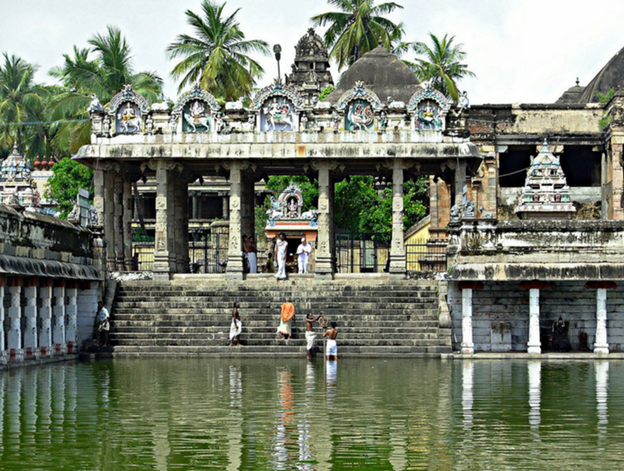 Source: flickr.com/photos/fabindia/
It is located in Cuddalore district of Tamil Nadu. This antique town has been ruled by various kings in the past. This town is specially famous for its Thillai Nataraja temple and Chariot festival held twice a year.
The place has many mythological beliefs related to Lord Shiva. It is believed that the Lord performed his Tandava dance here when he was enraged by a group of sages as they got distracted by him and his partner Mohini. The Thillai Nataraja temple is a famous tourist spot here.
The place is blessed with rich past and outstanding culture and must be visited for a divine experience.
Madurai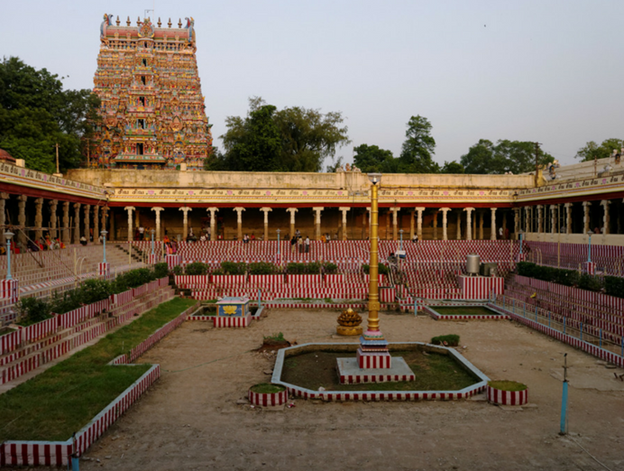 Source: www.flickr.com/photos/emmanueldyan/
Located on the banks of river Vaigai, Madurai is a major city in Tamil Nadu and has seen human establishment since ages. The city has significant antiquity as it has number of heritages located here. It has been dominated by different rulers and East India Company from time to time and thus, it has many ancient tales associated with it.
The city is built around the famous Meenakshi Amman Temple. The design of the city was very interesting with the richer people closer to the temple and poorer at distance. The architecture emolyed in building the temples is of Dravidian style.
Being one of the oldest cities of the country, it has a lot of stories to tell.
Thanjavur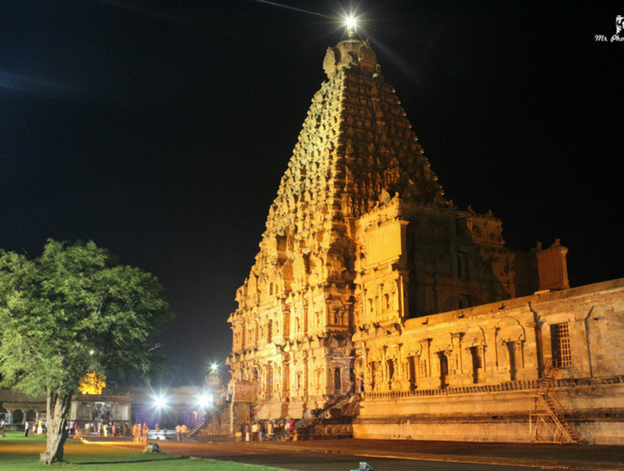 Source: www.flickr.com/photos/akhileshbhat/
Famous as the "Rice bowl of Tamil Nadu", it was an ancient capital of Chola kingdom followed by Marathas and Nayaks. It was a center of learning and culture in its days of glory.
Brahadeeswara Temple located here is a major landmark and a world heritage site. Its spectacular architecture is unmatched and is a magnificent piece of temple architecture in South Indian style.
Although the place is majorly famous for its agriculture, it is also a cultural hub because of the diverse population and religions.
Vellore Fort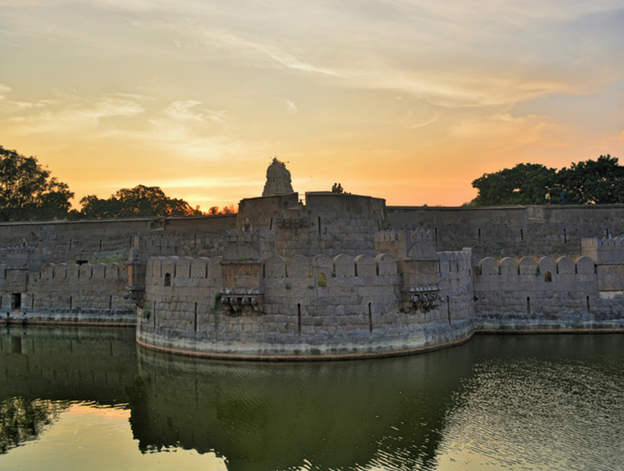 Source: www.flickr.com/photos/113980833@N05
A 16th century fort situated in the heart of Vellore city, this fort is a marvelous piece of art. It was built by Vijayanagara kings and served as their headquarters. It is famous for its grand ramparts, wide moat, and robust masonry. The rulers of this fort changed from time to time, starting from the Vijayanagara kings to the British.
Tipu Sultan's family was kept here as prisoners. Inside the fort one will find the Jalakanteswarar Hindu temple, the Christian St. John's Church and a Muslim mosque. The temple is famous for its detailed carvings.
This fort has seen some major past events and has excellent architecture which puts it in every history lovers travel list.
Gangai Konda Cholapuram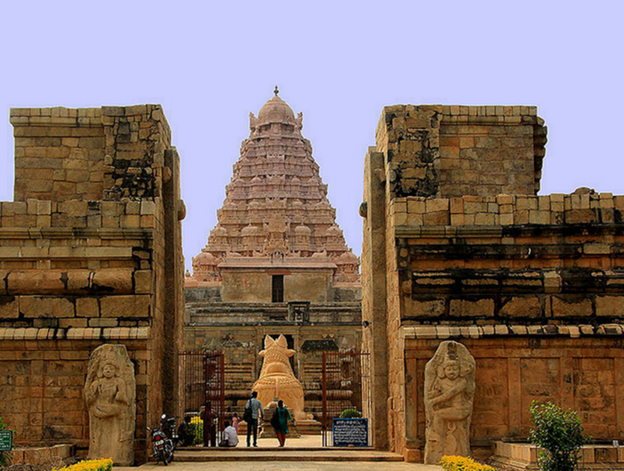 Source: flickr.com/photos/29848963@N03/
This town in Tamil Nadu served as the capital of Chola kingdom for almost 250 years. This heritage town has the great temple of Brihadeeswarar temple which matches Brihadisvara temple at Thanjavur in its architectural style but is considered even better in its sculptural quality.
As Chola's were great fans of art, it shows in the monuments and temples of this town. The sculptures here are crafted to perfection and tell a lot about the history of this place.
Some evening shows are also conducted here which depict the culture of the area.
Padmanabhapuram Palace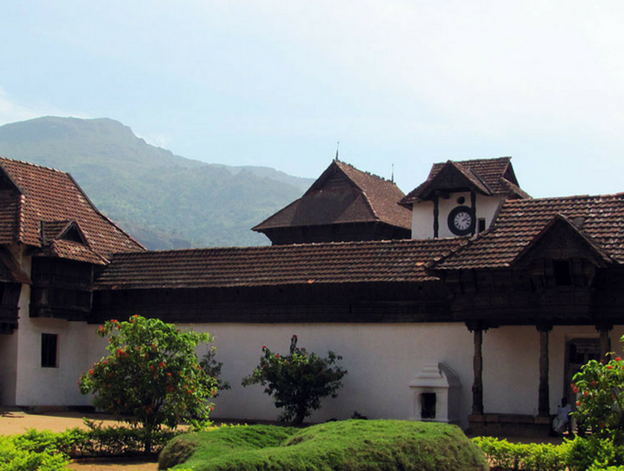 Source: en.wikipedia.org
The old palace of Travancore kings is spread over an area of 6 acres. This palace is specially known for its antiquities. One can also see the armoury of the Royal family here. The woodwork in this palace is detailed and interests many. This Palace is maintained by the government of Kerala Archaeology Department.
The interior of this palace is breathtaking. It has floral carvings and granite floor that amazes the visitors. It has many murals depicting the history. The palace is full of such splendid sights and antiquities. It also has a temple dedicated to Goddess Saraswati in it. The palace dates back to 1601 C.E. and has managed to preserve its glory till date.
Kunnandarkoil Cave Temple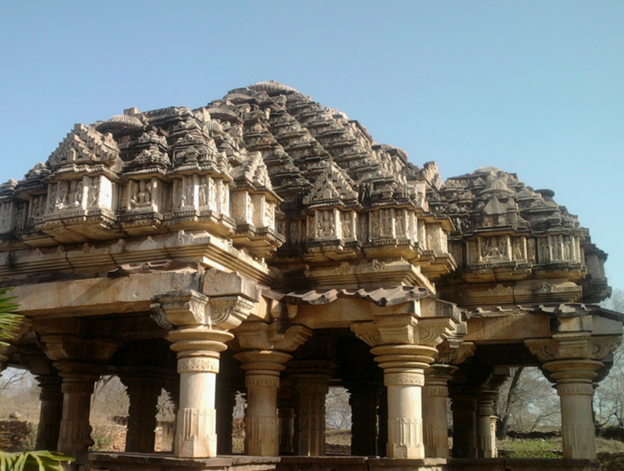 Source: findmessages.com
Situated in Pudukottai district of Tamil Nadu, this temple is dedicated to Lord Shiva. It is believed that it was built in the 8th century by Muttaraiyar Kings. It is in rock-cut architecture which is a specimen of the late Pallava art and the early Chola art. It is a protected monument and one of the oldest temples in South India. It has inscriptions from different empires that ruled this place.
The major attraction here is the hundred pillared Nrita Mandapa that has sculpted pillars, a typical of Vijayanaagar art. The bronze images in temple are earliest specimen of exquisite sculpted images in South Indian art. The temple's unique architecture and engaging art attracts history fanatics.

Gingee Fort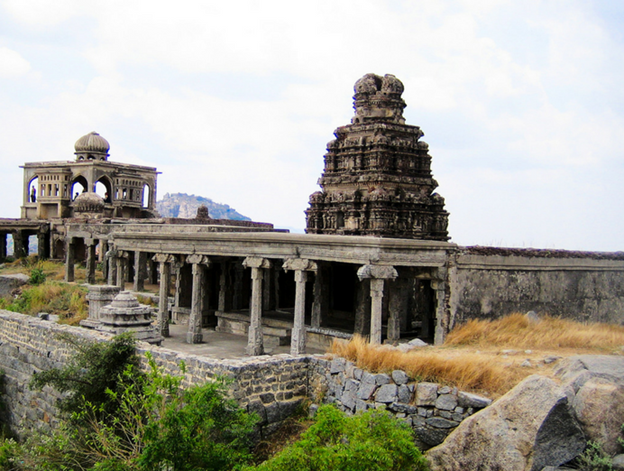 Source: flickr.com/photos/thegman/
It lies in Villupuram district and is one of the surviving forts in the state. This fort is so fortified that the Maratha king, Shivaji named it "most impregnable fortress in India". The British called it "Troy of the east". The fort was first built by the Cholas but then modified for security reasons by the Vijayanagra Empire.
The fort's architecture is such that it is highly secure against attacks. Covered by walls on a great height and surrounded by a large moat, it stands there looking as fierce as it can.
The complex has a seven-storied marriage hall, granaries, prison cells, and a temple dedicated to its presiding Hindu goddess. It also has a sacred pond in it. The hillock has small fortifications.
This place is definitely one of the must visit heritages in South India.
Tamil Nadu has a vivid culture and a number of heritage sites that make it worth a visit. It has so much to explore for every history enthusiast that it never lets them down. The various dynasties that ruled this place added their unique art forms and architectural styles to its heritages that now attract people from all over the globe.
If you are looking for a great trip and have a special interest in history, then you must visit these places.