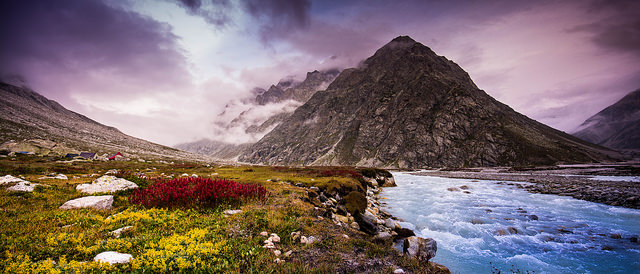 Are you looking for some place that will make you feel heaven on earth? It is Uttarakhand for sure. Bordered via Tibet in north side and Nepal in east, Gangetic plain in south and Himachal Pradesh in west, Uttarakhand is a land of devotees and spirituality that looks like a gem on the top of the Indian Territory. Uttarakhand is the origin point of many important Indian rivers and adobe of best hill stations present in north India.
The winter season will provide you some of the best snow mountain ranges views, and the same mountain ranges will provide you comfort zone in the roasting summer. You will find many activities to do in
Uttarakhand. From exciting trekking on mountain ranges to river rafting, you can do it all, as each activity is worthy and delightful to spend some quality time with your family and friends. Here is a list of some must see hill stations in this region:
1. Visit Mussoorie and enthralled by its beauty: known as queen of hills!

---------------------------------------------------------
Best Deals for the Month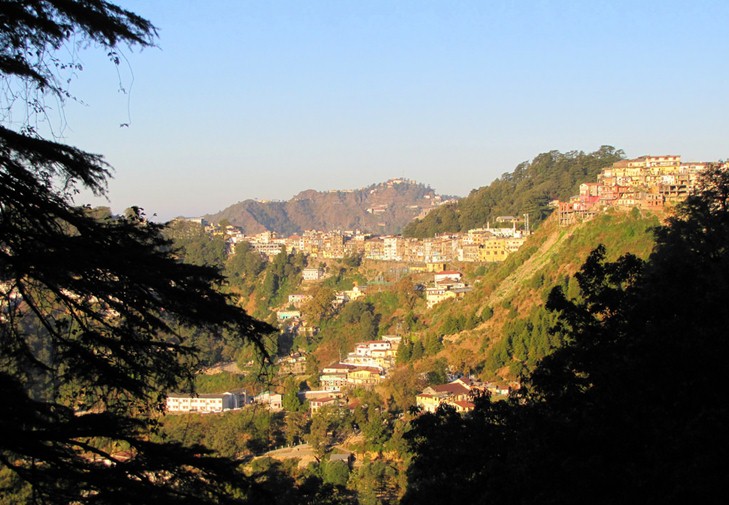 Queen Of Hills: Mussoorie (Source – flickr.com/Paul Hamilton)
Mussoorie is known as 'queen of hills' and it is a most peaceful hill station of Uttarakhand tourist industry. It's the most noteworthy source of revenue in the state. There are many activities to do in Uttarakhand from enjoying the breathtaking attractive beauty to river rafting. The mesmerizing weather and captivating beautiful views of Mussoorie induces the tourists to accept the reality that how nature has coated the astounding canvas with its natural beauty. Nestled between the surging Himalayan ranges, it looks like a peaceful arena for tourists around the world. Mussoorie is at the altitude of 1,880m and the highest peak of the mountains here is more than 2,230m high, which makes this place a paradise.

2. A Perfect retreat to Nainital for amazing activities!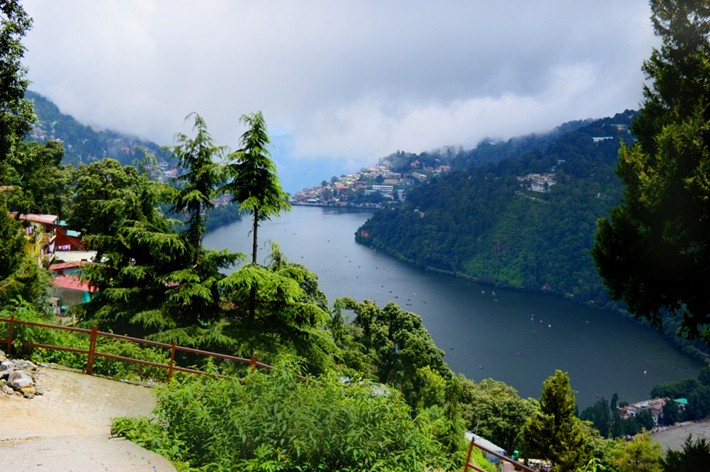 Fruit Bowl of Uttarakhand: Nanital (Source – flickr.com/Ishrat Khan)
Nainital is considered as one of the most popular hill station of Uttarakhand and it's a perfect backpack gateway for tourists around the world. From lovely couples come for honeymooning to passionate youngsters, everyone has different things to look for and experience here. There are many activities to do in Uttarakhand and you must explore them all. Lavish hotels, wooden cottages are set up there around the beautiful Naini Lake where you will find amazing things to do in Uttarakhand. The lush-green hillsides provide mesmerizing beauty of snow white topped Himalayan ranges. There is a Nanda Devi temple for devotees in the northern bank of lake, which is a chronological sightseeing place. Guano Hills, Sher-Ka-Danda Ridge, Eco Cave Garden and Tiffin Top are few places in Nainital. This place has one of the best Zoos with rare animal species such as snow leopard, steppe eagle and Himalayan black. You can enjoy boat ride in pristinely set surroundings of Naini Lake and it's simply incredibly blissful.

3. Experience a paradise in Pangot!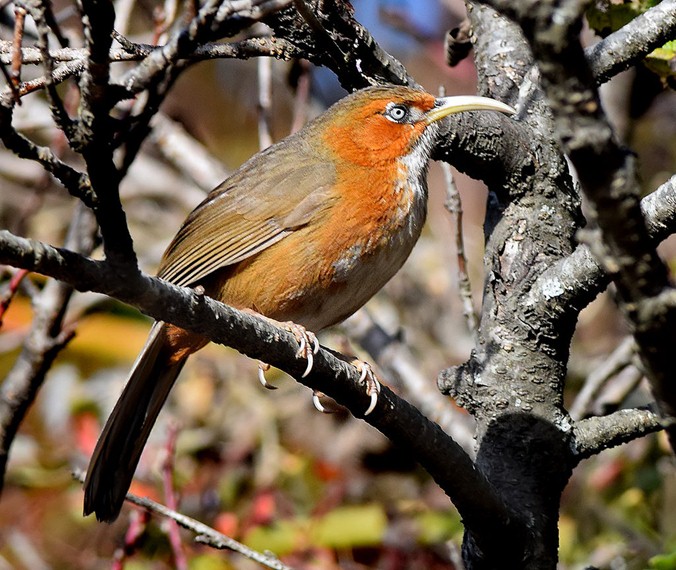 Rusty cheeked scimitar babbler: Pangot (Source – flickr.com/Shrikant rao)

There are many things to do in Uttarakhand. If you're over with Naini Lake and tour then you can head for this beautiful place called Pangot in some spare hours. This place is 30 minutes far from Nainital. You will enjoy bird seeing, which is the main activity of this region. Above 150 bird species are observed in Pangot. This is considered as the best place for wildlife photographers for clicking those magic moments of snow view points, Kilbury, birds in greenery and much more.

4. Striking gateway to Abbott Mount!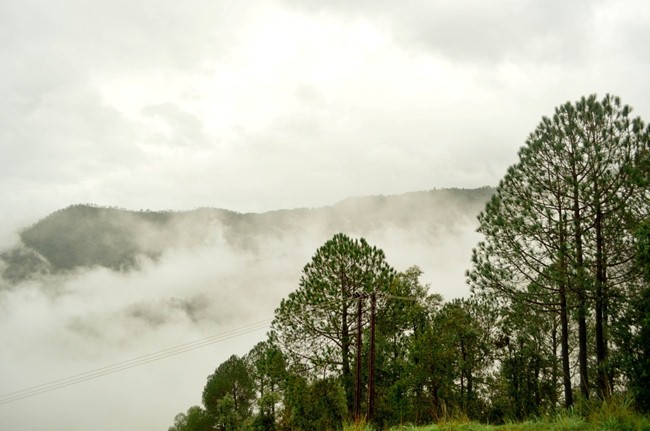 Abbott Mount (Source – flickr.com/Priyambada Nath)
Abbott Mount is situated 6400 feet above the sea level and it's one of the must visit getaways of Uttarakhand. There are many things to do in Uttarakhand apart from just seeing views of mountain ranges. The astounding picturesque beauty of this area is floating with pine and deodar forest as well as captivating Himalayan views. An artistically affluent church is established amidst the thick forest. It's a perfect place for birding, photography and trekking.

5. Find Peace in Picturesque landscapes of Almora!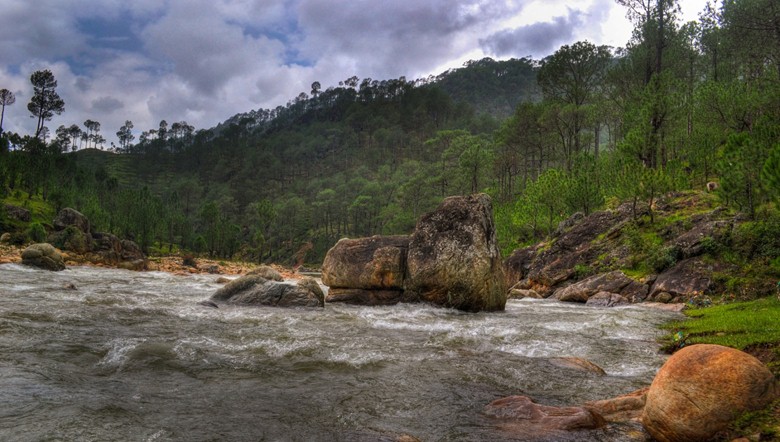 Kosi River: Almora (Source – flickr.com/Rajarshi MITRA)
Almora is considered as the land of picturesque landscapes and rich heritage culture. It's situated on the horse shoe shape point of Kasaya hills at an altitude of 1638m above the sea level. Almora has lots of unique temples such as Nanda Devi and Golu Devta temples. Other important temples are Jageshwar, Kasar Devi, and Katarmal. Katarmal is known to be a famous Sun temple, which is 800 years old. There are many things to do in Uttarakhand apart from enjoying sunrise and sunset at bright-end corner.

6. Explore the trekking experience in wonderful destination Auli!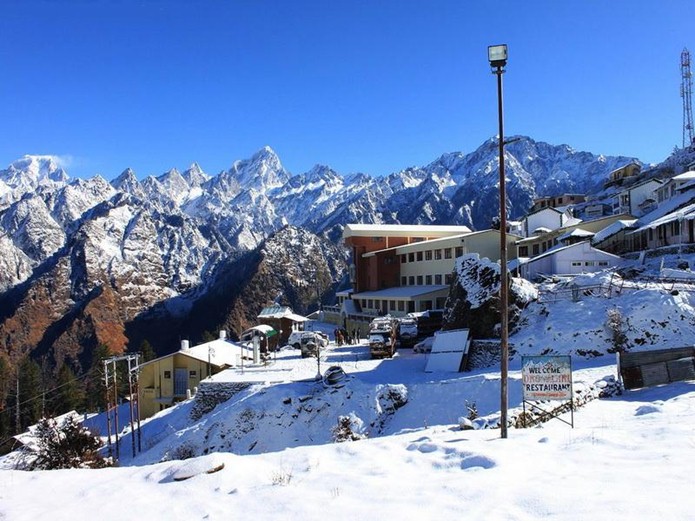 Auli Main: Auli (Source – flickr.com/Joginder Pathak)
When you like adventurous sports then this is the best destination for you. You can enjoy skiing, which offers a must have experiences in Uttarakhand. For winter sports enthusiasts, it is a home of best slopes coated with Oak and Deoadar forests reducing the swiftness of chilling winds. January is the best time to visit this place. If you like to experience trekking, then Auli-Kuari and Auli-Badrinath pass trek one can go for in Uttarakhand.

7. Climb and trek in Bhimtal this summer!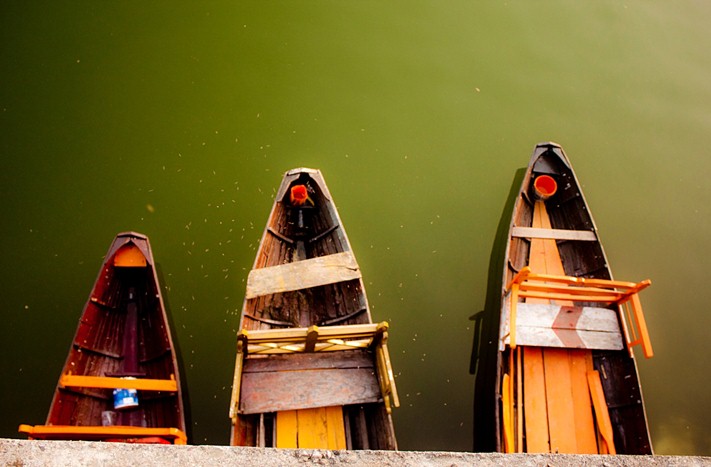 Bhimtal Lake (Source – flickr.com/Aniruddha Kibey)
Bhimtal is mainly popular for its beautiful beguiling lake. This place is considered to be the best location to spend those hot scorch summer holidays. It's located at an altitude of 1371m above the sea level and this extensive hill station in Uttarakhand enjoys an amazing weather all through the year. This sprawling place has magnificent hills floating with scenic lush greenery that border the complete lake area. You can indulge in some of the must have experiences in Uttarakhand like rock climbing and trekking in Bhimtal. There are many restaurants strategically located in the centre of this place where you can enjoy mesmerizing beauty of Bhimtal Lake. One can go for boating in calm water and experience the serenity of the wonderful place.

8. Trekking in Bhowali!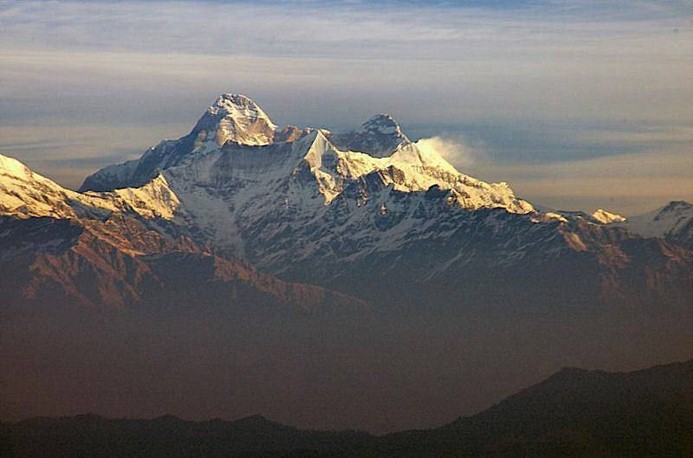 Trekking in Bhowali (Source – flickr.com/Aditi Bhatt)
In case you want to explore your adventurous side then this is the place for you! The less trampled peaks in Bhowali will provide you some of the must have experiences in Uttarakhand. It's situated in district of Nainital and this is a unique tourist place which is at the 1,076 m altitude above the sea level. You can enjoy horse riding, nature walks, rejuvenate yourself and can go for rock climbing. There are many wonderful forests in this place where you can go for long walks to be remembered forever. A walk to Dorothy's seat spot at the Tiffin Top will be a terrific experience for you. One can choose to go on a trek at Naina peak.

9. Do adventure in Binsar: Highest Hill-Station!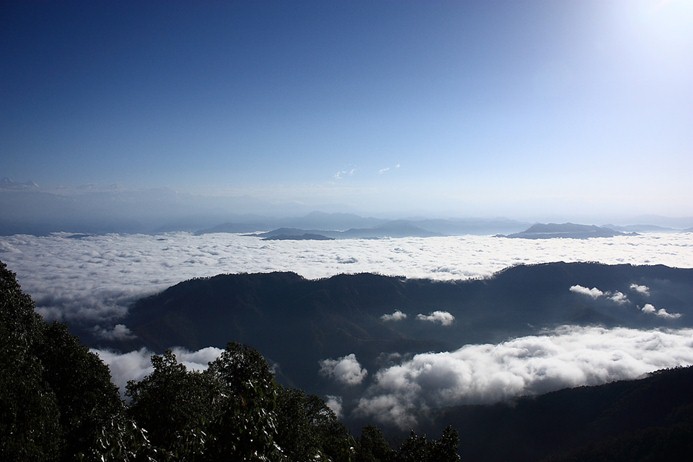 Bed of Clouds: Binsar (Source – flickr.com/Manish Vohra)
This place is located at an altitude of 7600 feet above the sea level, and known as the highest hill stations among many others in entire Kumaon district. It's one of the most awesome places in Uttarakhand and situated among the wildlife sanctuary of Binsar. Panoramic views are quite easy to find in Himalayan peaks right from the Zero point to Wildlife Sanctuary. From adventure freaks to nature lovers, this place satisfies all. The beautiful Himalayan rhododendron and Oak woods are perfect for trekking. The Wildlife Sanctuary provides homes to more than two hundred species of animals and birds including black bear, leopard, pine marten porcupine and much more. Don't forget to see the snow Peak Mountains of Trishul, Shivling, Kedarnath and Nanda Devi from popular Zero Point. Bineshwar Temple is the most eyes grabbing devotional place in Binsar, which is 13th century old. All these are the must have experiences in Uttarakhand.

10. Enjoy beauty of popular hill station Chakrata!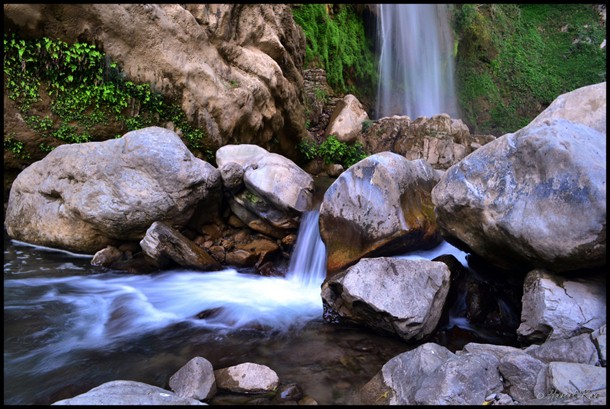 Water fall at Chakrata (Source – flickr.com/Harish Rao)

Chakrata is one of the popular hill stations of Uttarakhand and there are many tourists' places to visit in Uttarakhand. This place attracts lots of tourists around the world because of its stunning beauty and natural setting. Located by the Tons and Yamuna River side, this mesmerizing hill station is one of the best place to response. Trekking to the Kharamba Peak will give you memories for the lifetime and striking experience. The undulating terrain of majestic hill, healthy climate and deep forests make this place an ideal destination for soothing summer holidays. The northern slopes of Chakrata are popular for trekking and skiing both.

11. Experience outstanding picturesque scenic splendor in Chamba!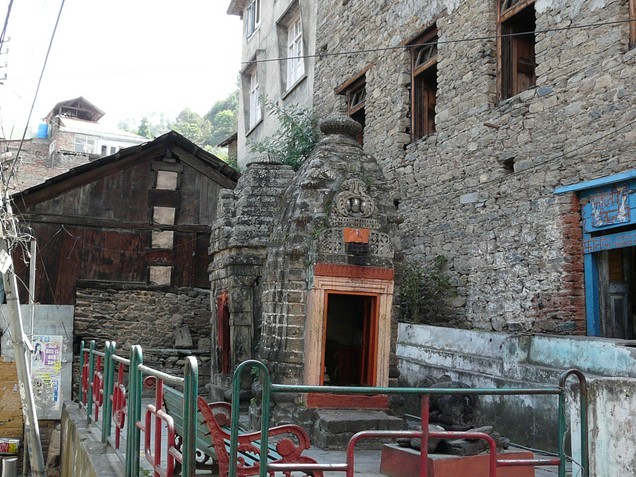 Small Shrines in Chamba Town (Source – flickr.com/Varun Shiv Kapur)

In case you want to know more about this hill station, its stunning and fresh envious exquisiteness, Chamba is definitely an excellent choice to make. The picturesque attractive splendor of this region with unspoiled nature provides an outstanding experience to the visitors. This small hill station, shine out with Deodar forests and pine trees providing an impressive picturesque of Himalayas. The pleasant summer weather makes it the most famous retreat for people staying in this city. Monsoon is extremely romantic here as well as winter season will chill your spine down. You can have many experiences at this place. Sometimes the weather temperature goes to freezing point furthermore beyond to witness snowfall. All these are the must have experiences in Uttarakhand. As per the legends, this place was previously a part of Gorkha Kingdom and later Garhwal kings ruled this region. This place is located close to Rishikesh and Mussoorie, one can have fun while trekking, climbing and camping.

12. Enjoy the rich culture of Champawat!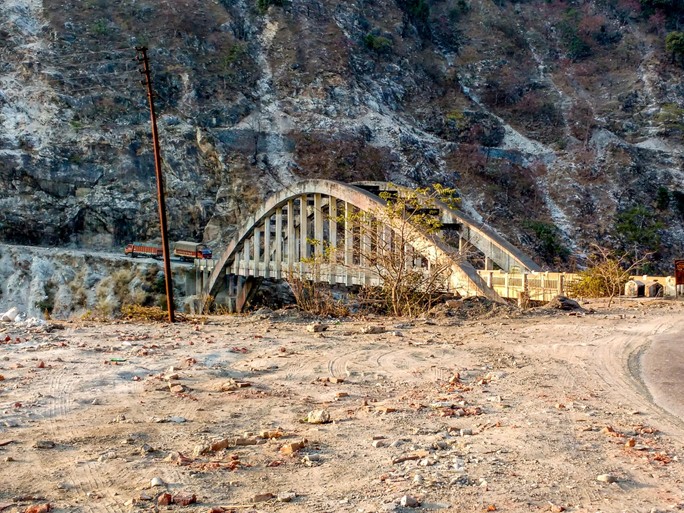 Champawat (Source – flickr.com/Ashish Gupta)
This place is known for its rich heritage and cultural values. It's the most popular sightseeing points and places to visit in Uttarakhand. There is several numbers of architectural and historical embellishments that offers astounding culture. You will find extensive assortment of flora and fauna that makes it a wonderful place to explore completely. You should visit religious points such as NAgnath Temple and Baleshwar Temple displays the amazing architectural attractiveness of this region. Banasur ka kila is considered as an important sight to explore. Various other attractions of Champawat are Barahi Temple, Advaita Ashrama, Chaumu Temple, Abbott Mount, Kranteshwar Mahadev Temple and much more. 

13. Multiple options to explore in Chaukori!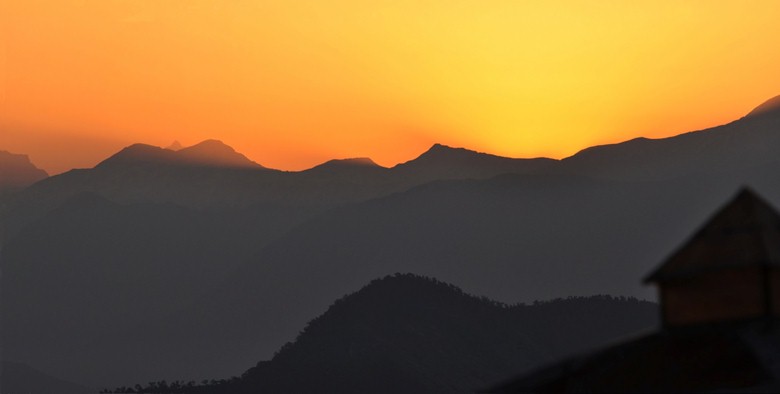 Nature at its Best: Chaukri (Source – Flickr.com/Abhijit Kar Gupta)
People want a break from their hectic lifestyle and busy schedules. Chaukri has many choices available to explore. You will find many places to visit in Uttrakhand. It's situated in the high-hill of pithoragarh region of Uttrakhand around the height of 2011 m above the sea level. This place is popular for its dense tea gardens. The virgin natural beauty of this place is unaffected by crowd and pollution the undulating terrain is perched with green tea garden overlooking the benevolent summits of Nanda Devi, Nanda Kaut or Panchauli and Chaukhamba. Because of the unpolluted atmosphere both sunrise and sunset is different in Chaukri. Its forests are rich in Oak, Rhododendron and Pine trees as well as interspersed with orchards and cornfields. Separated from all types of artificiality, Chaukri has natural setting and it's the best place to compel visitors to plan their most awaited holidays to Uttarakhand. One of the most prominent tourism places in this region are Kapileshwar Mahadev Temple, Ghunsera Devi Temple, Feninag, Pinglenag, Harinag Temple, Arjuneshawar Shiva Temple, Mostamanu Temple, Kalinag, and Bashukinag.

14. Have fun in mini Switzerland of India: Chopta!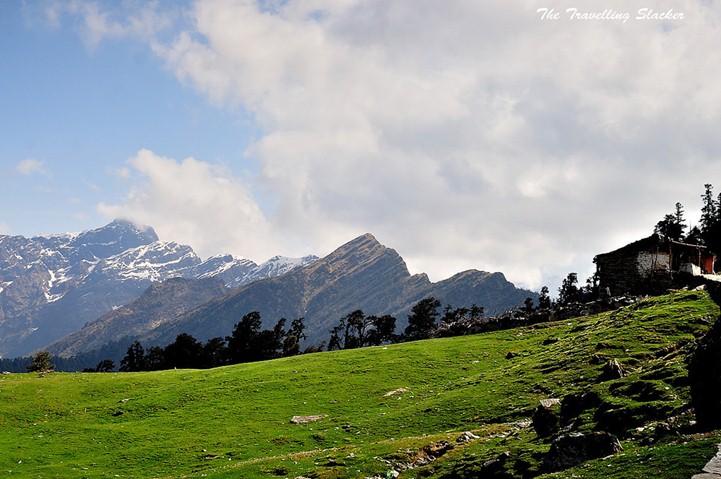 Greenery, fresh air and Mountains what else you need! Chopta (Source – flickr.com/Travelling Slacker)

Encompassing few of the most wonderful tourist places to visit in Uttarakhand, this is known as the mini Switzerland of the country. Chopta is mainly visited for various adventurous activities and has breathtaking ambiance and pleasant weather to entertain cosmopolitan town dwellers. Between the adventurous sports, exploring Chopta trek is most amusing. The journey begins from this place ends at Chandrashila. Witnessing the mountains covered with snow while passing via twisted paths is simply remarkable. The place is perched by several alpine meadow hills that is great location for skiing. One can take part in Chopta campaign.

15. Enjoy Attractive tourist place: Dhanaulti!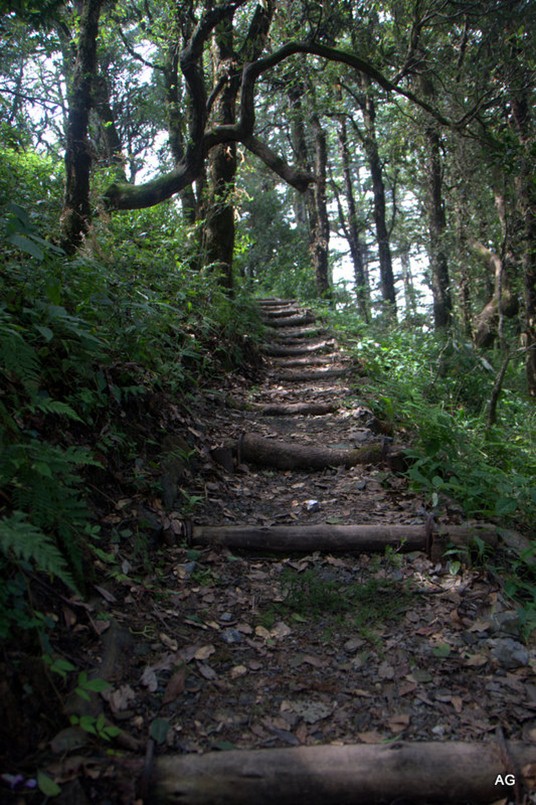 Eco Trail: Dhanaulti (Source Flickr.com/Ashish Gautam)

Dhanaulti is at an altitude of 2286m above the sea level, this place offers some of the best places to visit in Uttarakhand. Dhanaulti is the most attractive point in Mussoorie. It is enclosed with thick oak, rhododendron and alpine forests, this striking place can be the best backpack for city dwellers. Slightly instead from the Mussoorie crowd, Dhanaulti fascinates visitors all thorough the year. This is the most amazing weekend gateways for families, corporate groups, friends and everyone who is looking for a peaceful and unique place to enjoy in unique land of Uttarakhand. People who are seeking thrill and adventure have enough scope to have fun in various soft adventure games such as Burma Bridge and Flying Fox. There are amazing walking tracks, stunning nice sitting corners and spaces for people to spend some time in leisure. Joranda fall 150m, and Barehipani fall that is 400 m in dhanaulti radiate bewildering natural ambience.

16. Explore the forests of Lower hilly place in Dharchula!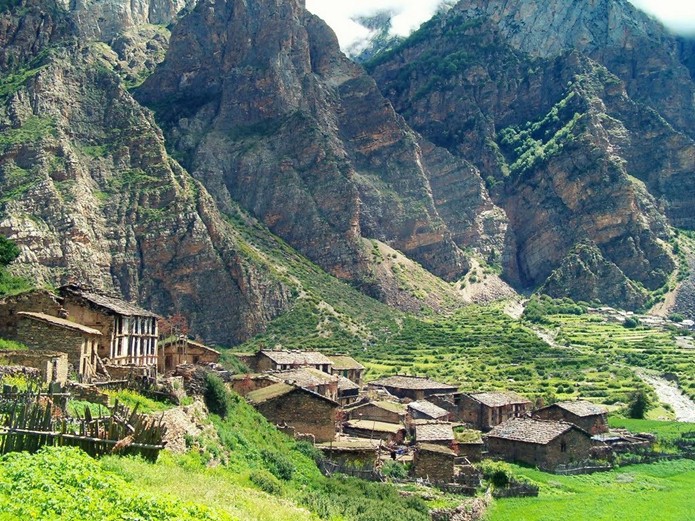 Dharchula (Source – flickr.com/Marmik Lapsiwala)

Situated on the Pithoragarh border, Dharchula is the lower hilly place in Uttarakhand. This is the most amazing weekend gateways for people who are looking for a place to spend some time alone. It's slightly separated from major cities. Dharchula is one of the most untouched and unexplored weekend gateway destinations. This tiny hilly region stands on Kali River and houses significant spots to discover. This place offers some of the best choices for people who are seriously looking for a break from their hectic life. Flourishing forests are perched with Deodhar, Apple, Oak, and Pine trees. You will find extensive varieties of dry fruits plants over here. One can visit few popular places such as Narayan Ashram, Chirkila Dam, Askot Sanctuary and Jaulijibi.

17. Expand your religious side in Didihat!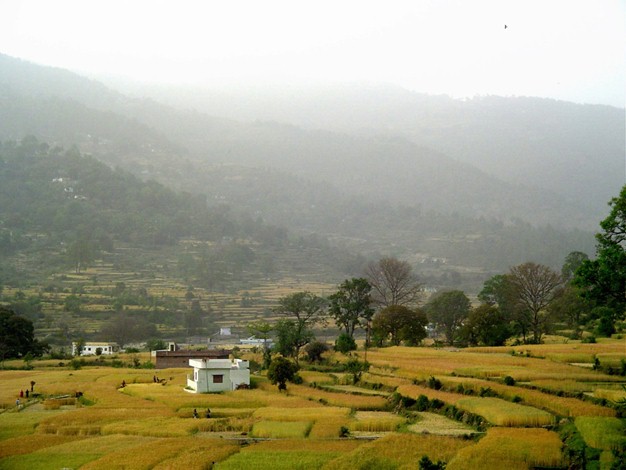 Didihat (Source – flickr.com/naveen chander)
Didihat is the main tourist destination of Uttarakhand and make one of the best weekend gateways for people who want to escape from their hectic lives and embrace the beauty of this place. It's situated sixty four km away from the most mesmerizing place, Dharchula. This region is covered with green ridges. Swami Narayan Ashram and Malika Arjun Temple are main religious points in Didihat.

18. Feel the relaxation in Natural setup of Dwarahat!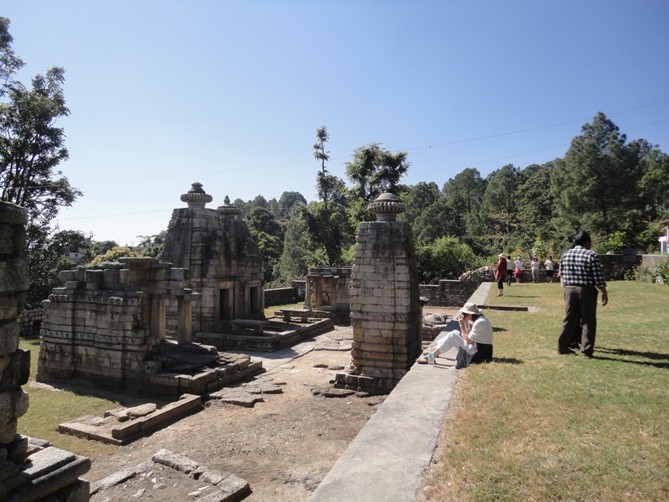 Land of 55 Temples: Dwarahat (Source – flickr.com/Piyush Kumar)

This place is located in the most beautiful natural setup. Dwarahat is the best place to go in Uttarakhand. Majorly popular between the usual tourists for significant sightseeing spots, Dwarahat has group of fifty five temples that were mainly built by Katyuri Kings. Durga Temple or Ashram of Paban Maharaja is situated at high elevation and you have to climb around five hundred steps to arrive at hill top. The Himalayan peak views and the adjoining vicinity of Ranikhet, Kasauni and Almora are simply amazing.

19. See the

less trodden scenery of

Gwaldam

!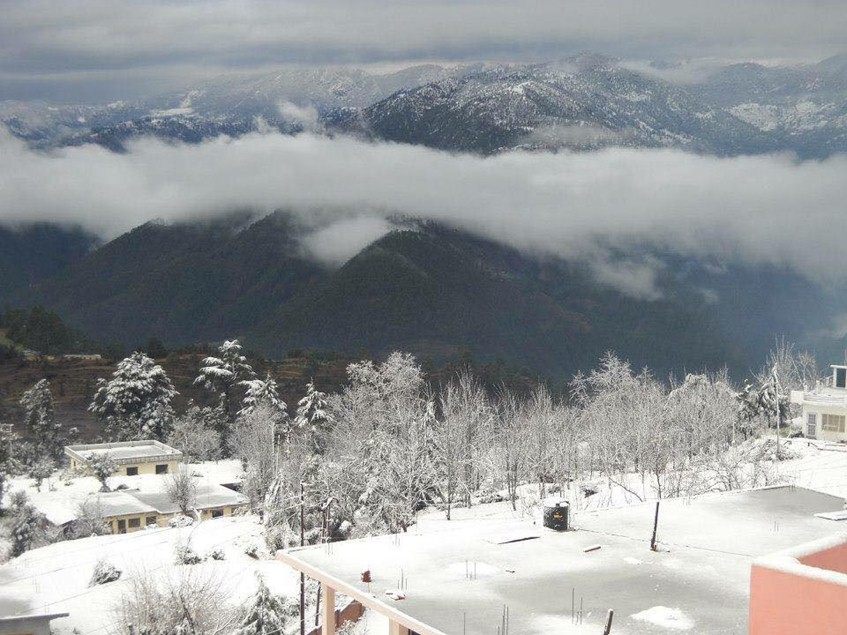 Gwaldam! (Source – Facebook.com/naturetreatresort)
There are many exciting weekend gateways to explore in Uttarakhand to spend time during your holidays. Gwaldam is considered as one such place that is less trodden landscapes in Chamoli region of Uttarakhand. It's situated at an altitude of 1700m above the sea level and nestled in forested vicinity with untouched tranquil environment, this natural setting of place invites tourists around the world of all age groups to spend their weekends here. A three km short trail runs-up to Talwari that is set in a breathtaking environment. The sideways of the trail is enriched in multicolored flowers, endless springs, and varieties of animals as well as birds. Trekking to grand Roopkund Lake is the most amazing memory of this place.

20. Know more about

hidden jewels of Harsil!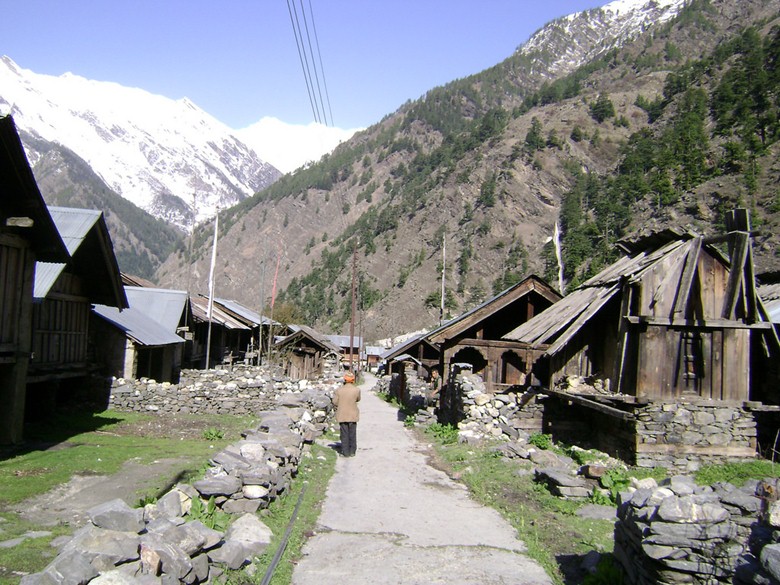 Different World:Harsil (Source – flickr.com/Girish Sharma)
In case you are looking for a place that will take you in to complete different world then Harsil is the place. You can escape to this one of the most mesmerizing weekend gateways anytime. This is considered as the hidden jewel of Uttarakhand. The murmuring Bhagirathi river water, chirping birds and thick forests transform this land in to a heaven on earth like gateway from unexciting disturbance of metro cities. This place is situated at 2620m above the sea level as well as occupies a scenic landscape.
21. Explore the charm of Jeolikot!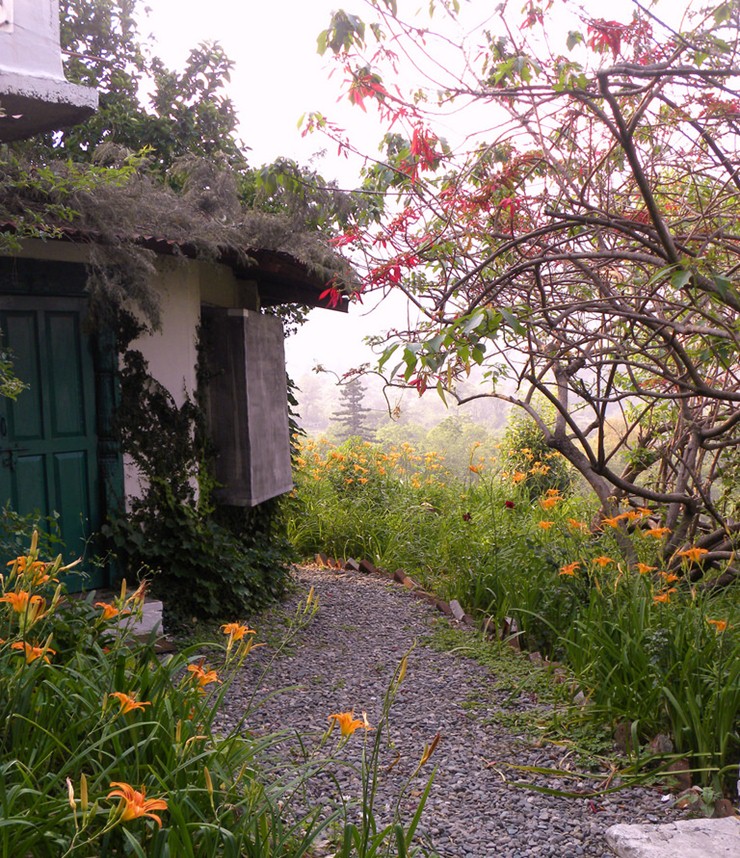 Beautiful Cottage: Jeolikot (Source – Flickr.com/Sagarika Bose)
You should visit this place in the coming summer and feel the excitement of exploring some boundless unexplored nature completely. From serene environment to calm ambience for recreation to enthusiastic thrilling activities, Jeolikot provides wonderful choices for all age groups. Popular tourist points such as Naini Lake, Ramgarh, Mukteshwar, and Corbett National Park are near to this region. You can enjoy the environment of orchards prosperous in cyclic fruits. You can have tremendous fun under the natural setting of Jeolikot and consider it for your next weekend gateways.

22. Explore the less explored passage of Kanatal!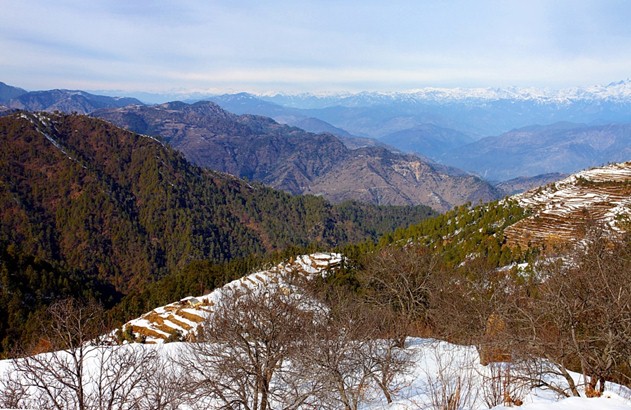 Kanatal (Source – flickr.com/Llamatism)
Kanatal is a six to seven hours drive from NCR region. This makes the best weekend gateways for people in Delhi and nearby places. This is a quaint area tucked away mesmerizingly in the dense forest of Garhwal district of Uttarakhand. It is 33 kms away from Mussoorie, Kanatal is situated 8500 feet above the sea level. Similar to other hill-stations of the region, this area is blessed with natural setting of greenery in its complete bloom. This is a less explored passage that attracts tourists around the world for rejuvenation, self-exploration as well as praising the God! Another main attraction of this place is its closeness with Dehradun and Chamba along with its trilling zeal.
23. Discover your mythological side in the Hub Ashrams in Kausani!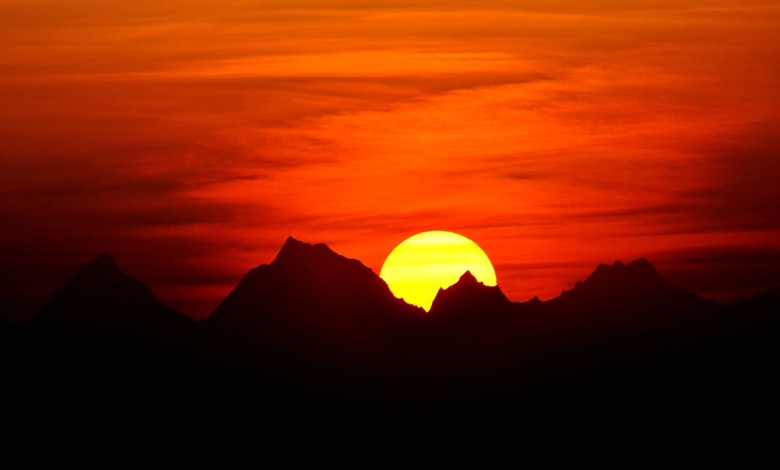 Feel the freshness: Kausani (Source – flickr.com/Abhijit Kar Gupta)
This is a paradise of serenity and a hub of uncontrolled freshness. This place is nestled between charismatic Kumaon hills and forests of Uttarakhand. Wide-ranging undulating terrains usually perched with lush-green tea gardens as well as persuade you to wander by the garden's side. Separated from the pollution and noisy ambience of metro life, it's an ideal retreat for nature worshippers. Newly married couples usually choose this place for their honeymoon and take a stroll in some breathtaking natural walking trails. You will find some beautiful waterfalls and ashrams at Kasauni between those are Lakshmi Ashram, Anashakti Ashram and Rudradhari Fall.

24. Do nothing, just relax in Khirsu: peaceful tourist place!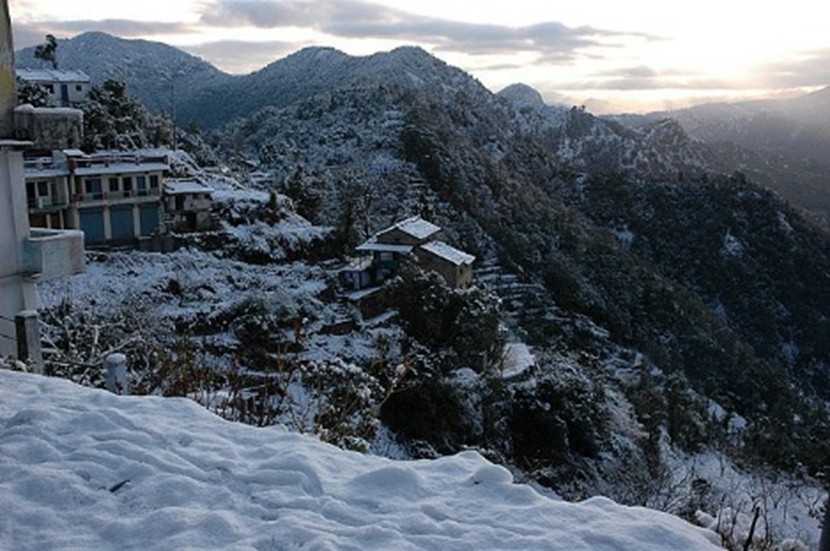 Snow in Village Khirsu (Source – devilonwheels.com)

Khirsu is another significant weekend gateways in the district of Pauri Garhwal. Khirsu is considered as one of the most tranquil places in the Uttarakhand. It is located at an altitude of 1700 m fascinates visitors and provides some of the most amazing views of mid Himalayas as well as its snow packed peaks. When you want to visit any peaceful place far from the city noise then this is the one place you are looking for. You will love interacting with nature. The tranquil forests are dense in Deodhar and Oak forests. Sweet fragrance of ripen delicious apples is enchanting. Ghandiyal Devta is an ancient temple in the surroundings is a worth visit. Dhari Devi, Deval Garh, Ulkha Garhi and Pauri are some of the most striking sightseeing choices available in Khirsu.

25. Relax in your ideal destination: Lansdowne!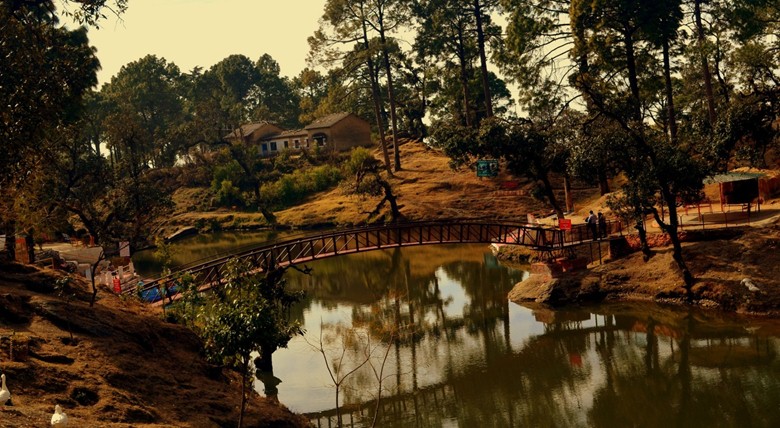 Lake View: Lansdowne (Source – flickr.com/Priyambada Nath)
This is the perfect weekend gateway to give some time to your leisure activities on holidays. Lansdowne is an ideal place to spend some relaxing time without doing anything and far from the hustle bustle of the metro life. Located in Uttarakhand region this place is at an elevation of 1700 , above the sea level, Lansdowne is a tiny hill station provides the best scenic views if snow laden peaks of Chaukhamba and Mt. Kedarnath. The hilly region is perched with Deodar, pine and Rhododendron forests that amplify its scenic beauty. Fresh cold winds, sunset colorsm bird paradise, unpolluted environment are some of the uniqueness this hill station offers.

26. Spend some devotional time in Lohaghat!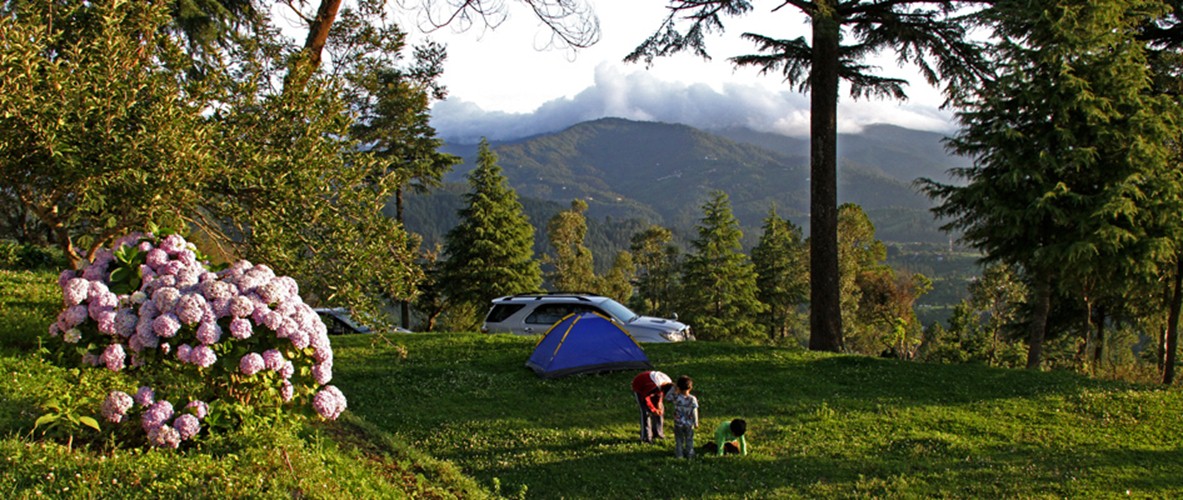 Breathtaking view: Mount Abbott Lohaghat (Source –abbottmount.com)
This place is located in Champawat district is at an altitude of 1745 m high in Uttarakhand. This is well-acclaimed for its amazing ambience this tiny quaint destination is quite significant from historical and mythological point of view. Lohaghat is a small place which is located by Lohawati River and a backpack from the craziness of metro life. Abundant natural trails, deep green landscape, Salubrious Mount and peaceful environment will make you forget all the city sadness and provide you rejuvenating experience altogether and revitalize your flagging spirit. Shyamal Tal, Forti Village, Galchaura, Vanasur Fort, Abbot Mount and Gurudwara Sahib are some of the important tourist points in this region. You should visit this spiritual Mayawati Ashram famous among the preachers of Advaitins. People who love adventure can take part in water rafting sports as well.
27. Enjoy rappelling and rock climbing in nearest weekend gateway: Mukteshwar!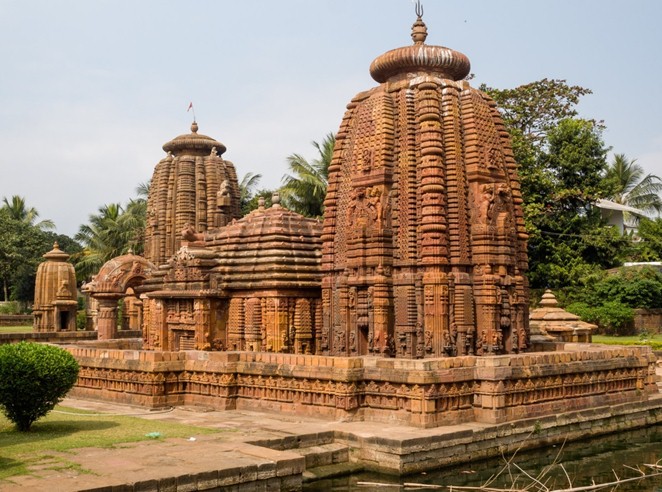 Mukteshwar temple: Mukteshwar (Source – flickr.com/Mike Prince)
This place is situated at an altitude of 2286m and 7500 ft above the hills of Kumain, Mukteshwar is considered as the nearest weekend gateways from Nainital and Delhi. Though, this region is well-known for is Lord Mahadeva temple, the scenic and mesmerizing beauty of this place is the main attraction. You will witness some breathtaking views of Himalayas and the natural environment from the premises of temple is an unforgettable experience. Chauli-ki-Jali is famous for its hanging cliffs where adventurous people can enjoy rappelling and rock climbing. You should have a glare of the amazing view of valley below. Trekking is done by people who want to experience their adventure side in the woods early morning. Ramgarh has some of the beautiful and amazing orchards while Sital is recognized for its garrulous waterfalls.
28. Multiple choices to do in Munsiyari!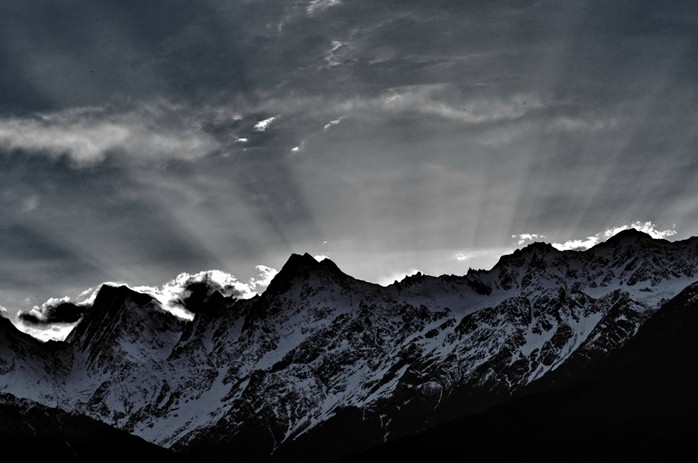 Kumayun Himalaya as seen from Munsiyari (Source – flickr.com/ Abhijit Kar Gupta)

People who are enthusiastic, young and want to feel the excitement of adventure, this place is the best choice for them as Munsiyari offers multiple choices for such people and their thrust for adventure. This place is located in the district of Pithoragarh at an elevation of 2298 m above the sea level and it is a less polluted destination to spend your holidays and trekking routes. People usually visit this place to quench their thirst for trekking, climbing and doing other adventurous sports. You should observe the amazing views of snowcapped mountains while trekking. When you're on a long holiday trip then you should explore this place more and don't forget to search for numerous varieties of natural world that is enriched via rare species such as Himalayan bear, raven, falcon, wagtail, monal, Himalayan griffon and much more.
Save