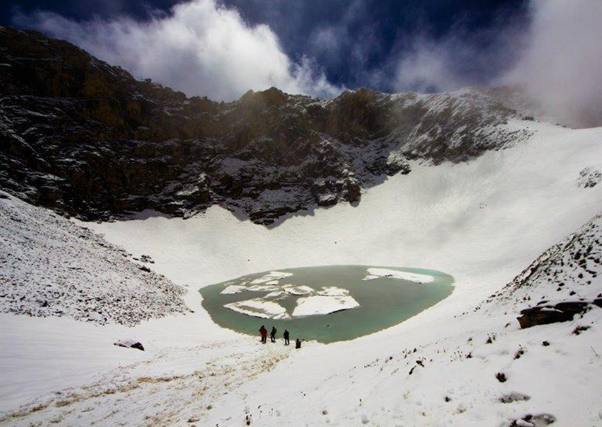 A dream trek for trekkers globally with beautiful and amazing valley, mountains covered with snow, natural drinking water and exciting camping experience.
Roopkund Trek is a mixture of dense natural forest, running water with gurgling sound, and much more stuffs which cannot be imagined or dreamed."

The trekker in India cannot miss the Roopkund Trek. It is also known as a Mystery Lake. The trekking is seasonally covered with ice and snow, miles stretched irregular plane and WOW camp sites at a height of 8,000 ft. to 16,000 ft. for consecutive few days.

Excited!? Want to know more about Roopkund Trek? 



---------------------------------------------------------
Best Deals for the Month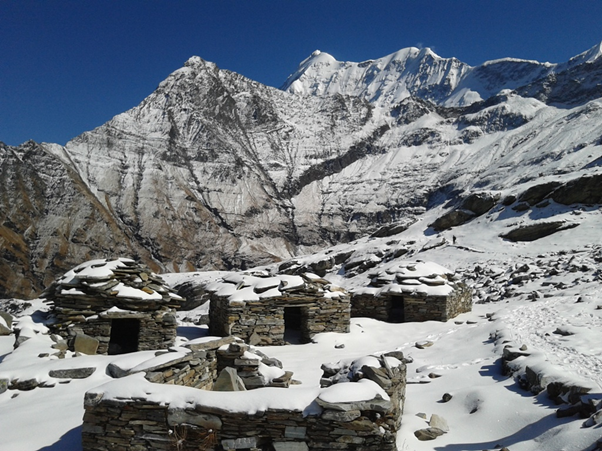 source-
So the very first question which comes to mind after getting a rough idea that when do we need to pack bags? Best time for Roopkund trek for beginners or professionals is in summer (April, May and June) as well as during autumn (September, October and November). The Roopkund Trek in both these seasons has its own wonderful experience.

Professionals plan Roopkund trek in June as the trekking level is difficult –



The trekkers who visit Roopkund trek in June can experience windy climate with less cold as the weather in June is unpredictable. The camp site for the Roopkund trek in June is at high altitude and mostly covered with snow, thus the chances of coming across human skeleton is negligible. The source for drinking natural water is easily available and trekker can see the frozen condition of Roopkund.

Beginners plan Roopkund trek in October as the trekking level is moderate and to enjoy the greenery –



The trekker who love cold climate but less wind should prefer Roopkund trek in October. In this period, the weather is clear and camp site is least covered with snow. Thus, chances of viewing a human skeleton increase. The natural drinking water during Roopkund trek in October is also limited.

Roopkund Trek Route Map



The main and the oldest station in the district is Kathgodam station. The connectivity from Delhi, Howrah, and Lucknow to Kathgodam is never a problem.

How to reach Roopkund trek from Delhi?



One can start Roopkund Trek from Delhi by booking a ticket a month earlier as the route is always busy. The fare of a ticket to reach Kathgodam from Delhi is around Rs. 150 for sleeper class and Rs. 400 for AC. The Ranikhet Express which departs from Delhi at around 10.40 pm reaches Kathgodam station at around 5.30 am or can even book a ticket in Uttar Sampark Kranti which departs at 4 pm from Delhi and reach Kathgodam around 10.40pm. The bus service is also available to reach Kathgodam from Delhi.

Roopkund Trek Itinerary Details



Roopkund trek itinerary is for eight wonderful and memorable days. The journey starts and stops at Kathgodam. The change in climate or atmosphere can be felt on reaching there.

Day 1 -Kathgodam to Lohajung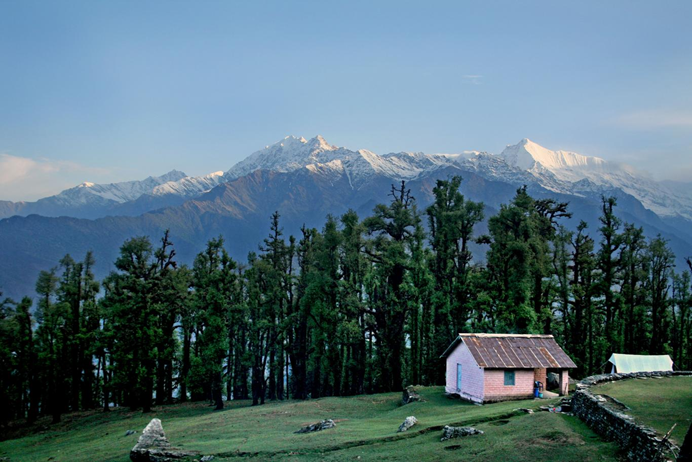 source- ghoomloduniya.com/
The mystery lake trek aka. Roopkund Trek starts from Kathgodam, which is a small and beautiful place. You start the living your dream and experiencing the moment when you start heading towards Lohajung via roadways. The road towards Lohajung from Kathgodam are narrow but have beautiful curves surrounded with an awesome view. Traveling along the amazing greenery is extraordinary.

Day 2 – Lohajung to Didna Village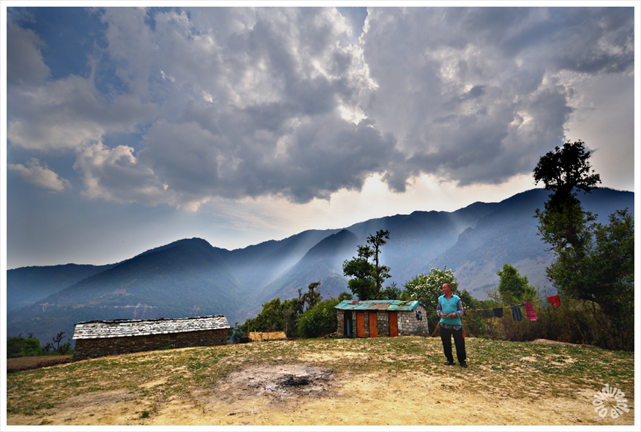 source -blog.crazypeaks.com
The trail from Lohajung starts just behind the bus stop. The trails lead to a mixed forest which descends to reach Raun Bagad. The trail takes around two and a half hour to reach Raun Bagad. On the way, one needs to cross an iron bridge over the well-known River Neel Ganga.

An alternate route to reach Lohajung is by road through Wan. An easy 6 KM walk thereafter from Kulling Village to Raun Bagad. This route from Kulling Village to Raun Bagad is quite steep slope. One can more easily reach through easy travel option but will definitely miss the mixed forest beauty.

After crossing the iron bridge, the climbing towards Didna starts. The climbing here is bit difficult and can get tired quickly. After facing the tough time to start climbing, by constantly climbing can help you to reach Didna in just one and half-hours' time. This will give you the feeling of real mountaineering experience and feeling.

Day 3 -Didna Village to Ali Bugyal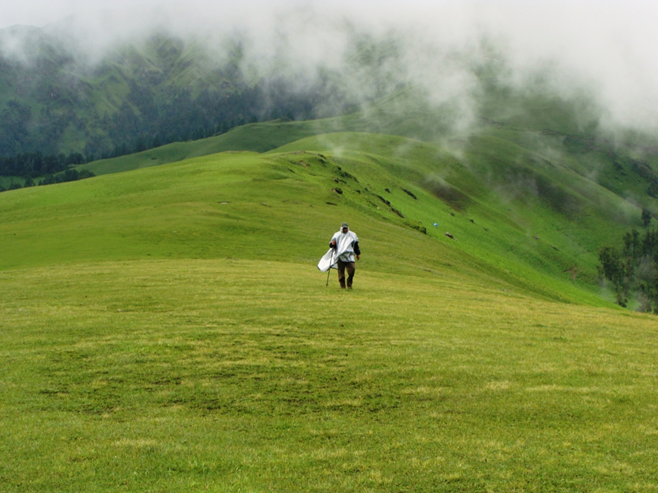 source -indiamike.com
There are two ways to reach Ali Bugyal from Didna Village. If you see towards the valley, you can view the Tolpani which is a cluster of huts where shepherds live. This is almost 1000 feet above and 3 KM away. Tolkaan trails start from Tolpani in the north direction. The route towards Tolkaan is covered with grassy oak and switchback mountains. To reach Ali Bugyal, take sharp left from Tolkaan towards South and go through the forest and another end is the destination.

An alternate route is to directly reach the Ali Bugyal. This will save your time and distance but it is a tiring and steeper trek.

The third day is basically for Chang Ma trek. This is one of the difficult treks and a joyful snow trek. The overnight stay in the open land can be a wonderful experience.

Day 4 – Ali Bugyal to Patar Nachuni via Bedni Bugyal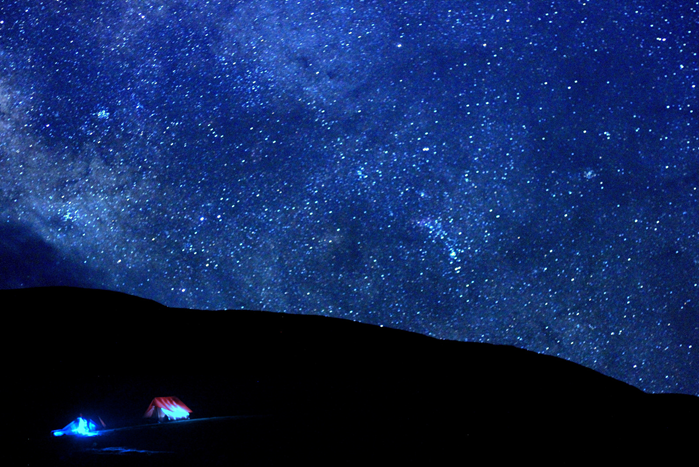 Night Camping at Bedni Bugyal. Image Source – wikipedia.org
The trek to Ghora from Ali Bugyal is quite easy. The 3 KM straight road which is uniformly increasing bring to the other end of the hill by trek. The scene from the point is simply awesome and stunning.

Day 5 – Patar Nachuni to Bhagwabasa via Kalu Vinayak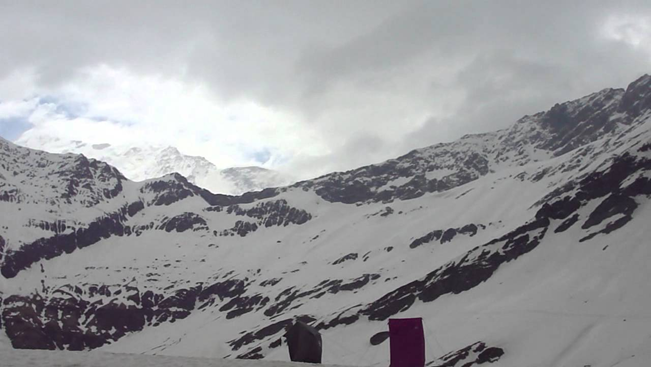 source-i.ytimg.com
The final trek in the snow at high altitude and steep. The expected altitude for the day is around 14,500 to 12,500 ft. where you can actually feel the changing weather and decrease in the air. You have to start the trek early to reach Bhawabasa under suitable weather conditions. The route to climb Kalu Vinayak is zig-zag and steep, there you need to be slow and careful in the section.

After this one and half hour stretch of Kalu Vinayak, the route to Bhagwabasa is simple and the slope is uniformly decreasing. Bhagwabasa is 2 KM away from where in the trail you can find few patches of snow.

Day 6 – Bhagwabasa to Patar Nachuni through Roopkund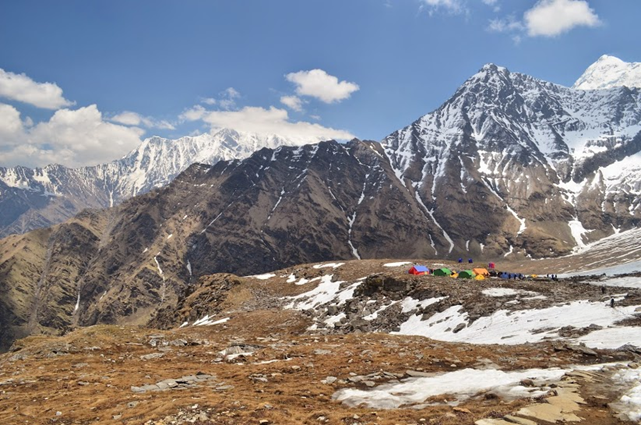 source -tejovanthn.com/2014/06/roopkund
The need to start from 4 am as later the snow becomes soft and there are chances of getting the feet to sink. Trekking 3 KM uphill from Bhagwabasa will help to reach Roopkund. After reaching Roopkund, trekker should also climb towards Junargali. It is around 200 ft. and take around 25 to 30 minutes.

To return back to Bedni Bugyal from Bhagwabasa, you need to start early. The route being sloped and covered with snow, be careful in trekking.

Day 7 – Pathar Nachuni to Lohajung via Wan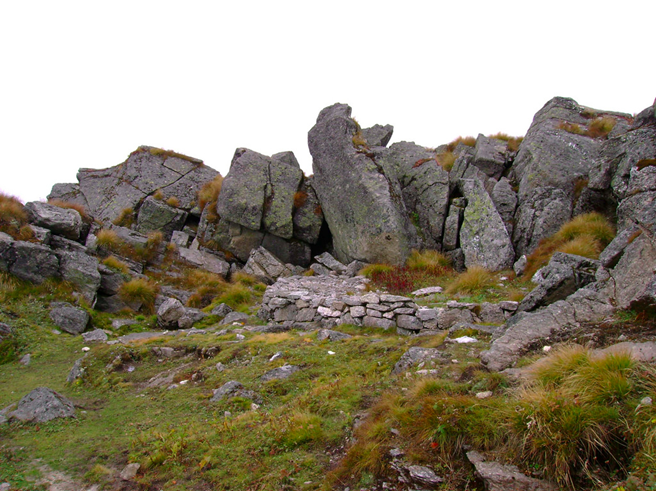 source-flickr.com/photos/its_sayan/4092491260
The journey back to Lohajung through Wan is easy. The mesmerising beautiful scene after the oak forest is a dream come true moment. Stepping down towards Neel Ganga, and climb to hill towards Wan Village take around six and half hours. An hour driving from Wan is Lohajung.

Day 8 – Lohajung to Kathgodam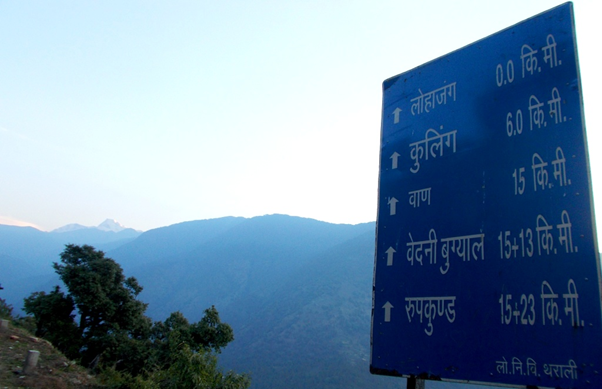 source – 4.bp.blogspot.com
Once you reach to the base camp from a high altitude, spending a day at Kathgodam is the best location to chill and relax after completing Roopkund Trek.

Things to Carry for Roopkund Trek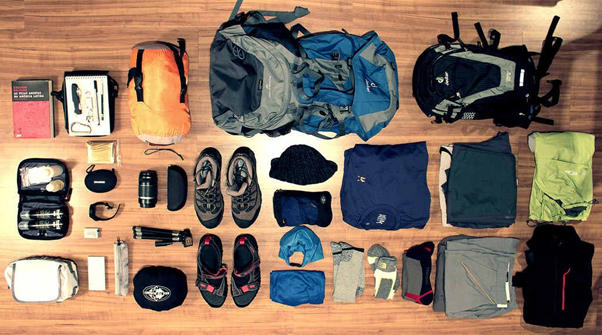 source-mephim.net/
There are must stuffs which a trekker must have or ensure before Roopkund Trek.

General Items to carry for Roopkund Trek-

1.    50 to 60 ltr. Back pack and rain cover with comfortable shoulder straps

2.    It is advised to carry at least one walking stick

3.    Single head torch. If possible keep hand torch as alternative

4.    2 bottles of water, each of 1 ltr. or a combination of 1 water bottle and 1 hydration pack

5.    Dry fruits and energy bars

6.    2 synthetic trek pants. Try to avoid capris, fitting denim or shorts

7.    Non-cotton full sleeves t-shirt

8.    Hand Sanitizer, Antibacterial moisturizer powder, quick dry towel, toothpaste and brush

9.    1 pair of trekking shoes which should be ankle high and waterproof with good grip

Cold Protection –

1.    Thermal inner wears

2.    Waterproof gloves

3.    Woolen cap

4.    Lip balm and skin moisturizer

Preparation for Roopkund Trek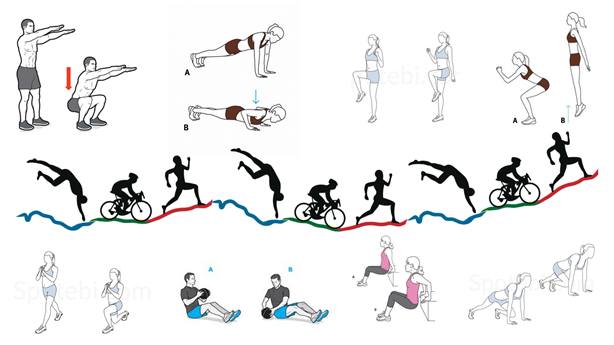 source-rockyfeet.com/
Mentally strong and confident for Roopkund Trek make the trek half done. For remaining half, we recommend some homework or preparation for Roopkund Trek.

Physical Endurance

Make yourself physically fit by exercising daily or undergo some training schedule. During the preparation for Roopkund Trek, try to focus or concentrate more towards Cardiovascular Health.

Breathing Exercise

Swimming and Yoga are the two best way to practice deep breathing. As many locations are at high altitude, the trekker should able to take deep breaths and hold it.

Strength Training

Specially for beginners, the arm and legs need to be strong enough to sustain at high altitude. The trekker should train self to carry heavy luggage over the shoulder and climb and enjoy at high altitude with less amount of oxygen. The simple way to practice this is to carry heavy load on your shoulder and climb stairs. Other exercise which can help to provide strength to your legs and arms are squats, push ups, planks and much more.

Globally famous Himalayan Treks



The top 3 domestic and globally famous Himalayan treks are

1. Hampta Pass Trek – the best option for a beginner to start trekking in the Himalayas. The slope and the prismatic sight of the alpine forest, Himalayan ranges and glaciers become a key element for the beginner.

2. Goecha-La Trek – The origin and enchanting valley in Sikkim. Goecha-La trek is covered with full twists and turns of Himalayan ranges. The trek through Khanchendzonga Peak and other astounding Himalayan peaks offers a memorable view and a great time.

3. Nagtibba Trek – An ideal trek to have a stunning view of Swargarohi, Black, Srikanth, and Bandarpoonch peak. The trek introduces to the beauty of Himalayan ranges, so be ready to come across cider, exotic oak, alpine forest, and rhododendron.

Other Top Winter Treks in India



The top 3 winter treks in India which are highly appreciated by the trekkers from India as well as globally are

1. Chadar Trek – Frozen River Zanskar Trek – One of the most challenging treks in Ladakh. The challenge of this trek is not only undertaken by local but also the trekkers across the globe. The expedition over the frozen River Zanskar with steep and massive mountain walls on either side of the river is simply amazing.

2. Kuari Pass Trek, Uttarakhand – Kuari Pass Trek aka Lord Curzon Trail is an incredible trek in India which includes majestic peaks of Himalayas such as Mana, Chaukhamba Range, Abl Gamin and Kamet.

3. Nag Tibba Trek – The highest peak of Nag Tibba Range is Nag Tibba. The height of this peak is around 9,924 ft. with stunning sightseeing. The Nag Tibba Trek draws hundreds of trekkers every year and is a best option for beginners.

Similar treks to Roopkund Trek



The treks which are similar to Roopkund Treks which should also not be missed are

Bandarpunch – Similar to the tail of a monkey, Bandarpunch trek starts from Uttarkashi and routes through the glaciers of River Ganga, Yamuna, and Tons. The path is also mostly covered with evergreen forest.

Bara Bhangal Trek – Bara Bhangal Trek, as well-known as Shepherds Tail Trek begins from Manikaran, Kullu valley. Trekker forgets their stress by coming across exhilarating terrains, high passes, Spiti Valley and much more.