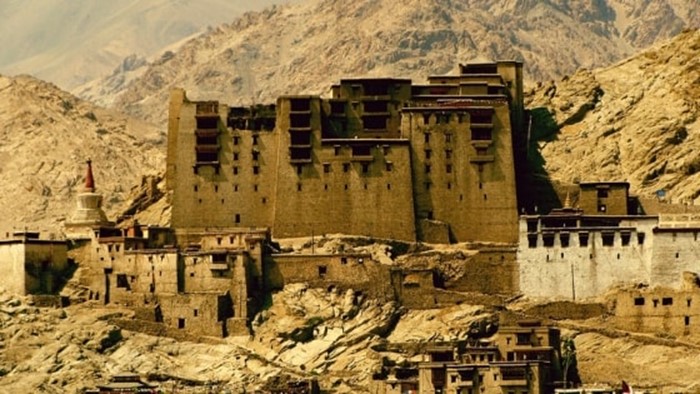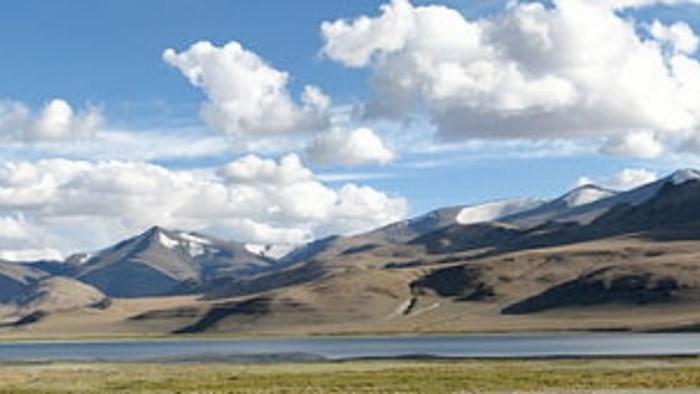 Source : https://en.wikipedia.org/wiki/Ladakh

It is quite difficult to list few famous and beautiful places in Ladakh as the whole region has been blessed with abundant beauty. The views from this region are breathtaking. Ladakh is inhabited by the people from Tibet and as such the architecture and the culture of Ladakh is heavily influenced by its Buddhist inhabitants.

---------------------------------------------------------
Best Deals for the Month
Every stupa, building, valley and lake in Ladakh has a story to tell. Discover these magnificent stories in the mystical land of Ladakh. I am going to list my personal favorites and the most famous places in Ladakh that you will encounter during your bike trip across the Land of the llama.

1) Zanskar valley :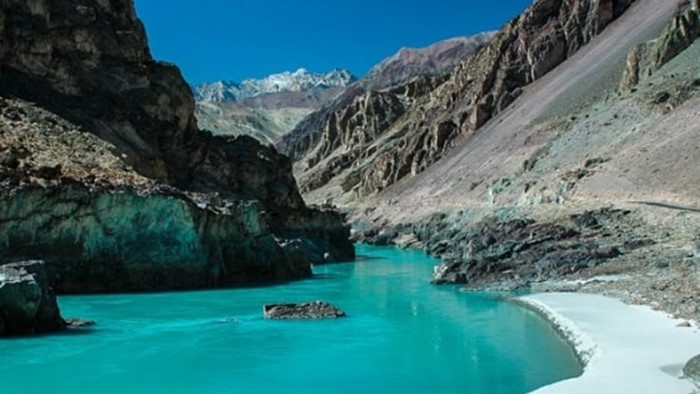 Source : http://www.headrush.in/expeditions

Zanskar valley is a desolate steep valley covered with snow. The beauty of this valley cannot be described by words. It is often hailed as one of the best places to visit in Ladakh region. Its tributary, the Zanskar river is blessed with pristine blue water.

2) Khardung-La pass :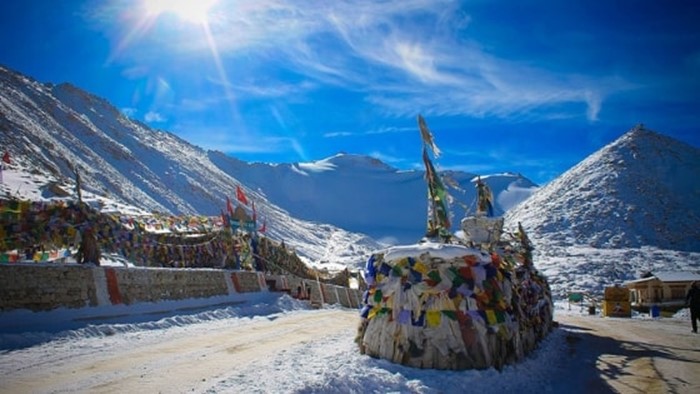 Source : https://en.wikipedia.org/wiki/Khardung_La

Khardung-La pass is also known as the "World's highest motorable pass". It connects the Nubra and the Shyok valleys and view from this majestic mountain pass is unbeatable. It is one of the most thrilling passes to ride on. It is maintained by the border roads organisation.

3) Lamayuru monastery :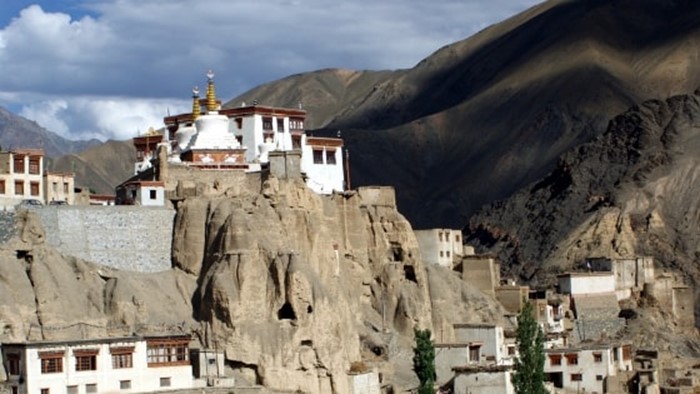 Source : https://en.wikipedia.org/wiki/Lamayuru_Monastery

Lamayuru monastery is located near the Nubra valley. It is one of the world's most unpolluted areas. One can gaze at the vast and the beautiful milky way galaxy at night. A giant stone carving of Buddha overlooks the monastery.

4) Nubra valley :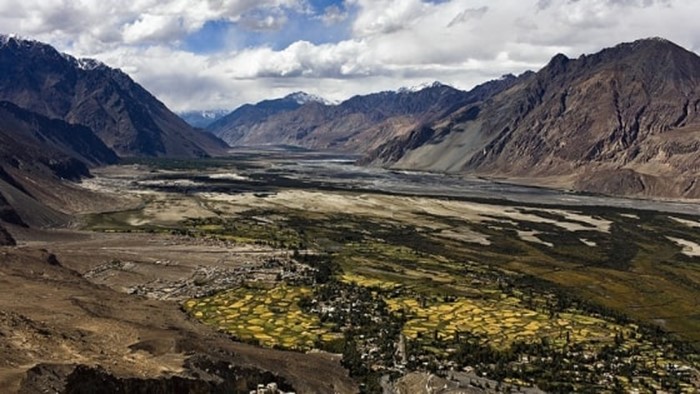 Source : https://en.wikipedia.org/wiki/Nubra_Valley

Nubra valley is an oddity in the Ladakh region. It is the only cold desert amidst snowy mountains. This valley is said to be the origin point of the Thetis sea from which Himalay's is said to have been formed. The sand dunes of Nubra valley house the double-humped camels. Make sure to include Nubra valley while planning your Ladakh trip.

5) Pangong Tso lake :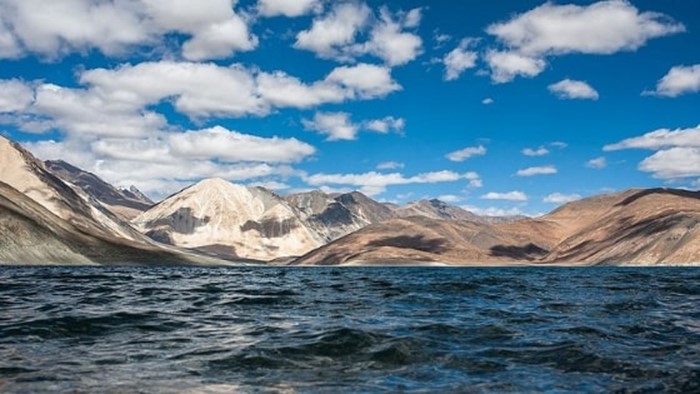 Source : https://en.wikipedia.org/wiki/Pangong_Tso

This lake owes its popularity to the superhit Bollywood movie "3 idiots". The crystal clear blue water at the climax scene from the movie is shot at the Pangong Tso lake. Camping at the lakeside is a favorite activity for the people planning a trip to Pangong Tso lake.

6) Tso Moriri lake :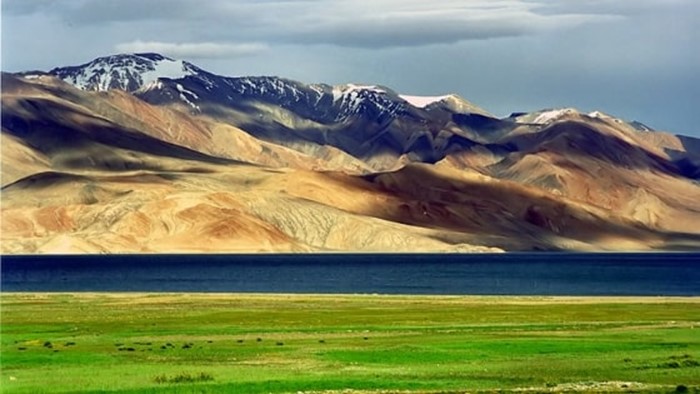 Source : https://en.wikipedia.org/wiki/Tso_Moriri

The scenery around Tso Moriri lake seems like a real life version of Bob Ross's painting. With green mountains, grey skies and pristine blue waters Tso Moriri lake is an absolute paradise for nature lovers.

7) Spituk Gompa :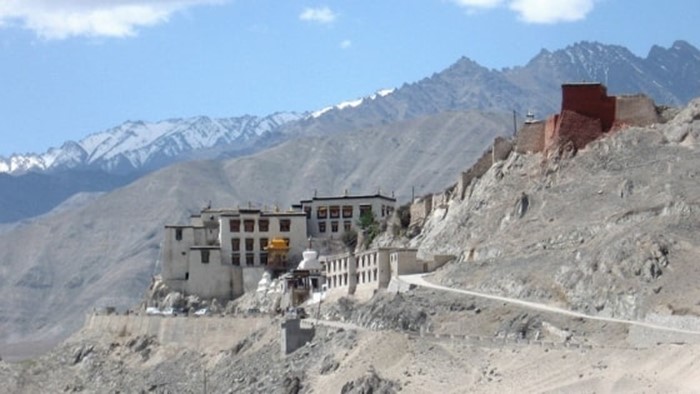 Source : https://en.wikipedia.org/wiki/Spituk_Monastery

The culture of Ladakh is heavily influenced by Tibetans and Buddhists inhabiting this wonderful region. And as such, Ladakh is filled with magnificent monasteries. The Spituk Gompa is one such marvellous monastery which is located atop a hill. This monastery offers a unique view of the splendor of the Himalayan mountain range.

8) Kargil :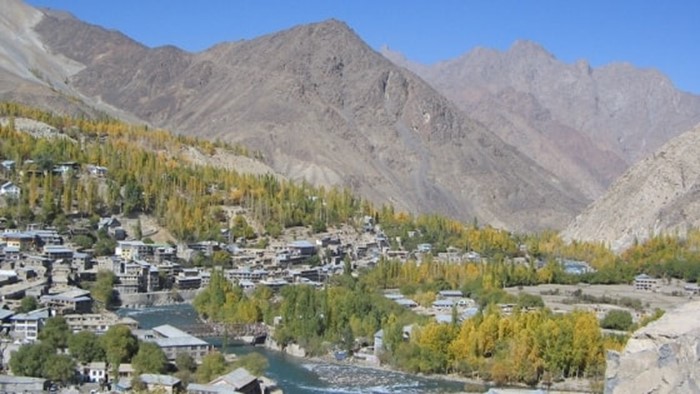 Source : https://en.wikipedia.org/wiki/Kargil

Kargil is one of the largest town in Ladakh. It connects Leh to Zanskar valley and Srinagar. It is the largest transit hub in Ladakh. Located on the banks of the Indus river, Kargil also offers adventure sports such as trekking and mountain climbing.

9) Hemis monastery :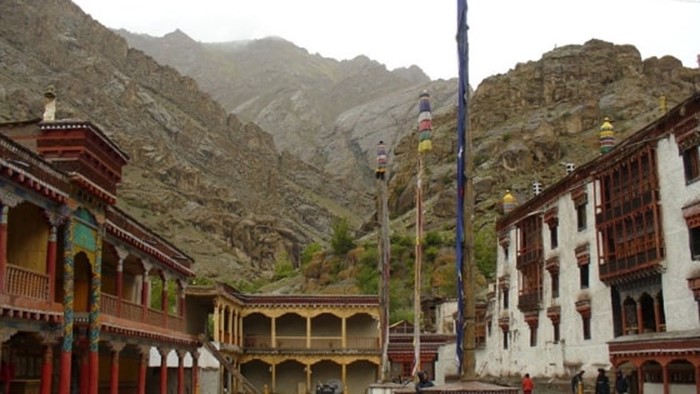 Source : https://en.wikipedia.org/wiki/Hemis_Monastery

It is one of the most famous monasteries in India. Hemis monastery is known for its annual mask festival. This two-day festival is celebrated in a grand manner in Hemis monastery.

10) Magnetic hill :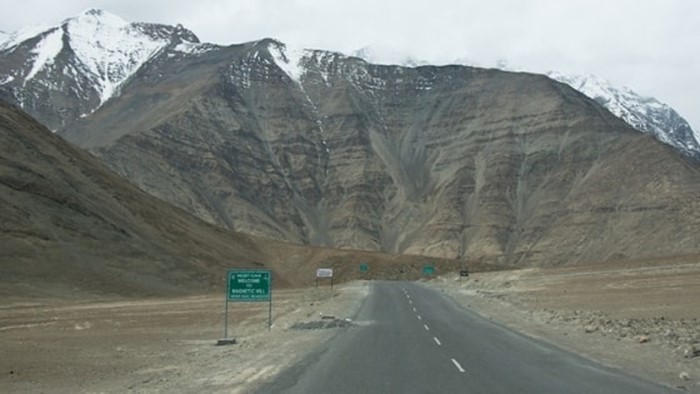 Source : https://blog.coxandkings.com/ladakhs-magnetic-hill-a-hill-that-can-move-your-car

One can observe a strange phenomenon in the magnetic hill. If you leave your vehicle with breaks unlocked, the vehicle will start moving uphill on its own due to the strong magnetic waves from the hill. The exact scientific phenomenon has not been explained till date. The whole ordeal seems like something which has been adapted from a superhero movie.

11) Shanti stupa :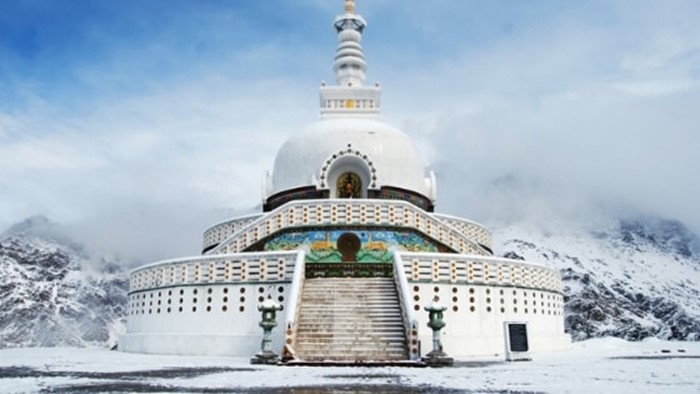 Source : https://en.wikipedia.org/wiki/Shanti_Stupa

Shanti stupa is located atop Chanspa hill in Leh and it is one of the most peaceful monuments one can find. It is a perfect place to meditate and gather one's thoughts. The best part of the Shanti stupa is the panoramic sights it offers of the region. It is a very famous tourist place of Leh.

12) Leh Palace :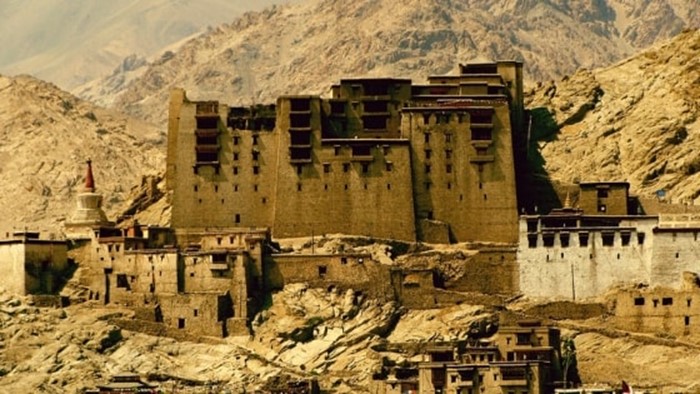 Source : http://famousplacesinindia.in/Palaces/Leh-Palace.aspx

The once mighty Leh Palace has now lost its grandeur. This ancient palace was built by the Namgyal dynasty in the 17th century. This palace is under the control of Archaeological survey of India and its preserved stone ruins still retain the magnificence of the architecture of a bygone era, making Leh Palace a famous tourist spot.

Make sure to visit these beautiful places during your Ladakh trip.

Also read:
Major Ladakh routes and Passes
Health precautions to be taken during Ladakh bike trip
Guide to plan your own Ladakh trip