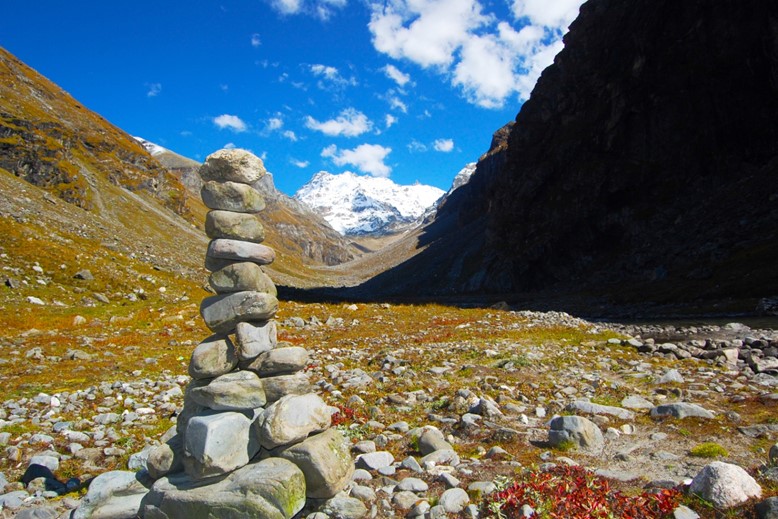 "A Trek amidst thick forest nestled with lush green meadows, alpines and colorful birds!!!
A beautiful river flowing throughout the trail and silk-blue streams flowing down the mountains!!
A Landscape with snow clad mountains all around and at the same time barren landscapes of Lahaul."

After reading it, I think you might have imagined how beautiful the Hampta Pass trek is. Every day is like, you have reached a new world. This 6 day experience of trekking in Himachal will be one of the most surreal experience in your life and the scenic beauty of the landscapes will capture your mind forever.
Location of Hampta Pass Trek
Hampta Pass trek is one of the most beautiful trekking experience in Manali and Lahaul-Spiti Valleys of Himachal Pradesh. This trek in Manali stands as a bridge that connects the Kullu Valley and Lahaul. Located amidst the long and beautiful Himalayas, Hampta Pass Trek stretches from an elevation of 8,000 ft to 14,000 ft. The trek in Himachal starts from Jobra going through Chika, Hampta Pass and back to Manali via Rohtang Pass is a 5 day trekking in Manali will be one of the most amazing trek to experience.
Overview of Hampta Pass Trek
---------------------------------------------------------
Best Deals for the Month
Duration: 5 Days
Highest Altitude: 14,000 ft approximately
Terrain: Thick blanket of ice till July end
Best time to visit: Mid June-Mid October
Starting Point: Jobra
Temperature Range: Winters: 0 to -20 degree Celsius
Summers: 0 to 15 degree Celsius
Trekking Distance: 30 km

Best time to visit Hampta Pass Trek
Weather Conditions in Hampta Pass trek
Mid-June to Mid-October is the best time to visit the trek in Manali. In the early days of the season we will catch a lot of snow on the high passes which reduces considerably by August.
The amount of snow during June that you will see on Hampta Pass will make you believe that you are in the Arctic. Days are generally going to be sunny and warm (12-20°C) while the night temperature at the highest campsite would be in the range of -2 to 6°C. During the latter part of the season (Sep – mid-Oct) there is little snow on the trail and good weather throughout but with the possibility of snowfall. The days are sunny with temperatures hovering around (12-18°C) the evenings start getting cold with the onset of October and nights are comparatively colder (- 6 to 4°C).

How to reach the starting point of Hampta Pass Trek?

The starting point of Hampta Pass Trek is Jobra which is a 1 hour drive from Manali. You will get a taxi from Manali to reach Jobra. Manali is well connected to important tourist destinations like Delhi, Srinagar, Leh, Shimla and Kullu and one can easily reach Manali by bus. From Jobra starts your exciting and challenging trek in Himachal.
Distance of Manali from some major points:
Bhuntar to Manali: 50 km

Delhi to Manali: 540 km

Kullu to Manali: 40 km


Shimla to Manali: 250 km


The nearest airport is at Bhuntar also known as Kullu-Manali Airport. It takes around 1.5 hours to reach Bhuntar from Delhi via flight.
Hampta Pass Trek Route Map
Day 1:Manali to Jobra and Jobra to Chika
Elevation: Manali: 7,000 ft
Jobra: 9,800 ft
Chika: 10,500 ft

Manali to Jobra is a one hour drive crossing around 30 hairpin bends which will make your journey exciting. The landscapes that you see while going to Jobra are splendid. From Jobra starts your adventurous journey of trekking in Himachal. Trek from Jobra to Chika is a 3 hour journey. With the mesmerising views, walk along the River Rani amidst the rocky Himalayas. The forests are decorated with a variety of trees like oak, maple, deodar and the alpines.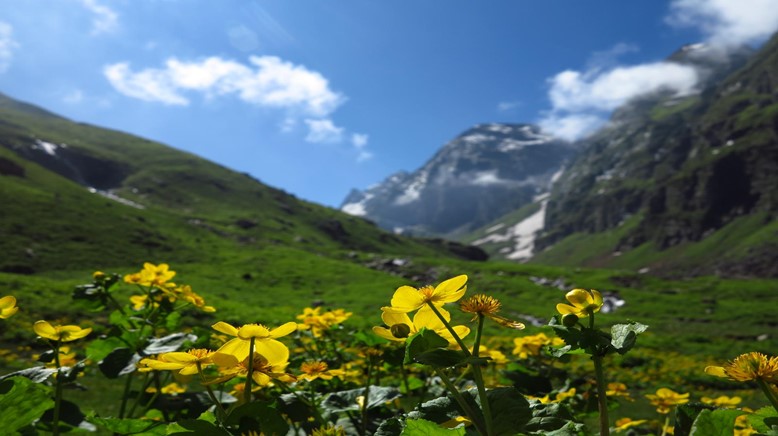 Day 2: Chika to Balu ka Gera
Elevation: Balu ka Gera: 12,000 ft
This is easy and short part of the trekking in Manali. It will take around 5 hours to reach Balu ka Gera via Jwara. This part would be the real experience of trekking in Himachal as you will witness the beautiful snow clad in Dhauladhar Ranges, the part of the outer Himalayas. The path till Jwara is full of lush green meadows and colorful flowers, after that start the rocky terrain. The campsite of Balu ka Gera is just awesome.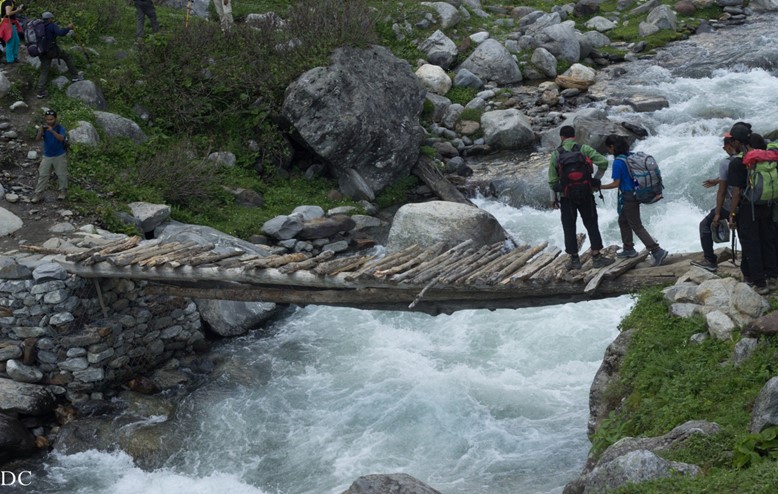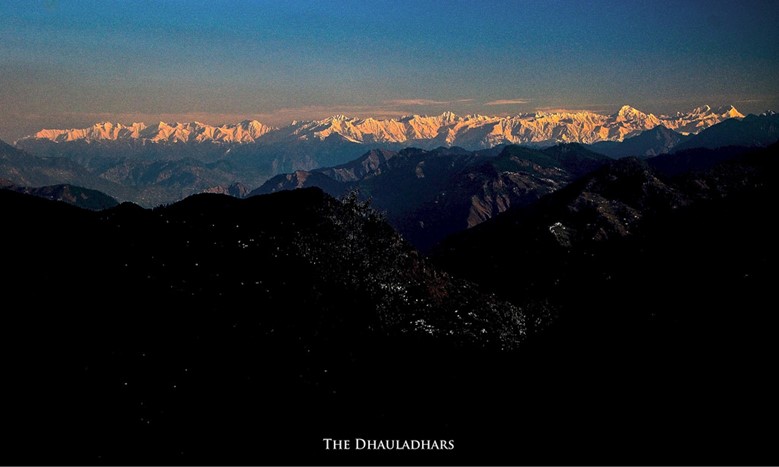 Day 3:Balu ka Gera to Siagoru
Elevation: Sia Goru: 13,100 ft
Hampta Pass: 14,600 ft

This is the longest and the most adventurous part of trekking in Hampta Pass. It takes around 9 hours to reach Siagoru via Hapmta Pass. Now is time to experience the total change in the surroundings, from lush green meadows to the barren landscapes in Lahaul and Spiti Valley. This will be the most amazing experience while trekking in Manali. There is ascent from Balu ka Gera to Hampta Pass and a steep descent to Sia Goru.You may find the shepherds grazing their sheep at the start of the trek. Walking along the river you will reach the Hampta Pass, this a bit difficult part and be careful if the weather is hostile.
The journey will be tiring but the splendid views of Hampta Pass will cure it all, relish the beauty of the peaks in Himachals have your lunch and head back to Siagoru.
Day 4: Siagoru to Chatru to Chandrataal
Elevation: Chatru :11,000 ft

This is an easy descent, which will take around 5 hours. The region is completely surrounded by massive mountains amidst the Lahaul and Spiti Valley. Chatru is a confluence of 3 passes Hapmta, Rohtang and the Spiti. If the weather conditions are not harsh then you can visit the beautiful Chandrataal Lake, also known as the Moon Lake. The enchanting blue lake will make you fall in love with the Himachals and the calmness of the surroundings will make you stay there forever.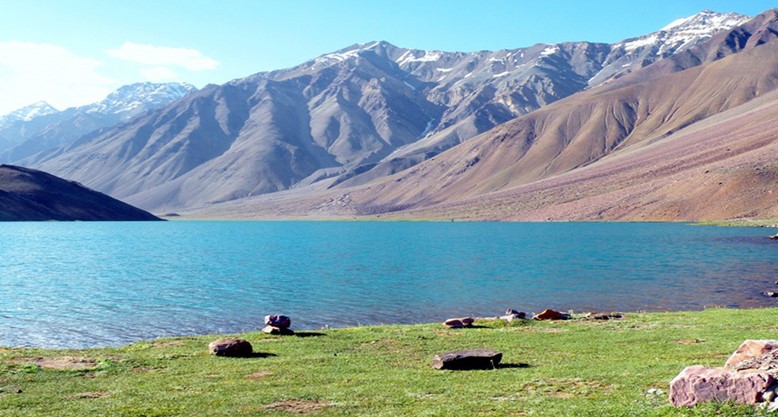 Day 5: Chandratal to Manali
This ends your adventurous and mesmerizing trek in Manali. After capturing the most enchanting views head back to Manali via Rohtang Pass.
Whom is the trek meant for?
How difficult is the Hampta Pass Trek?
The difficulty level of the is moderate as compared to other treks in Himachal and is best for the beginners. The terrain is leveled and decorated by lush green meadows and pines throughout. A 12 year old can easily walk through the trekking in Manali. If you face any difficulties, there are tour guides and people available who will help you throughout the way and the camping sites are beautiful and safe.
Fitness Required for Hampta Pass Trek-
Preparing for the Trek and Acclimatization Tips
Mental and Physical Endurance
Mental endurance is the most important factor.Smaller physical lack behinds can be overcome by strong mental thinking. Physical Endurance also plays an important role. Regular training and exercise make us physically strong. Try to focus more on Cardiovascular Health during the training period.
Breathing Exercise
At high altitudes Breathing becomes a big problem. To overcome this practice taking deep breaths and holding it. Yoga and swimming exercises are the best, it works both on your cardio and breathing.
Strength Training
You need to build your arms and legs strong to sustain a high altitude hike. Train yourself to strengthen your muscles to be able to carry loads on your shoulder and climb an uphill in an environment low to oxygen. At least 3 days a week, climb stairs with a load on your back, do squats, train your calves, do pushups and planks to increase your core muscle strength. You should follow the fitness regime strictly if you are a beginner.
Health Precautions and Measures to be taken during the Hampta Pass Trek

Few important tips during the trek are:
Drink plenty of fluids and stay hydrated.


Eat regularly and eat light. Carry chocolate bars, chewing gum and have them regularly in the journey to avoid tiredness.


Strictly avoid intake of alcohol.


Have garlic to increase oxygen capacity. Take ginger water.


Try to sleep at lower altitudes.


Ascend the mountain gradually.

The necessary things like vicks, crocin, avomine, band aid, cotton, volini, antiseptic cream, crepe banadage should be in your medical kit.

Things to carry for Hampta Pass Trek
General Items(Clothing and Footwear for the trek)
Backpack (Min 60 litres) with Rain Cover
Trekking Shoes
4 Pairs of Full sleeve shirts/T-Shirt and Track Pants
Water Bottle 1 Lt
Light towel
Lip Balm
Headlamp or torch with fresh pair of batteries
Personal Toilet Kit and toilet paper
Personal Medicine Kit
Small Backpack
Hand Sanitizer
Soap Paper
Walking Stick

Sun Protection

Sunscreen (SPF 40+)
Hat
Scarf

Dark Sunglasses (U/V protected)

Cold Protection

Skin Moisturizer
Lip Balm
Thermal Inner Wears
Woolen Cap
Fleece or Double Fleece Jacket
Down Jacket
Woolen Gloves with a pair of thin Inner Gloves


Electronic Devices
A good quality camera is advised for Hampta Pass Trek to capture the magnificent views of the surroundings which are for sure memories of a lifetime. Carry a mobile charger and power bank. Batteries tend to lose their charge quickly at higher altitudes.

Nearby Places to visit during Hampta Pass Trek
1 – Manali
After ending the beautiful trek in Himachal if you have time you can spend 1 or 2 days at Manali. Few amazing places to visit in Manali are-
Beas River
One can enjoy river rafting at Beas river. It is the best place to relax yourself . Surrounded by lush green meadows ,you can sit on stones and relish the beauty of nature having teas and hot pakodas.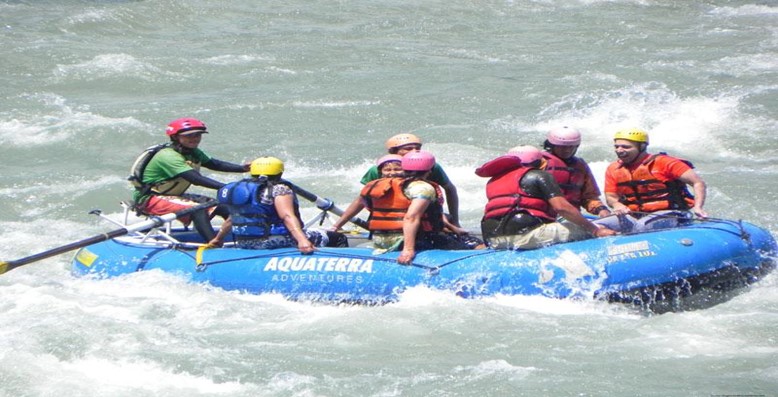 Hidimba Devi Temple
The temple is the heart of Manali. It has a small sanctorum and deity, but very popular with the tourists and locals alike. During winters the temple completely gets covered by snow, which gives a splendid view.The quite and friendly environment will make you fall in love with it.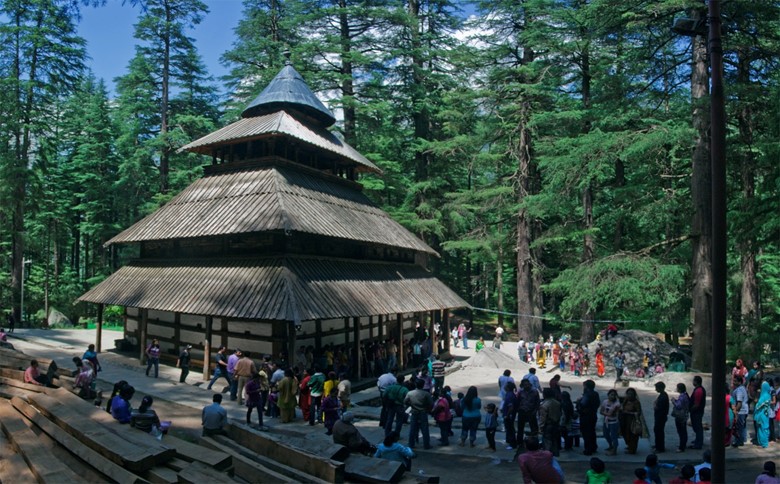 2 – Rohtang Pass


Rohtang Pass is one of the most adventurous part for trekking in Himachal located at a distance of 9.2 km from Hampta Pass. Avid trekkers should not miss this while trekking the Hampta Pass Trek. Rohtang Pass is at an altitude of 13,000 ft is covered with snow most of the time. Beas kund the source of Beas river is also located at Rohtang Pass and is one of the most amazing site to see.
3 – Malana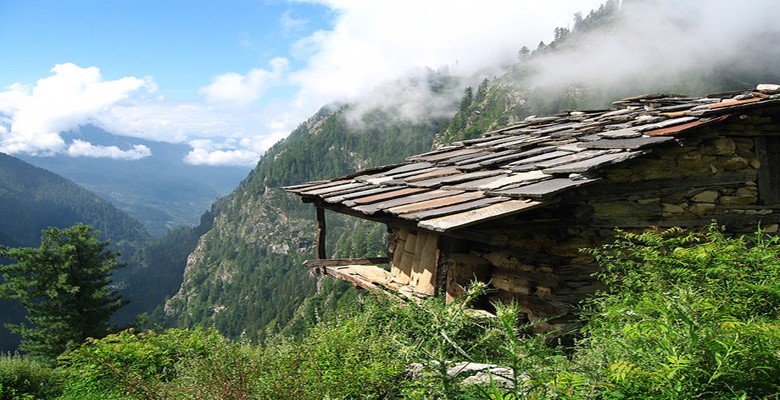 Malana located at a distance of 15.3 km from Hampta Pass Trek is a beautiful, uninhabited village amidst the Deotibba and Chandrakhani peaks. One should definitely visit the place to witness the serene beauty while trekking in Himachal.