The ultimate road trip of the season is here. Leh Ladakh road trip is one of the highly rated road trips on the earth. Road trips to Leh Ladakh are filled with colourful monasteries, narrow roads with steep curves, the most scenic snow topped Himalayan range and Karakoram mountain ranges, and many other surreal spots. Apart from offering such stunning views of surroundings, these trips also challenge you physically and mentally through the rugged terrains and slightly unpredictable climatic conditions. Hence, here is our attempt to provide you a complete travel guide on the famous Leh Ladakh road trip
Leh Ladakh Road Trip – Overview
Leh Ladakh Road Trip Route Maps
---------------------------------------------------------
Best Deals for the Month
There are two different routes that reach us to Leh. One from Srinagar and the other one from Manali. Manali is the preferred route for a Bike trip to Leh Ladakh as it is just a day's drive from city and is also provides a very thrilling ride over the gorgeous and dangerous roads, along the highest motorable passes in the world. However, if time is on your side, complete road trip to Leh Ladakh following the route Srinagar – Leh – Manali is a once in a life time experience. Manali to Leh road trip is around 476 kms and Srinagar to Leh road trip is around 434 kms
There can be many ways to experience the Leh Ladakh road trip depending on the start and ending destination and duration. Weekend Thrill provides you 8 different leh ladakh road trip packages for 2017 at the best price possible.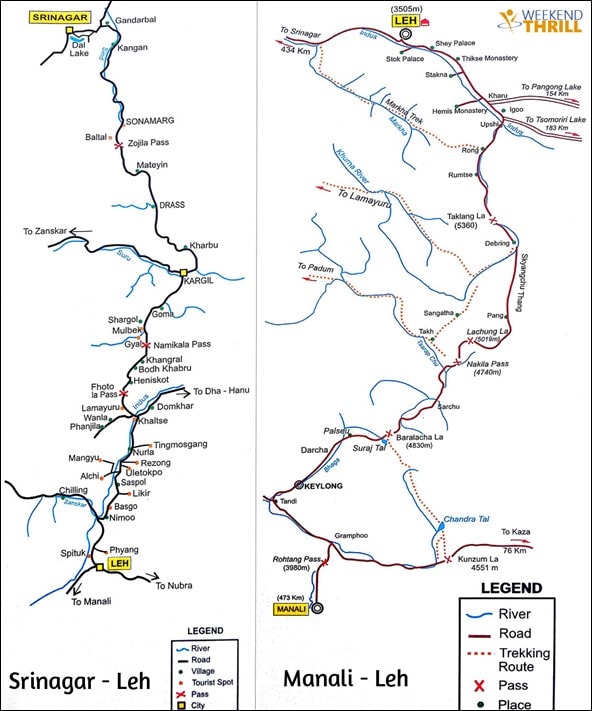 Best Time to Visit Leh Ladakh
Best Time to Visit Leh Ladakh through road trip is from Mid-May to October. Roads from Srinagar are open from Mid-May. But, Rohtang pass in Manali – Leh route is open only after May as the roads would be slippery till then. Bike trips to Leh – Ladakh begin as soon as the roads are open. The roads remain open till November. Only during summer and autumn seasons, one can go via road to Leh – Ladakh. From November to April, one can reach Leh only through airway. Flights are available to Leh from Srinagar and Delhi. While traveling through Manali-Leh route, start early to reach Rohtang Pass to avoid getting stuck in traffic
The Leh Ladakh Road Trip packages provided by Weekend Thrill have fixed departures from May to September 2017
Camping Spots in Leh – Ladakh Road Trip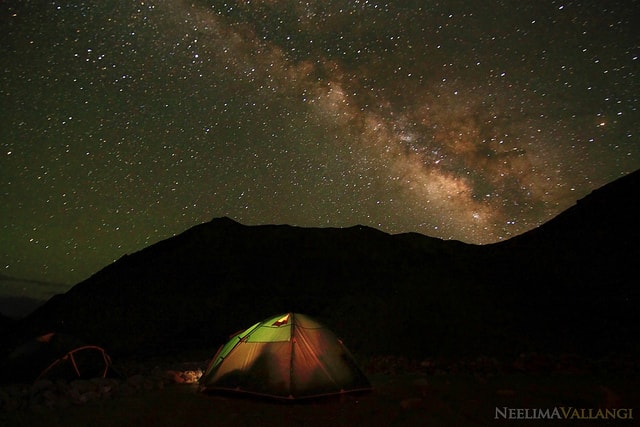 Camping spots in Manali – Leh route are available at Tandi, Jispa, Keylong, Sarchu and Pang. Camping spots in Srinagar – Leh route are available at Drass, Kargil, Shargol, Tingmosgang and Sham Valley
Eateries Locations in Leh – Ladakh Road Trip
Eateries are available at Marhi, Sissu, Keylong, Sarchu, Jispa and Pang in Manali – Leh route. In Srinagar – Leh route eateries are available at Songamard, Drass, Kargil, Mulbekh and Lamayuru
Checklist Infographic for Leh – Ladakh Road Trip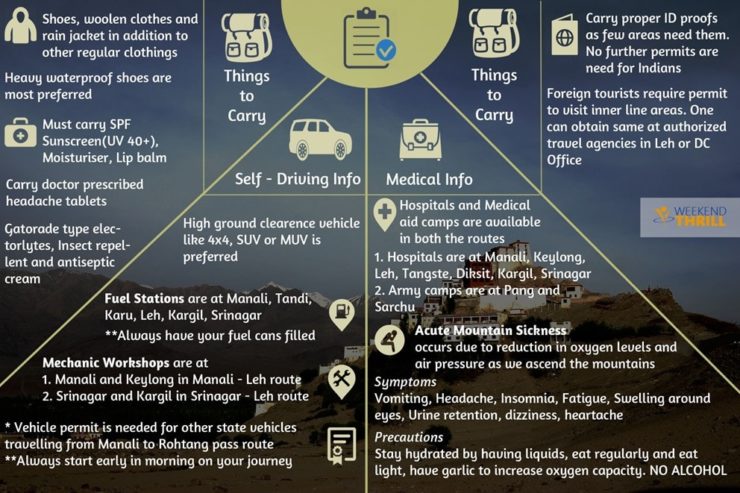 Things to Carry for Leh – Ladakh Road Trip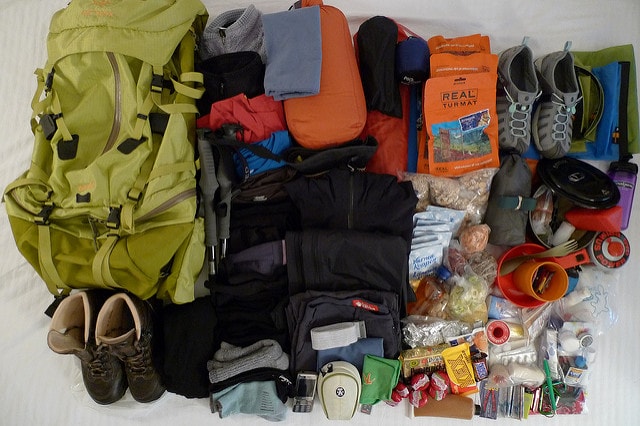 Always use waterproof rucksacks to pack your things. Here are some essentials that you need to carry for the Leh Ladakh road trip
Clothing and Footwear
Wear heavy gumboot shoes which are useful for trekking and hiking. If possible, have an extra pair as well
2 – 4 pairs of woollen socks, helpful for bike riders in those slightly unpredictable climatic conditions and rough terrains
Pack adequate number of woollen clothes like jackets, sweaters, shawls, comforters, gloves, etc. Wear the clothes in layers
Carry a rain jackets to survive the unexpected showers of rain/snow
Medical Supplies and Toiletry
Carry sunscreen lotions (SPF 40+), moisturisers and lip balm
Pain relieving sprays (volini) and inhaler. Headache tablets (prescribed by doctor)
Re-hydration liquids like Gatorade
Always carry ample amount of water and always be hydrated
Accessories
Hat and scarf
Sunglasses with UV protection
Multi tool knife and large plastic bags to keep items dry in case of rain during treks
Electronic Devices and Accessories
A good quality camera is advised for Leh Ladakh road trip to capture the magnificent views of surroundings which are for sure memories of life time. Carry charged batteries and charger
Carry mobile charger and power bank. Batteries tend to loser their charge quickly at higher altitudes
Others (Important)
Beginners who never experienced high altitude locations are advised to carry the portable oxygen cylinders which last for few minutes which are available in chemist's shops in your cities. Buy them at your residing locations itself, as there is possibility of them being out of stock in Manali due to demand-supply gap in season time
Carry adequate cash at any time, as the ATMs are mostly out of order during season time
Self-Driving Info for Leh-Ladakh Road Trip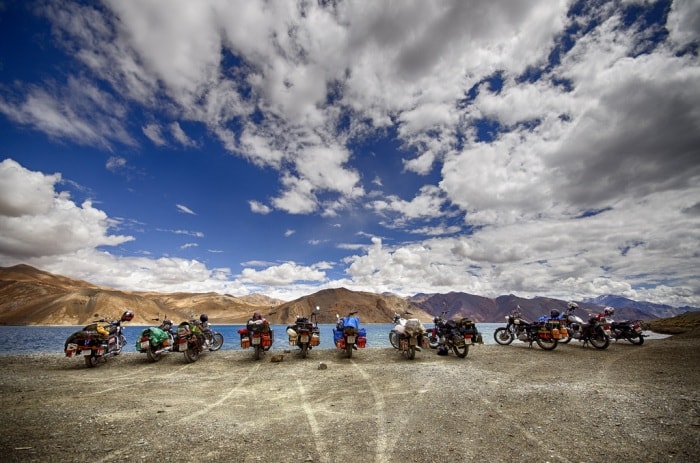 General Tips
In case of road trip to Leh – Ladakh through cars, only high ground clearance vehicles like SUV or MUV are preferred
Get your vehicle properly serviced before trip. It is good to know few quick and easy fixes, so that you are less dependent on mechanic shops which are very few
Carry spare tyres and mechanical tool kit as you will be travelling through rugged terrain
Drive safe. Don't try to rush through risky sections of the roads like rough road, landslides, water crossing etc.
Always start your trips for the day early in the morning to avoid traffic and to not to miss the amazing views
Fuel Stations
Petrol Pumps are available at very few places in the entire 900 kms stretch (Manali – Leh – Srinagar) of Leh-Ladakh road trip. You can find them at Manali, Tandi, Upshi, Leh, Kargil and Srinagar
Carry at least 2 extra fuel cans which are fully filled. 360 kms stretch from Tandi to Upshi in Manali – Leh Road trip doesn't have any petrol pumps
Mechanic Workshops
Manali – Leh Route: Manali and Keylong
Srinagar – Leh Route: Srinagar and Kargil
Vehicle Permits
4 – wheeler Vehicles which aren't registered from HP require permit to clear the Manali – Rohtang Pass route. This permit is issued at sub-divisional magistrate office, Manali
Office is open from Monday to Saturday between 10 AM to 5 PM
Health Precautions That Are to Be Taken During Leh – Ladakh Road Trip
One of the most common illness observed in the first-timers is Acute Mountain Sickness (AMS). As one ascends these mountain ranges, the reduced oxygen levels and air pressure which one might not be habituated to, will lead to AMS which has multiple symptoms that cause great inconvenience to entire journey. Symptoms of AMS are headache, vomiting, sleeping difficulty, dizziness, shortness of breath, fast heart rate and insufficient urine production. In serious cases, colour of skin turns blue, cough up blood, chest congestion and cannot walk in a straight line
Avoiding Acute Mountain Sickness in Leh – Ladakh Road Trip
Drink plenty of fluids and stay hydrated
Eat regularly and eat light. Carry chocolate bars, chewing gums and have them regularly in the journey to avoid tiredness
Strictly avoid intake of alcohol
Have garlic to increase oxygen capacity. Take ginger water
Try to sleep at lower altitudes
Ascend the mountain gradually
Medical Aid Locations
Hospital are present at very few locations. They are available at Manali, Keylong, Leh, Tangste, Diskit, Kargil and Srinagar. Army medical camps are placed at Pang and Sarchu
Inner Line Permits for Travellers
Indian travellers don't required any permits to visit places around Leh. One should carry a proper ID proof to avoid restrictions. However, foreign travellers need to obtain to permits to visit few of these inner line areas like Nubra Valley, Pangong Tso etc. Permits can be obtained from registered travel agencies in Leh or from District Collectorate (DC) Office in Leh. Office timings are from 10 AM to 5 PM
Must See Places in Leh – Ladakh Road Trip
Places to see in Manali to Leh Route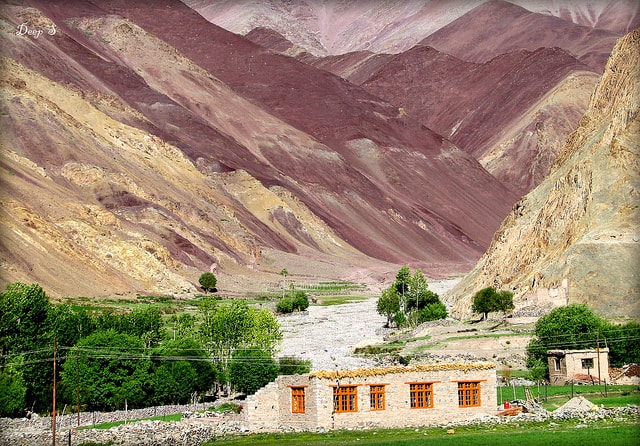 From snow-capped mountains to trees covering both sides of road, breath taking views of mountain ranges to beautiful monasteries, challenging roads to insane hair pin bends, Manali – Leh route offers an awe-struck experience to adventure travellers and photographers.
Photography Tour from Manali To Leh
Here are some of the famous points across the Manali – Leh route on your Leh – Ladakh road trip
Manali (2050 mts): Tourist destination, view of Dhauladhar and Pir Panjal ranges
Rohtang La (3980 mts) – 53 kms: Pass in Pir Panjal range. Connecting point for Kullu, Lahaul and Spiti Valleys
Keylong (3348 mts) – 117 kms: Kardang Monastery

Jispa (3142 mts) – 140 kms: Hotel, Bhaga river and amazing views
Darcha (3400 mts) – 147 kms: Village, Photographer's paradise

Patsio (3820 mts) – 161 kms: Campsite
Baralach La (4892 mts) – 192 kms: Pass. Connects Lahaul to Ladakh
Sarchu (4253 mts) – 224 kms: Campsite. Halt point for tourists
Lachang La (5065 mts) – 277 kms: Pass. Close to Pangong lake
Pang (4630 mts) – 301 kms: Campsite
Taglang La (5360 mts) – 365 kms: Pass. Highest point in the trip
Rumtsey (4325 mts) – 397 kms: Monastery
Gya (4100 mts) – 403 kms: Historical place
Hemis (3518 mts) – 426 kms: Monastery
Thiksey (3370 mts) – 455 kms: Monastery
Shey (3365mts) – 460 kms: Palace/Monastery


Leh (3348 mts) – 475 kms: Your final destination
Places to see in Srinagar to Leh Route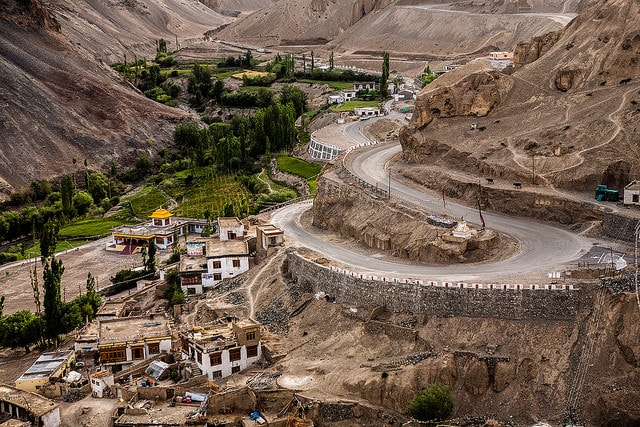 Srinagar to Leh route is filled with beautiful villages, war memorials, valleys, monasteries, the strange magnetic hill and more. This 434 kms stretch of mother earth is a true paradise
Photography Tour of Srinagar to Leh route
Starting from Srinagar, here is list of some important places along the route
Sonamarg (2743 mts) – 84 kms: Tourist Resort
Zojila Pass – 127 kms: Pass
Drass (3033 mts) – 147 kms: Valley
Kargil (2650 mts) – 204 kms: War Memorial
Mulbek – 259 kms: Rock Engraves
Fotu La (4108 mts) – 299 kms: Pass
Lamayuru (3440 mts) – 309 kms: Hanging Monastery
Ridzong (2985 mts) – 361 kms: Nunnery
Uletokpo (2985 mts) – 362 kms: Village / Campsite
Alchi (3345 mts) – 367 kms: Ancient Monastery
Likir (3265 mts) – 374 kms: Ancient Monastery
Basgo (3343 mts) – 394 kms: Palace/Monastery
Phyang (3490 mts) – 417 kms: Monastery
Spituk (3380 mts) – 422 kms: Ancient Monastery
Leh (3348 mts) – 434 kms: Your final destination
Leh Ladakh – Land of Festivals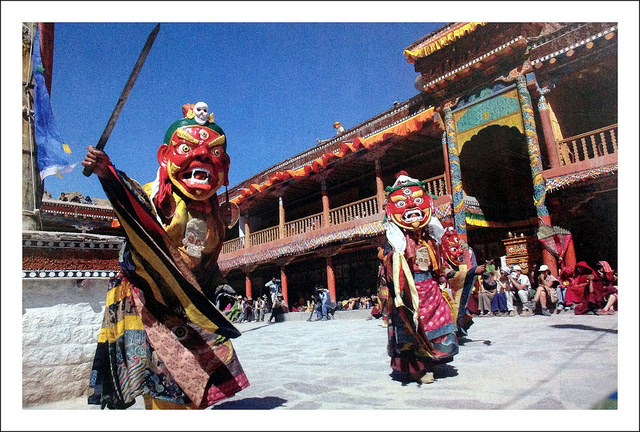 Ladakh comes alive during festivals, every monastery in Ladakh has an annual festival it is famous for. The main features of these festivals are the dance-dramas enacted by Lamas donning colourful robes and fearsome masks representing various Buddhist deities
There are cultural festivals too. Summer archery festivals are held in many villages as per local traditions. The 15-day Ladakh festival (1-15 September) is a major event sponsored by J&K Government to showcase rich cultural heritage of Ladakh
All this truly makes Ladakh a land of celebrations. Below is the list of festivals lined up sourced by mountain trails
| | | |
| --- | --- | --- |
| Festival Name | Venue | Date |
| Spituk Gustor | Spituk | Jan 25 – 26, 2017 |
| Dosmochey | Leh & Likir Monastery | Feb 24 – 25, 2017 |
| Yargon Tungshak | Nubra (Yarma) | Mar 2 – 3, 2017 |
| Stok Guru Tsechu | Stok Monastery | Mar 6 – 7, 2017 |
| Matho Nagrang | Matho Monastery | Mar 11 – 12, 2017 |
| Saka Dawa | All over Ladakh | Jun 9, 2017 |
| Yuru Kabgyat | Lamayuru Monastery | Jun 21 – 22, 2017 |
| Hemis Tsechu | Hemis Monastery | Jul 3 – 4, 2017 |
| Stongday Gustor | Zanskar | Jul 12 – 13, 2017 |
| Karsha Gustor | Zanskar | Jul 31 – Aug 01, 2016 |
| Phyang Tsesdup | Phyang Monastery | Jul 31 – Aug 01, 2016 |
| Sachukul Gustor | Sachukul Monastery | Jul 21 – 22, 2016 |
| Korzok Gustor | Tsomoriri | Aug 5 – 6, 2016 |
| Dakthok Tsechu | Dak thok Monastery | Aug 13 – 14, 2016 |
| Sani Nasjal | Zanskar | Aug 17 – 18, 2016 |
| Deskit Gustor | Nubra | Oct 28 – 19, 2016 |
| Thiksay Gustor | Thiksay | Nov 17 – 18, 2016 |
| Chemray Wangchok / Padum | Chemray Monastery | Nov 27 – 28, 2016 |
| Galden Namchot | All over Ladakh | Dec 23, 2016 |
| Ladakhi Losar | All over Ladakh | Dec 30, 2016 |
Other Places to Visit from Leh – Ladakh
Apart from the two main routes which connect the outside world to Leh, to make the Leh – Ladakh road trip complete there are few destinations around Leh Ladakh that one must visit during their road trip to Leh Ladakh. If you don't have enough time and yet you want to experience the beauty of Leh and awesomeness in a bike or road trip in Leh. A short duration road trip in Leh can fulfill your thirst
One should also experience the road trip to Spiti Valley, one of the best alternative to Leh Ladakh Road Trip
Leh to Pangong Lake: 156 kms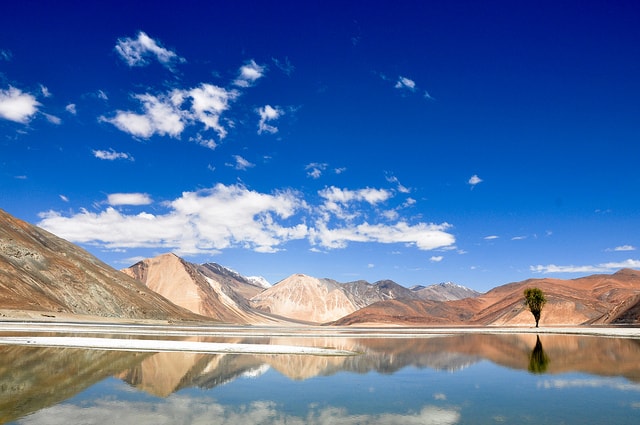 Famous locations in the Leh to Pangong Lake route
Shey
Thiksey
Sakti
Chang La
Tangste
Spangmik (Pangong Lake)
Leh to Nubra Valley: 140 kms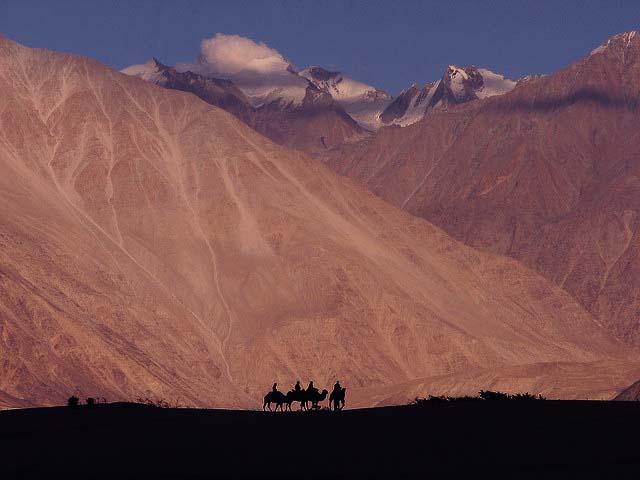 Famous locations in Leh to Nubra Valley route
Khardung La: Highest motorable road in the world
Diskit
Hunder: Sand dune and camel safari
Samstanling
Panamik
Leh – Tsomoriri Lake: 240 kms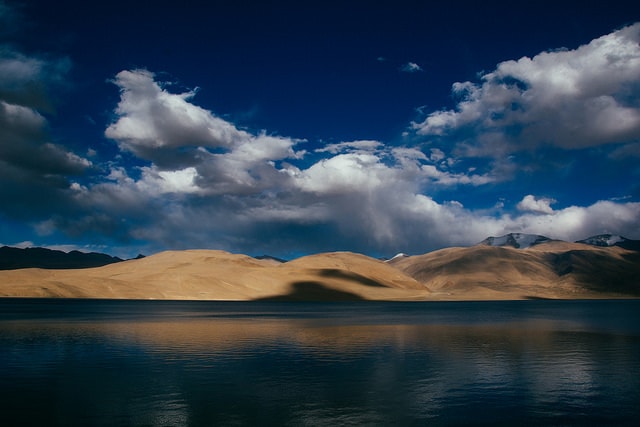 Famous locations in Leh to Tsomoriri Lake route
Shey
Thiksey
Hemis
Gya
Rumtse
Taglang La
Tsokar Lake
Polokang La
Korzok (Tsomoriri lake)
Leh – Dah/Baima: 162 kms
Famous locations in Leh to Dah / Baima route
Spituk
Phyang
Basgo
Likir
Alchi
Uletokpo
Achinathang
Baima
Leh – Kargil – Rangdum (Suru Valley) – Padum (Zanskar Valley): 464 kms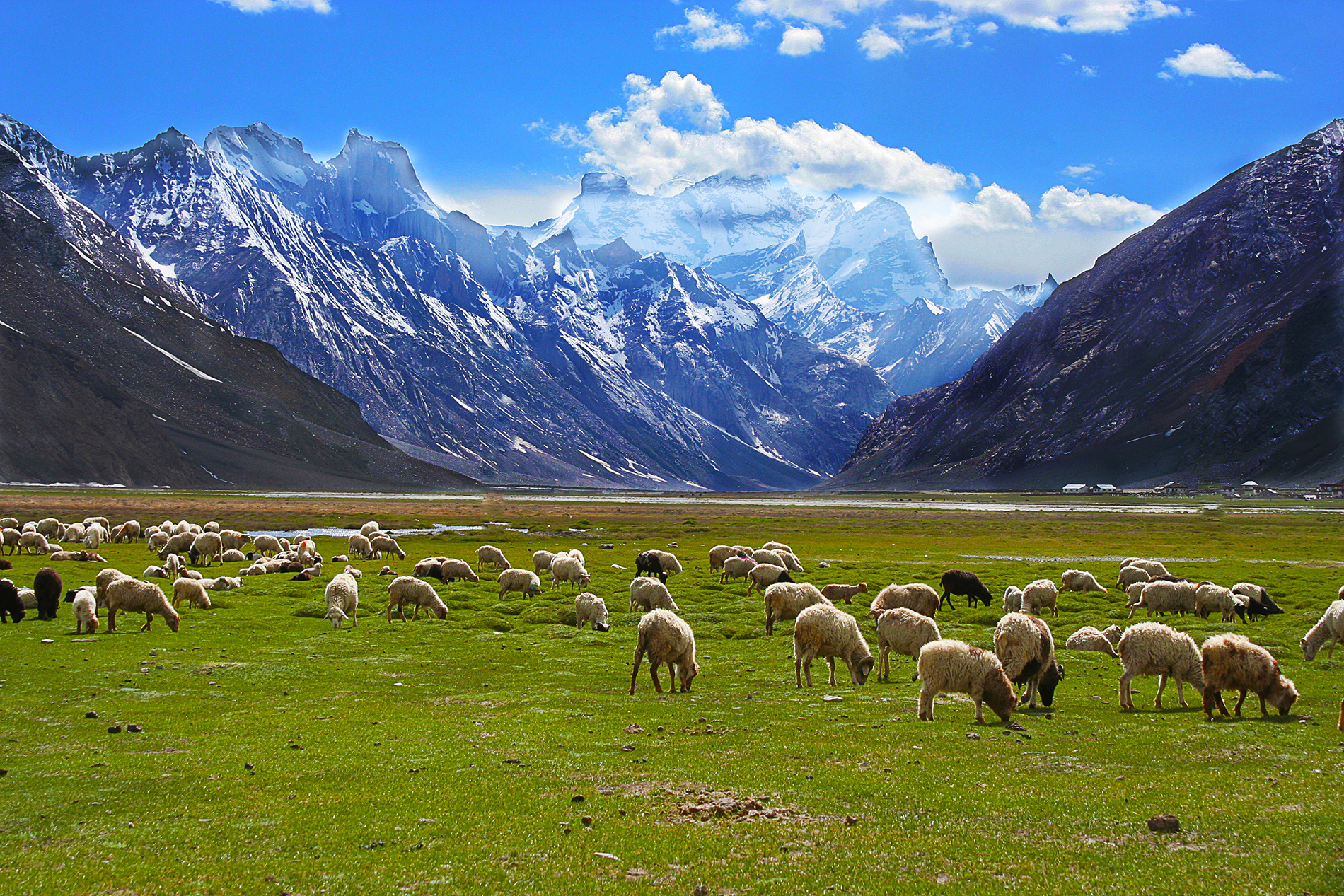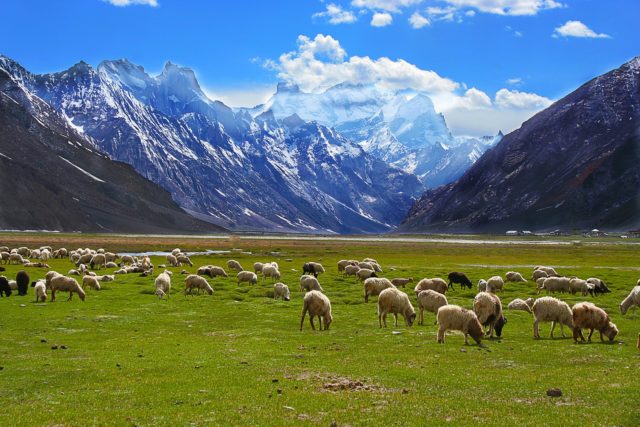 Famous locations in Leh – Zanskar Valley route
Kargil
Panikar: View of NunKun Peak
Rangdum
Panzilla
Padum: Zanskar Valley, Zanskar river popular for white water rafting in summer and Chadar Trek in winter
Save