Being one of the most famous bachelor pads of the world, nightlife in Thailand has a lot to offer to its customers. From exotic thrill to street shopping, Thailand has everything in its package. You can also explore the cultural diversity and traditional martial arts performances in your nocturnal tours. And not to forget about the delicious Thai food available at each and every corner of Thailand. So let's take a look at some of the best places in Thailand to enjoy and have a great night!
Top Places to Experience Nightlife in Thailand
Pattaya Walking Street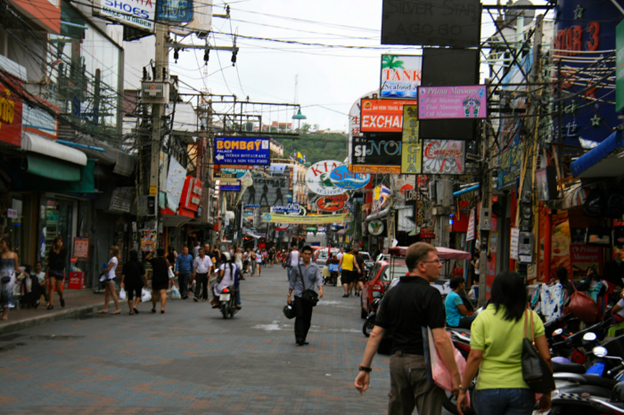 Source: flickr.com/drea-beijing
---------------------------------------------------------
Best Deals for the Month
A Street filled with beautiful people and booze coloured with neon lights, The Walking Street situated at the heart of Pattaya is the biggest, busiest and craziest street in whole of Thailand. Stretched to about 1km, the street almost every building along its way is either a beer bar, nightclub, go-go bar, massage parlor, music bar or a restaurant. The street features some of the hottest clubs in Pattaya with cute girls standing by the doors luring bachelors in. The most remarkable aspect of the Street is the sheer quantity of things to see and do and the volume of experience it provides. Even after spending each and every night for a whole week on this street, you will be left with new places to uncover.
Tip – Do take the bucket drinks seriously, they are some of the deadliest concoctions of alcohol in South East Asia
Full Moon Party, Koh Phangan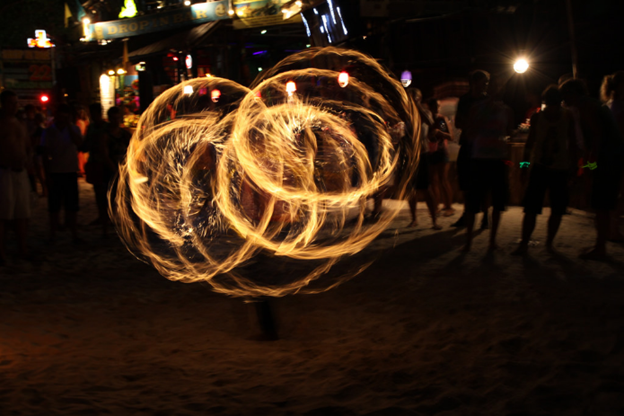 Source: flickr.com/sensesmaybenumbed
When the moon shows it's true form, well, Koh Phangan is there to celebrate it. With one of the most happening parties, Haad Rin beach lights up with people on every full moon night of the year. It's a night of music, dance and booze. More than 30,000 party heads visit this party every year. The bars on these nights stay open all night long with pumping music ranging from psychedelic trance, House to Dance, Reggae. The schedule of Full Moon Parties for 2018 (henceforth) is:
– Sunday, 29th April
– Wednesday, 30th may
– Wednesday, 27th June
– Sunday, 29th July
– Sunday, 26th August
– Monday, 24th September
– Thursday, 25th Oct
– Thursday, 22th November
– Saturday, 22th December
– Tuesday, 25th December
– Monday, 31st December
Beach Clubs and Sunset Bars, Phuket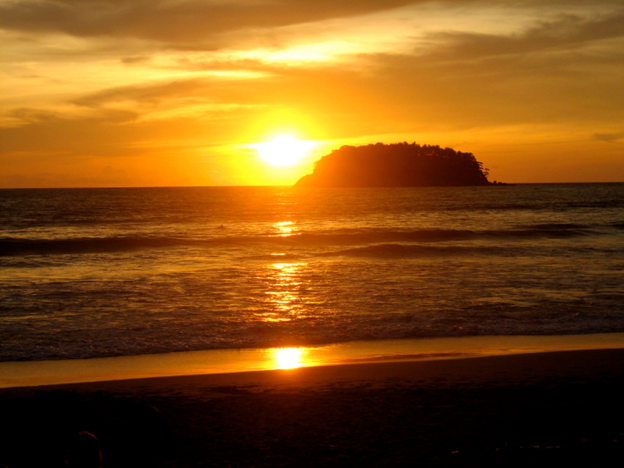 Source: flickr.com/Ronwanderlust
Known for its amazing sunset bars and beach clubs, Phuket's beach side is the place you are supposed to be when the sun goes down. With decent music and happening bars, the night turns into a celebration. These clubs organize occasional parties with internationally acclaimed DJs and musicians. Few of the recommended clubs are Café Del Mar, a classy beach club with sundowner cocktails that serves delicious thai and international food; Dream Beach Club, a stylish laid back destination with swimming pools; Iguana Beach Club, named after an iguana shaped rock situated at the club has the best views and
Catch Beach Club, a friendly place to go with family and kids to enjoy some water sports.
Hard Rock Café's Foam Party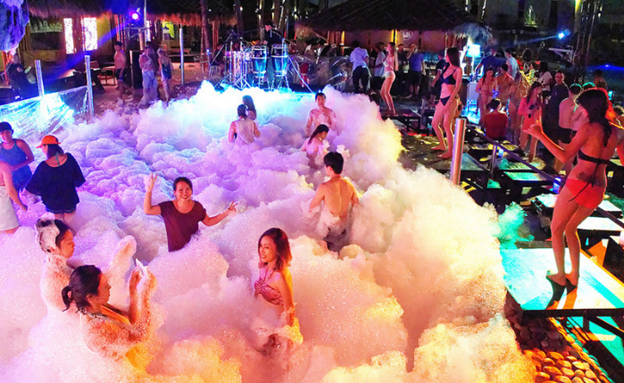 Source: flickr.com/Asiacamera
Probably the coolest thing about Thailand, Hard Rock Café in Pattaya throws epic foam parties. Their massive swimming pool gets filled with foam and people party in it ALL NIGHT LONG! The party features amazing sound system, lightings, cabana dancers, games, floats and more. You can enjoy and dance to the tunes of House, Techno, EDM or Hip-hop. The party takes place on every Saturday from 9:30 onwards at 429 Beach Road, North Pattaya.
Koh Tao Pub Crawl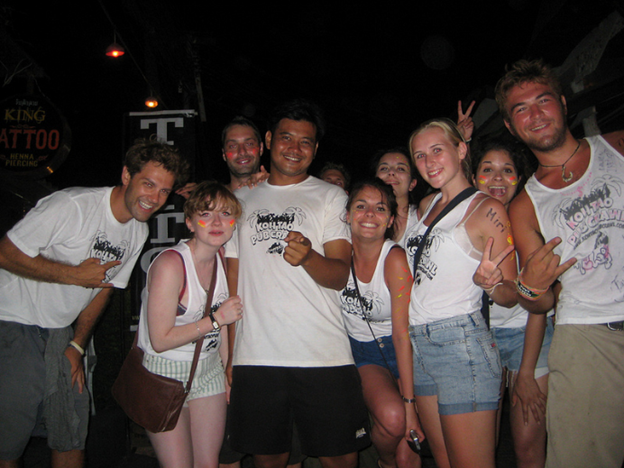 Source: flick.com/miri_geht_auf_abenteuer
Koh Tao Pub Crawl is probably the best way to explore the bars of Koh Tao. A pre planned tour and organized drinking. You go from pub-to-pub drinking with strangers and bonding and mingle around over drinking games. The tour starts with a bucket load of alcohol, 4 shots of vodka and you kick off the start. You get discount over drinks on every bar. Few of the famous bars this tour touches are Two Feet First, De Ja Vous. The trip costs about 450 bahts and if you bring your Pub Crawl T-shirt on your second time, you get a 100 baht discount and another hundred the third time. So do not miss out on this opportunity and do give it a shot.
Muay Thai Live At Asiatique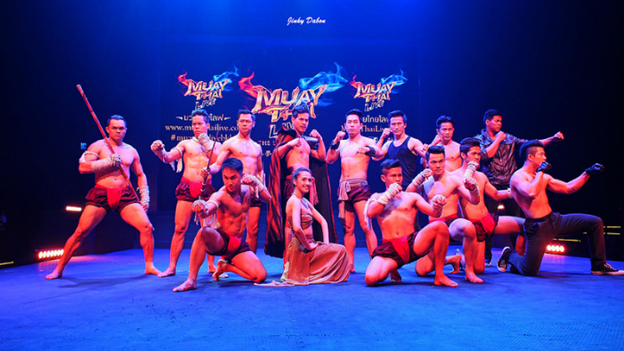 ource: flickr.com/Jinky Dabon
Muay Thai at Asiatique Bangkok is a stunning theatrical show combining entertaining performances with the ancient martial art of Muay Thai boxing. It is enjoyed by theatre artists, families, children and gives an exciting insight into the Thai culture. The performers are some of the highly skilled, world class warriors. The story of the show begins in ancient Siam (earlier name of Thailand), tracing the routes of martial arts. The show is for about 90 minutes and it runs Tuesday-Sunday from 8 p.m. onwards.
Go Go Bars, Phuket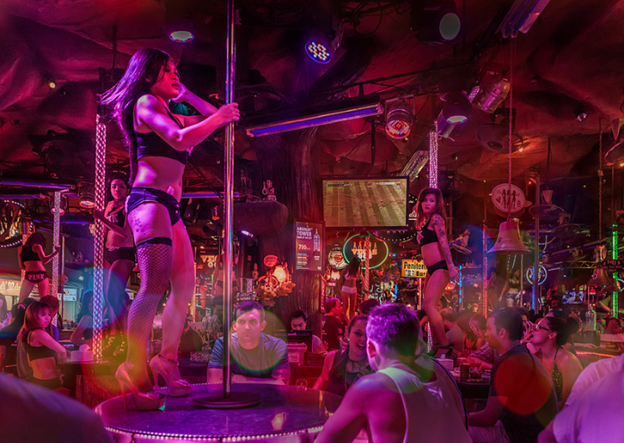 Source: flickr.com/Simon_Long
Phuket has some of the best Go Go Bars. The term Go Go Bar is used for certain strip clubs. It is a perfect place for a bachelor's night. If you are looking for a night of fun, drinks and company of some pretty ladies, this is your location. Shows rotate from place to place; a show might be available one day, and not the next day. Some of the famous bars in Phuket are House of Sound, Money Night, Foxy Lady a Go Go, Suzy Wong's. You can also find great beer bars near them.
Koh Phi Phi, Party Island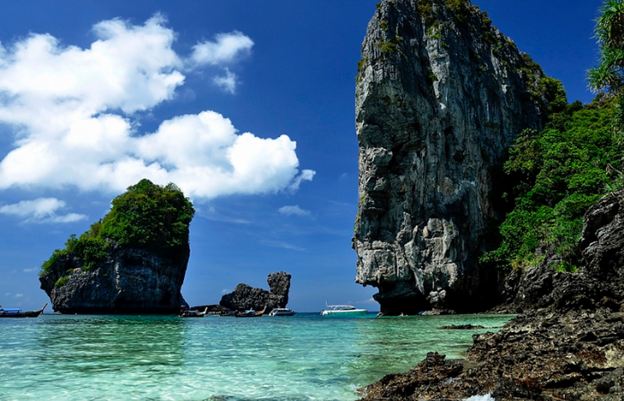 Source: flickr.com/*Brad M.*
Koh Phi Phi is a party island with lots of beach bars and amazing pubs for the party heads. The island is one large night club with lots of drinks and a tonne of area to roam around and dance. You could go climbing up the hills or just chill out around the shore, have some drinks and enjoy the view. You could go watch a Mua Thai fights at some of the reggae bars. Go to the street markets and explore the island or go island hopping to places like Monkey beach, Maya Bay. You could eat lots of delicious local food and party till the sun comes up. So on your next trip to Thailand, go to this island and enjoy the true nightlife Thailand has to offer.
Patpong, Bangkok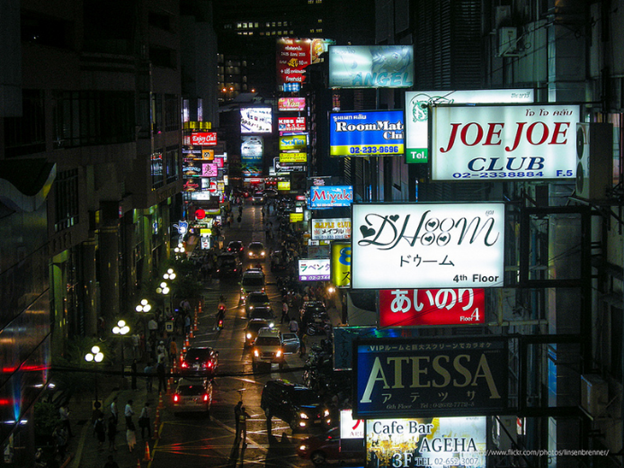 Source: flickr.com/Linsenbrenner
One of the world's most famous red-light district, Patpong is where Thailand's Go-Go culture started. It got famous after a chase sequence in a James Bond movie. It is a two parallel side street lit with neon lights that offers naughty shows and the famous pole-dancing entertainment. Some of the famous GO GO Bars in Patpong are King's Castel l and ll, Sphinx and the Safari bar. The street also features some good shopping places, lots of quality bistros. If you enjoy a quite game of pool and some beer, you could stop by Red Parrot.
The Hangover Tour, Bangkok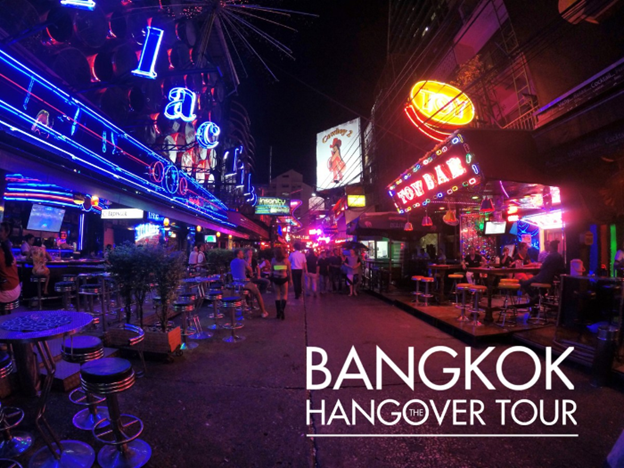 Source: wanderjan.com
Inspired by the movie 'Hangover 2', the Hangover Tour makes you experience the best nightlife in Bangkok through the eyes of the characters. The tour will visit the bars used for the actual filming as well as other bars which are famous. It also features some of the world famous 'one night in Bangkok' live shows. The night will be wild with booze and thrill. But remember it is a fun nightlife tour and not a sex tour.
Also read,
Best Honeymoon Destinations of Thailand
51 Things Women can do in Thailand