DON'T MISS
Though we have all the facilities in cities of the country, we need leisure time so here I have compiled a list of best...
LATEST NEWS
The national capital of India is a busy and a hectic city. For those of you looking to get away from the hustle of...
The economic capital of our country is busy all throughout the year. For those looking to get away from the hustle of their everyday...
The busy capital of the newly formed state of Telangana is a beautiful place on its own. But, one cannot find the spirit of...
POPULAR ARTICLES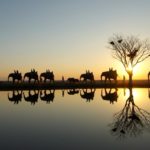 Kerala holds an array of rich culture and tradition. It is essential for one to experience the true essence of this place while they...
Trekking in an enormous nation like India can be thrilling. You can stroll through frozen deserts and tropical drizzle forests, climb gigantic Himalayan crests...
When you are looking for some amazing camping destination that would provide you all the fun you are looking for under the galaxy or...
LATEST REVIEWS
Bangkok has some of the best nightlife experiences to offer. The city has earned international recognition for it. When the sun goes down, the...